CAR IS SOLD
For sale is my pride and joy 1976 Mercedes 300D W115.
Due to my upcoming wedding at the end of May, I am looking to find a suitable owner for my not so stock Benz post-ceremony: looking to make the sale arrangements in May and deliver the car in June.
Viewings can be arranged in the Kitchener/Waterloo area weekday evenings and weekends, as well as in the Mississauga/Oakville area through the week.
This car has been a true joy to work on. Everything is very easy to disassemble and modify. A great project car. A head turner wherever it goes. I can't go a day without somebody wanting to talk to me about it; be prepared for plenty of attention and strangers approaching you with questions.
The details:
Engine
3.0 inline 5 cylinder diesel
New injectors
Is unbelievably reliable
Transmission
3 speed automatic
Interior
Cream MBtex
Black dash and accents
Black carpets (cream carpets included)
Hidden manual air valves located in ash tray
W114 steering wheel
Large, deep sounding air horn
Suspension
Full custom air ride suspension
Stock located front shocks, springs replaced with
Slam Specialties RE5
air bags
Remote mounted rear monroe short shocks, springs replaced with
Slam Specialties RE6
air bags
Internal bump stops on the SS bags means you can drive comfortably on good roads completely aired out
5 gallon air tank
100% duty cycle chrome
VIAR 480c
compressor
Exterior
Main body painted two years ago in money green (Pantone 555c)
Top painted in an older Hyundai off-white, cream colour
European bumpers
European headlights with retrofitted HID projectors
W114 tail lights
New bodyline trim
New front and rear window rubber
Passenger side dorky W115 mirror deleted
Driver side dorky w115 mirror deleted and W114 mirror installed
Deleted trunk antenna
Deleted side markers front and rear
Deleted trunk emblems except for MB emblem
Wheels
Your choice of one set of wheels:
1 - Two tone 16" multipiece BBS style wheel in 5x130 bolt pattern with adapters included
2 - Chrome 17" Player wire wheels (SUPER strong) with two styles of center knock-offs
Stereo
No stereo to be included in sale
With *large* empty spaces behind the front kick panels, this could be a great stereo car
$8200
A 1976 300D parts car with engine and transmission included in price. Parts car also has all glass and many other useful parts.
Full build thread on the VWVortex Air Suspension forum
here
Picture of car with the wire wheels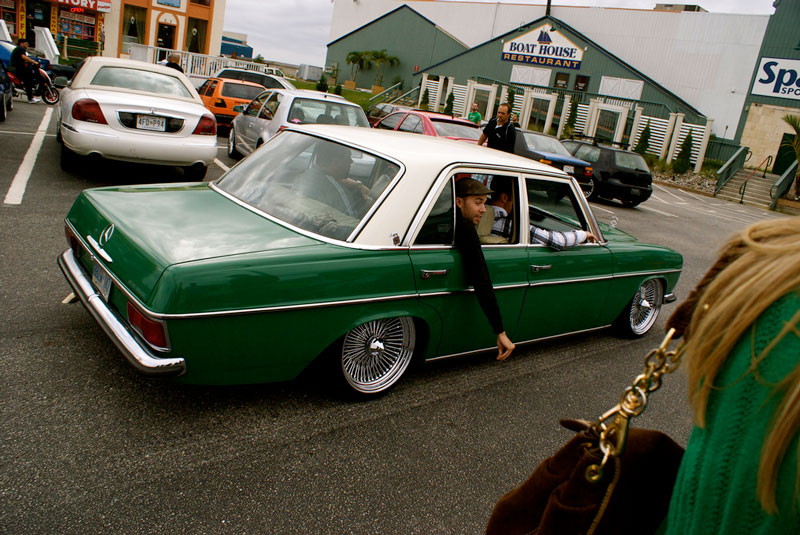 Picture of car with the multipiece wheels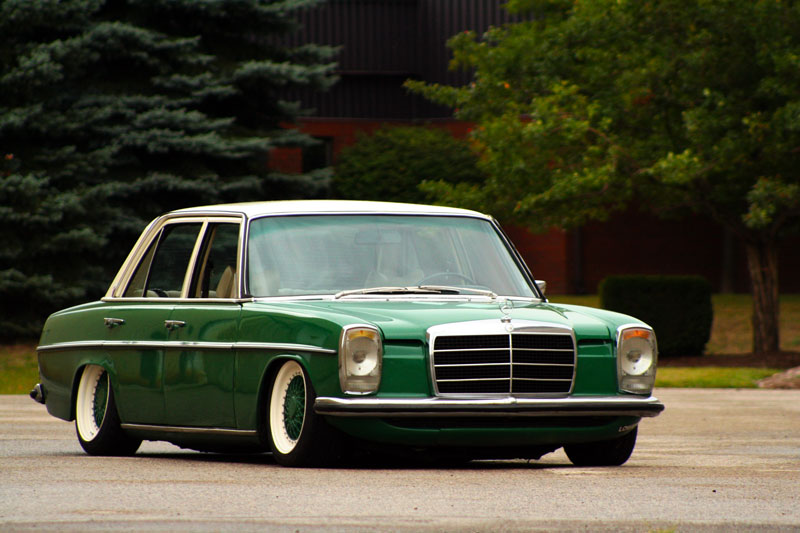 Youtube video showing air ride
It was also featured on the TV show How It's Made