FT: 88 golf obd1 vr 90% done 2000 FIRM
SOLD***********
anything not seen in pictures i have! not a piece is missing (has temp windshield)
im in southern ri, i have a grey 1988 golf gl 4- door with an obd1 swap that is just shy from being finished, lost my license and have no means. Floor pans/body/paint are all really good condition (barn kept, pulled the 1.8L at 83,000 miles). Only rust on the car is on the rear arches nothing a flare wont cover. vr has 135,000 chains n H20 pump done, clutch last summer, tranny has 97,000 out of a passat. Solid motor mounts and g60 trans and bbq headers.
car has complete mk3 dash/heater/ac system swapped, mk3 rebar made to screw in (not welded) with dashboard already cut. It was installed in the car and working but removed the dash cover to ease the engine harness-fuseblock wiring job.
Sits on rokkor coils with full 2.0 k frame, exhaust is open from the headers back but i have a magnaflow muffler for it, has aero headlights 4 brand new door handles, engine bay was painted semi gloss black too much too list as you can imagine
NEEDS TO FINISH: laying the wiring harness its 90% done just needs some grounds traced and a few pig tails connected its ALL MK3 so plug and play!, install mk3 gas tank, o2 sensor, and last but not least spark plug wires!
phone numbers 401 256 0376 thanks for looking!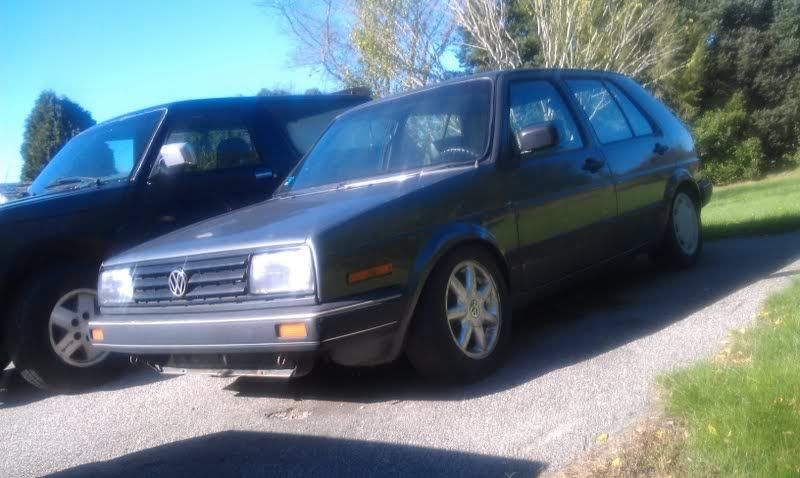 Car will come with a set of the wheels that are on the front in ^^ picture