Adding stuff on Ebay daily!!!!!!!!!!!!!!!
Added More pics!
!!!Update decided I'll part out, prices are obo, don't really want to ship anything I will be around this weekend bring cash to pick up stuff before I sell it on ebay. Everything is first person with cash to show up gets it. Not holding anything for anybody. If someone wants to buy everything I'll make them a good deal. My buddies silver vr6 car is still for sale too. I'll try and get some pics soon of the parts. I have a lot more vw parts that are not listed that are also for sale and I mean alot!!!
You can call me @ 253 350-9409 might not answer but you can leave a message and I'll get back to you as soon as I can, Justin
I'd like to sell my 1991 GLI that I've had since around August 2002 drove it for a couple of months, then the differential blew up. At that time I thought it would be a good idea to swap it to a cable shift tranny, so I pulled the tranny out, then thought since I had the tranny out now would be a good time to build the motor. It just kept snowballing after that. Originally I was going to supercharge the motor, later on I decided to turbo it. I have a lot of parts for this car, and a lot of other vw parts and cars (air and watercooled). I used to work at a local vw dealer in the parts department and have a bunch of NOS parts as well as a bunch of dealer memorabilia, even dealer microfiche parts catalogs and service manuals. I'd really like to sell everything to one person but realize that probably wont happen. Not really into VW's anymore and need to make room in my shop. May trade for stuff too. Stuff I may be interested in: Custom kitchen cabinets, building materials, roofing, old cars and trucks, antique tractors, hit and miss antique engines, 2 post lift for my shop, rust free 1964-1966 chevy truck, GMC Topkick or Chevy Kodiak.
Currently the jetta is a rolling shell, the body is almost perfect, there are two small dents in the cowl where the end of the hood hit the body when a wind gust during a storm blew the hood up. It has a non ac heater box installed, 02a cable shift box installed, has a power sunroof, power locks and windows, rear jetta gtx badge, factory gli painted spoiler, hella smoked tail lights, 11" front brakes with audi dual piston calipers, factory rear disc brakes, recaro door panels, looks like the headliner is starting to fall down.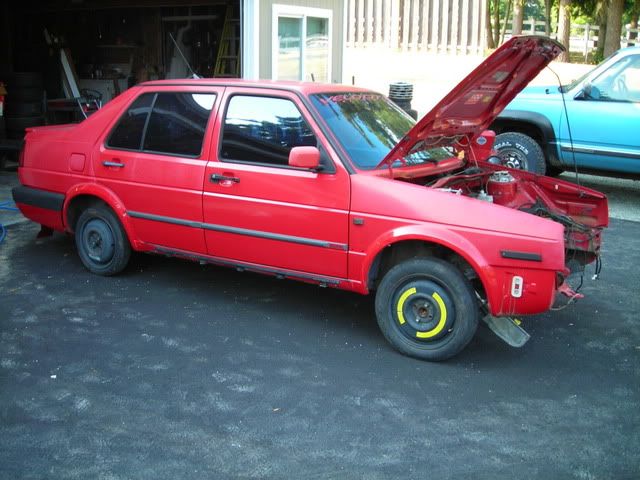 Sold
Here are some of the parts:
Engine stuff: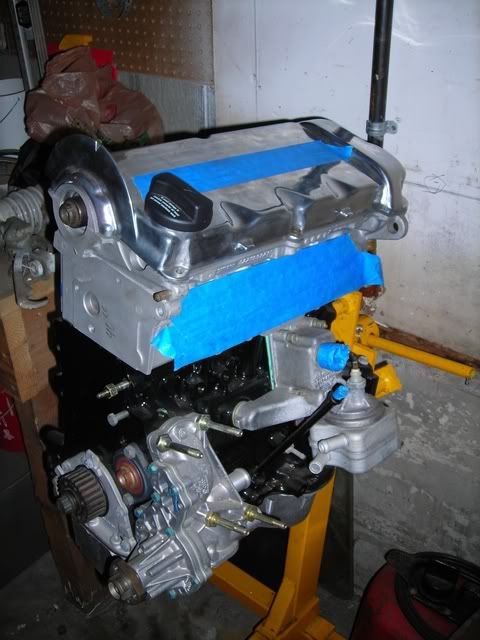 2.0 16v Original motor rebuilt and balanced with 8.5 to 1 compression JE pistons with total seal rings, ARP Main, Rod and head studs and bolts, rebuilt 1.8 16v head with mild gasket match port and polish, stock cams, schrick oil pan, custom smoothed and mirror polished valve cover that has been machined to accept 1.8t coilpacks, lightened 02a flywheel. 1900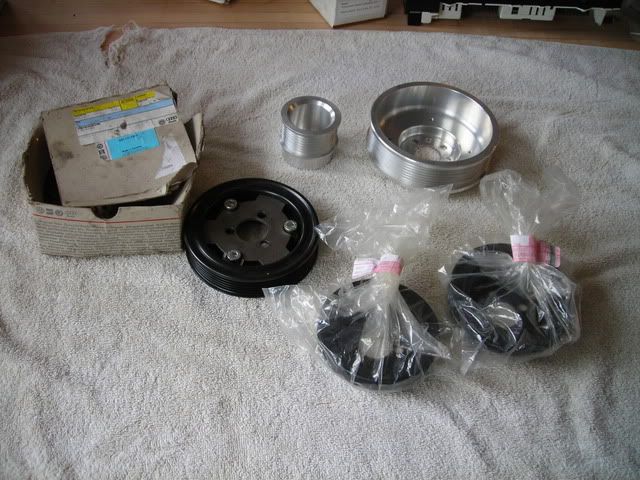 Custom 8 rib (you can run a 6 rib belt still) cnc crank pulley drilled and tapped for crank trigger wheel
Custom cnc 8 rib alternator pulley 150 for both pulleys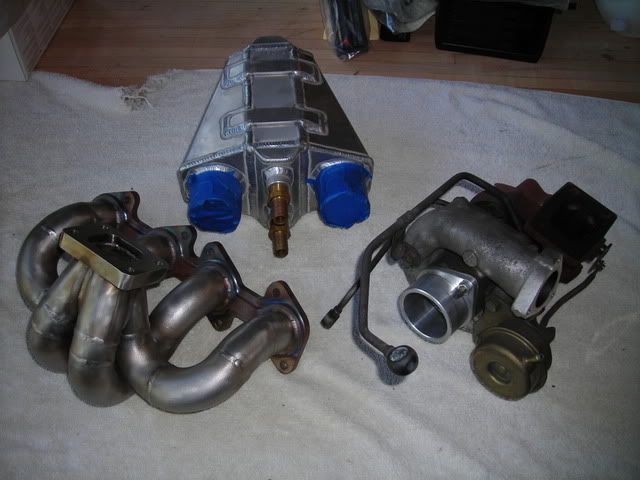 Custom heavy wall stainless tubular pretty close to equal length turbo exhaust manifold w/t25 flange custom cnc flanges 400
T25 turbo 400
Spearco air to water intercooler reinforced 500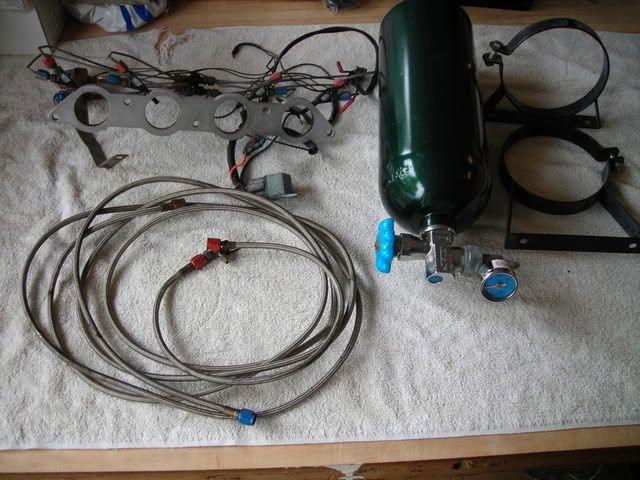 Old school complete autotech NOS kit (plate that sandwiches between upper and lower intake manifold) 500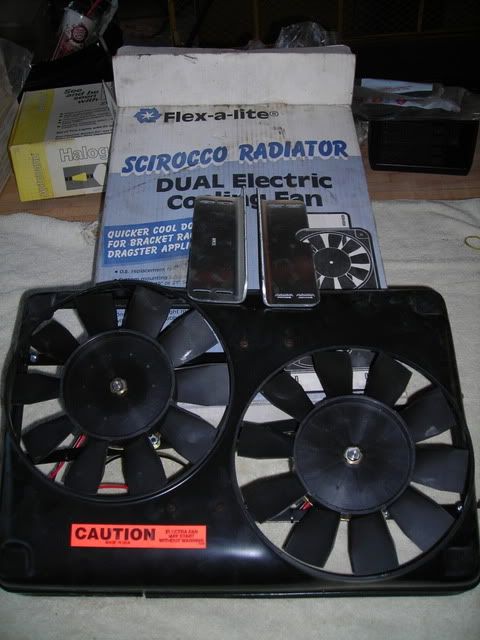 Flex-a-lite dual fan setup for vw radiator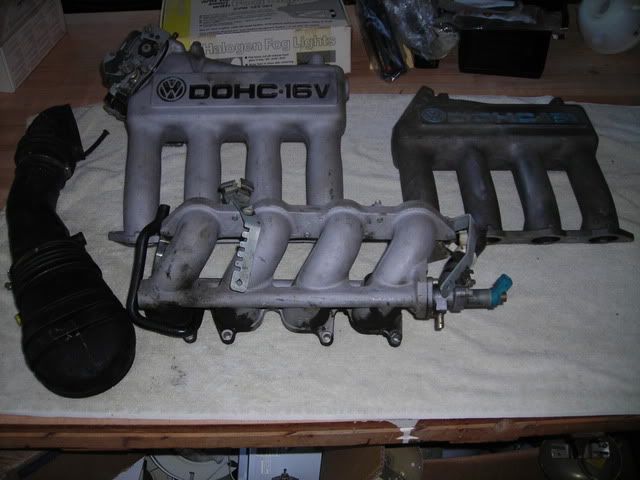 1 complete California upper and lower 2.0 16v manifold
1 upper 1.8 16v intake manifold
NOS Dealer engine parts: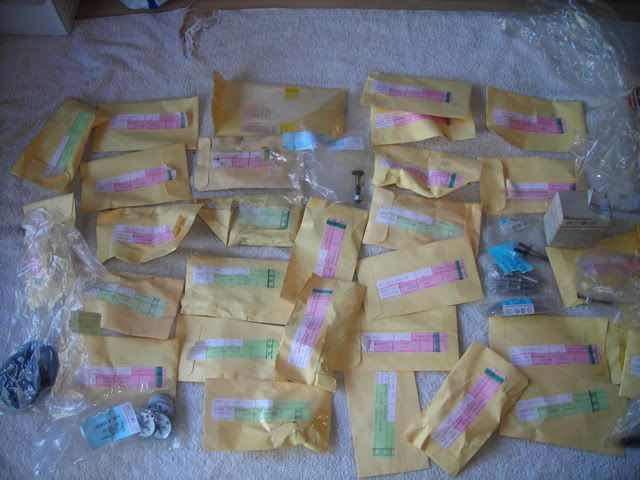 Many nuts, bolts and hardware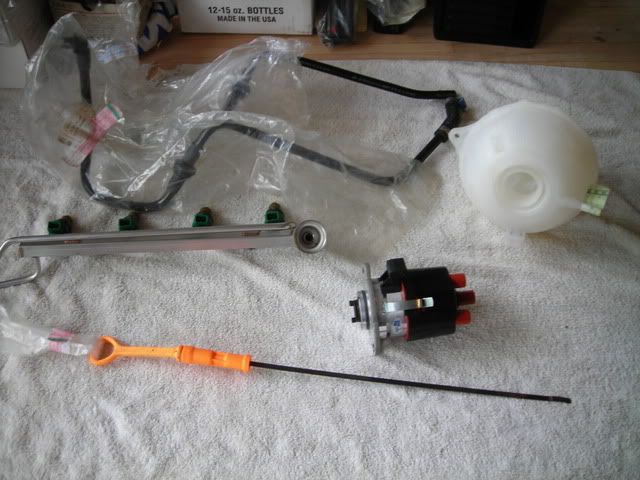 16v distributor Sold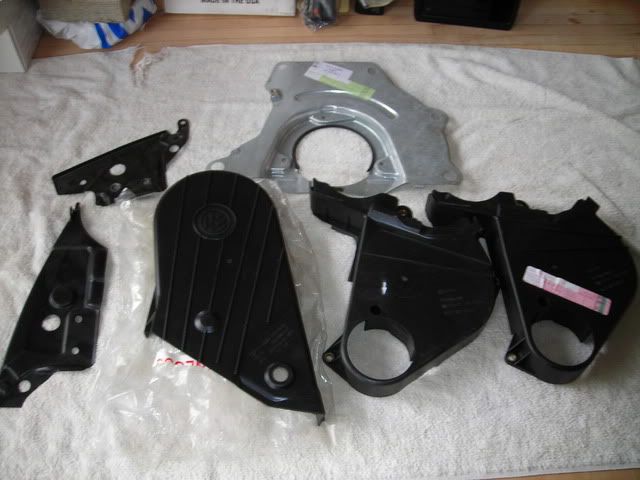 Timing belt cover upper and lower and metal shields 60
Corrado upper radiator trim cover 10
Coolant sensor clips 2
02a starter bolts 5
Coolant bottle 10
16v distributer block off (block)
Engine to tranny bolts
Oil cap 3
extra oil cap gaskets 3
Dipstick
T-stat outlet 5
Waterpump
Coolant switches and sensors 10
1.8t fuelrail 20
Metal plate that sandwiches between motor and tranny Sold
Tranny parts:
02m 6 speed tranny with all parts to swap including a low mile used dual mass setup and a brand new dual mass setup, don't have custom mounts or axles 1600 I do have access to brand new driveshaft shop custom axles for mk2 or mk3 with 5 lug plus suspension and an aluminum flywheel for some extra $
02a passat 16v tranny low miles 300
02a corrado g60 tranny (was told by previous owner grinds going in to 2nd) 250
02a short shifter 50
NOS Dealer Tranny parts: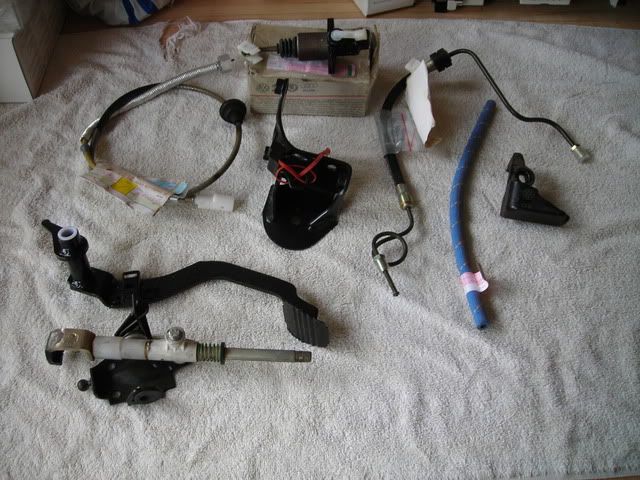 02a tranny support bracket w/rare clutch cable bracket sold
02a speedo cable 50
02a front motor mount bracket 10
02a clutch master cylinder Sold
02a clutch master cylinder blue hose from reservoir to master cylinder Sold
02a pressure hose from master to slave Sold
Clutch pedal for hydraulic clutch 20
02a tranny end cap 15
Interior parts:
Nice front Recaro power seats
Really nice Recaro rear seat 400 for front and rear
Nice recaro carpet 50
Brand new after market black mk2 carpet kit sold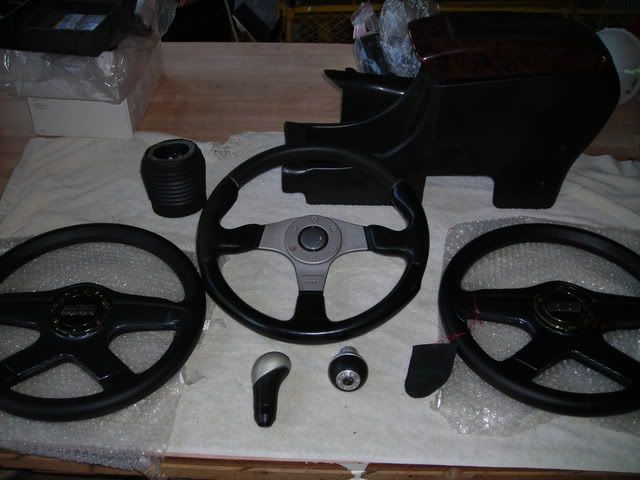 1 BBS steering wheel 4 spoke has broken clips (have all of them) that hold horn button on, could probably be glued or epoxied On Ebay
1 momo/bbs steering wheel hub sold
Couple different momo shift knobs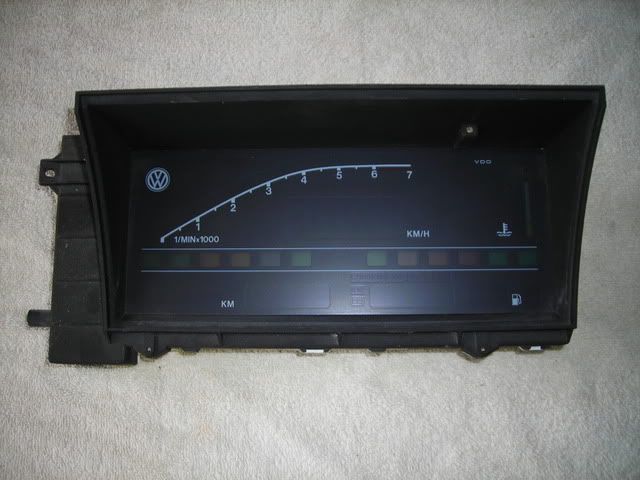 Digifiz instrument cluster 300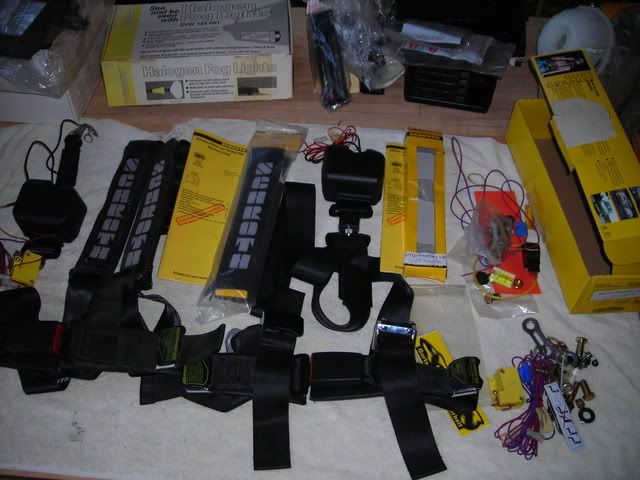 Pair of Schroth harnesses w/pads and autocontrol, 1 was used for a couple months the other is brand new Sold
Mk2 center console cassette tape holder
Chinese center console armrest sold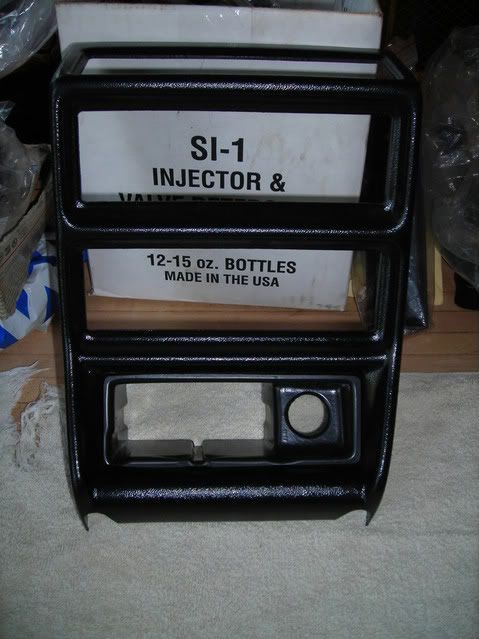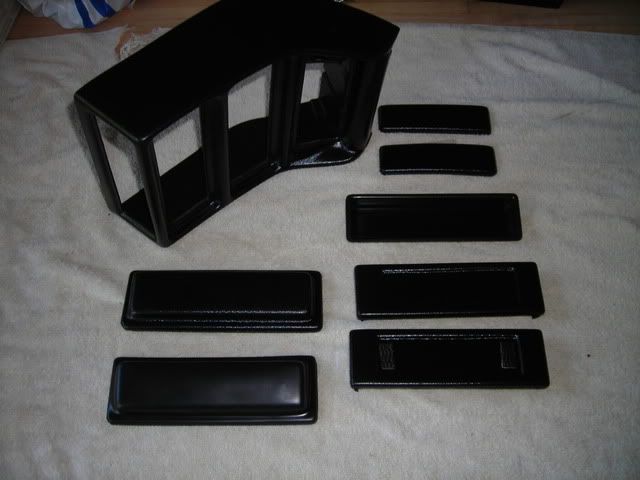 Brand new SWG center console kit (like a Votex console) 150
MK2 check engine light 15
NOS Dealer Interior parts:
MFA/wiper switch 75
Left and right dashboard speaker grills 15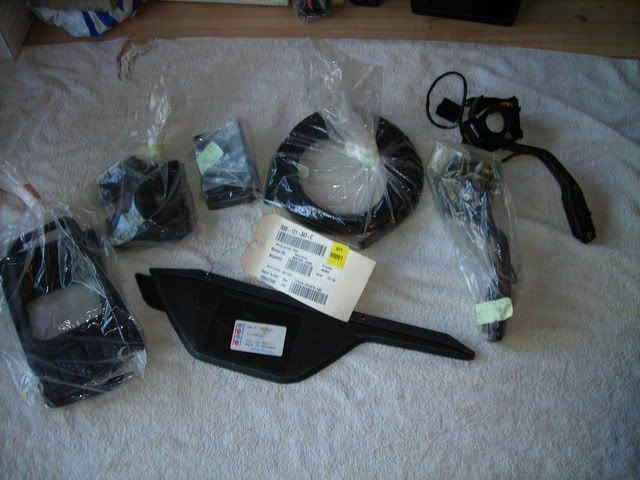 2 shifter console trim pieces 5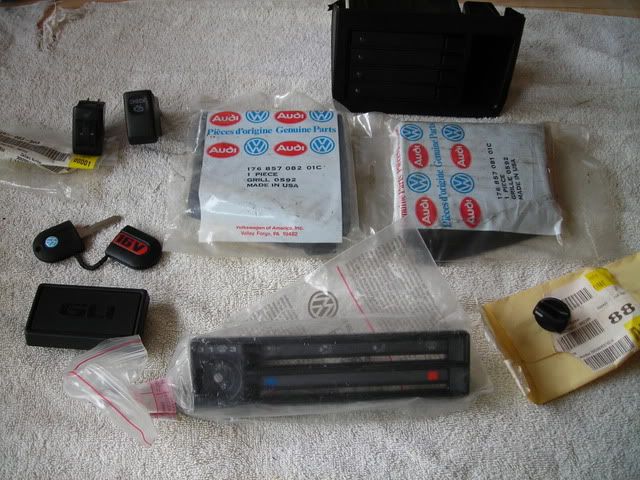 Corrado blower fan switch knob Sold
Non AC light up heater control trim Sold
Vapor barrier material for door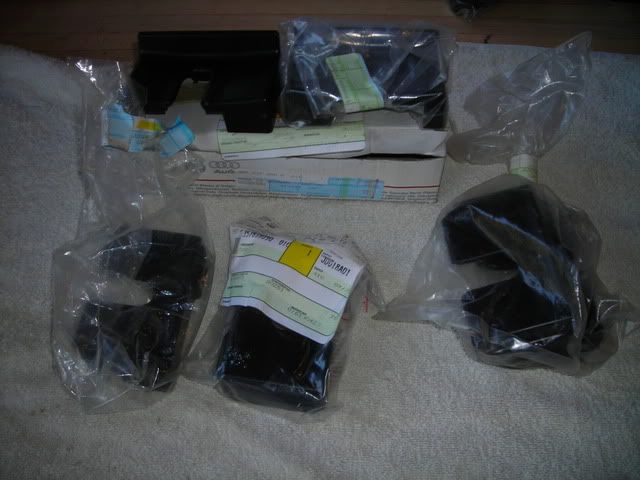 B3 passat door latch covers 5 each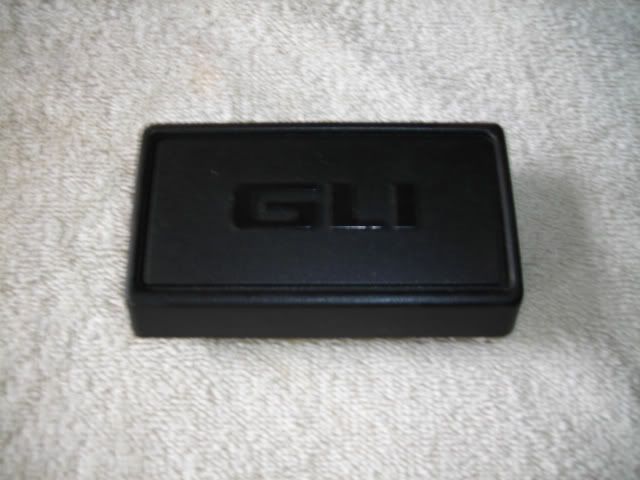 "GLI" switch blank 30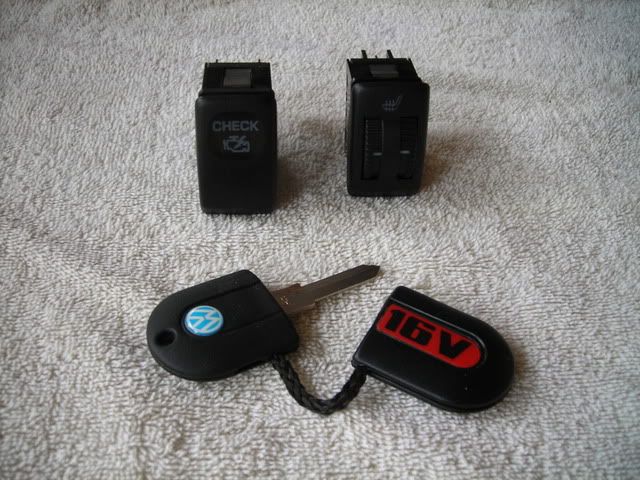 MK2 seat heater switch Sold
"16V" Uncut key w/light
On Ebay
Suspension parts/wheels:
Eibach flat bar upper stress bar needs to be cleaned and polished
On Ebay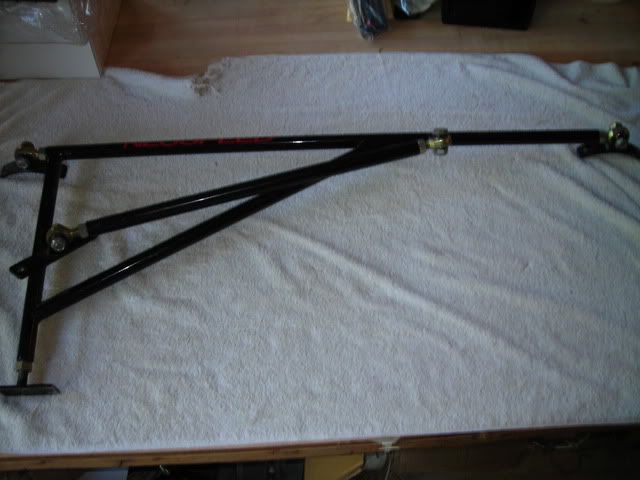 Neuspeed rear triangulated stress bar 150
Pair of NOS dealer bump stops
Set of BBS rm's w/centercaps 900
Set of 16" TSW Evo's powdercoated black w/red nuts 400
5 corrado 15" factory steel wheels 200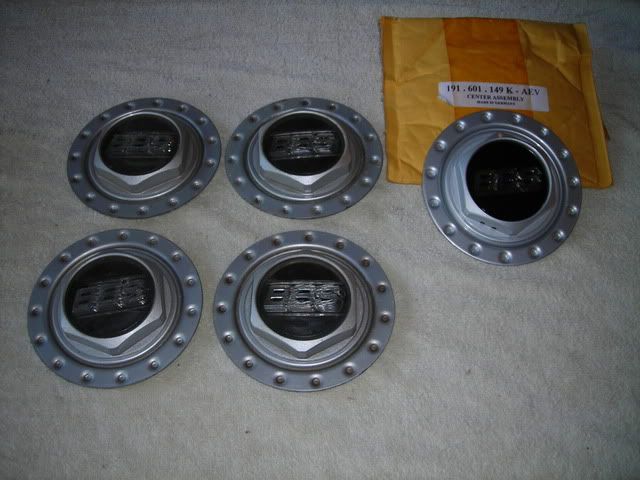 1 NOS dealer BBS RM centercap right side of pic (other 4 go with RM's I'm trying to sell)
Exterior/lighting parts:
Aero core support 15
Factory round headlight core support 50
Rallye light core support
2 used rallye light assemblies all have broken lenses but good projectors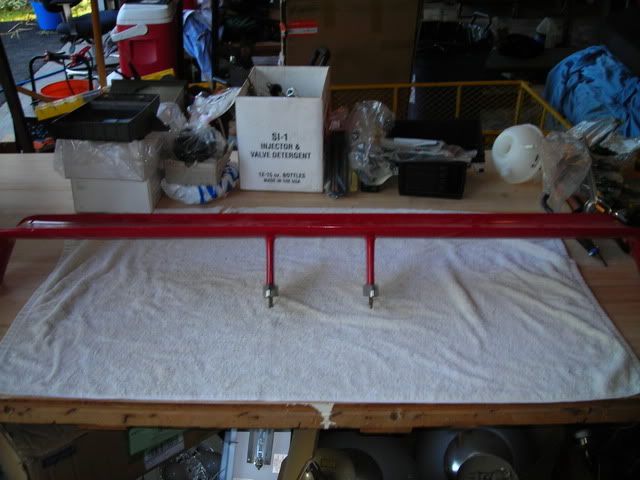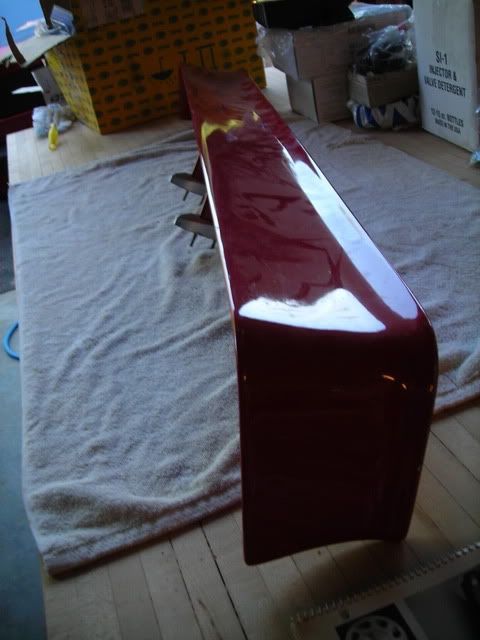 Extremely rare Hammon rear touring wing made for a mk2 jetta 300
1 pollen filter bracket 5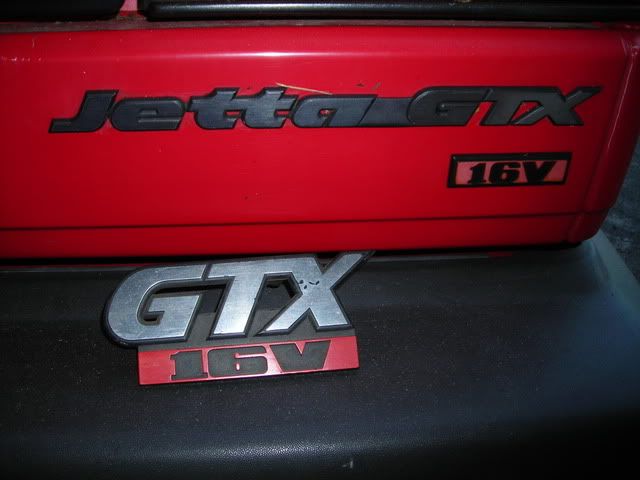 "gtx 16v" grill badge 50
NOS Dealer exterior/lighting parts: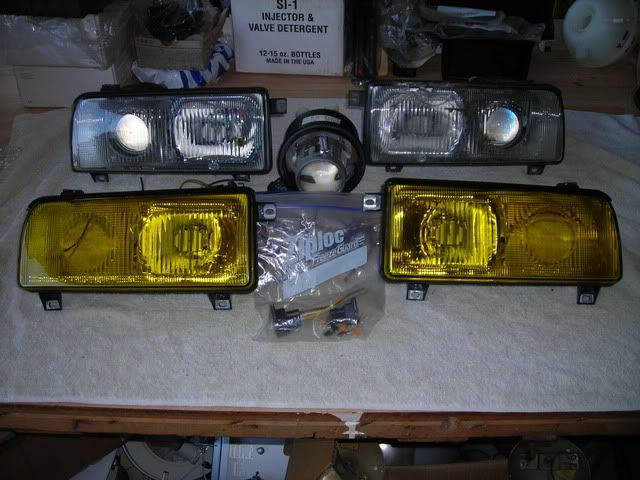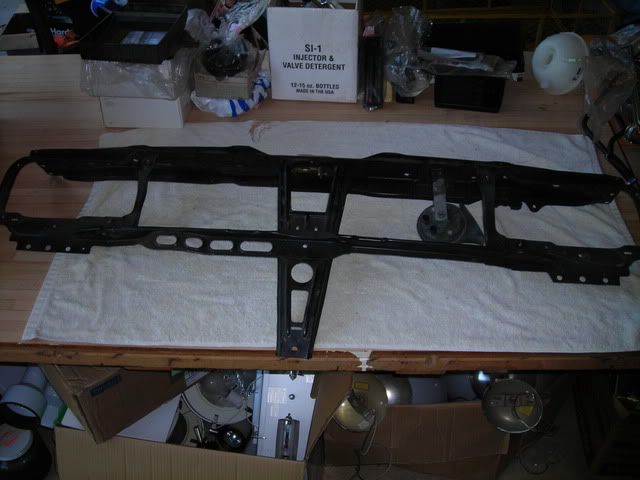 Pair of French Yellow rallye lights
1 projector for rallye lights
All of the rallye light stuff is SOLD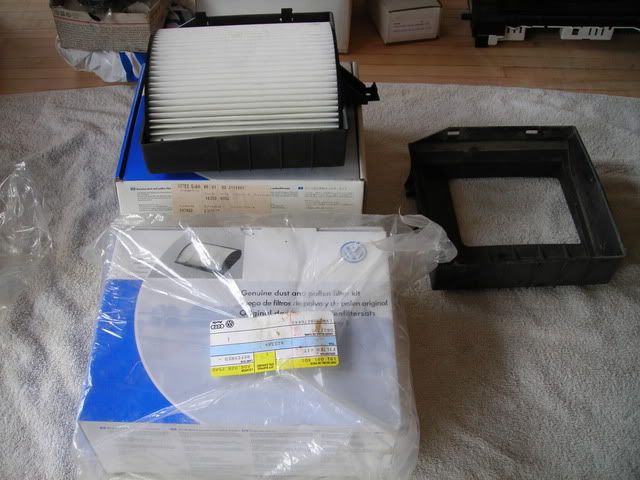 2 pollen filter kits (filter element and bracket) 1 On Ebay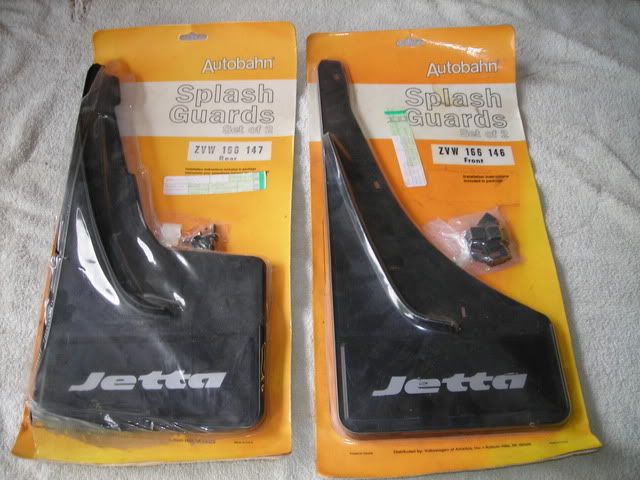 Pair of front mk2 "Jetta" mudflaps (w/big bumpers)
Pair of rear mk2 "Jetta" mudflaps (w/big bumpers)
On Ebay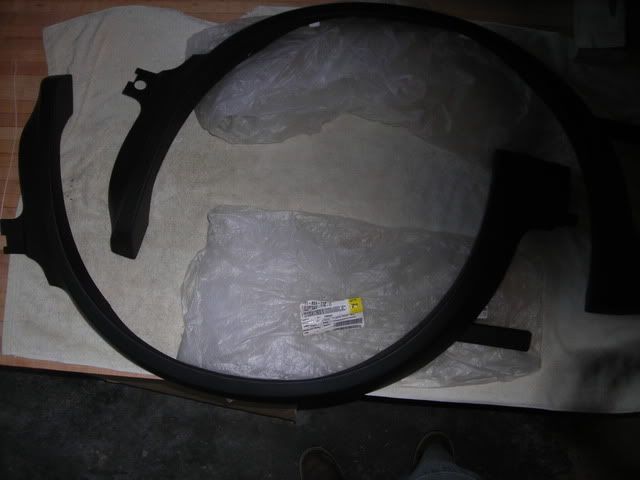 Pair of front gti 16v big bumper fender flares (G60) (just took them out of the factory wrapper today for the first time) 350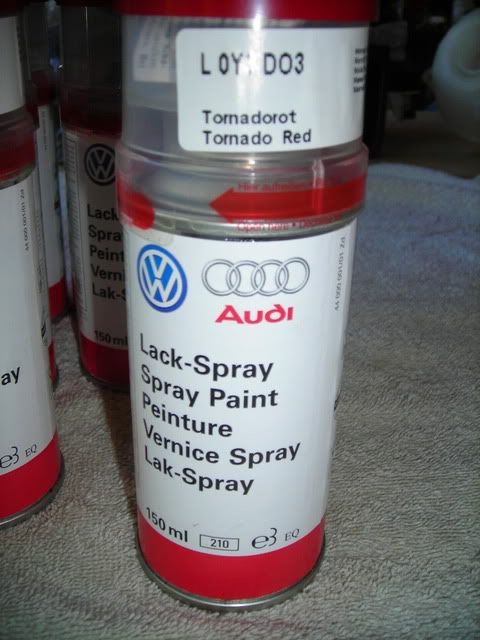 13 150ml cans of factory tornado red spray paint Sold
MK2 Factory hood primered 200
Pair of front big bumper side mounts 10
Misc. Parts:
Brand new VW Drivers Gear California Car duster 15
Ton of G60 parts
MK2 misc. parts
I have a bunch of other VW stuff that I could also include
pretty much what it looks like now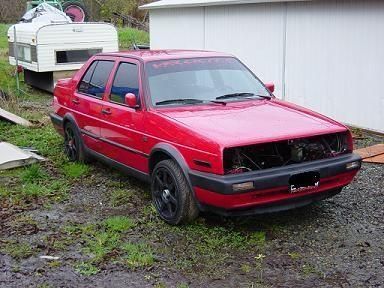 pic from 2002 octobugfest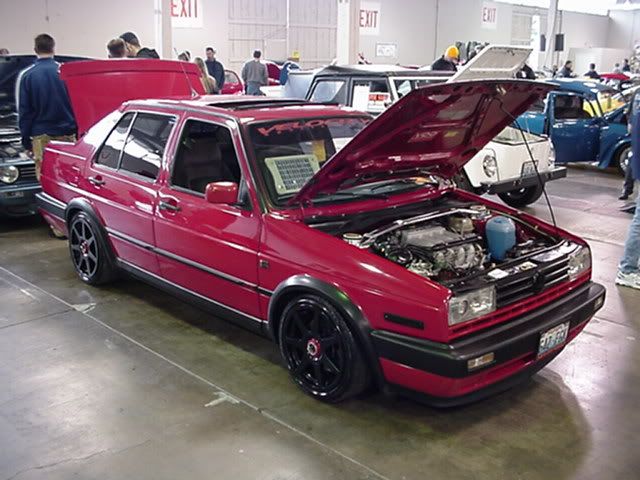 pic from 2002 yakima vw show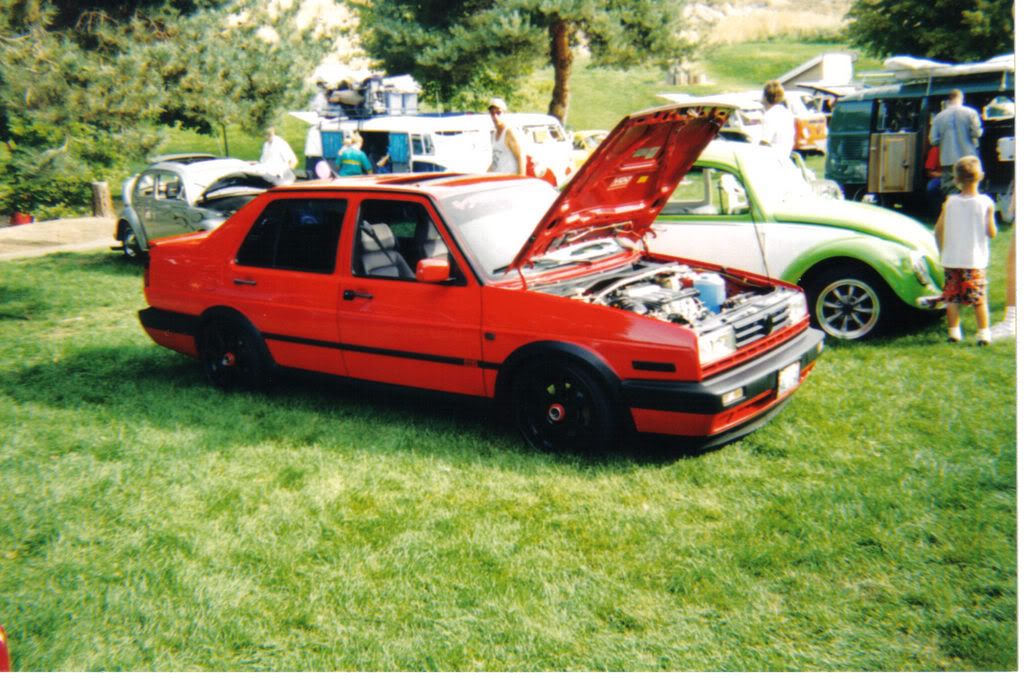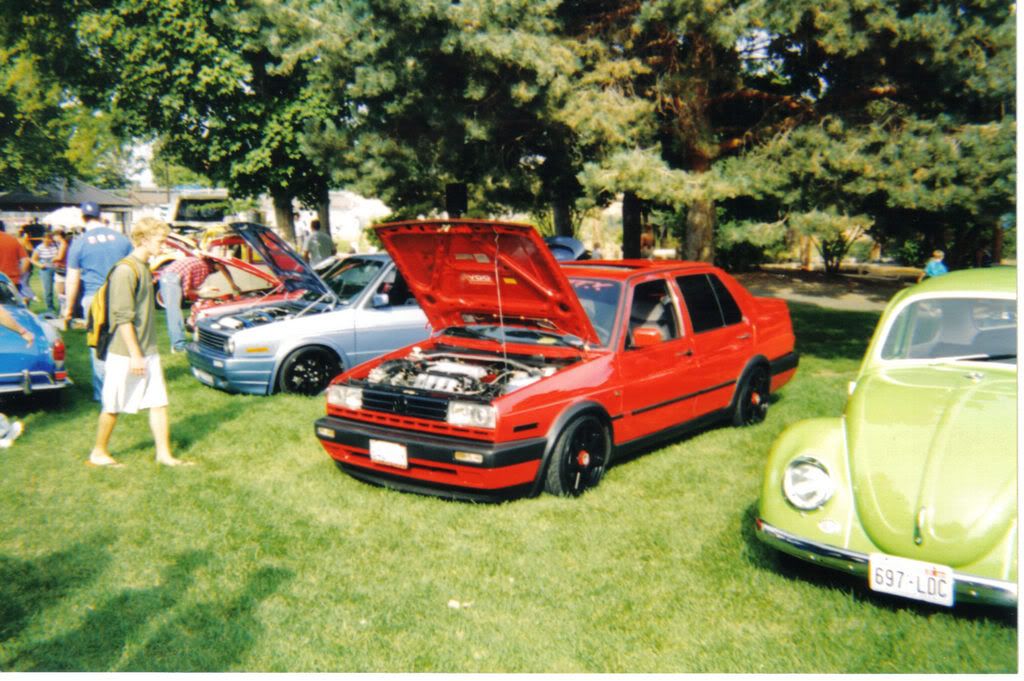 Rare Hammon Spoiler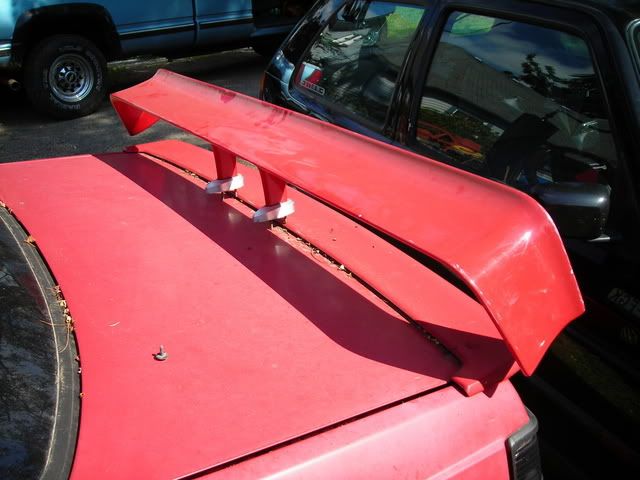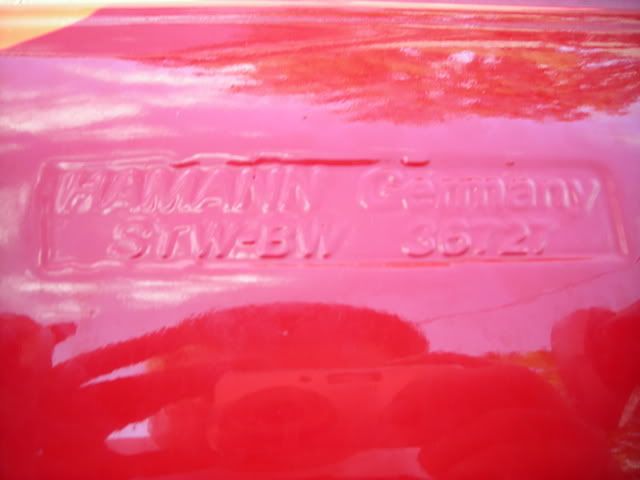 Shop is a mess!!!!!!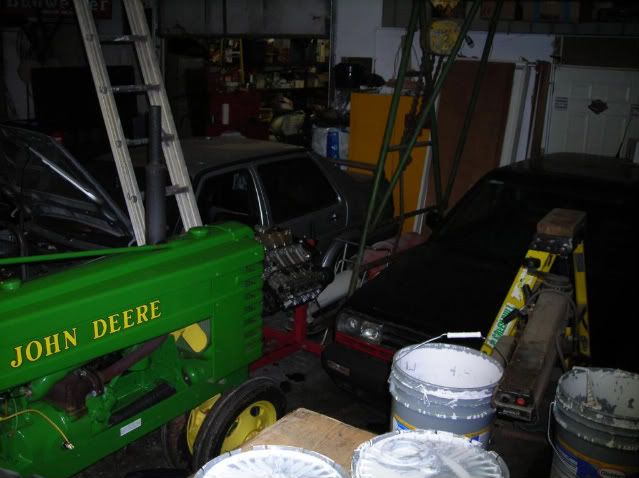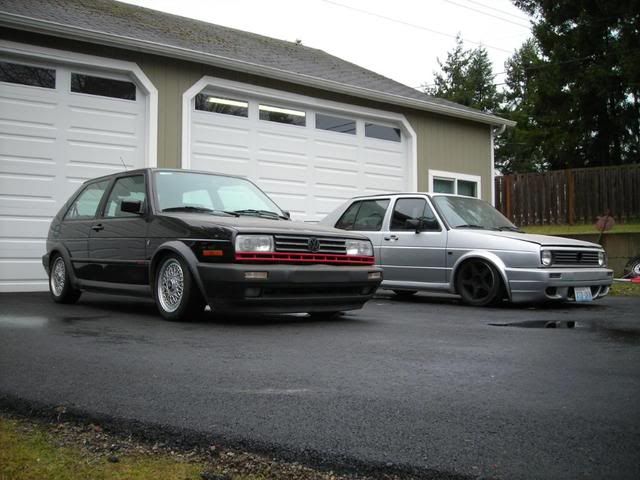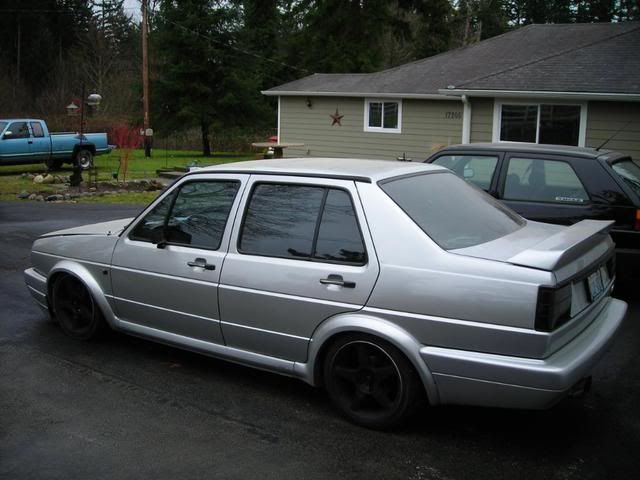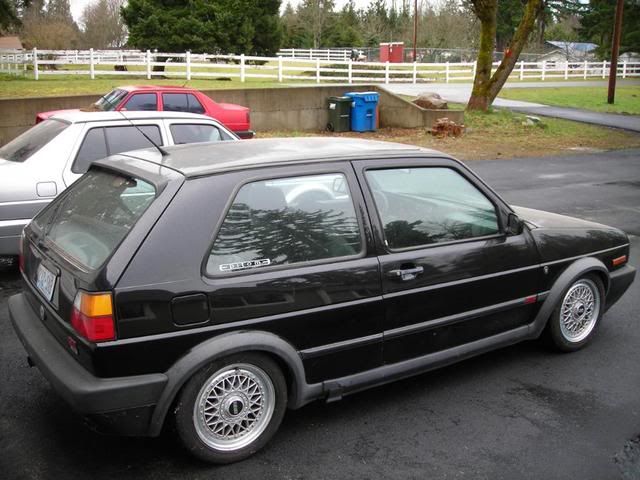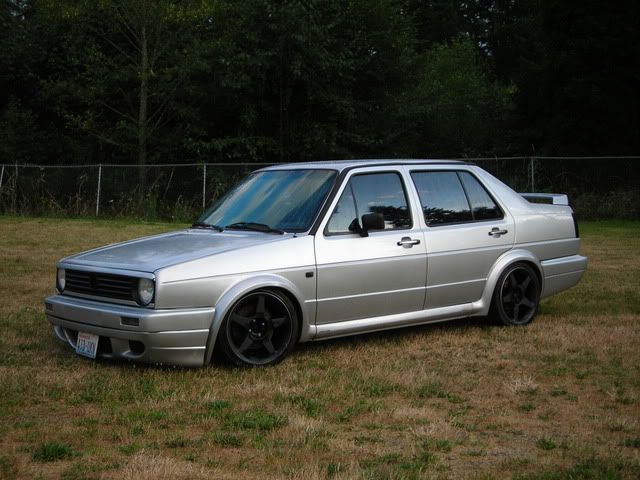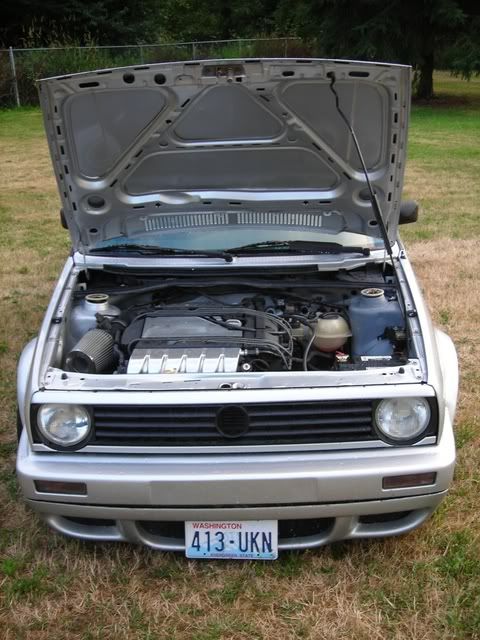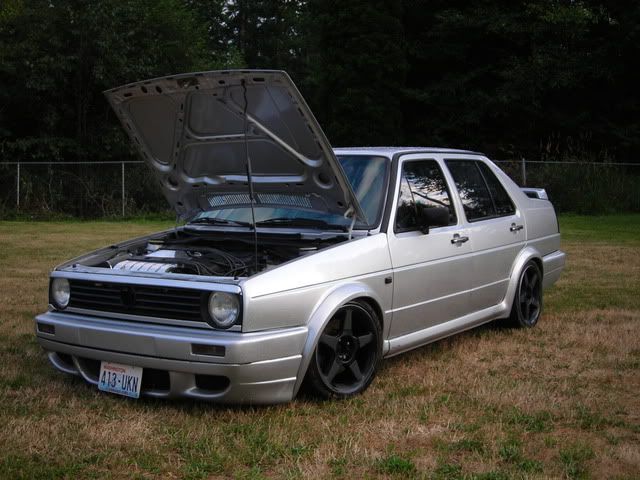 My buddy would also like to get rid of his 1985 VR6 Jetta (It's in my shop too!)
It has a vr6 out of a 97 passat and a late vr6 corrado dash swap H&R coilovers black leather corrado front and rear seats m3 rear spoiler RS front bumper smoothed and painted arches and flares 16" oz monte carlo wheels painted black are on the car, I think it might come with some 15" Porsche phone dial's too. I know he also has a rare nothelle quad 7" light grill with the hella inner 7" high beam lights. He might trade for a early 1950's Buick, Oldsmobile, Pontiac, or Chevrolet. Or possibly building materials to build a 25'x25' shop and concrete work.