Discussion Starter
·
#1
·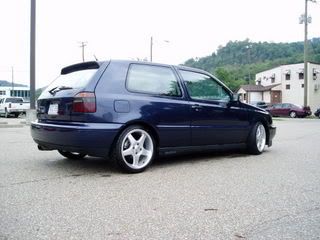 1997 GTI Windsor Blue
The GTI is a 5 Speed 2.0. with 89K miles.
The following is what's been done in the last 2 years:
- New 16" Borbet E Type wheels (No curbage!) and tires.
- Youll get a set of Teardrops too, though they need tires and a good cleaning.
- New bagdeless grille (metal strip needs paint).
- Yellow Lamin-x on fogs/dummies/blinkers
- Smoked sidemarkers
- Stubby antenna
- New rear brakes, calipers, rotors wheel bearings, pads, emergency brake cables.
- New Stainless steel brake cables all around with new brake fluid.
- New TT 270 cam with new lifters and valve seals
- New TT eng chip designed for the mods made
- New Magnaflow SS cat-back, slight rattle.
- New Neuspeed cold air intake with K&N, just cleaned filter.
- New throttle body connector and wiring (my fault).
- New coolant flange.
- New water pump.
- All new belts including timing belt.
- front and rear strut bars
- New shift linkage.
- New Bilstein struts
- New Auto Tech rear swaybar
- New control arms with Poly bushings from Black Forest.
- I have stock motor mounts in it now and the car will come with BFI mounts also.
- New corrado Trans mount
- New faux suede shift boot and e-brake boot
- Neuspeed pedals
- Momo suede steering wheel.
- Aftermarket shift knob.
- Apline CD Player
- New green cluster bulbs
The car runs very strong and handles very well. I have owned it for about a year. It gets great gas mileage also. Has AC and blows very cold. I'm sure I'm forgetting some other things.
The "bad"
- I took the coilovers I had on it off and put them on my Jetta, so the current setup needs an alignment.
- The driver's side molding is missing. I have a replacement but it needs paint (like the grille strip)
- The car is somewhat cosmetically challenged. It has some small rust sport on the hatch, the rear bumper is spider cracked and has a hump in it, the front bumper is scuffed on one corner, the panel under the drivers taillight is pushed in and has a small amount of rust forming. The paint in general has seen better days.
Everything else is good to go. Since I've owned the car I've had very few problems: the coolant flange leaked, changed the green cluster bulbs, I bent a control arm from excessive lowering, a sticky ebrake cable, and the throttle body connector. Oil was changed every 3k since ive owned it at 83k (83, 86 and just changed it at 89k). I'm only selling it because I have 3 vehicles and no job.
Sold!!
Willing to trade for a VR6 Corrado with cash coming from either direction depending on the car. I am located in Wheeling, W.V. (26003). Please ask as many questions as you'd like - PM or post up.
No parting!
I also have a sinful CF hood if you'd like for some extra cash. Pics of it are in my album as well.
More pictures are here:
http://s29.photobucket.com/albums/c298/mk2vdubber/
Modified by mk2vdubber at 5:20 PM 11-18-2006