Hi All!
I am looking to (sadly) sell my TT. I have more need for space and this car is not getting a chance by always sitting in the garage. Currently asking $27,995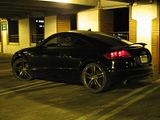 It currently has about 34,500 miles (I will get exact mileage upon request as it's currently garaged 50 miles away for winter). There is a small scratch on the passenger rear fender about 1" long and maybe 1mm wide.. hairline.
I can sell it either stock, or with the current mods on it.
Presently, it has additional:
Gloss black front grille (chromeless)
Aftermarket HID conversion for low/highbeams
19" Hartmann S5 replica wheels (tires will be included)
I have kept all the stock parts, so they can be either included, or put back onto the car for sale.
The car is still under it's original Audi warranty, and has been serviced at each of it's suggested/required intervals (it is on the 15/25/35 schedule, NOT the revised 10/20/30 schedule).
Anything you would like to know, please contact me! This car is located in Colorado.
Modified by saytheb at 11:22 PM 1-25-2010
Modified by saytheb at 11:23 PM 1-25-2010
Modified by saytheb at 10:05 PM 3-21-2010