Hey guys, I think this is one of my favorite cars ever haha we had a customer bring this car to us with a bunch of exterior and interior mods, some performance mods, and he said he's ready to go a little bigger on the performance side. We were ecstatic, b/c we LOVE to turbo VR's
So we sat down, talked about all the options.. and this is what we came up with:
PERFORMANCE:
- GT35R Turbo .82 AR
- Unitronic Big Turbo Software
- Stock Intake Manifold
- R.A.I. Custom Tubular Turbo Exhaust Manifold
- 38mm Tial Waste Gate
- 650cc Injectors
- Stock Head
- Integrated Engineering Connecting Rods
- Wossner Low Compression Pistons 9:1
- Stock Fueling
- Synapse Engineering Blow Off Valve
- R.A.I. Custom Front Mount Intercooler Kit
- Aluminum Intercooler Piping - 2.5" Pressure Piping 3" Throttle Body Piping
- VF Dogbone mount
- VF Pendulum mount
EXHAUST:
- R.A.I. Custom 3" Stainless Steel V-Band Turbo Back Exhaust
- Milltek Rear Muffler
DRIVETRAIN:
- DSG Transmission
- Unitronic Custom DSG Software
- Haldex Gen II High Performance Controller
BRAKE & SUSPENSION:
- Front Brakes - Stasis 355x28mm Mono4 Big Brake Kit
- Rear Brakes - SPP Black Zinc Slotted/Dimpled Rotors w/ Carbotech Bobcat Pads
- Ksport Koilovers
WHEELS & TIRES:
- 19"x8 R8 Rep wheels
- Toyo Proxes4 Tires
INTERIOR:
- Grey Alcantara Seat Centers
- Symphony II Head Unit Converted to RNS-E w/ Dension iPod adapter
- Aluminum Pedals (TT dead pedal and GTI gas/brake pedals)
- Perforated leather shifter
- Footwell lighting to illuminate flooring
- Perforated leather shift-boot and e-brake handle
- Audi rubber floor mats
- Audi cargo mat
- Carbon fiber fabric covered trim
- Ashtray delete
BODYWORK & LIGHTING:
- 35% tint
- EuroGearUSA Carbon Fiber Hood w/ AeroCatch hood latches
- Carbon fiber mirror caps
- Euro blindview side mirrors
- Custom LED in fog light grill
- City Light re-wire w/ Ziza LED bulbs (city lights do not come pre-installed)
- HID Fog light
- Euro "LED" tail light upgrade
- Blacked out grill & trim
- "Skid-plate" license plate holder
- Color matched vinyl for side markers
- Seat Cupra R Lip
Here are a couple pics: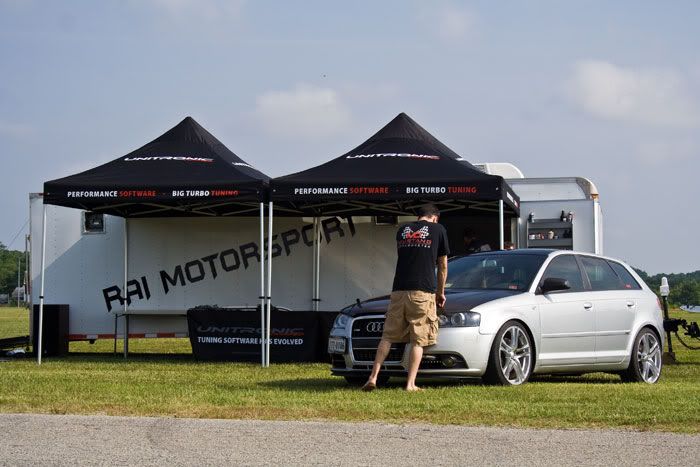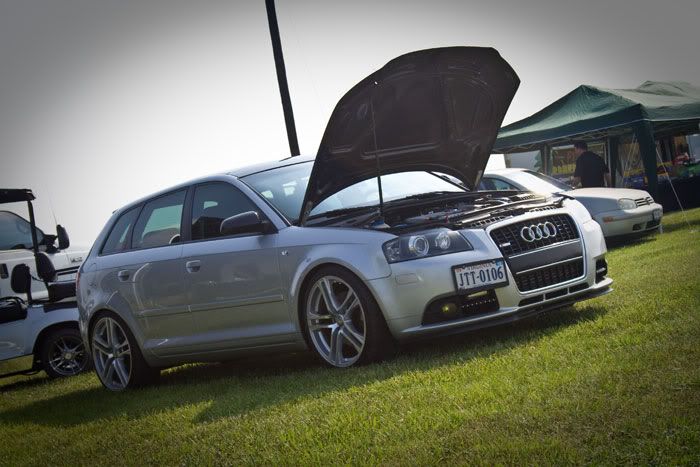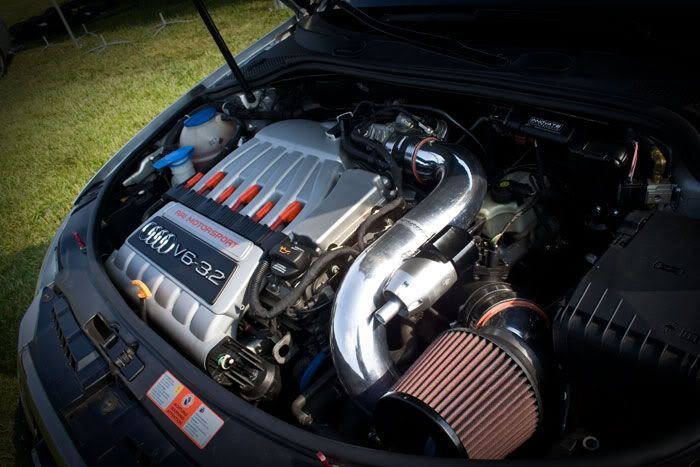 For more pics of this project, and other projects we have going on..
CLICK HERE