Something is wrong w/ my old thread and I can't reply to it, so I'll just copy/paste add... :beer:
Original thread:
http://forums.fourtitude.com/showthread.php?4932190-3.2L-VR6-BT-Project
I'd like to thank
RAI Motorsport
for their great hardware work and willingness to take on this project. Ray has been in communication with me during the whole build and has done whatever was necessary to try and get the car running properly. :thumbup:
I'd also like to thank Jeff @
UnitedMotorsport
for getting me a properly working tune with a very quick turnaround. :thumbup: .
PERFORMANCE:
- GT35R Turbo .82 AR
- UnitedMotorsport Big Turbo Software
- Stock Intake Manifold
- R.A.I. Custom Tubular Turbo Exhaust Manifold
- 38mm Tial Waste Gate
- 650cc Injectors
- Stock Head
- Integrated Engineering Connecting Rods
- Wossner Low Compression Pistons 9:1
- Synapse Engineering Blow Off Valve
- R.A.I. Custom Front Mount Intercooler Kit
- Aluminum Intercooler Piping - 2.5" Pressure Piping 3" Throttle Body Piping
- Snow Performance W/M Kit
- VF Dogbone mount
- VF Pendulum mount
EXHAUST:
- R.A.I. Custom 3" Stainless Steel V-Band Turbo Back Exhaust
- Milltek Rear Muffler -- removed and now have full custom 3" all the way back
DRIVETRAIN:
- DSG Transmission
- UnitedMotorsport Custom DSG Software
- Haldex Gen II High Performance Controller
BRAKE & SUSPENSION:
- Front Brakes - Stasis 355x28mm Mono4 Big Brake Kit
- Rear Brakes - SPP Black Zinc Slotted/Dimpled Rotors w/ Carbotech Bobcat Pads
- Passat front lower control arms with TT bushings
- AirLift Performance Front Struts w/ camber plates and dampening
- AirLift Double Bellow Rear bags w/ Koni yellow struts
- Stage 2 management with E-level
- Viair dual 444c compressor
WHEELS & TIRES:
- 19"x8.5
VMR 721
Gunmetal wheels
- Continental DWS 225/35/19
INTERIOR:
- TT Flat bottom steering wheel
- Podi VEI dual display gauge
- Grey Alcantara Seat Centers
- Symphony II Head Unit Converted to RNS-E
- S-tronic shifter
- Aluminum Pedals (TT dead pedal and GTI gas/brake pedals)
- Perforated leather shift-boot and e-brake handle
- Audi rubber floor mats
- Carbon fiber vinyl covered trim
- Ashtray delete
BODYWORK & LIGHTING:
- S3 full body kit conversion
- 35% tint
-
EuroGearUSA
Carbon Fiber Hood w/ AeroCatch hood latches
- DEVAL carbon fiber lip
- Carbon fiber mirror caps
-
G3 Composites
carbon fiber b-pillars, interior trim
- Euro blindview side mirrors
- City Light re-wire w/ deautokey LED bulbs (city lights do not come pre-installed)
- HID Fog light
- Euro "LED" tail light upgrade w/ DeAutoKey LED reverse bulbs
- LED footwell lighting
-
oemmods.com
dual LED trunk light kit
Here are a couple pics from July 2010: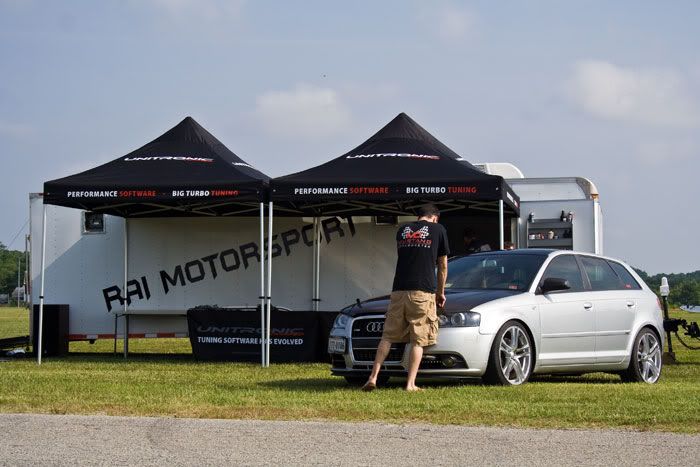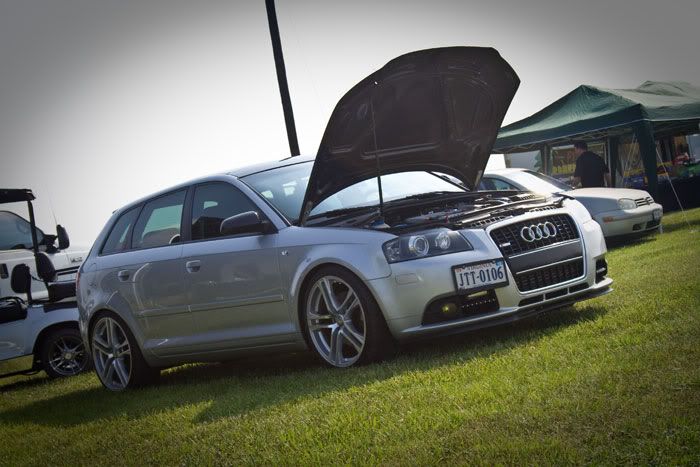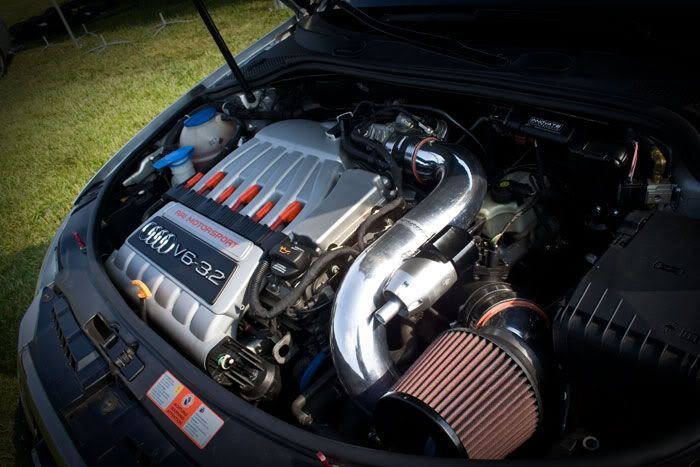 Fourtitude pics from H20 2011: