Discussion Starter
·
#1
·
The idea of this mod is simply a way of achieving better braking on a budget. Also my discs and pads were looking tired so now was a good time to do the conversion.
This mod is cheap in the scheme of things, coming in at under £200. I wanted to do this conversion but found no write ups and the one i did find on the vr6oc was full of red x's for pictures and some parts i thought were unclear. After doing the conversion i would say the hardest part is actually sourcing all the parts and making your spacer.
***TAKE NOTE*** - brakes are the most important safety feature of your car, if you are not confident taking them apart please DO NOT attempt this conversion, leave it to a professional.
Parts needed:
-312mm discs from an audi tt / skoda octavia vRS and some mk4s (TT part no 8N0615311A)
-caliper carriers (Audi TT caliper part no 8N0615123) (audi TT carrier part no (1)Left 8N0615124 (2)Right 8N0615125 )
(note - later spec vr6 guys with 288mm brakes can use the original caliper. early obd1/rado guys will need the caliper from either obd2 vr6 or the caliper from your donor tt/octavia vRS/mk4 - early caliper guys (obd1) need to also buy banjo type brake hoses)
-pads to suit 312mm discs (again obd2 guys can use your old pads but id reccomend buying new ones. )
-6mm plate metal (this will become clear later)
-m12 high tensile bolts at least 40mm long (your old bolts are no good)
-16" wheels at least. 15s WILL NOT WORK
here is my spacer i made. you will need to make two of these. It is VERY important you ensure the 12mm holes you drill match EXACTLY up with the 12mm holes in the carrier. This will save you trouble when it comes to putting them on the car. dont worry about it being neat, it cant be seen when its on the car.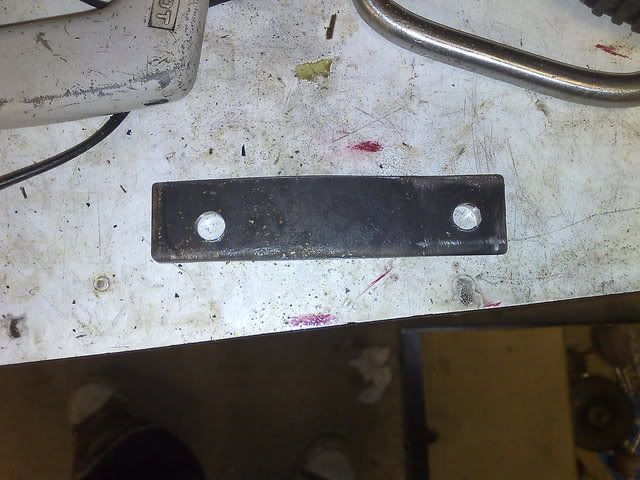 while i had the carriers off the car i also painted them to match my calipers.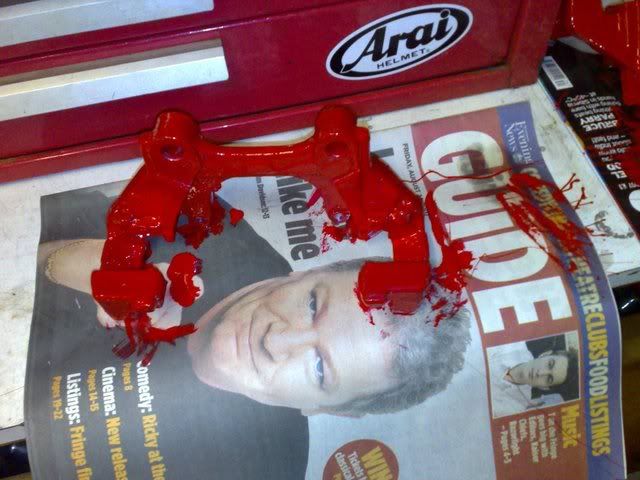 now i was ready to install my new parts
just for comparrison 288 vs 312mm
this is the reason for your 6mm plate spacer. notice the 312mm disc has a more protruding face out of the friction area. Your spacer will make your pads and caliper line up properly with the disc.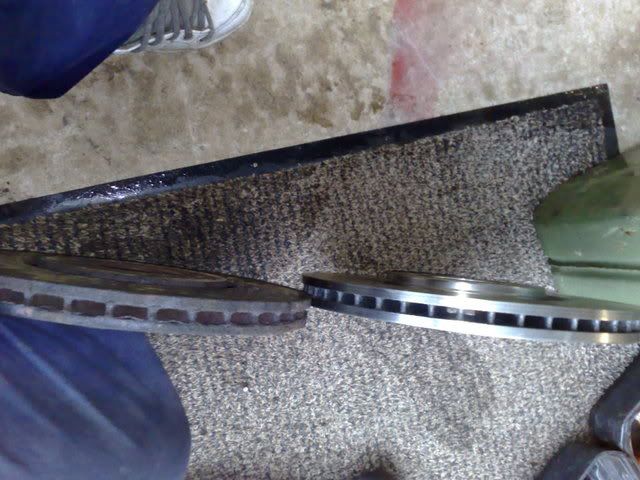 Next stage is pretty simple, simply pulling your caliper off using an alen key on the two bolts on the back and the caliper will lift off. NOTE** do not let the caliper dangle by the brake hose, this can damage the hose, either hang it from the spring with a wire or balance it on the hub.
Remove the old caliper carrier 2x 17mm bolts and throw it away (you have a nice new one to install in its place)
Now simply bolt up you new carrier with the spacer BETWEEN THE CARRIER AND HUB with your new bolts
the rest is easy simply reinstalling everything as they came apart, replacing your brake pads with new ones.
hope this comes in handy to anybody wishing for better brakes on a budget. Its wet outside so i cant give a good feedback right now but initial impression is its a worthwhile improvement.
http://****************.com/smile/emthup.gif
Modified by MPMX at 7:23 AM 1-29-2008