Discussion Starter
·
#1
·
So about a few months ago I bought this 91 Jetta that was in its darkest hour for about 750. Looking back I should have gave the guy less. Specially if i knew he was going to rip me off parts and mess up the title.
the ad
http://forums.vwvortex.com/zerothread?id=3662079
It actually looks much better in those photos then when i got it. But it alsi barely ran, had no 5th gear, AC, Smelled horrible inside, over spray everywhere, not turn signals, list goes on and on. But the body was straight, except the **** paint job on it. I really hate flat black anymore.
all the sanding and i got this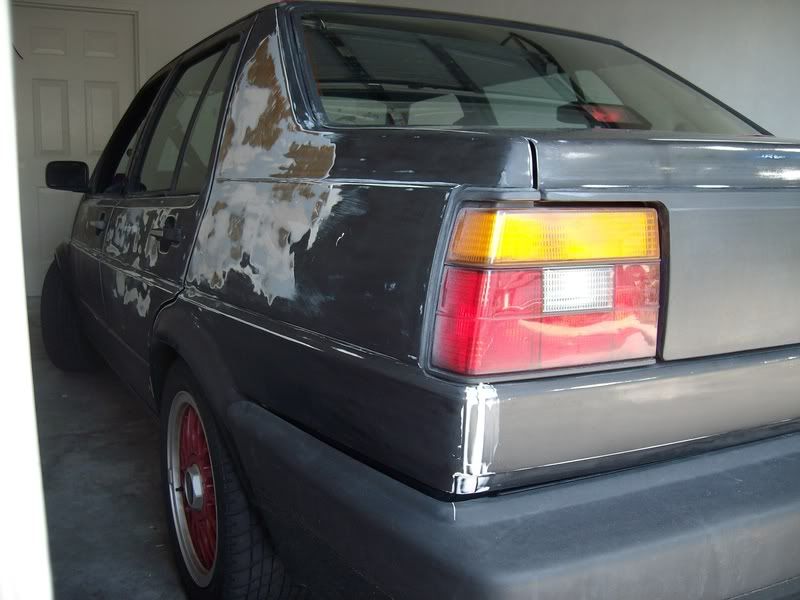 Which I finally put the first two coats on this last weekend. I still have about 6 more to go and a ton sanding still. But I'm fairly impressed, even for being in black it looks pretty decent.
I plan to replace all the rubber trim because its pretty cracked and I need to sand and buff the door jams. I need paint under the front bumper, but I got lazy on the first couple coats cus i didn't know how it would turn out anyways. The photos are kinda crappy, a flash under neon lights is probably not choice lighting. But i'm happy so far. Just another couple months of working on it and it should be really nice again. At least everything works and its reliable now.
Modified by golgothan at 11:36 AM 9-15-2008
Modified by golgothan at 1:15 PM 9-23-2008