I have an 01 MKIV Golf with 2.0 AEG engine that i use for leisure trips to spectate automotive events. The stock pump failed back in Feb 2010, so i ordered a GRAF pump with metal impeller from ECS Tuning.
http://www.ecstuning.com/Search/06A121011L/ES766/
Purchase was made on 1/27/10, parts got here on 2/03/10, and I installed pump late Feb 2010. Mileage was 127,257 when pump, timing belt, tensioner were done. In the middle of 2010, a loud grinding started at the front passenger side of the engine. I parked the car for a while and drove my truck because the racing season is slow in the winter. Ive had some time to fix things, so i took everything apart and found the water pump with bearing grease or some waxy chunky crap all over the outside of it and on the inside of the timing belt cover like it splattered, and the pump leaking from the shaft. Car now has 135,362 miles on it, so thats complete pump failure within 8,069 miles. I contacted ECS on Feb 2011 to see about replacing it given the circumstances, and their reply was that the warranty was a few days expired, so they wont be offering a replacement. Well anyway, check out these pics. Ive included a video of bearing noise for your entertainment.
Maybe ECS will see this and extend their services.
Waxy gunk all over water pump, coolant leaking and lots of rusty parts from heat and steam.
More waxy crap, and leak from shaft.
Pump on my table, closer view of damage.
More of that waxy crap that splattered all over the place. Definitely came from inside the pump housing.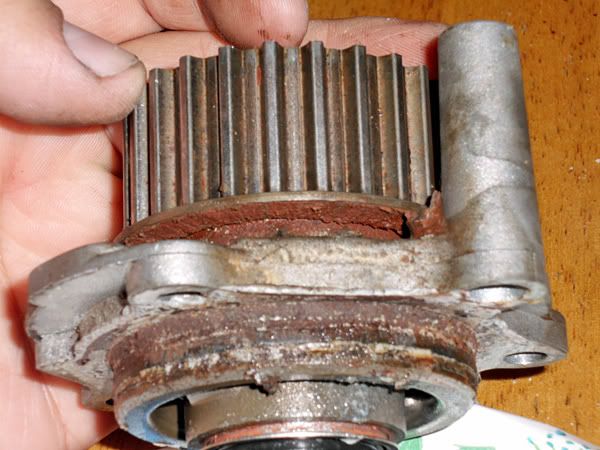 Nasty waxy chunky stuff i scraped off the outside of pump.
Current mileage.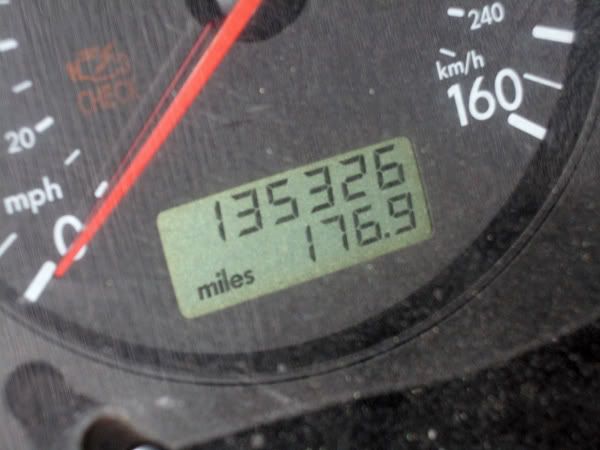 Miles when timing belt, pump, and tensioner were replaced.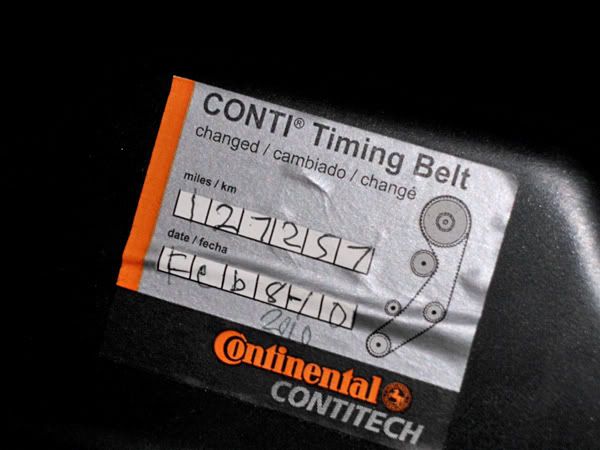 Annnnnd, a video!