Well, we did it.
If you have been following
this thread
you will know a year ago two friends and I signed up for the Mongol Rally, a dash from England to Mongolia with no back up, no GPS and no help if you screw up. Oh, and it's in a car under 1.2 litres, under 10 years old and preferably under £500. Although a lot of teams ignored these 'rules' in some way, we think we stuck to the spirit of things - a £400 Hyundai Accent 1.3. Slightly over on the cc limit but still rubbish. For more info on the car and preparations,
see here
.
Update: Teaser Trailer
Update : The Unprofessionals Movie
1: Goodwood, UK to Budapest, Hungary
So the start has finally arrived. 12 months of planning, visa stress, buying kit and the hunt for sponsors have brought us here, the beginning of the Mongol Rally 2009! There are around 300 other teams lined up in the paddocks in a collection of cars the like of which this circuit has surely never seen. I say this because most of them are crap.
The dominant favourites are the Skoda Felicia 1.3, Suzuki Swift 1.0 and a smattering of Nissan Micra 1.0s. Suzuki Jimnys are extremely common, and our choice – the Accent – numbers something like 6. There are the comedy entries – Joe and his team the Rolling Cones in a US panel truck converted into an ice cream van…the mad Bat Limo, a Volvo 740 stretch; Russ and Pepe with Thunderbird 4, which is the love child of a Suzuki Jimny, a Reliant Rialto and an angle grinder; the Great Balls of Fur in a 1979 Dennis Fire Truck, entirely covered with fur…and more. This is going to be fun…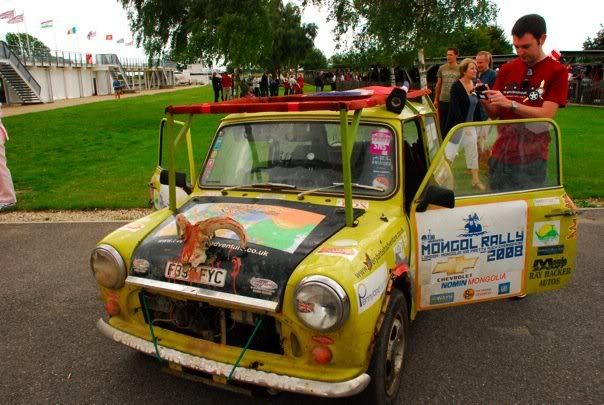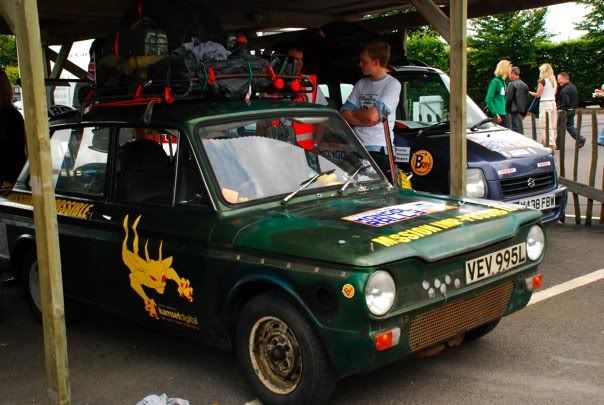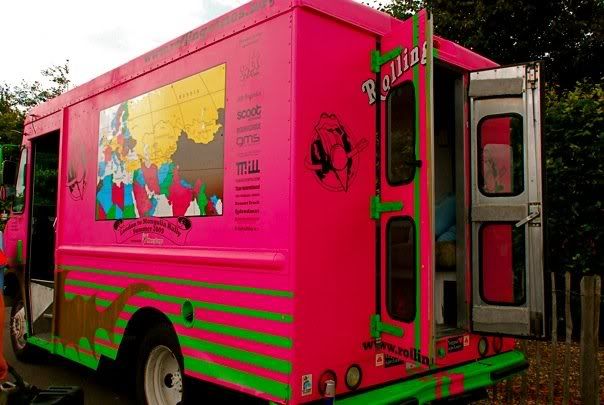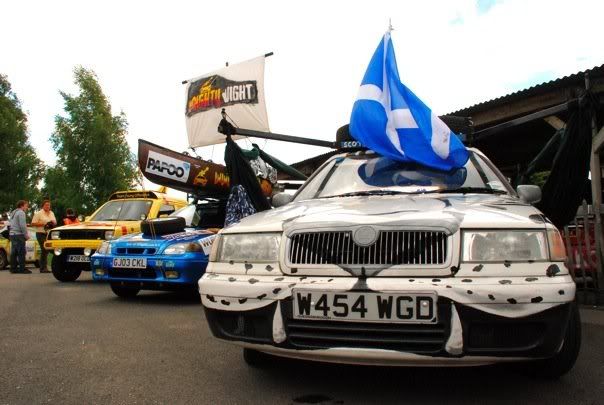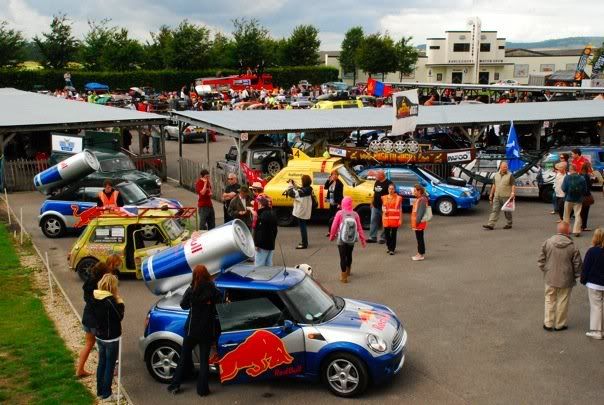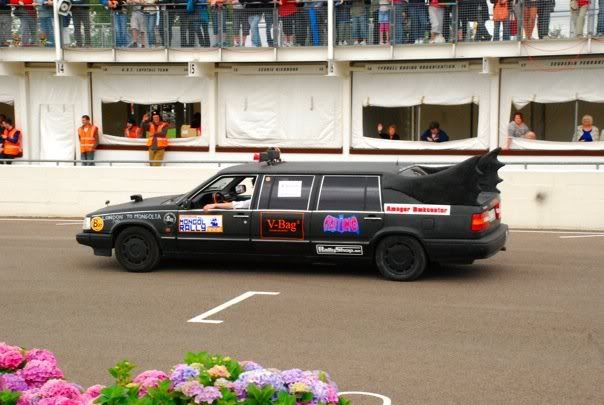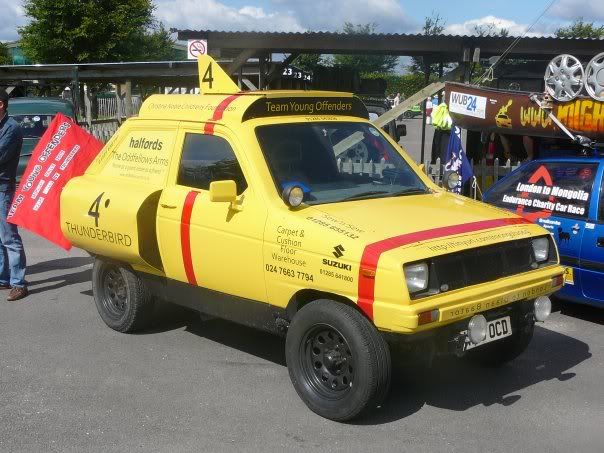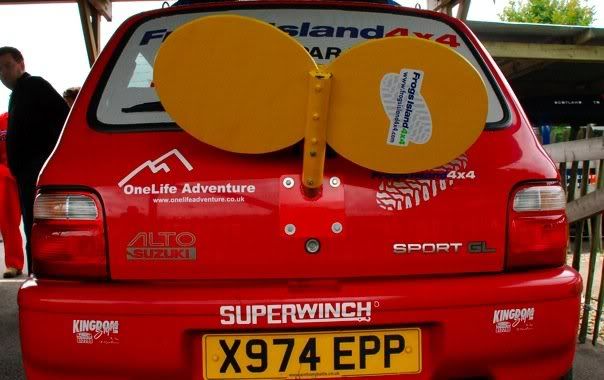 Our car looked the business in full racing livery, jerry cans and spare wheels tied down to the roof rack, and far too much weight on board than is probably healthy. We are 4 up until Istanbul, when our friend Mark flies home, so it's cosy but surprisingly comfortable. At 2pm we are led out in batches of 20 for a parade lap behind a Rolls Royce EX100 at an insanely slow 10MPH just as the heavens open; to waves and cheers from family and friends, we are off! We immediately take a wrong turn trying to decide on the fastest route to Dover, which bodes well for the next 5 weeks…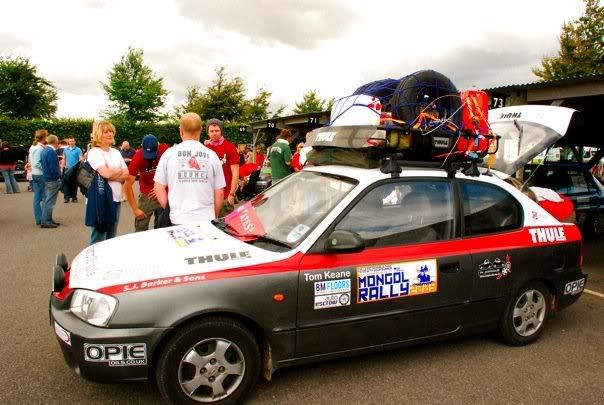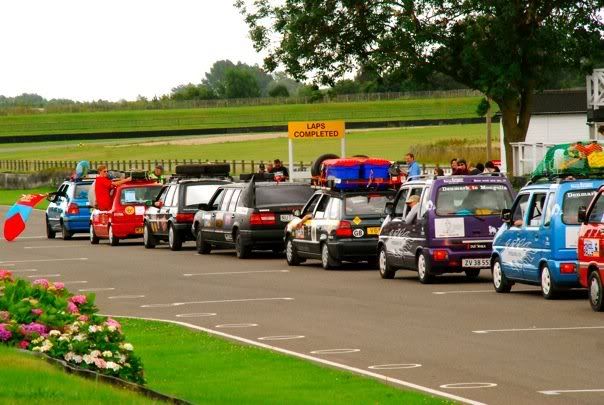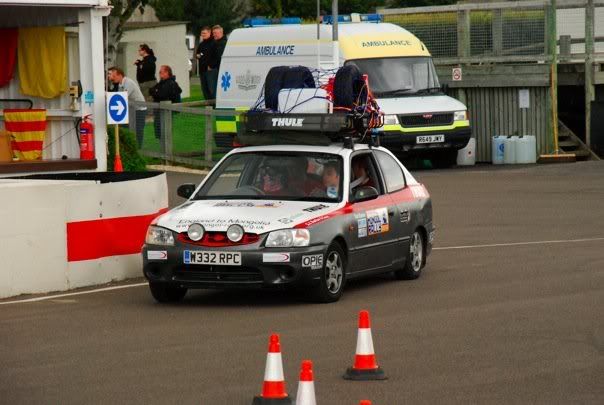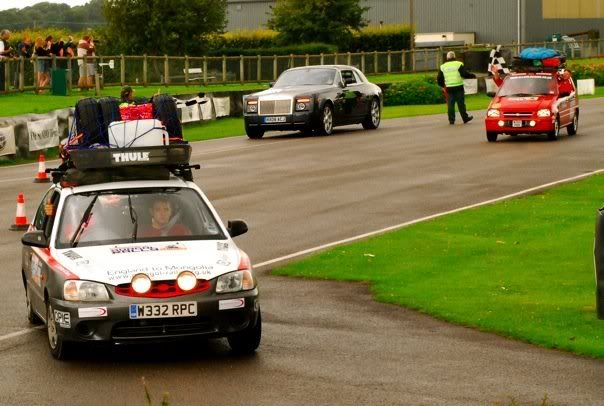 We reach Dover along with about 25 other teams booked onto the same ferry and after a swift crossing - including a mad clog race around the ship between a Dutchman (actually wearing clogs, for real) and a member of team Kernow Pirates - we were in France. We promptly decided, as Englishmen, to get across it as quickly as humanely possible.
Rule 1 of the Mongol Rally – 'The Optimum Convoy'.
The answer is 3-4 cars. We learnt quite quickly in France that a 14 car convoy tends to have draw backs, for example, traffic lights. Keeping that many together is even more fun when you all stop at the same service station in Belgium, and another 14 car Mongol Rally convoy pulls in. And you all want fuel. I can report the Belgians do not have much of a sense of humour.
By about 10pm we reached Gent, where 20 teams start driving around the city (regularly losing each other) looking for a festival, the name and content of which nobody was sure on but 'it's in Gent, tonight'. After an hour everyone gave up and we set up camp at the local service station. Which sounds weird, but proved quite good in Western Europe. Their services often have modern showers, acafe, and a nice green area to set up camp, where nobody bothers you. Imagine THAT in the UK! The weather was attrocious and most decided to to try and sleep in their cars, with varying success. 4 up, Mark and I decided it wasn't going to work and set up a tent on the concrete. Listening to the rain outside was surprisingly relaxing in a warm cosy tent.
In the morning we discovered about 30 teams had set up here and parked next to us..team Herohead.
If you have read the build up you will know we had been a two car team and prepped two identical Accents, but decided to take one at the 11th hour. The other car was sold to another team, Herohead, who ended up doing virtually nothing to alter it. So throughout the rally, we would bump into our cars twin in random cities, and they would be asked 'are you the Unprofessionals? I've seen your website!'. Many people thought we were just a two car team that didn't get on - taking different routes and never camping together...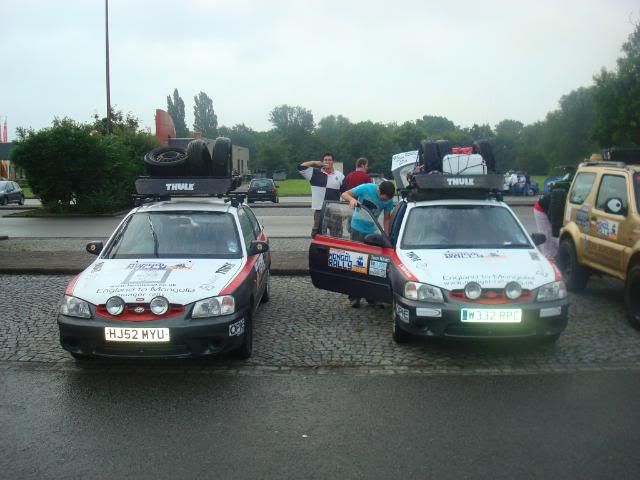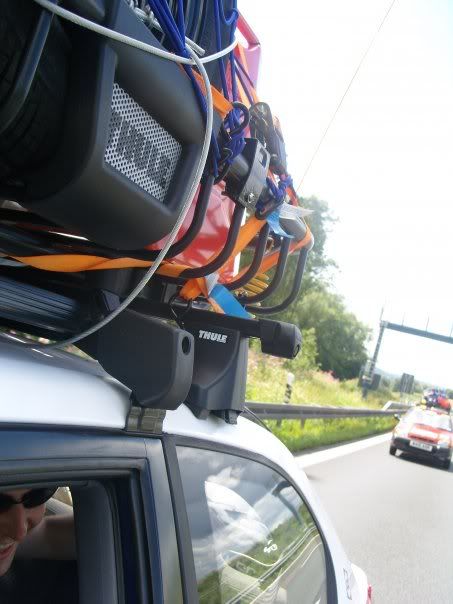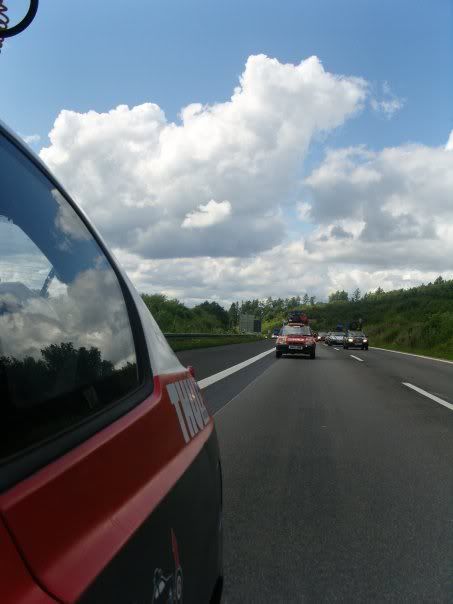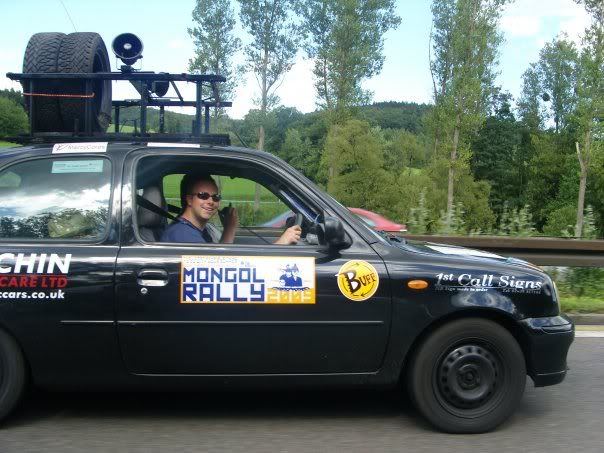 First thing we headed for Germany with Team Slipstream (gold Jimny), I Mongol'd Ya Mum (bronze Corsa) and Team Swifty (red Swift). We discounted the 'Ring as reports from other teams suggested people had to unload the roof, so headed instead south through Germany via Nuremburg to the Czech border. Czech was the location for the first and only checkpoint on the trip and a massive party at Klenova Castle, a stunning location set in the Czech countryside. Mark, my team mate, drank so much he was bounding around like a Leprechaun until dawn, while Matt was MIA by 8pm. The setting was beautiful, the people hilarious and Gin and Tonic, of all drinks, free. Carnage is the word I would use...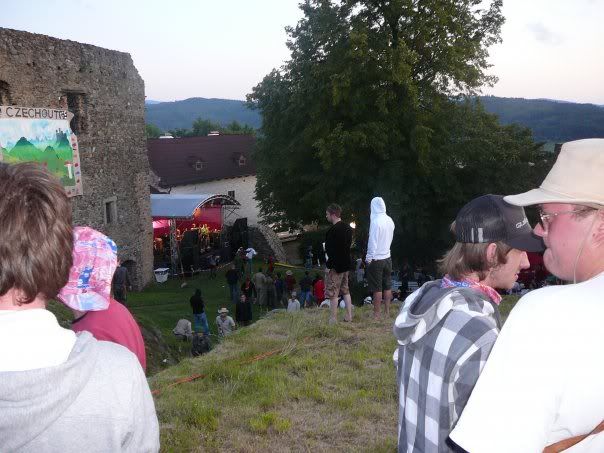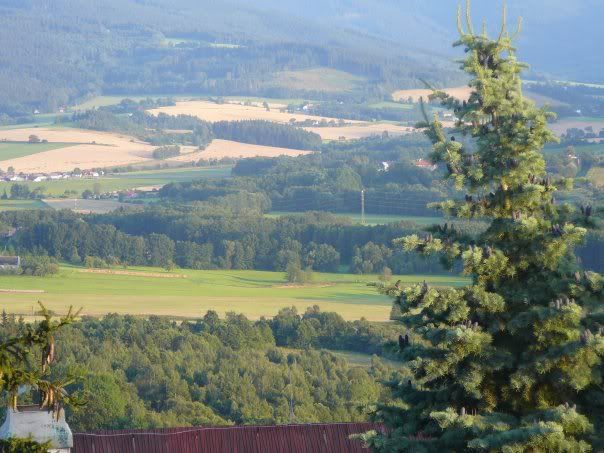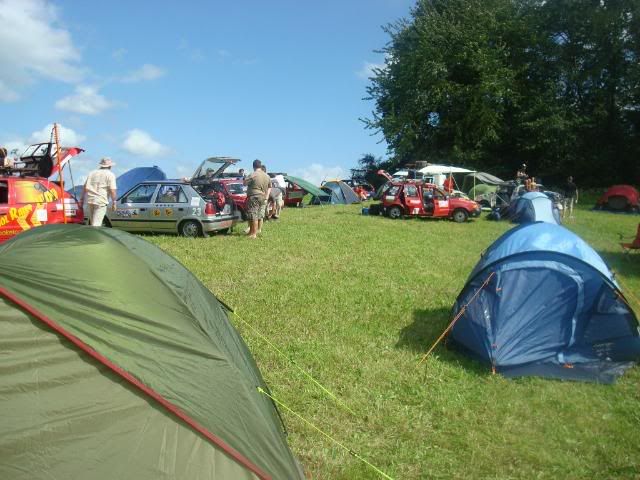 Nursing hangovers as we packed in the am, a sight to behold. A team named the Jersey Boys, two US lads with a Ford Ka, had crashed in the UK on the way to the camp site the night before the start. We had all assessed their car as 'stuffed' and felt bad for them, but they had optimistic hopes of repair. No chance, everyone thought quietly. But that morning, across the field, I saw a blue Ka, it's front end held together with welded steel from a refrigerator, a Fiesta headlamp and duct tape. It was ugly as hell but it was here! Two lads I have major respect for – eternal optimism and they never gave up, well done Rich and Alex. That car made it to just 1000km short of the finish too.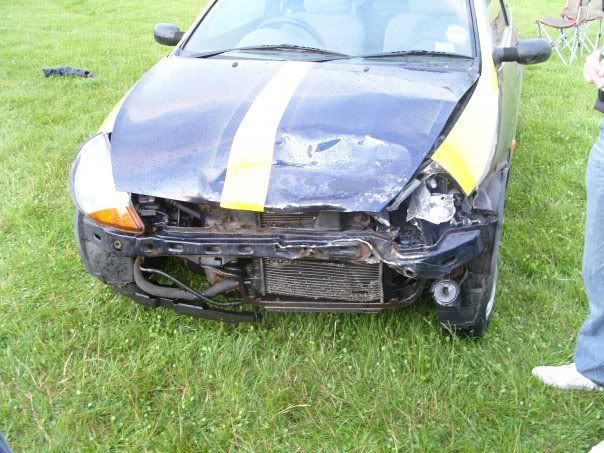 From Czech we hooked up with the Young Offenders (Thunderbird 4) and the Gentleman of Fortune (blue Terios) for a trek down to Hungary. Smooth, sweeping country roads and brilliant sunshine made for a very pleasant drive to the border. We stopped in Ceske Budejovice for lunch in the town square, after which Pepe of Thunderbird 4 thought it amusing to grab our car keys from the ignition while we were at the lights. I tried to stop him and the result was one bent key…and a load of Czechs beeping furiously. It eventually got straightened and we pulled out of the way, only for the Rimny (as Thunderbird 4 was known) to overheat and kick in it's fuel cut off. Karma's a bitch guys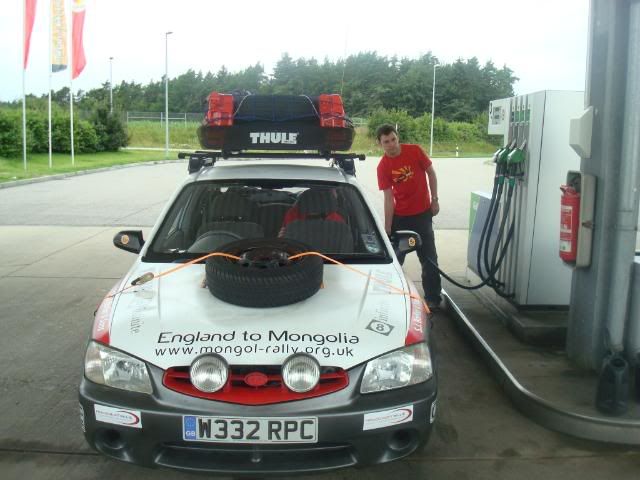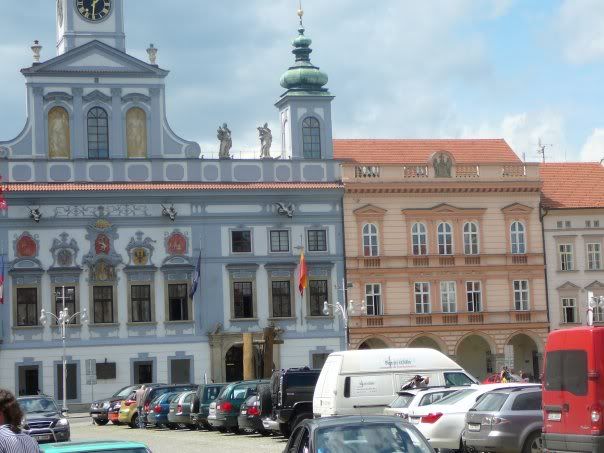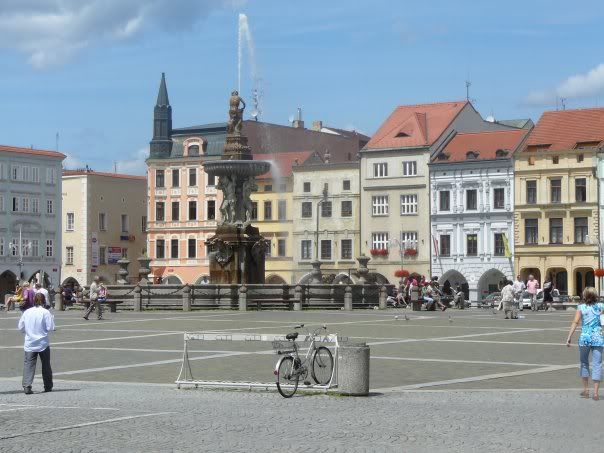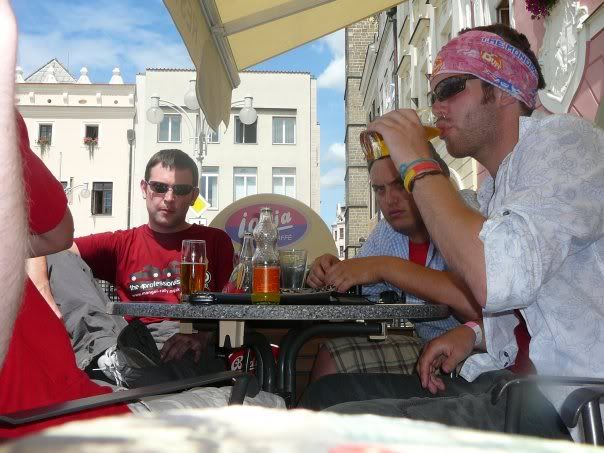 We soon got going again and headed through Austria, hoping to see Vienna as we passed through. The Austrians though, in their efficiency have built a bypass tunnel under the whole thing – it was in front of us, then a long tunnel, then it was behind us. I'm sure it's very nice though! Along the way we bumped into several other rally teams, something you get used to – despite the distances involved, most teams are taking obvious, major routes through countries and though random, you do see cars you saw 4000 miles ago every now and then.
The roads from the border to Budapest blew our minds – perfect tarmac, new signage, good driving. Fantastic! At a service stop we bumped into Ulaan Baatared, Tom and Mike in their red lifted Jimny, and they joined our convoy into Budapest that night. What a city.
We did learn Rule 2 of the Mongol Rally – Cities
here though. You need to budget a minimum of one hour cruising around lost looking for where you are staying, regardless of any guide book or directions you think you might have…in a comedy of errors we even managed to lose each other and pass Thunderbird 4 going the other way at one point. Brilliant.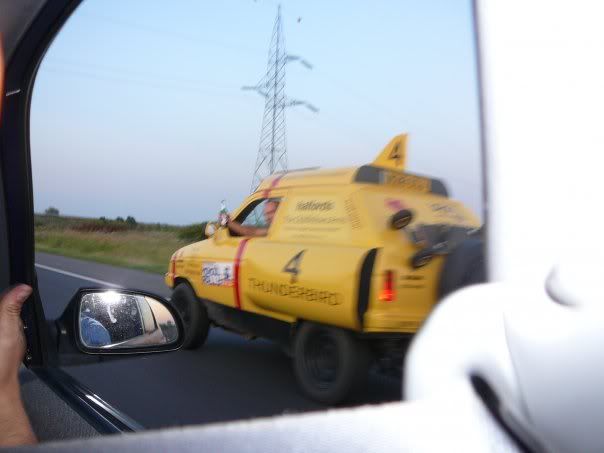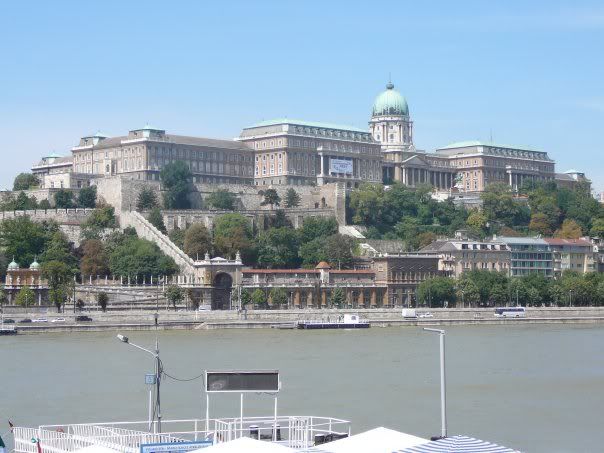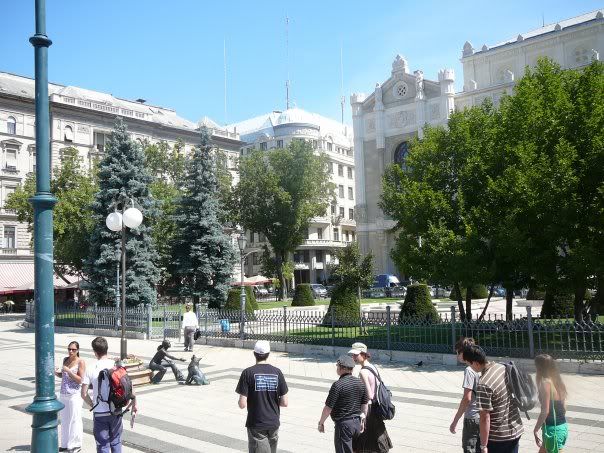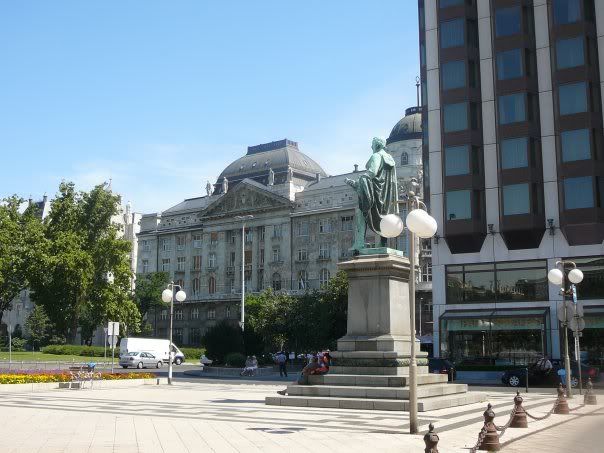 Eventually we installed ourselves in a, er, 'ram shackled' old hostel and we hit the town…but our night on the beers ground to a hault around 11pm as everything seemed to be closed. Bugger. We woke up to Hungarian parking tickets we could neither read nor figure out how to pay – even if we had wanted to – and had a quick wander around the city (which is beautiful, by the way) before hitting the road. The Hyundai had been rock solid until today, when the exhaust started blowing a bit – sounded awesome but something to keep an eye on.
Next - Serbia, a night in Belgrade and the long drive to Istanbul…