Discussion Starter
·
#1
·
sold
never thought id do it but im going to part with my gti to buy a TT. i love this car and its a lot of fun to drive i want to keep it and buy a TT but the wife says something has got to go we dont have the space or $$ for the upkeep on 5 cars (even if 2 dont run right now)
the goods :
hella dual rounds
european flares smoothed/painted
color matched mirror bases and door handles
audi tt wheels
slotted front rotors (have rears to go with)
hella all red tails
weitec 60/40 kit
eurosport rear strut brace
conrero shift trim ring
new beeetle headrests
jetta rear seat (60/40)
mk3.5 cabby leather door panels
all the DE goodies (golf ball shift knob, red stitched wheel, shift boot, and ebrake boot)
european headlight switch
giac chip
k&n open filer with a lexan heat shield.
new last 6 months:
water neck
low temp thermostat and fan switch
gruven parts metal rad hose connector
sepentine belt
plugs
plug wires
coilpack
optima red top battery
windshield
new last year:
transmission (bought with less than 39k on it)
MAF
throttle body
window reg (pass side)
slotted front rotors (have rears to go with)
other:
mobile 1 synthetic used since i got the car at 50k, changed at 4k regularly.
mintex all around just over a year ago.
Needs:
in my opinion it needs paint. the stock paint isnt bad but its ginster stage 1 paint. they all get oxidized because of the lack of clear coat. also the car was in a small fender bender about 3 years ago. the hood and fender were replaced (oem vw parts) and the paint on them is in much better shape and the color looks off under certain lights. same goes for the flares....they were clear cloated when painted so they have held up better and look a different color in the right light. when everything was first painted it matched up fine but time has taken its toll on the stock paint. i ve been meaning to paint the whole thing. its not terrible, just something that always irked me.
needs an auxillary fan control unit. the only thing this effect is theat the fan continues to run for 10 minutes after the car is turned off. ive been meaning to get one from a vortexer parting out a vr car but just never got around to it.
the CEl is on (big shock) throwing a code for secondary air. this comes and goes.
currrently the car has an eclipse head unit and some cdt speakers and, 2sony amps, sirius satelite radio, and a custom built sub enclosure with a cadence 12 that fits the left side of the hatch. unless the buyer wants to make a deal on the stereo stuff, i will be taking it with me and putting the stock speakers back in and a panasonic cd player that i have here.
the roof rack bars can go with the car but the basket and bike racks im keeping.
also any spare mk3 parts i have can go with it
looking for $6500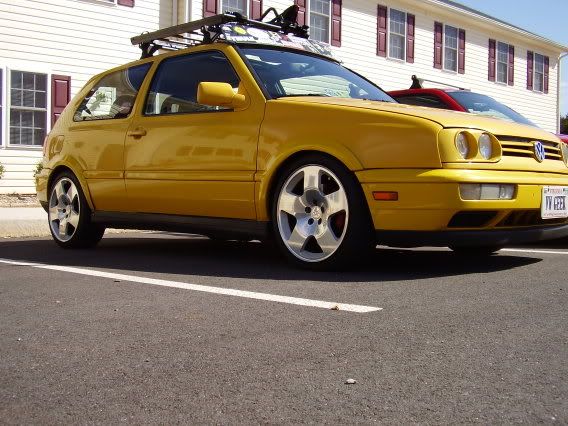 Modified by redstar at 1:01 PM 3-12-2006
Modified by redstar at 9:00 AM 3-13-2006
Modified by redstar at 8:30 PM 3-13-2006
Modified by redstar at 8:24 PM 3-19-2006
Modified by redstar at 8:24 PM 3-19-2006
Modified by redstar at 12:44 AM 3-26-2006
Modified by redstar at 3:23 PM 3-30-2006