Discussion Starter
·
#1
·
:wave:
I'm back! Here is my second technical build, aptly named "A very technical build - PART II"
I kept the naming the same because i am keeping almost the same basic concept of a trunk layout, just adding a few tweaks here and there based on stuff i liked and didn't like from the first setup; and yes there were a few things that i didn't like.....
First build for the new guys reading:
http://forums.vwvortex.com/showthread.php?5238122-A-very-technical-build
Problems with the first build:
- Hard to get at relays
- Wasn't very "showy"
- didn't actually get around to the subwoofer & amp install so it will be documented here
- Tight for wiring
- Lines under car need to be protected a bit more for my liking in these Canadian winters
What I wanted to add/change:
- Change location of water trap (1)
- Add water trap before the buffer tank (3)
- Add another OB2 compressor (2)
- Move the compressors closer to the tank (4)
- Add more storage room for air tools, spare parts and on the road fix it solutions for ease of road trips (6)
- Make it so that i can drain the water traps and tank without having to air out at all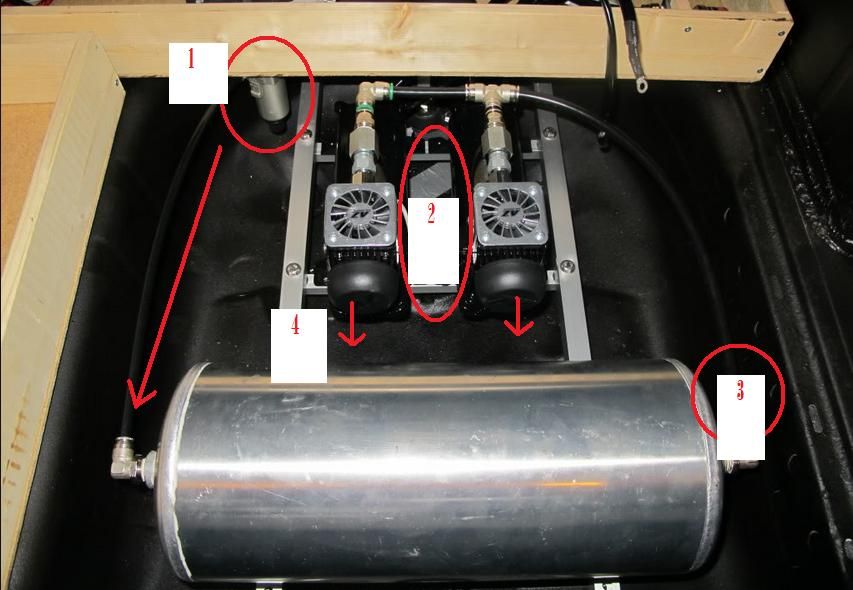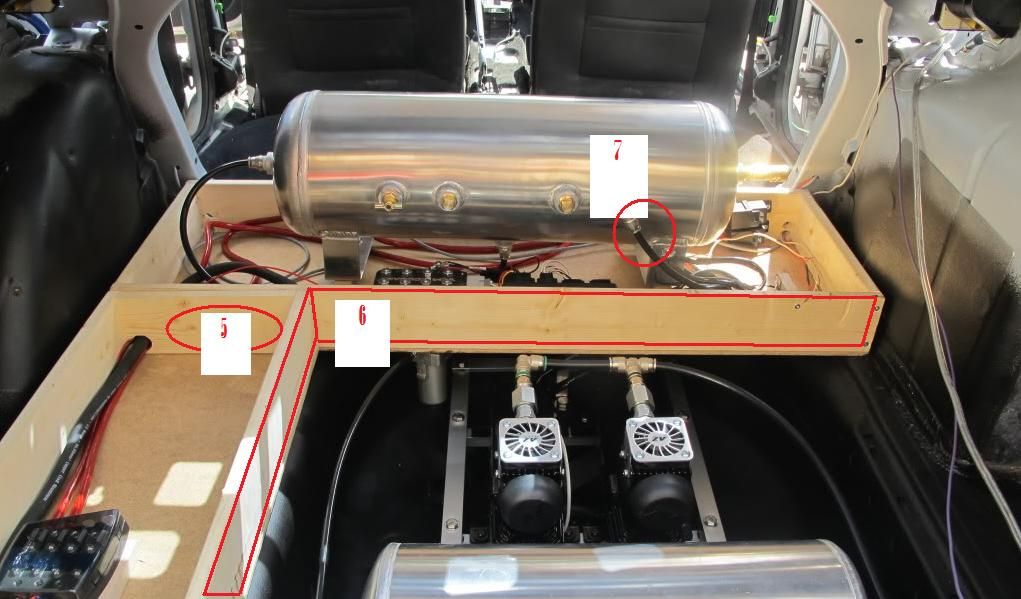 So to resolve all of the above issues/wants i devised a plan (as usual
)
Framing system
- Change frame mounting for compressors
- Lower 3 gallon buffer tank and compressors enough so that i could fit a 3" tall floor compartment for storage right above the tank and compressors
- Move the compressors forward on the frame a bit
- Install shut off valve between tanks where the original water trap was located (1)
5 Gallon airtank box
- Add water trap between tank and manifold (7)
- Make false floor to hide all wiring and plumbing for showing off the tank from back seats (keep in mind that there is a false wall hiding the 5 gallon tank from the trunk)
- Add inflation valve to tank just incase something happens
Electrical Connection Box
- Add extensions for compressor relays, cutout through wall so they are accessible from the trunk electrical box instead of below the false floor behind the air tank
- Add amplifier for sub
Okay so here is where the fun begins......
Installed removable connection points (will be moved to the bottom of the frame) so that they can be easily replaced. Needed for the increased weight of all the compressors. They are probably 100lbs for all 3 of them with the frame, good thing i have e-level!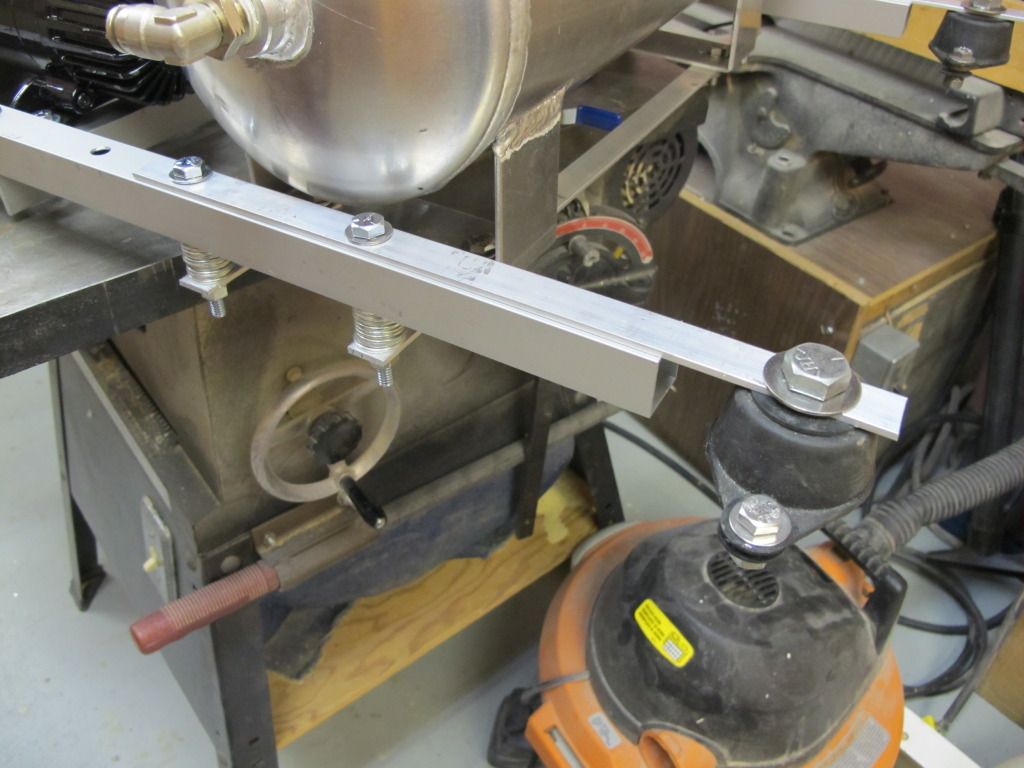 Drain valve on the bottom of the tank with ball valve – easy to drain and will be routed directly out of the trunk through the bottom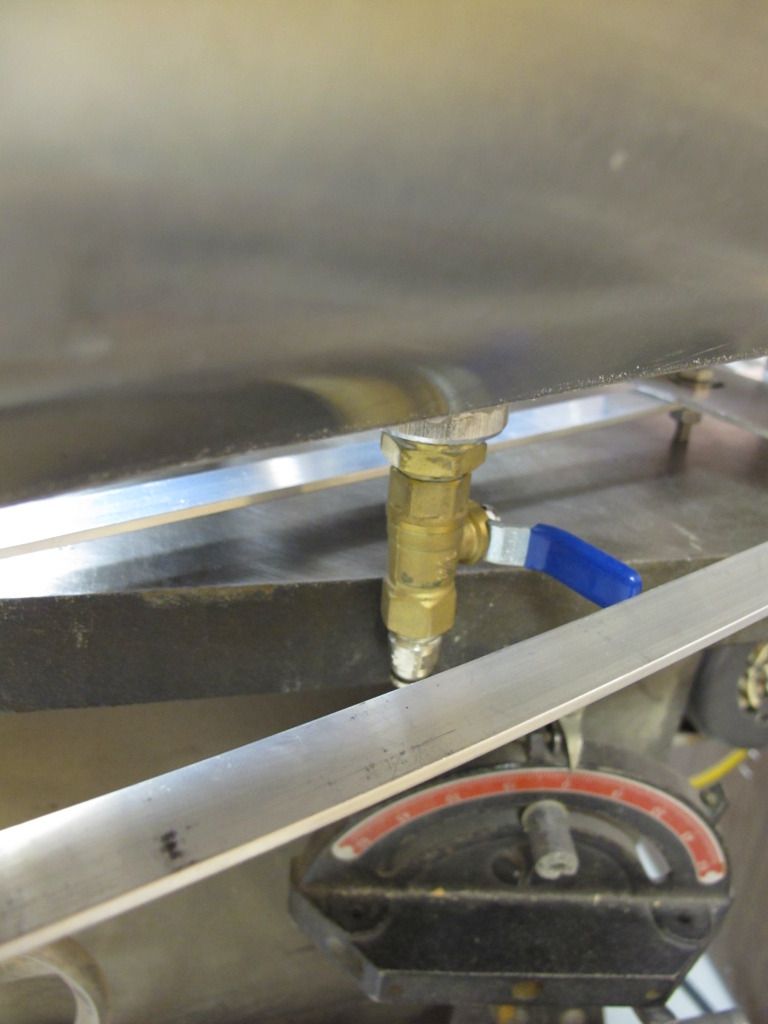 Compressors and tank closer together and top at around the same height
Frame redesigned, built, but not fitted in the car yet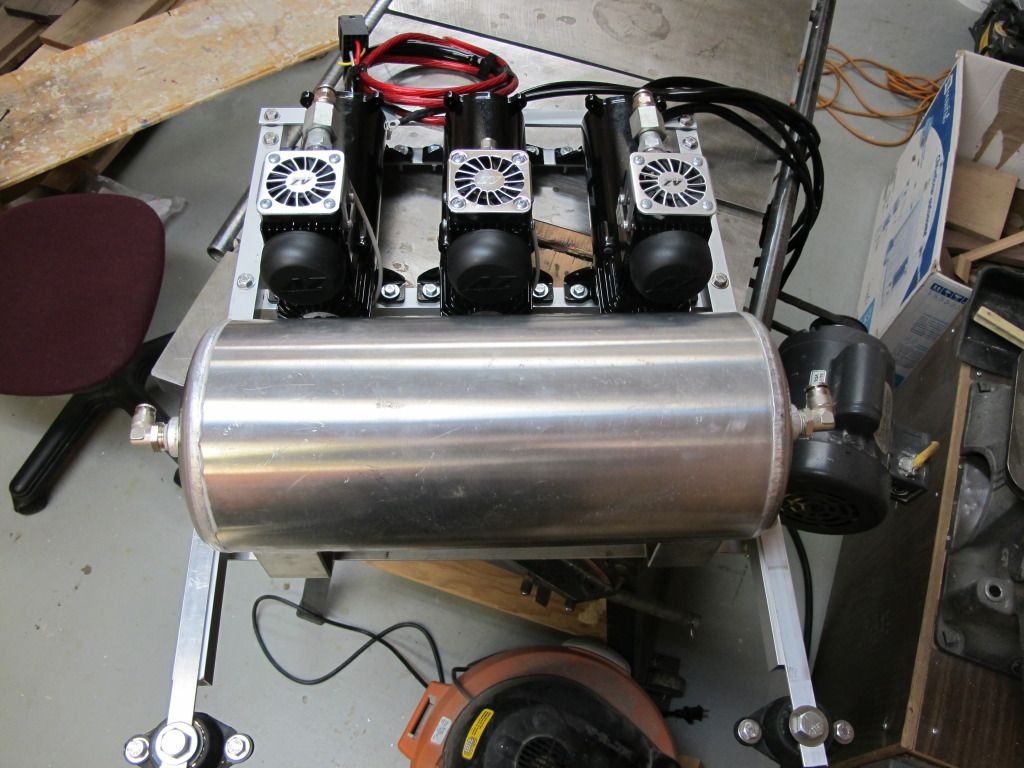 Keep looking for updates!
opcorn: