Discussion Starter
·
#1
·
Just for anybody new on here i'll give you a bit of a timeline of my past few iterations of my airride systems:
Part 1
http://forums.vwvortex.com/showthread.php?5238122-A-very-technical-build
Coles Notes:
- I was new to airride
- having an engineering background i was able to come up with a decent plan and layout for the trunk that was functional
- I ran 2 compressors
- I ran 2 tanks
- Hit a curb with the subframe, tweaked the frame and parted out the car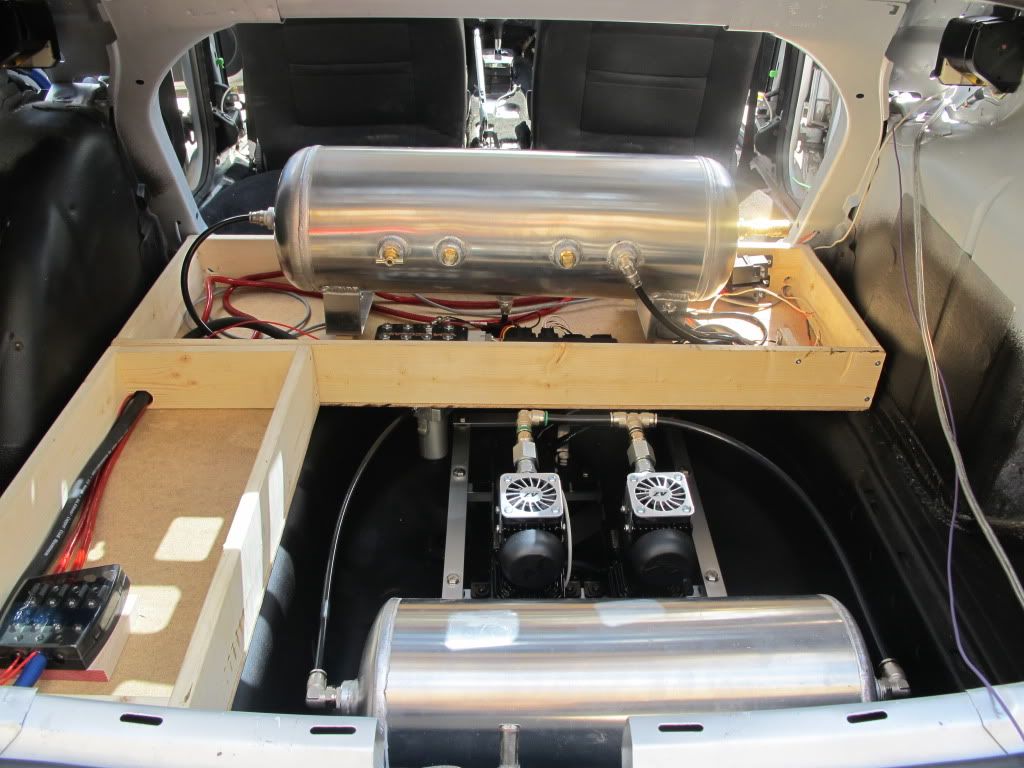 Image uploading. Refresh page to view
Image uploading. Refresh page to view
Part 2
http://forums.vwvortex.com/showthread.php?5585113-A-very-technical-build-PART-II
Coles Notes:
- Waited for months to find the exact car i wanted, bought it, waited til the spring to install the airride again
- added one more compressor
- added more water traps
- New frame mount design
- Wiring redesign so all relays were accessible from the electrical section of the trunk
- TONS of sound/vibration isolation and dampening so the compressors were silent when running
Video of noise levels:
http://s605.photobucket.com/user/MechEngg/media/VID00016-20120630-1255.mp4.html
Image uploading. Refresh page to view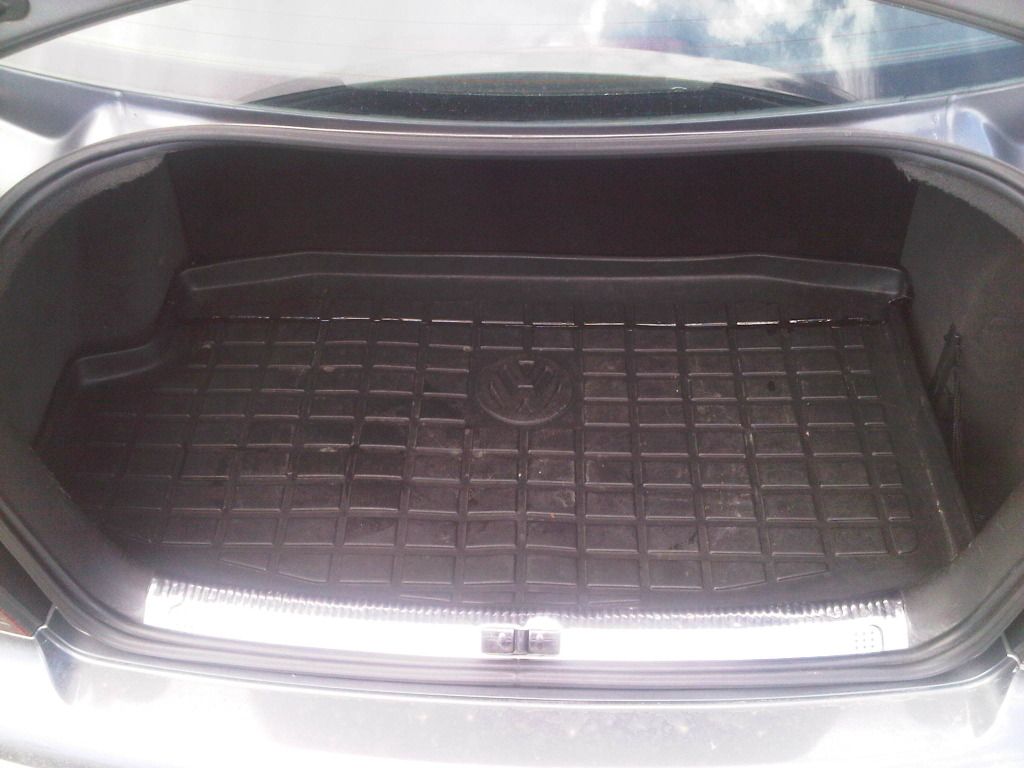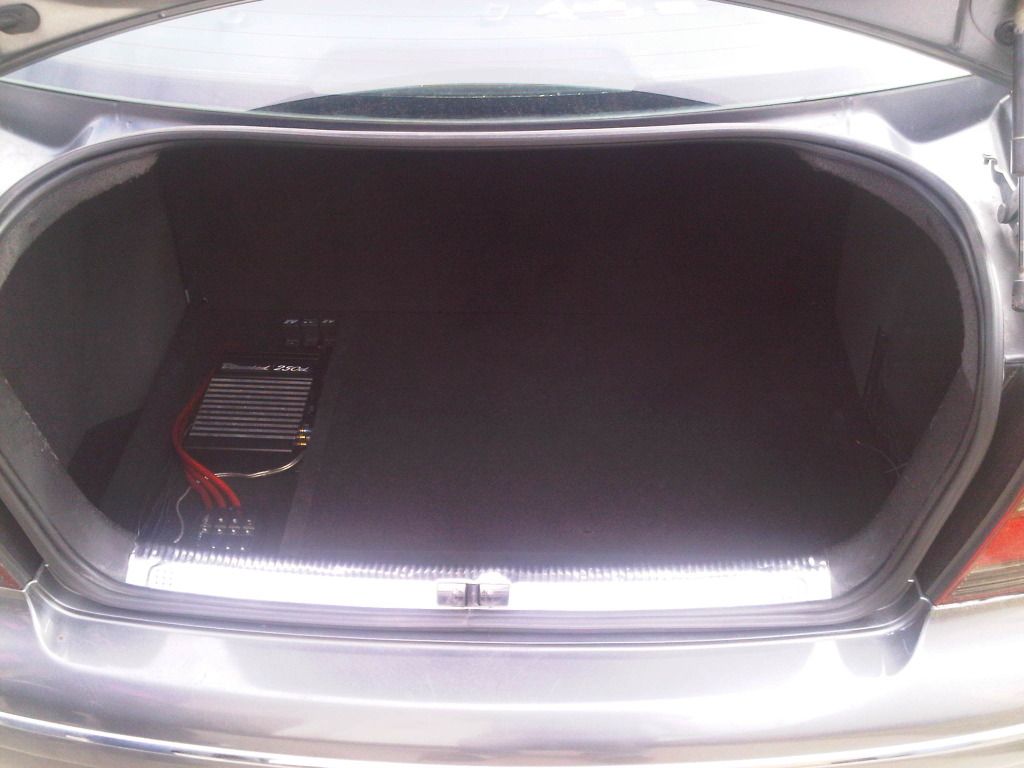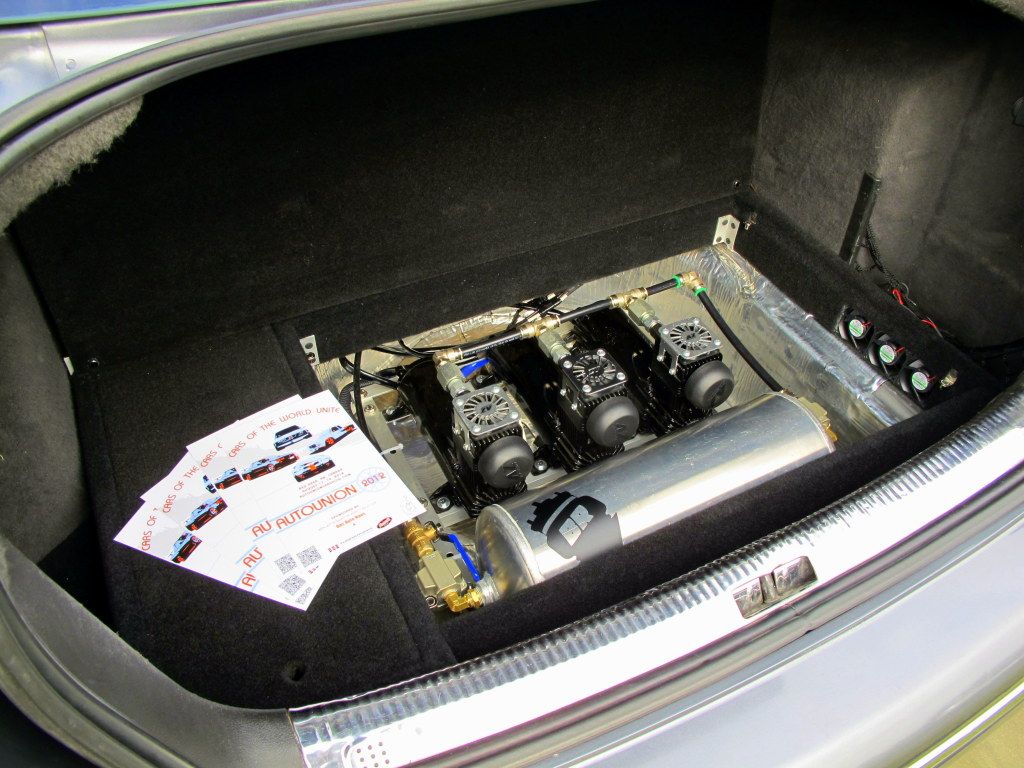 Image uploading. Refresh page to view
Part 3
Now on to Part 3, this build.
Reasons for a redesign:
http://forums.vwvortex.com/showthread.php?6097002-Need-expert-help
!
Sensitive content, not recommended for those under 18
Show Content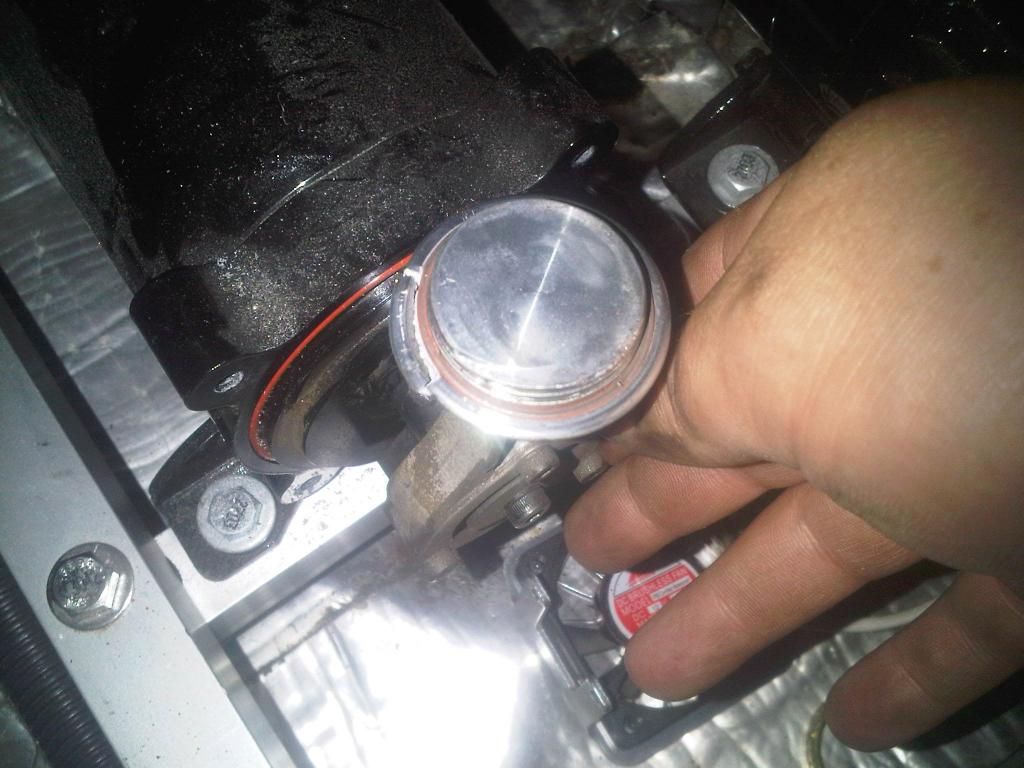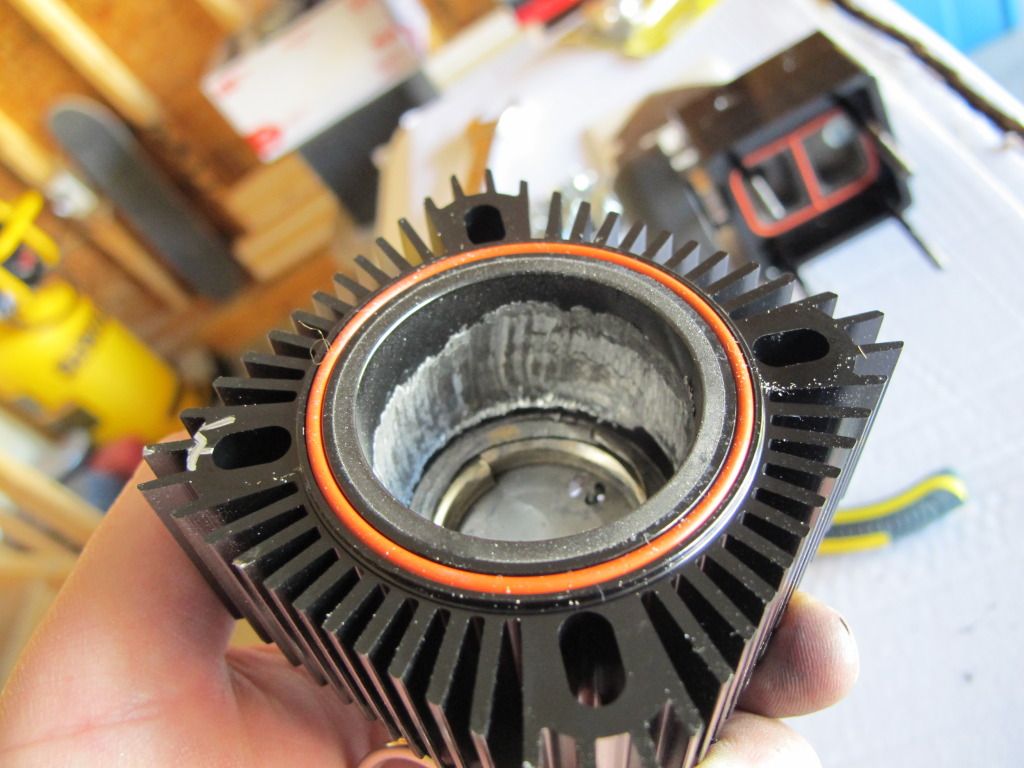 Compressors ended up eating themselves at the end of last season. I had the system running for a year and a half and something got to them. It may have been the harmonics because all three compressors were bolted directly to the same piece of aluminum. It may have been because the initial water trap was so plugged up it wasn't able to handle the flow of the compressors anymore.
So i figured i would take a look at this and change up a few things on the system. Change anything that i thought may have lead to the destruction of the compressors and also the tanks will be looking a bit nicer this go around
NEW STUFF
Vibration Isolation Mounts
I am using more lighter duty vibration mounts rather than just a few heavy duty mounts. They will absorb more vibrations, as well i can distribute them BETWEEN the compressors themselves rather than just between the compressor frame and the trunk. This should definitely help get rid of any harmonics and will give off a negligible amount of vibrations to the trunk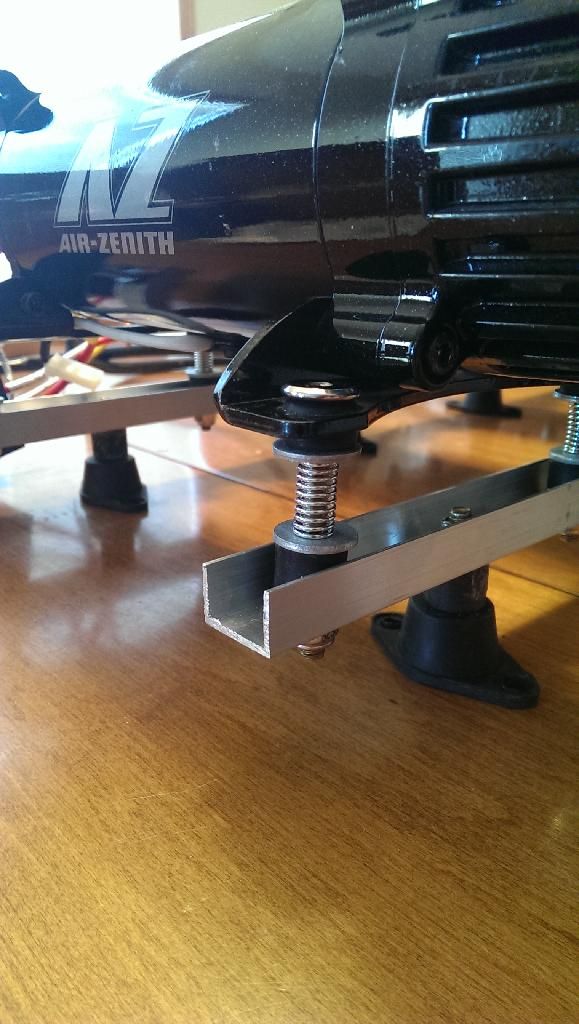 4 Compressors
Decided to add a fourth Air Zenith compressor into the mix. Alternator should be able to handle it so why not
Also decided to find a way to use the standard AZ check valve and braided hoses so i got a few new bungs welded onto my smaller tank and i will run each compressor seperately directly into this tank. I have also decided to remove all water traps from the lower section, i am only going to run a single water trap and pressure regulator and check valve between my 5 gallon tank and the vu4 manifold. This means that i can set the max pressure/max height so if a valve fails open i do not blow a bag. Also means that if the tank gets a leak or something drastic happens, the bags will remain filled and the car won't air out while i'm on the road/in traffic etc.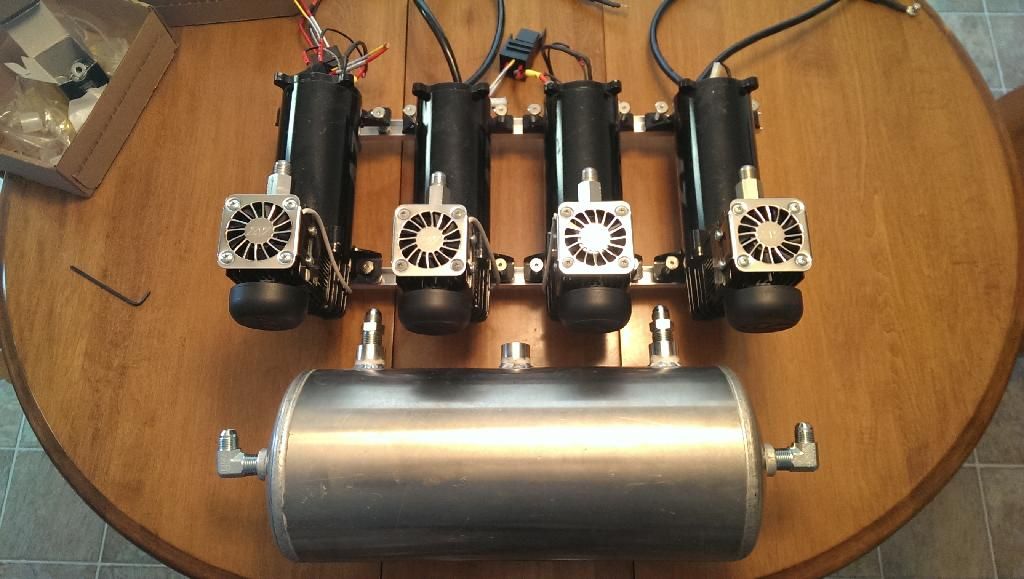 That is about all for now folks, but i will update this further as i go along :thumbup: