Discussion Starter
·
#1
·
Okay so with overwhelming request to share this DIY , I tried to put together as much photos I was able to take when I was doing this project. It literally took me no more than 2 hours to do both sides (being that I've been doing this project from simple SMT LEDs, to the current 4chip bright LEDs) I"ve had these 4chip LEDs now for 2months, and no issues. For such a small source of light- these are very bright! Not as "sophisticated" looking as AUDi's OEM LEDs- but close enough. This mod is a guaranteed neck-twister. A good alternative I suppose, for the upcoming LED headlamps for the A3. This mod also adds some character to the otherwise plain / standard bumper. Feedbacks appreciated. By the way-- yes- this can be done on S-Lines also- read on.
The real thing:
My version: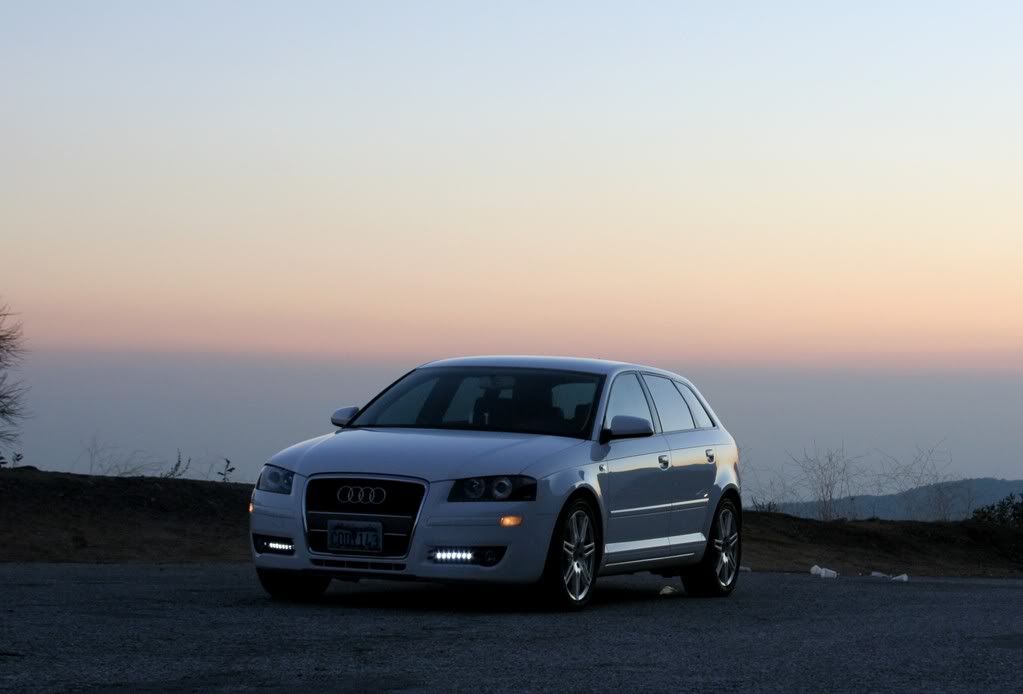 What you need:
-OZnium 4chip superFlux LEDs- prewired (built in resistors already) go to:
http://www.oznium.com
(14 altogether for both sides)
-Wires ( u can get em at RadioShack)
- Glue (glue gun, or Gorilla, or whatever glue- that will bond plastic w/out burning it)
-3/8" drill bit
-pencil/ruler
-Red and White heat shrink tubes (radio shack, or pepboys/autostores)
-(optional) switch (radio shack or autostores)
-clear silicone
-wire tap (u can get different types from radio shack or autostores) otherwise electrical tape, and simple knowledge of wirings dos and don'ts will work- as in "splicing" and using basic connectors.
-optional- "Add- a Circuit fuse tap" if you want to tap the power directly frm the fuse box(safer)
Oznium 4chip LEDs:
Simple tools and a clean work space:
Using a measuring tape- pencil in 1" inch space between- you will find that 7LEDs will fit just well in that middle space of the grill (measure from behind) w/out having to cut the akward mid-rib (unless you want to dremmel it off)
Once you have penciled-in your marks to drill- I recommend using a small drill-bit first to initialize a hole before using the 3/8" drill bit.
You may want to 'clean' or smooth the edges of the holes- but not too much. Start inserting each LEDs in the holes (end wire goes in from the front).
I then placed some glue to hold them from behind. And later on- Clear Silicone to prevent water entering the holes (even though the pre-wired LEDs are waterproof). The Black wraps on the LED wires are the built-in resistors/waterproofed.
The next image below is a little blurry (i apologize) but I was trying to show the heat shrink tubes that I placed over the respective Positives and Negatives after I've split them from each LEDs. Red heat shrink over all the positive wires, and white (or black) heat shrink tubes for the LEds NEG wires. I used my trusty HeatGun to shrink them. You can use a hair dryer.
Test your LEDs before finishing up/tucking the wires.
Once the Positive and Negatives are bundled and wrapped in Heat shrink tubes, I then arrange them in one of the slots in the Fog Grill and tucked them in there- perfect space! I then connected each respective polarities to the extra wires I purchased (would would then connect to the Driver parkinglamp wires(no photo)
Although I do not have an actual photo of my wire connections- I drew up a basic connection diagram on the photo below. The passenger side LEDs are wired up and routed along the top of the engine bay, hidden under the weather stripping. It is then spliced with the Drivers side LEDs.
I have added a "powerline" by tapping-in to the DriverSide parking lamp wires (this "line" that I added I made it easily accessible for future connections of other LEDs (headlamps)- but I will soon be switching over to using an "add-a circuit- fuse tap device". Safer.
I also wired in a separate switch and ran the wires into the cabin so I can turn the LEDs off if i dont want them on at night (or select which LEDs I want on - between the FogGrill or the Headlamp).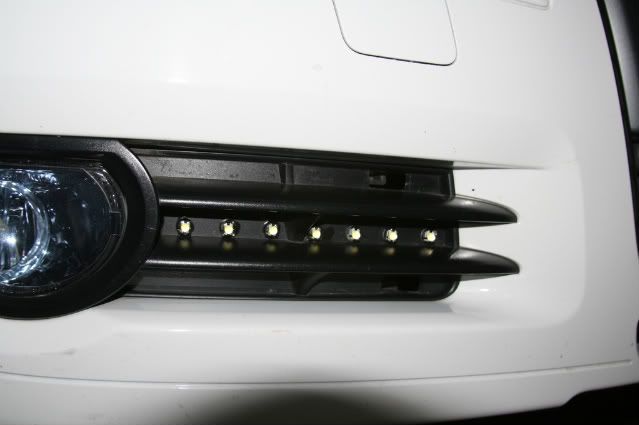 I added a chrome strip at the bottom and top to deflect some light out- actually gives a "double" led effect" as if stacked on top of each other.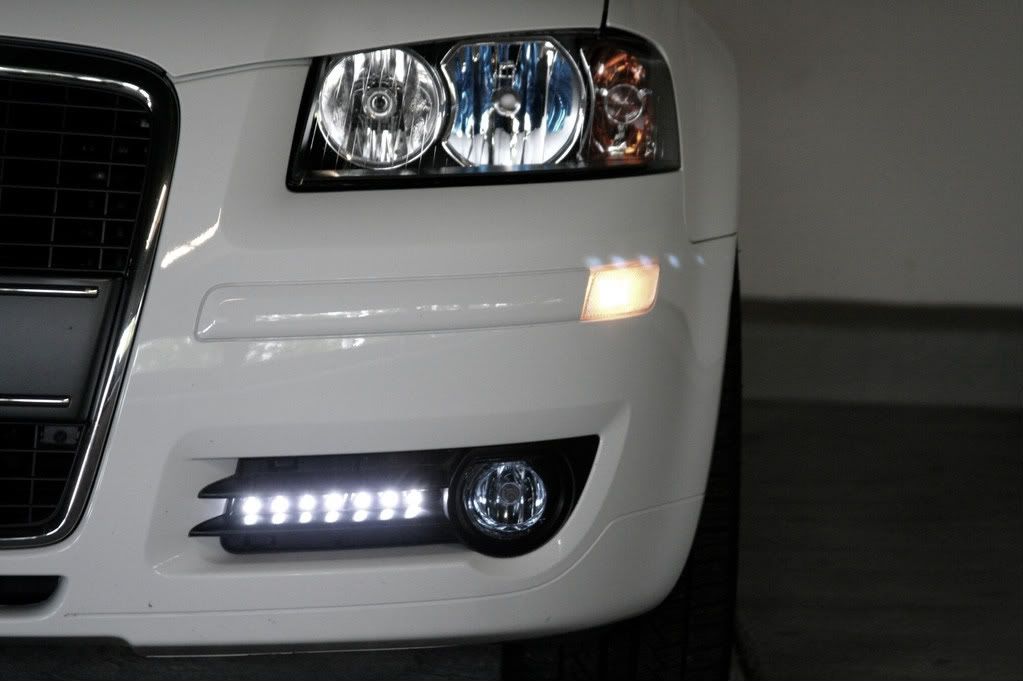 And enjoy your inexpensive and simple "facelift"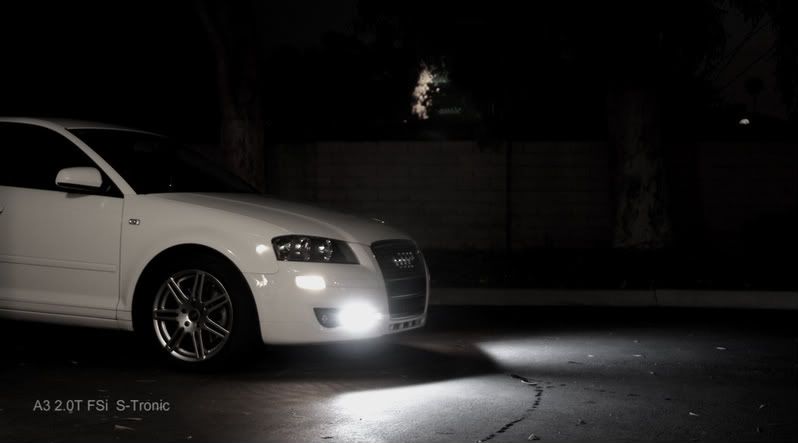 Modified by tiptronic at 8:17 AM 7/27/2008
Modified by tiptronic at 5:02 PM 7/29/2008
Modified by tiptronic at 6:03 PM 12/30/2008