Discussion Starter
·
#1
·
*** Serpentine Belt Coversion KIT - TDI Adjustable Alternator Solution ***
Quote, originally posted by Adjustable Alternator Setup, ABF Spec, VW I4 »

The ABF Adjustable alternator set up has been sought after by many individuals. With some fervent searching and development work, sourcing the parts for the 16v enthusiast just became alot easier.
What is the ABF alternator conversion? Its an adjustable serpentine belt set up that eliminates the need to use tensioners and positions the alternator low enough to clear ITB's (Individual throttle bodies) on an 8V,16V or even 20V set up!
With the basic kit you get:
* BRAND NEW Isaka 90A Alternator with 1 year warranty.THIS IS NOT REBUILT
* ABF Alternator bracket
and is yours for $319US SHIPPED!
Additional parts to compliment your new set up can be provided at an additional cost:
* VW MKIV 1.8T Crankshaft pulley + required spacer - +115
* OEM OBD-1 VR6 water pump pulley - +33
* ABA/ABF bracket bolts that will allow you to mount the bracket to the block. - +32
* 6-RIB serpentine Belt - +29
* T6061 Aluminum Alternator & Water Pump Pulley - +99
NB : The Alternator as well as the bracket can be purchased separately and we have the means to source any serpentine set up from the ABA ac & the uber rare non-ac.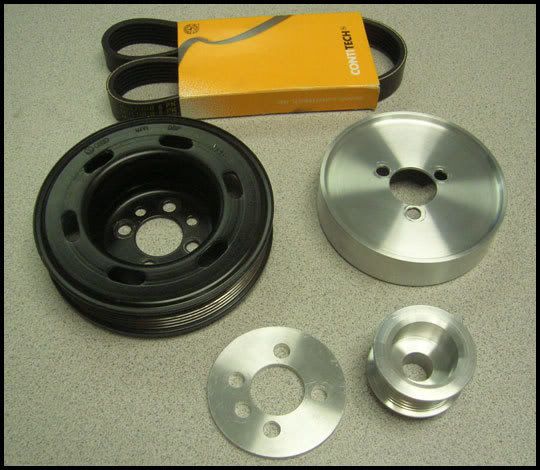 Please send me a PM
when you are ready to order and remember the bolts and pulley's are additional.
Thanks
Modified by INA at 8:12 AM 11-29-2008