Discussion Starter
·
#1
·
Well, I finally have come across clean shell; something that I've been looking for since the beginning of time.
My '79
is going to get put on the back burner and I'm switching my focus onto this. It's basically taking the place of my old shell. All my plans are the same, they're just being carried over to this since. My old thread started off as a tight budget build being I was still in school, but has escalated since I have a steady job now. Ideally, I'd like to either refurbish or replace every part on the car.
Here's the for sale ad:
**$900 takes it all**
History:
I never thought I would have to do this but I'm selling my 84 Rabbit 2 door. I had aquired it from my parents friend, they had owned it since new from Schmelz VW in Minnesota. About 12 years ago the head gasket blew on it and the previous owner took the head off, set it on his work bench and it sat there until I found it. I got it from them in March of 2009 and started strippping it down for a full rebuild. During the Summer of 2009 I put it on a rotisserie and stripped all of the old undercoating off the bottom and all four wheel wells. Then I patched up the few holes that were there, full POR15 treatment, seam sealed, and final bedlined the whole bottom and wheel wells. During the Fall of 2009 I brought it up to a bodyman my work used for some body work. He cleaned up the quarters, shaved the marker lights, filled in the two center holes for small tails. I also had him just clean up the doors, hood and hatch. He did great work. All are in primer and ready for paint! They are sitting on the rafters in my garage. It is a shell at this point but you will be getting more than just a shell! I have all the doors, hood, hatch, all glass, and much more.

The Good:
-The bottom and wheel wells have been cleaned up, welded, POR-15, seam Sealed, and covered in several coats of bedliner.
-Doors, Hood, and Hatch are perfect, in primer and ready for paint
-Most of the body have had professional body work done, Quarters and Rear panel.
-New Gas Tank bolted in
-Rear Beam and Control arms has been cleaned up and in POR15, Looks brand new!
-New Rear brakes (shoes), hubs and bearings all around
-New brake lines run around the car. The car had a set of stainless braided flex lines, but those were sold.
-All the Glass, OEM
-Door cards, front and rear, rear parcel shelf
-All the seals
-All hardware in seperate bags and labeled
-Tons of other Misc parts (mostly interior)
-Headliner with no cracks or bends
-Full rabbit wiring harness (original 1.6l Diesel)
-Clear Title

The Bad:
-Engine bay, and core support need to be cleaned up, nothing major.
The L Quarter and rear panel was damaged while unloading off Car trailer last fall. There is a small crease that is fixable ( Pics down below)
-No Fenders
-No engine
PO pictures as it sits.
Damage from the car trailer..... Its fixable though.
So, look's like it has had the rear apron switch to small tails. The damage isn't something I can't handle and should really only take me a day to straighten them out. I was never really a fan of getting rid of the rain tray, but since I don't plan on driving it in the rain, I guess I can live with it. All in all, $900 is a steal and too good of a deal to pass up. It's payed for and I'll be picking it up this Sunday. I don't think I'm going to shave the bay this time around. Not yet anyways. I figure once this is all 'done', I want to pick up a 16V Scirocco motor and rebuild it over the summer/swap it the following winter. Maybe then I'll clean the bay up a bit.
Here's some parts that I've been gathering throughout my build.
Some NOS HELLA tail lights. I just noticed one of the says "Made in Germany" and the other doesn't. All the colors seem to match just fine, so I think I'll just run them, but was just kind of confused.
NOS HELLA headlight bucket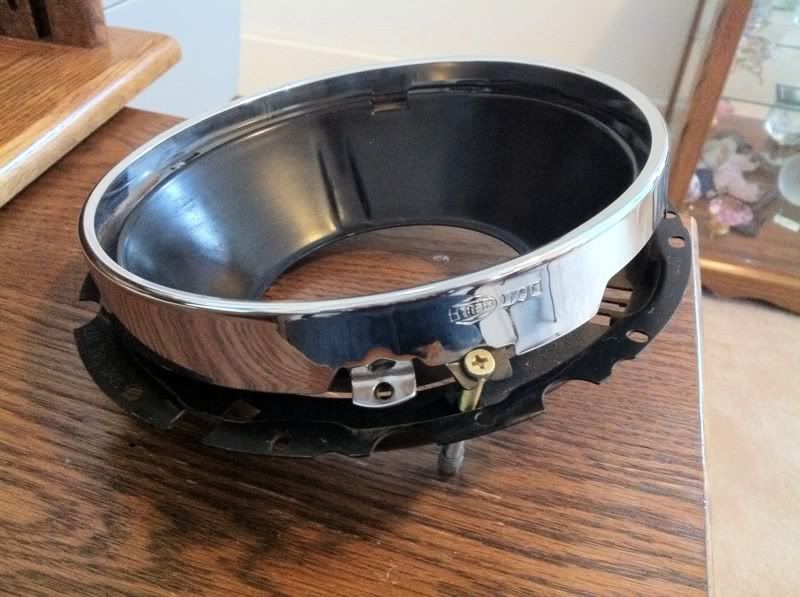 NOS front emblem and some early chrome handles
Set of wheels and tires are on their way as well as some goodies from OldSkool VW. Some key parts I'm looking for include:
-polished ST fuel cap/NOS HELLA fuel cap
-NOS HELLA headlight bucket
-polished aluminum trim for the grill (looking for as close to mint condition as possible)
-headlight surrounds (as close to mint condition as possible)
-chrome euro bumpers
Very excited to pick it up in a couple of days!