B6 Passat Rear Brake R&R DIY
I changed the rear brakes on my Passat this morning. The car had 38,875 miles on it. From the time I went out into the garage and the time I put the last tool away was less than two hours. This included taking pictures, etc.
Items needed include:
Jack, jack stands and chocks
15mm wrench
13mmsocket
Big "C" clamp or disc brake piston spreader
Battery charger
Computer with VAG-Com and cable
Wrench to remove lug nuts, 17mm socket
Torque wrench
**You must connect and use a battery charger to perform this procedure, otherwise you will get error faults.**
The first thing was to put the rear car up in the air and remove the rear wheels. I jacked the car up using the rear jack point, and placed a jack stand under the rear suspension arm. I did that for both sides.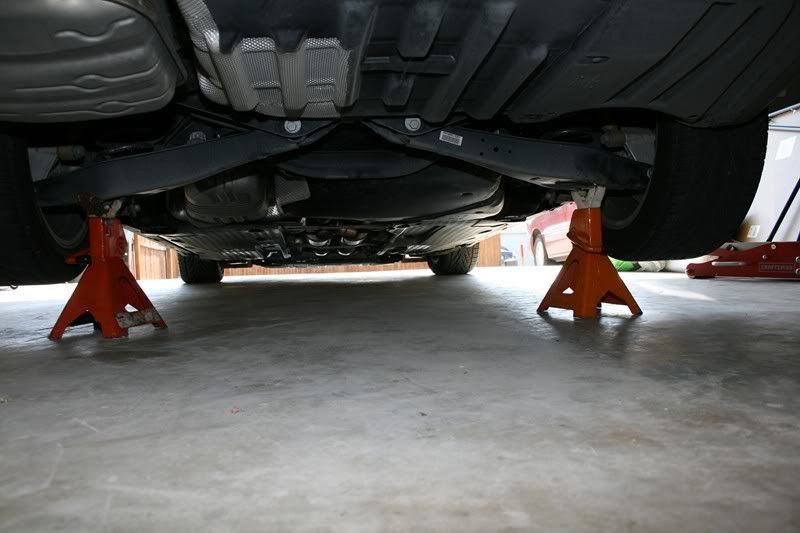 Remove the wheels and there you have the brakes. But, you first have to open the calipers. Follow the directions from the Ross-Tech site.
Here
Make sure you connect a battery charger before you start the caliper opening sequence.
You will see these screens.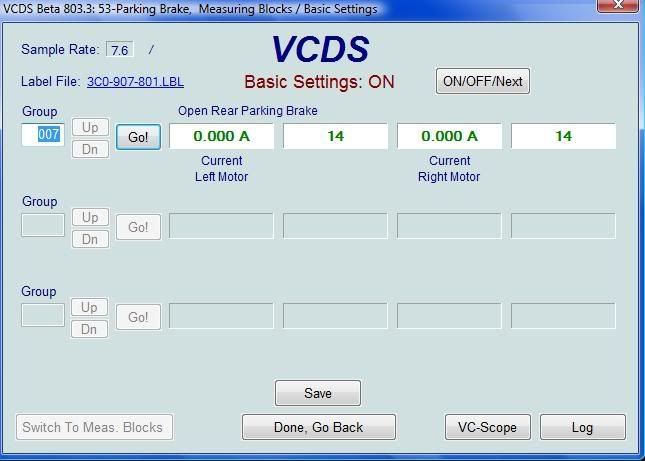 You will hear the rear caliper motors working. It takes a little while for them to completely open. You will see the numbers changing in the measuring blocks.
Once the motors have stopped, you are ready to remove the calipers. Using a 13mm socket and 15mm wrench, remove the caliper retaining bolts in the usual fashion.
Set the caliper aside for a minute.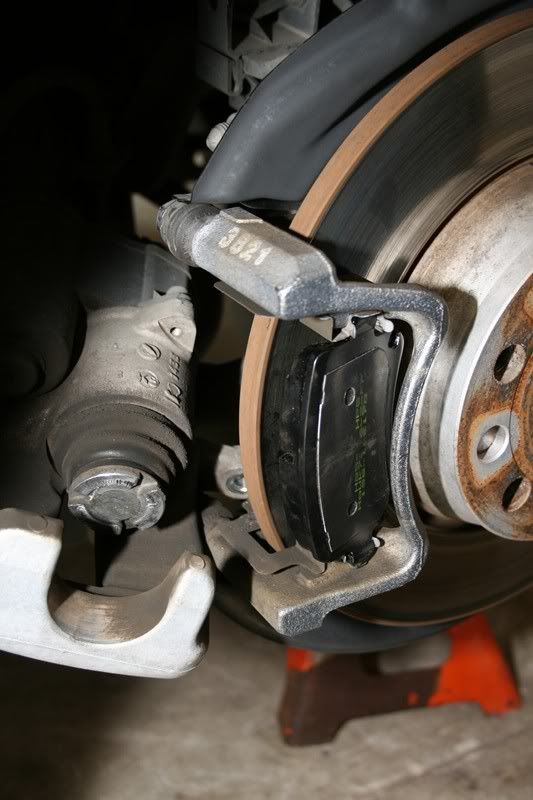 Remove the old pads. The ones on the back will seem like they are stuck to the rotor. They're not, just push the top of them and they will come right out. My pads were pretty worn!
Press the piston back into the caliper. This is very easily done. There is very little resistance, as long as the pressure is straight in. DO NOT ROTATE! I had to use a large clamp, a spreader would have done the job better. Make sure you open your brake fluid reservoir and put a rag around it to catch any excess fluid (mine didn't spill any).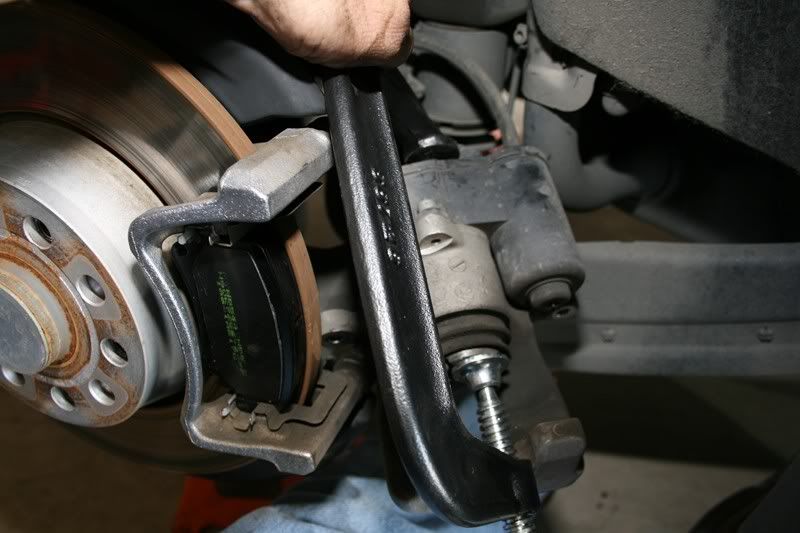 Place the pads into the carrier. The tabs on the pads slide right into the holder.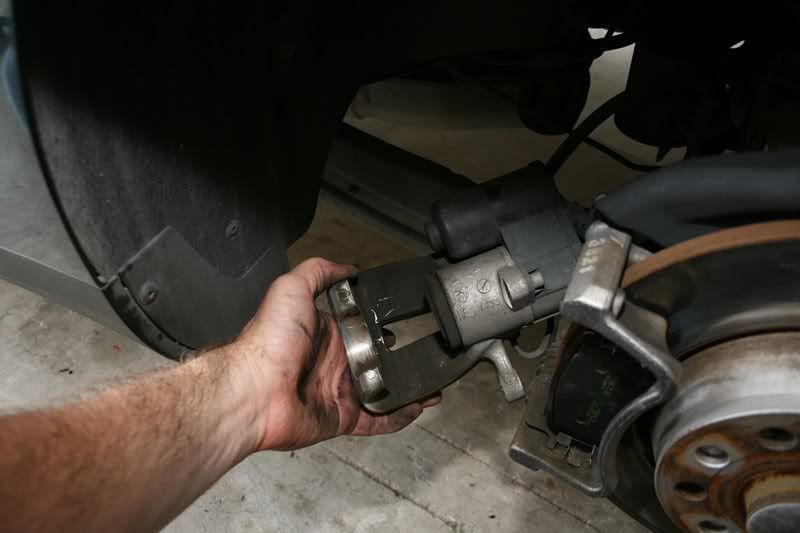 Place the caliper back onto the carrier, reattaching the caliper retaining bolts in the usual fashion.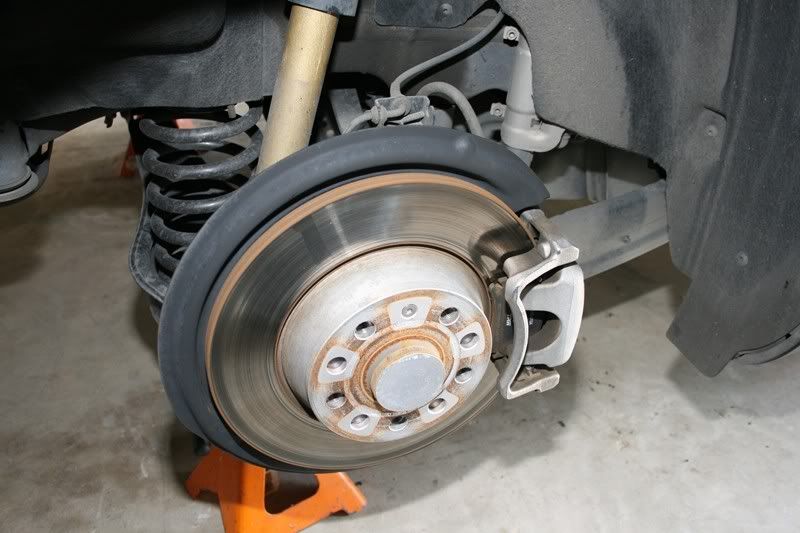 Using Vag-Com again, following the directions for closing and testing the rear brake calipers.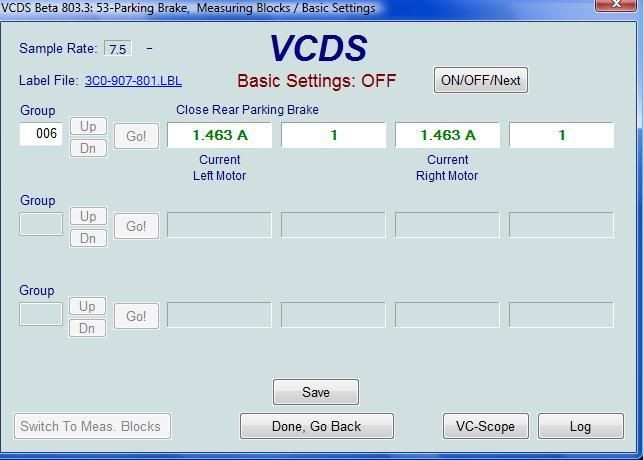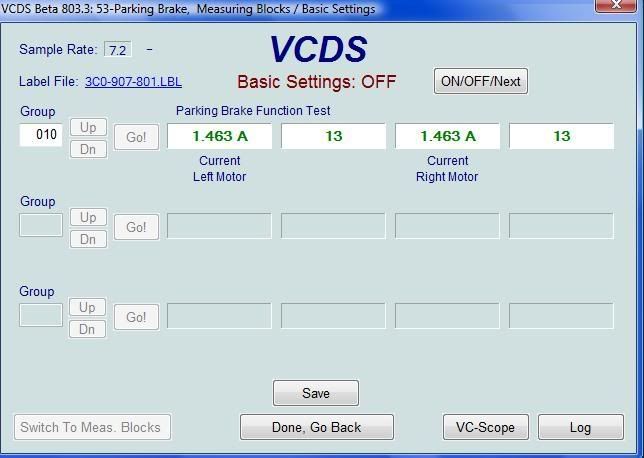 The calipers will go through the cycles.
And that's it! Disconnect the VAG-Com and the battery charger, put your wheels back on, torque the lugs to spec, and bed the brakes to the manufacturers recommendations.
It was no harder (probably easier) than doing the fronts.
http://forums.vwvortex.com/zerothread?id=3785800
To change the rotors, merely remove the carriers and rotors and I showed in the Front Brake R&R.
**Use a battery charger!**
Modified by dhambrick at 6:01 PM 6-2-2008