Discussion Starter
·
#1
·
Shift into Spring with ECS Adjustable Short Shift Kits for your 6 Speed VW!
Control your perfect shift feel and enjoy your Audi like never before by tailoring the driving dynamic to your ideal preferences.
Click HERE for your 6-speed manual VW ECS SSK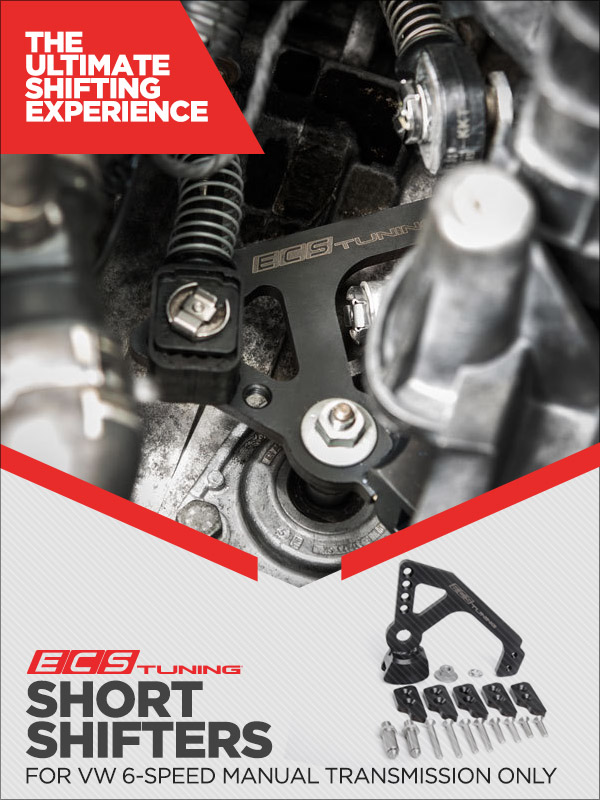 The ECS Tuning 6-speed short shift kit shortens shift throws to let you grab the next gear faster.
Reduce fore and aft movement needed to engage gears by 49, 28, or 7 percent--or leave it stock.
Then do something you can't do with other shift kits: pick the exact shifter feel that suits your preference.
The kit includes five balance weights to let you dial in a feel that matches your new, reduced throws.
Comes with a complete installation kit, including plate, weights, bolts, washers, and shift pin.
Click HERE for your VW MK4 (02-05) ECS 6-Speed Short Shift Kit Upgrade

Click HERE for your VW MK5/6 Jetta (2006+) ECS 6-Speed Short Shift Kit Upgrade

Click HERE for your VW MK5/6/7 Golf/GTI/R (2006+) ECS 6-Speed Short Shift Kit Upgrade

Click HERE for your VW Beetle (2012+) ECS 6-Speed Short Shift Kit Upgrade

Click HERE for your VW B6 Passat 2.0T (2006 - 2010) ECS 6-Speed Short Shift Kit Upgrade

Click HERE for your VW CC 2.0T (2009+) ECS 6-Speed Short Shift Kit Upgrade

Click HERE for your VW EOS 2.0T (2007+) ECS 6-Speed Short Shift Kit Upgrade