Discussion Starter
·
#1
·
Just curious, for those that use biodiesel...do you process it yourself (if so, what system do you use and where do you get your veggie oil?) or buy it from a pump? and what car are you running it in?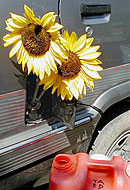 I still think that picking up an old rabbit or cabby would be a load of fun, not to mention the savings of running biodiesel would be lovely
oh and the last question...whichever way you do it (buy or process your own), how much do you estimate your cost per gallon?