We would like to introduce Vortex users to our latest offering for 2013.5+ Gen3 Mk6 GLI and 2013+ Beetle 2.0T
The JB1 is a advance plug and play solution that connects to the cars sensors and via signal manipulation alters the ECU's performance request. All safety features remain in place including knock sensor sensitivity, emergency boost control, EGT monitoring, lean condition, intake temperature reduction as well as throttle control. The unit is invisible to the ECU and the car logs as a standard car would making no diagnostic changes or programming.
These units are now available and a ready for order at
http://burgertuning.com/vw_volkswagen_Group4_JB1_tuner.html
with a retail price of $379 and $35 for the option BMS Data cable that is used to access the unit for firmware updates, logging or tuning.
Below are typical gains as tested by a third party on a stock customer car. Measurements are done at the wheels on a dynoject at 85F. We are busy doing downpipe and intake testing now with dynos to follow.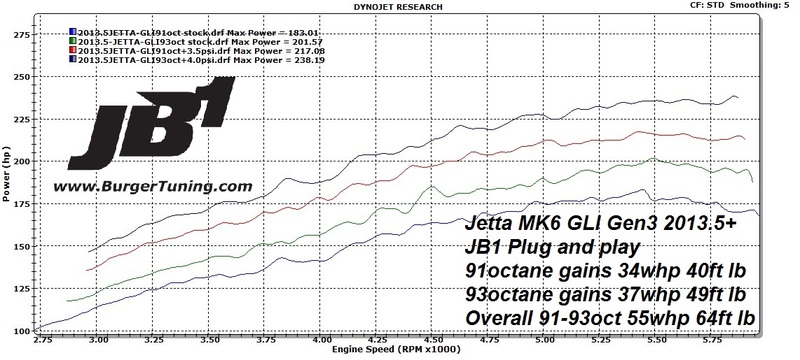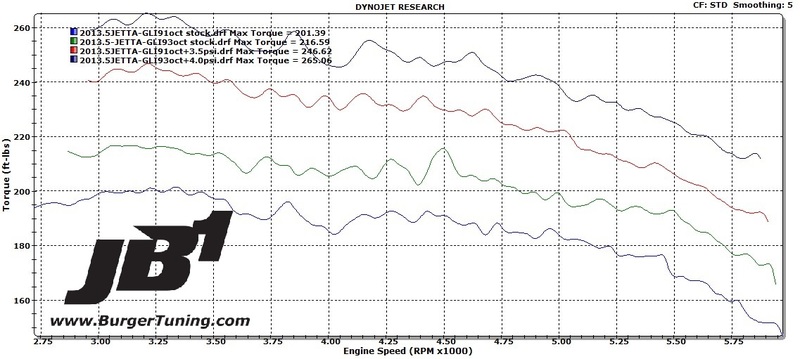 The unit ships with a base setting in map 1 that increases the boost by a average of +3.5psi over stock across the rpm range that is safe to be used with 91US. For the car can be run on 93 with this setting or a can receive a boost increase to +4.0psi.
Install instructions:
Install instructions can be found here:
http://burgertuning.com/instructions/Group4_Install_Instructions.pdf
On the GLI and Turbo Beetle 1 of the plugs is not currently used. This allows the unit to be compatible to other VW models like that Golf TSI, GTI, and R. The plug may be used in the future to open a user adjustable map called map 6 that allows 500rpm boost inputs.
User interface software:
For users that have opted to purchase the optional BMS Data Cable you will need to download and install the Windows user interface at this link
http://www.n54tech.com/flash_files/jb4_interface.zip
There is also 3rd party Mac software available here at the bottom of post 1:
http://www.n54tech.com/forums/showthread.php?t=21742
Directions on how to connect and change firmware
:
Directions on installing the interface and connecting to your JB can be found here
http://www.n54tech.com/forums/showpost.php?p=197021&postcount=1
To connect JB1 must be connected to car, key on or engine running.
Firmware is what runs the JB1 unit. As we release updates or new firmware versions this can be uploaded to your unit free of charge.
Map selection:
In order to change the map in the picture below under the logging tab you can pick the required map. Under status the unit must show connected. This is done by clicking file and selecting connect.
Upon shipping the following maps are active:
Map 0: Stock with complete pass through i.e. the JB1 does nothing
Map 1: Tuned map
Map 3: Map three allows the JB1 to be the methanol controller working as a fail safe cutting boost if lack of meth flow is detected. You will require a Coolingmist FSB to get this working and is included in the kits as found on our site
www.burgertuning.com
.
Map 6 is under evaluation to see if there are any benefits from altering boost profiles we have used in map 1.
Map 1 Boost settings:
Below is a diagram of where the user adjustment is made for boost over stock circled in blue. Add in the value and click save.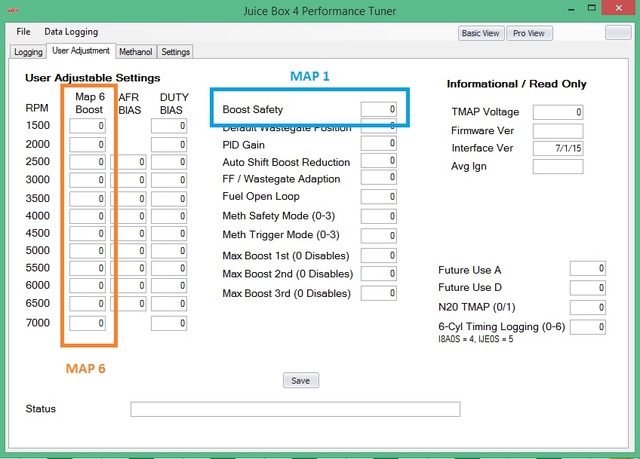 The unit can log boost the elevated boost on the two sensors, ECU boost as well as the fuel rail pressure. The balance of the engine parameters and settings in the map selection picture are exclusive to our more advanced units.
Guys with boost gauges that are working off the OBD signal will only see stock boost.
If you suspect you triggered a engine light by unplugging a sensor by not waiting for the car to go into sleep mode rather clear faults before a dealer visit.
Support questions can be posted here or preferably by email to

[email protected]

.