7.04.2016
MAC MAP CHANGING ISSUE RESOLVED, PLEASE DOWNLOAD LATEST VERSION http://www.n54tech.com/forums/showthread.php?t=21742
6.04.2016
MAC SOFTWARE IN ITS CURRENT REVISION SEEMS TO HAVE CAUSED A ISSUE WHICH REVERTS THE BOX TO MAP 0 WHEN MAP CHANGES SO ITS ADVISED NOT BE USED AT THIS STAGE, LINK HAS BEEN TAKEN DOWN AND WILL BE PUT BACK UP ONCE WE RESOLVE THE ISSUE
We would like to introduce Vortex users to our latest offering and entry into the VAG Group market.
The unit is called a stage 1 or JB1 as it is called on the forum because it is a simpler unit compared to the yet to be released JB4 and does not signify stage tuning as one is use to when it comes to flash tuning.
These units are now available and a ready for order at
http://burgertuning.com/vw_volkswagen_Group1_JB1_tuner.html
with a retail price of $379.
The JB1 is a true plug and play tune offering safe and adjustable gains. It can be installed and removed in minutes.
The unit ships with a base setting in map 1 that increases the boost by +4.75psi over stock that is safe to be used with 91US octane and 95 Euro. The typical power gains on this setting are 35whp and 40ft lb. With higher octane accompanied with bolt ons and octane we have seen gains of 75whp and 70ft lb in Map 1. All of this whilst keeping the engines stock fail safes in place.
Install instructions:
Install instructions can be found here:
http://burgertuning.com/instructions/S1_VAG_EA888_G3.pdf

Great install video from Vortex user Schwabo (thank you :thumbup
: https://www.youtube.com/watch?v=jiLLomQAcPo
removal of intake is not necessary. It shows a easy way of doing Plug D.
Tutorial of how to install User interface software, connect to unit and make changes.
User interface software:
For users that have opted to purchase the optional BMS Data Cable you will need to download and install the Windows user interface at this link
http://www.n54tech.com/flash_files/jb4_interface.zip
There is a 3rd Party Developed Mac interface that can also be used, download link can be found here at bottom of post 1
http://www.n54tech.com/forums/showthread.php?t=21742
Watch this video which has a walk through of the process and also the steps to change maps and tuning settings.
https://www.youtube.com/watch?v=MjQjMWBVve4

Directions on how to connect and change firmware:
Directions on installing the interface and connecting to your JB can be found here
http://www.n54tech.com/forums/showpost.php?p=197021&postcount=1
Firmware is what runs the JB1 unit. As we release updates or new firmware versions this can be uploaded to your unit free of charge.

Map selection:
In order to change the map in the picture below under the logging tab you can pick the required map. Under status the unit must show connected. This is done by clicking file and selecting connect.
Upon shipping the following maps are active:
Map 0: Stock with complete pass through i.e. the JB1 does nothing
Map 1: Tuned map with adjustable global profile, this supports 91 octane at the base boost setting as well as bolt ons. If higher octane is used the boost can be increased as well as with bolt ons. We found that with intake, dp and 93 the boost can be pushed to +5.5psi. The method of doing this is in the second picture below. A E35 ethanol mix has been tested with this map and its fully compatible to run at boost levels up to +5.5psi when complimented with FBO (full bolt on mods). For anything higher than +5.5psi race fuel is required.
Map 3: Map three allows the JB1 to be the methanol controller working as a fail safe cutting boost if lack of meth flow is detected. You will require a Coolingmist FSB to get this working.
Map 6: User adjustable boost profile (see below) Active on units that ship 30.09.2015 and after. If you have previously purchased your unit before reading this please email me
[email protected]
to receive a copy of the firmware.
Map 1 Boost settings:
Below is a diagram of where the user adjustment is made for boost over stock circled in blue. Add in the value and click save.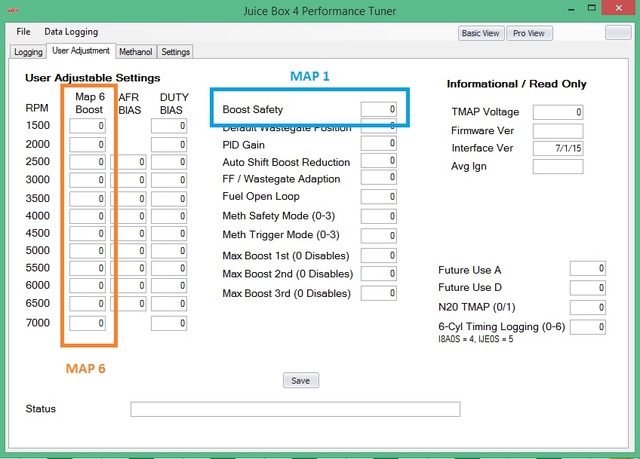 Map 6 boost setting:
For map 6 you will need to connect to the unit and select map 6. If you have previously purchased your unit before reading this please email me
[email protected]
to receive a copy of the firmware. On units that ship from 30.09.2015 there is no need. If your unit has a exposed blue wire you will need to email.
Below is where you enter the values for map 6 circled in orange. It works similar to map 1 so the value is the additional boost over stock.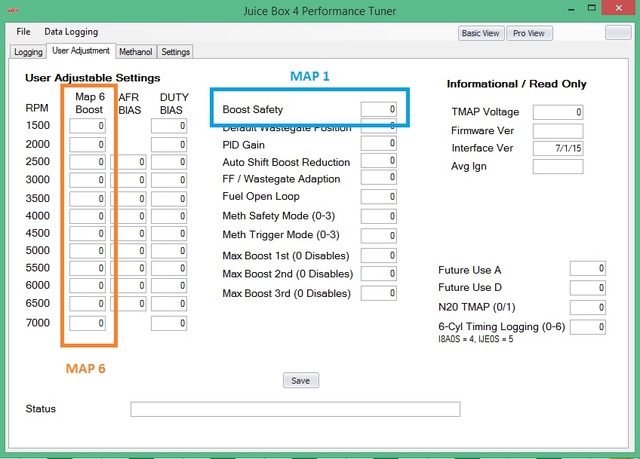 The unit can log boost the elevated boost on the two sensors, ECU boost as well as the rail pressure. The balance of the engine parameters and settings in the picture are exclusive to the yet to be released JB4 but it gives you a idea of what is to come.

Guys with boost gauges that are working off the OBD signal will only see stock boost.
If you suspect you triggered a engine light by unplugging a sensor by not waiting for the car to go into sleep mode rather clear faults before a dealer visit.
Support queries can be posted on the BMS support forum
http://www.n54tech.com
under the VW group section or using email at
[email protected]
. Please include the model of the car, fuel used and hardware.