We would like to introduce users to JB4 unit for the Golf R, Audi S3, Cupra high power EA888 Gen3 motors.
The unit is called a JB4 which is the name of our most advanced circuit board with CANbus connection (vehicle data network). It has been tried and tested over many BMW models and it is time for the evolution to start for the VW market.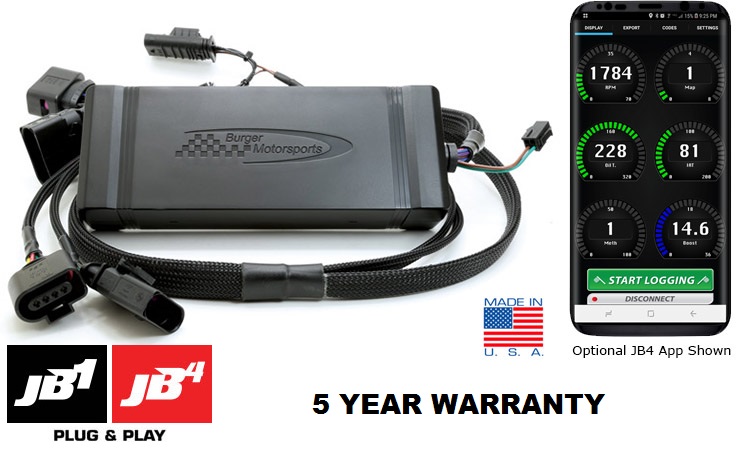 Upgrade units for JB1 users are available to at this link, both revision 1 and 2 units can be upgraded:
http://www.burgertuning.com/vw_audi_eA888_JB4_upgrade_kit.html
Complete JB4 units can be found at this link: http://www.burgertuning.com/vw_volkswagen_Group1_JB1_tuner.html
For map switching, logging and changing settings you have two options
ata Cable: This supports Windows software that we have available for free.JB4 Smart phone wireless kit:* This supports IOS and Android with an app sold extra called JB4 Mobile. The app has all the features the laptop software has with the added benefit of 6 live gauges of engine parameters of your choice.
The JB4 is a true plug and play tune offering safe and adjustable gains.
The unit ships with a base setting in map 1 that increases the boost by +4.0psi over stock that is safe to be used with 91US octane and 95 Euro. The typical power gains on this settings start at 50hp and 50ft lb and more can achieved with higher octane or custom tuning.
Install instructions:
Install instructions can be found here:
http://www.burgertuning.com/instructions/VW_JB4_install.pdf
JB1 to JB4 update instructions can be found here:
http://www.burgertuning.com/instructions/JB1_to_JB4_upgrade_procedure.pdf
The JB1 to JB4 upgrade kit can be bought here:
http://www.burgertuning.com/vw_audi_eA888_JB4_upgrade_kit.html
JB4 Manual can be found here
:
https://www.n54tech.com/forums/showthread.php?t=50428
FAQ
:
Can I run the JB4 with another device connected to the CANbus?
No, any other device connected to the OBD port creates latency on the CANbus. The CANbus was designed to allow one device at a time and further data being pulled may create safety issues on the network as well as bad signal to the JB4
Will BMS release cluster display and steering wheel map switching?
At this stage cluster hijack has proven to be cost prohibitive due to the Gateway system used by VW. We are looking at getting cheaper solutions that may be affordable. Steering wheel map switching or in car map switching is something being worked on and will come in a future firmware update.
Will the JB4 remove my speed limiter?
At this point in time, no. The speed limiter affects many safety parameters and until we are certain there are no ill effects on this we will not have speed limiter removal available. The speed limit exceeded is also a trigger point logged in the ECU which may cause issues down the line for any form of claim.
Can launch control be added for a manual car?
No, at this stage this requires changes in the ECU structure which the JB4 does not access or tamper with. We have had success with this on other brands with add on hardware so its something we to intend down the line.
Can the JB4 support larger turbos?
At this stage on the 1.8T we can support the IS20 and on the GTI the IS38. On the R any larger frame turbo will require a flash of some sort.
How do I know if I can stack the JB4 over my flash tune and what is the process?
This varies on what the flash tune is requesting from the car and if there is room for improvement. If more hardware is used, higher octane or ethanol or meth has been added chances are there is a gain to be had. On stack tuned cars we work one on one with clients so we can understand the trend and get a better idea for the community where gains can be had.
Do I need a professional to custom tune my car if I want more power than the preset maps?
BMS is renowned for its customer service and we can assist any customer with setting his car up to optimize performance. A large online community exists as well where users share their findings. The device works in such a way that it is easy for first time enthusiasts to get a taste of self tuning. We only provide custom tuning for units purchased new from us or a dealer. Used units are not supported for custom tuning even at a fee.
Why does the JB4 read my Vin number and is it Vin locked?
The Vin is read for certain mapping purposes. The unit is not locked to the car which would be unethical and can be resold.
Why is the JB4 cheaper than other options yet more advanced?
The circuit board used in the VW product has been used over many other brands and developed over a period of time so the development cost is spread over many models.
For any questions feel free to post here or email me
[email protected]
for a faster response.