Discussion Starter
·
#1
·
Bypassing PCV to exhaust DIY (Now updated with vacuum measurements)
This is a pcv bypass description using an exhaust "slashcut" system. Crankcase gases are routed to the exhaust instead of into the intake to prevent deposit buildup (such as those seen on on this 2.0 FSI engine with 22k miles and stock pcv system):
EDIT: I Have found the best vacuum pull comes from plugging the front PCV port and running the hose out the back of the valve cover, and not using any check valves. This seems to give the best unimpeded flow. So some of the steps below would no longer be applicable under the setup of plugging the front pcv and running out the back of the valve cover. Also, the amount of vacuum has not been measured on a chipped car so it is possible that a chipped car may pull more vacuum.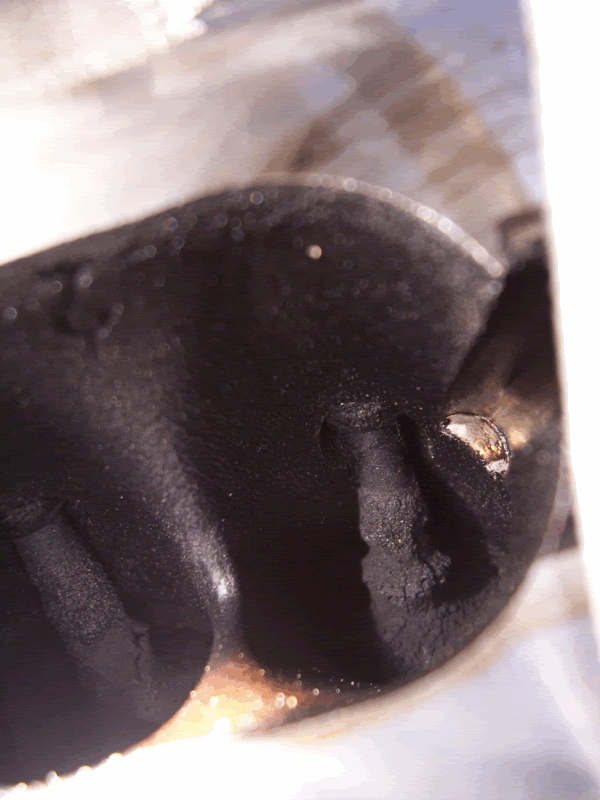 The gases are evacuated under vacuum created by the exhaust passing by the nipple as shown in this Moroso diagram:
Materials needed:
A. Moroso check valve Part No 97800
Update: I am currently running mine without this check valve and it is working great. Testing shows 0-3" Hg vacuum with 5" max for very brief periods. See videos towards the end of this thread. I have not tested the vacuum while the check valve is in place so nothing to compare the "no-check valve" numbers to yet.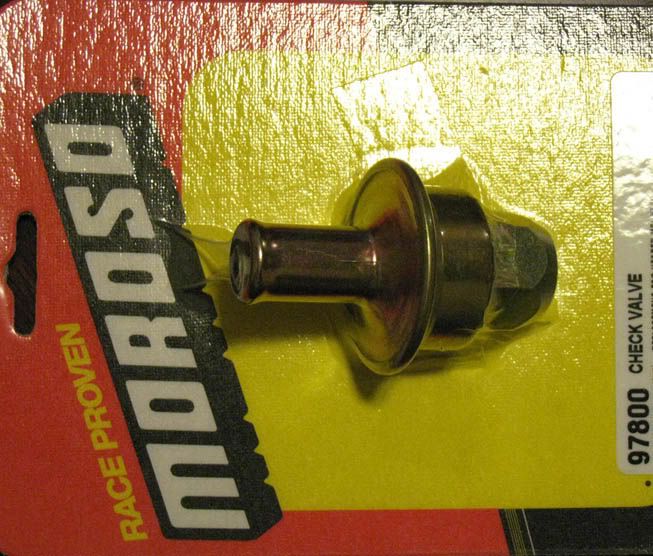 B. Moroso exhaust nipple Part No 97810 (you could easily make your own but not worth the trouble for the cost IMO)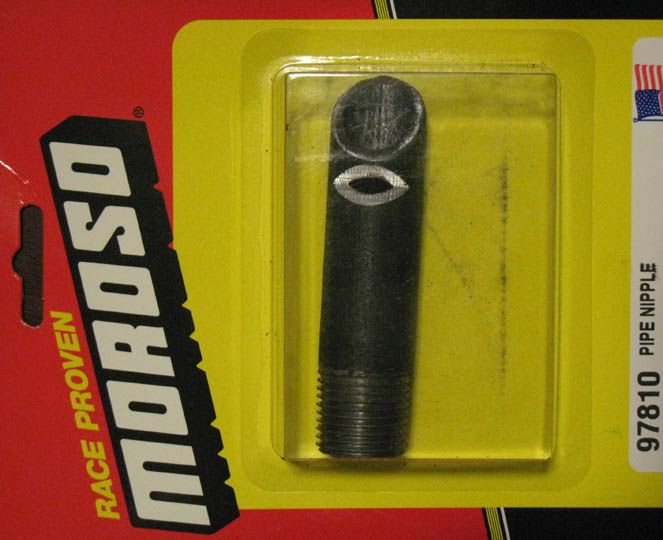 C. 7-8 feet of 5/8" high temp heater hose and two hose clamps
D. One ¾" freeze plug for intake pcv
E. One ¾" freeze plug for pcv line on rear of valve cover
F. One 1" freeze plug and one hose clamp to seal off rear pcv line to turbo
edit: this plug is not needed, see step 6 under "method" below. The hose clamp is still needed though.
Cost:
Moroso check valve $20
Moroso nipple $10
Hose $80
Exhaust shop to install nipple $50
Hose clamps and plugs $15
$175 total
Method:
1. Weld in nipple into exhaust pipe post-cat and post-sensor, screw on check valve to nipple. Orient nipple at 45 degrees according to instructions located here
http://www.moroso.com/catalog/...t.pdf
or Click on "instructions 25900" on the bottom of this page
http://www.moroso.com/catalog/...13023
I had an exhaust shop do mine. That is not a garden hose, before you ask ha ha, it's a silicon heater hose.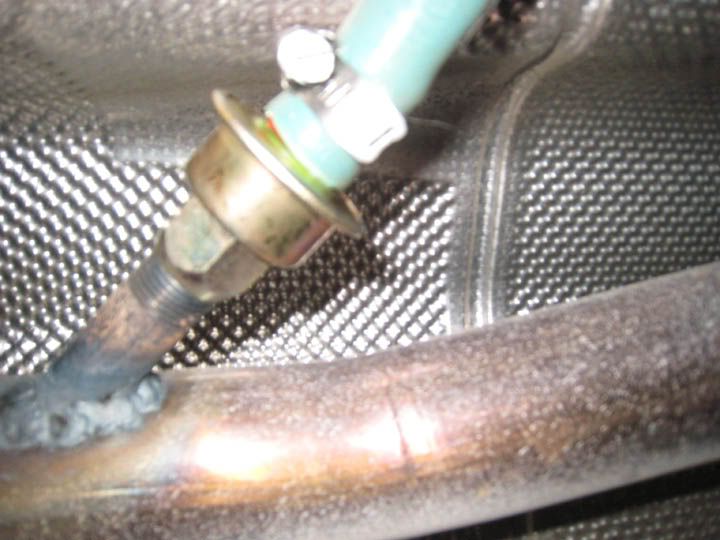 2. Remove engine cover and remove front "accordion" line from pcv to intake
3. Insert ¾" freeze plug into intake and tighten but don't tighten too much. Or use some other plug method.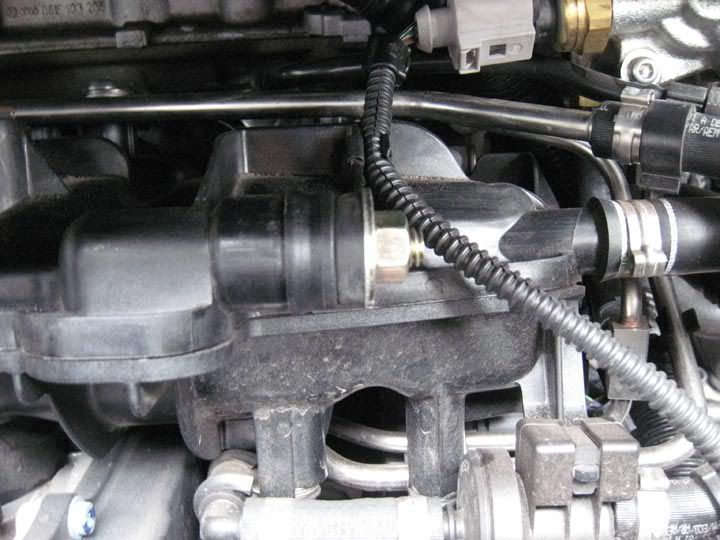 4. Remove hose clamp for rear pcv line where rubber hose connects to back of intake manifold and pull hose away from valve cover. Note metal line bends easily making hose removal easier.
5. Plug valve cover outlet at rear pcv line with another ¾" freeze plug or some other plug method. Don't over tighten
6. Plug metal rear pcv line by inserting 1" freeze plug into the rubber hose and then hold in place with a hose clamp (probably better methods for this but this works fine and is fast). Or use some other plug method.
edit: this step is not needed. Simply put rubber hose back onto valve cover outlet and secure with a hose clamp. Install right over the freeze plug, as if the plug wasn't there.
7. Run a heat resistant heater hose from pcv on front of valve cover to the check valve on the exhaust. I ran mine around the engine and down by the exhaust and then back. Pretty easy to do. Very accessible. Secure with metal ties ideally or zip ties so hose doesn't flop around. Secure both ends with hose clamps.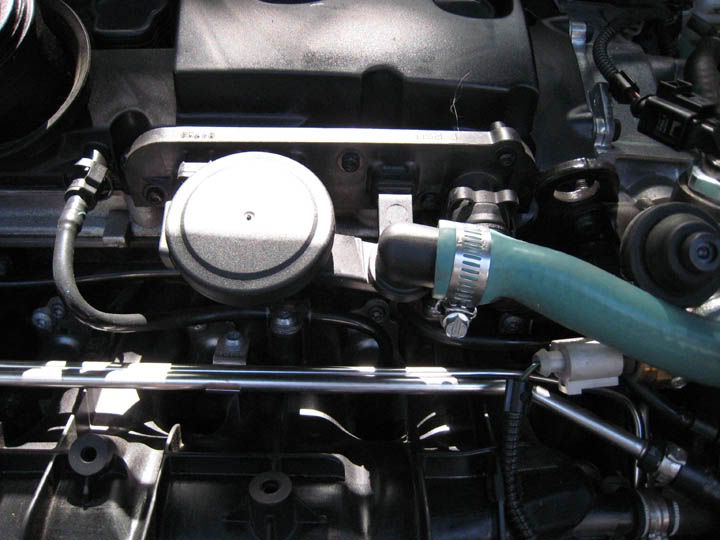 8. Replace engine cover.
Objective:
Eliminate source of valve deposits while maintaining a maintenance free, simple system with adequate crankcase evacuation. VW themselves, in the patent for this engine, say that eliminating the PCV would solve the deposit problems but they can't due to emissions:
"Gasoline engines with direct injection of the fuel into the combustion chamber, i.e., not into the intake port, suffer especially from the problem of the formation of carbon deposits on components.
...the successful ignition of the stratified charge depends to a great extent on the correct development of the internal cylinder flow, which ensures reliable transport of the injected fuel to the spark plug to guarantee reliable ignition at the spark plug. However, a coating of carbon deposits in the neck region of the intake valve may interfere so strongly with the tumble flow that ignition failures may occur there as a result.
...Furthermore, the coating of carbon deposits in the neck region of the intake valve causes flow resistance, which can lead to significant performance losses due to insufficient cylinder filling, especially in the upper load and speed range of the internal combustion engine. In addition, the carbon deposits in the neck region of the intake valve may prevent correct valve closing, which leads to compression losses and thus sporadic ignition failures.
...These deposits on the valve stem can result in flow deficits due to undesired swirling and turbulent flow around the globular carbon deposits. This may persistently interfere with the formation of stable tumble flow from cycle to cycle."
"A possible solution would be to keep these sources of deposits away, for example, from the intake valve, by completely eliminating exhaust gas recirculation and the introduction of blowby gases into the intake port.
However with the combustion behavior of modern reciprocating internal combustion engines, at least external exhaust gas recirculation and the introduction of blowby gases into the intake port are absolutely necessary for reasons of emission control and fuel consumption, so that this approach is not possible. "
- Thanks to Rl_RS4 for finding this patent info. Check out his thread listed at bottom of this post for more info.
Possible other effects:
a. May possibly extend oil life but this is not really expected. i will monitor this anyway
Edit: I have done several UOAs and no noticeable benefit to oil life has been observed
b. May possibly reduce fuel dilution of oil but this is not expected. i will monitor this
Edit: I have done several UOAs and no noticeable benefit to oil life has been observed
c. May possibly improve horsepower due to better ring sealing under crankcase vacuum but this is not expected.
d. May possibly make car run smoother as deposits to valves and related side effects such as those discussed in the patent are reduced (f.e. injector fouling, incomplete combustion due to restricted air flow). I do expect this system to provide a smoother running and cleaner engine in the long term compared to stock.
Edit: Have definitely noticed this. No stumbling starts and very smooth idle for approx. 14k miles and seafoam treatments are no longer needed.
e. Increased mpg? Not expected
Edit: Have noticed a slight bump, but not a big deal.
Method of evaluation:
Only good way is to visually inspect valves. I am not going to do that but I am going to monitor the oil condition via TAN and TBN sampling.
Benefits/features of this method:
1. Eliminates PCV gases return to intake thereby eliminating largest source of deposits to intake valves, fuel injectors, etc.
2. Routes crankcase gases to exhaust post-cat and post sensor
3. No need to empty a catch can
4. No chance of freezing up, unlike catch can
5. Crankcase gases are removed under vacuum unlike catch can
6. Less chance of pressure drop as could occur with a catch can
Cheaper version (downtube):
If a person believes that vacuum is not needed to evacuate crankcase gases (such as anyone who wants to run a "race" catch can that vents to the atmosphere), you could eliminate all the expensive parts and just block off front pcv at intake, rear pcv line, and then simply run a hose underneath the car with no catch can. This would cost roughly $10 for the plugs, $15 for hose and clamp? for a total of around $25. the only thing you wouldn't get is vacuum pull of crankcase gases. One BITOG member did this on his audi RS4
http://www.bobistheoilguy.com/...07413
and really likes it and UOAs look great. He reports no oil spots on driveway etc. from tube. I chose to have vacuum assist. Also, to keep dust, etc. out of the down tube you could add a breather filter on the end of the tube.
Some more reading FYI:
http://www.honda-tech.com/showthread.php?t=1199935
http://www.honda-tech.com/showthread.php?t=697498
http://www.bobistheoilguy.com/...art=1
http://www.bobistheoilguy.com/...96487
http://www.bobistheoilguy.com/...14263
Of course all the usual caveats apply. This is for a race-only application, do at your own risk, modifying your car may void your warranty, etc.
Modified by saaber2 at 8:02 AM 2-1-2010