Ok here is my review on an interior LED kit I recently purchased from one of our vortex advertisers,
deautokey.com
, about two weeks ago. I had previously bought an interior kit from them for my Golf a few weeks before that.
This kit came with all interior lights and I also tested some possible license plate lights to let them know what would work best. I think the ones I have will not be the ones they end up selling but am posting it along here anyways since it is what I got. And before anybody asks, there are resistors on all the lights to make it error free for all of you GLI folks. Although my Jetta doesn't have bulb out warnings, my Golf does, and the kit for that threw
NO CODES
whatsoever.
Review/Thoughts on kit and ordering experience
Quality is very good, the communication and customer service with deautokey is amazing, truly top notch! Price was nice, especially since all their prices include shipping. I honestly have nothing bad to say about my purchase. Oh, and lifetime warranty!
Link to kit --->
Deautokey.com LED Kit for Jetta
Kit came with:
2 Visor lights
2 Front map lights
2 Rear dome lights
1 Glove Box light
1 Trunk Light
2 License plate lights
The color of the light is a pure white. Think along the lines of a 5000k HID bulb, which has zero yellow and also zero blue.
Pics (sorry in advance for bad photos)
If you want to look at some better pics on what the difference is like, check out the following link to someone elses review of their Golf kit. It is very similar to what you will get in the Jetta as well. Link --->
Link
His pics are actually what convinced me to put in my order, and I was definitely pleased with my purchase!
License plate lights were shot by my cell phone and it doesn't do it justice. It is not blue at all in person and shines a nice cutoff line down to the ground. All other pics done on a simple Olympus point and shoot camera... and no I didn't bother to censor my number because that is the most nonsensical thing ever since thousands of people each day see your plates on a daily basis on the roads lol. I have some before and after photos to compare stock to LED, but only the front seats pics came out real good. I apparently have shaky hands and my camera cannot compensate that well. My friend was supposed to shoot it with his DSLR since I was in town visiting family but he had to go to a new years party that day and I had to come back to my town the next day. :/
Now on to the photos!
Stock front lights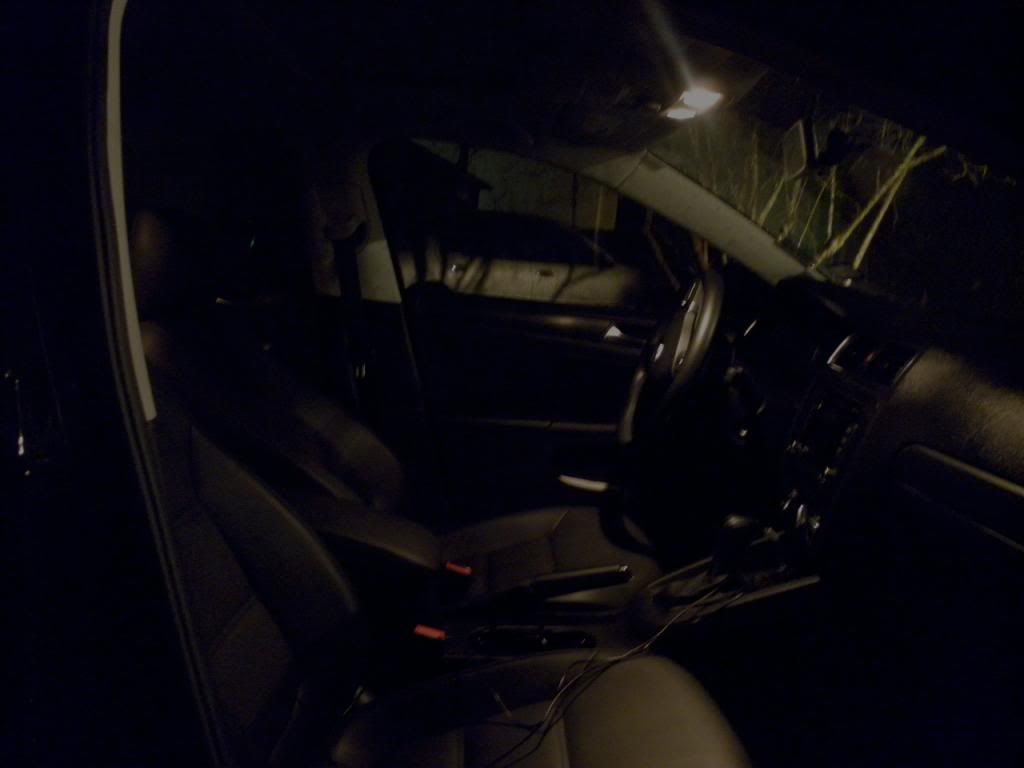 LED Front lights
LED Trunk Light (Blurry but light output is pretty accurate)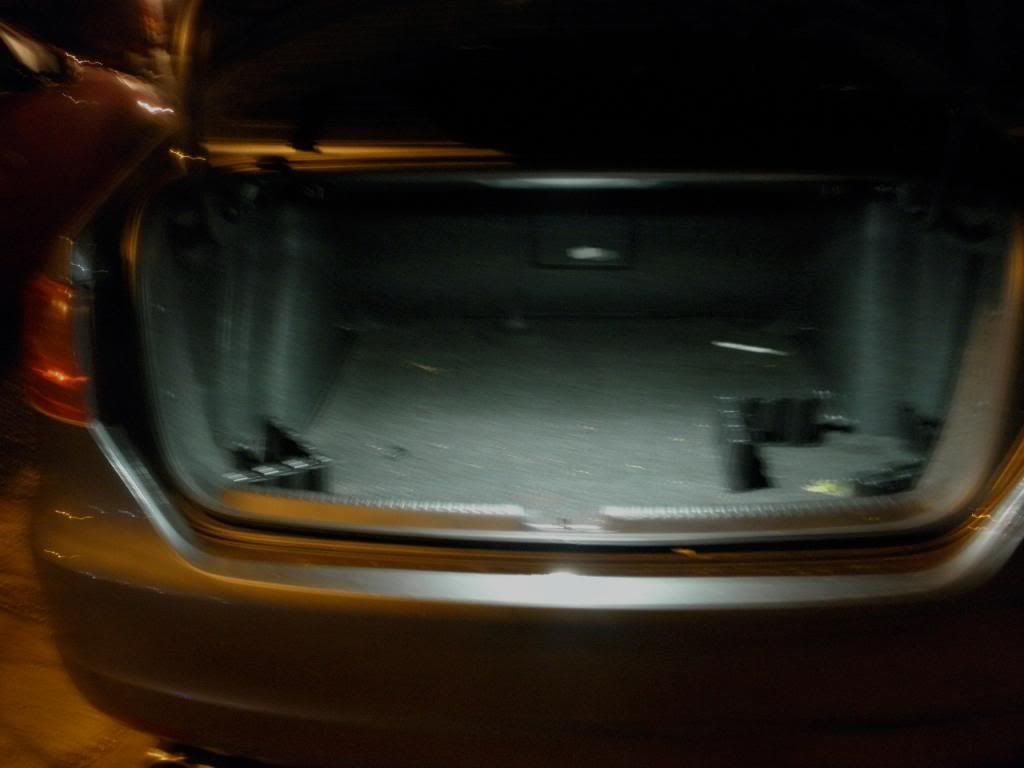 LED License plate lights (Far Shot)
LED License Plate (Close up)
and even though it is not LED related, I also picked up a carbon fiber vinyl insert for my rear badge from them while I ordered. Came out nice! I put it on my Golf but it fits all model's emblems so if you were interested in that, or one of their other styles, including german flag or plaid, they have it available :thumbup:
Hope you guys can tolerate my crappy pics haha.