Diagnosing your Alarm issue... A possible door latch issue 3B1837015AT, 3B1837016CG, 3B4839015AP, 3B4839016AP
Very often MK5 Jetta, Jetta Sportwagen(JSW), Golfs, GTIs and Beetles will have intermittent alarm issues. Usually they will go something like this. Your vehicle is parked with the alarm armed and all of a sudden the alarm starts going off by itself.
The reason this happens is because the micro switch inside the door latch assembly is not reading properly. When the microswitch on your VW goes bad it will tell the vehicle every once in a while that the door has been opened even though it has not been touched.
It is very common for people to believe that their alarm going off by itself has something to do with their keys and or the alarm system on their Volkswagen. This is not generally the case.
There are a few pretty simple ways to tell if the door latch on your VW is causing your issues.
Ways to check to see if your latch is the problem
• Sit inside your drivers seat and Shut the Drivers Door
• Arm the alarm. You should hear a beep to confirm it is armed (If not there is a red light on the drivers door panel that blinks one the alarm is armed)
• Once you have confirmed the alarm is armed. Open the drivers side door (DO NOT disarm the alarm before opening the door)
If the alarm does not go off you have confirmed that the drivers side front door latch is a problem. The reason this worked is because when you open the drivers door with the alarm armed, the micro switch inside the drivers side door latch should tell the alarm to activate as someone is breaking in to the vehicle.
If you find this is not your issue you should repeat this procedure on each door to confirm that when you open doors on the vehicle while the alarm is armed that the microswitch inside the door latch assembly does its job and tells the alarm to activate.
This is the drivers front latch for the models listed below. This is the most common latch is 3B1-837-015-AT/ 3B1837015AT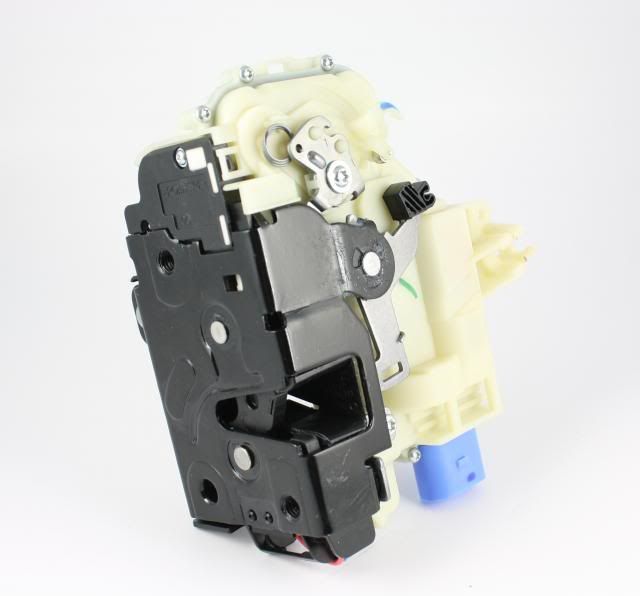 Drivers Side Front Door Latch Assembly 3B1-837-015-AT
Passenger Side Front Door Latch Assembly 3B1-837-016-CG
Drivers Side Rear Door Latch Assembly 3B4-839-015-AP
Passenger Side Rear Door Latch Assembly 3B4-839-016-AP
VW Beetle Conv 2003-2004-2005
VW Beetle Convertible 2006-2007-2008-2009-2010
VW GTI MK5 2006-2007-2008-2009
VW Jetta MK5 2005.5-2006-2007-2008-2009-2010
VW R32 2008
Vw Rabbit 2006-2007-2008-2009 MK5
Vw Sportwagen 2009
Vw Sportwagen - 2010-2011-2012-2013