What:
Removal and Install of Primary Water Pump for 12v VR6
Difficulty Level (1-10):
4 – Some knowledge required
Estimated Time to Complete:
2-4 hours
Tools Required:
• M8x80 bolt – for belt tensioner…doesn't need to be x80, but needs to be at least ~3" of tread
• Wrench or socket (for 8x80 bolt) – in my case a 12mm socket
• 13mm wrench or socket
• 16mm socket
• 17mm socket
• 6mm Allen socket
• ½" drive socket wrench
• 3/8" drive socket wrench
• Various lengths of extensions
• Torque wrench(es) that can read 15ft-lbs, 18ft-lbs and ~30ft-lbs
• Various size screwdrivers
• Channel-locking pliers
• High temp grease or equivalent
• Anti-seize paste or equivalent (WD-40 will suffice if nothing else is available)
• Jack and Jackstand with wooden blocks (I used a ~1"x6"x12")
• Gloves and rags
• Buckets to catch coolant
• New coolant and purified water (Make sure you have enough! ~10L total)
• New pump and o-ring (~$50)
• New belt (optional ~$20)
DISCLAIMER: This is merely a step by step walkthrough of what I did to complete my water pump job, and am in no way responsible for potential damage/harm caused to you, your tools, or your car.
NOTE: This procedure was completed on a non-AC, non-PS VR6 in a mk2 chassis, so things may be different but from the other DIY's I've read that shouldn't matter except for more things might get in your way.
1) Get all your tools handy…duh. Make sure the car is not TOO hot because you will be working with it and you don't want the coolant to fry you. I had the car on for less than five minutes just to move it into the garage to work.
2) Disconnect the negative terminal of the battery just as a precaution. This is especially important because we have electronically controlled cooling fans that could go off while working. Yeah, now you realize it's a good idea
3) Place a bucket or container large enough to contain a lot of coolant (I just used some random bucket laying around, but it was tall, so I needed to jack up the driver side of the car from the frame behind the driver front wheel. Also, because my front bumper is ghetto, I am able to easily remove it so I did to give myself more clearance to fit the bucket underneath).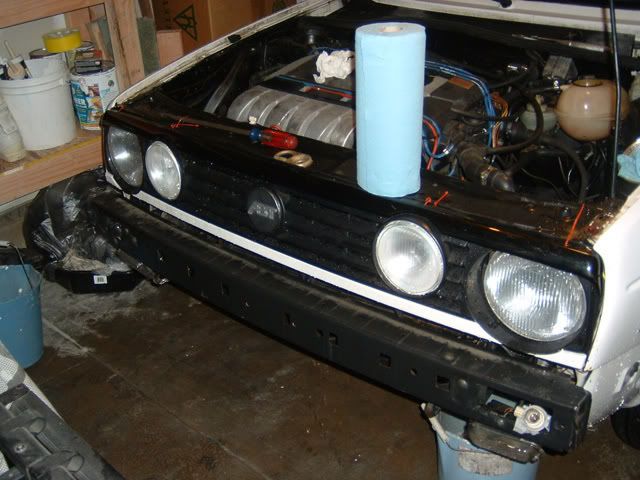 4) I disconnected the plug for the radiator fan switch, and unscrewed the hose clamp for the lower radiator hose. Pull off the hose from the radiator and let the system drain. You should squeeze the various coolant hoses just to make it get swished around so it can exit the system.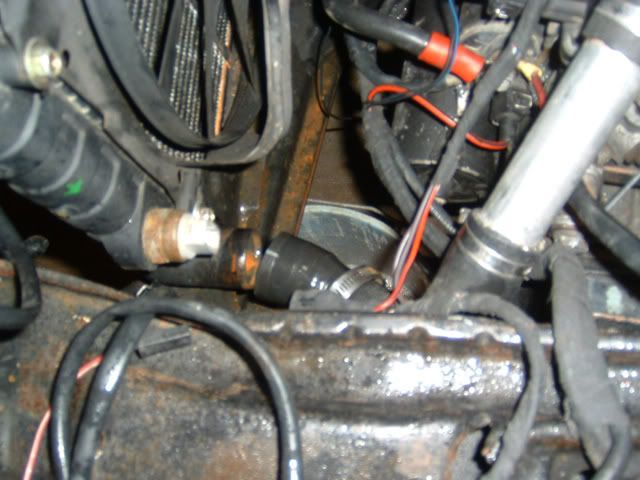 Note: I took a break for dinner (~1hr) and when I came back it was still dribbling fluid, so just leave it loose to get as much old coolant out while you do the rest of the job.
5) Remove airbox + MAF, j-boot, and oil-breather hose by loosening the hose clamps using your screwdriver. You probably don't NEED to remove the breather hose, but it was easier for me to loosen the clamp on that hose at the cylinder head.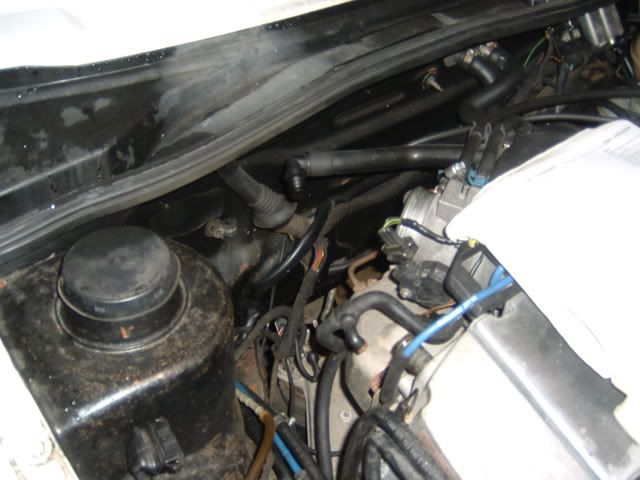 6) Now you should have unobstructed access to the belt tensioner. Some writeups will tell you to take care of this now, but I found it easier to remove the belt by myself once the engine has been lifted as it gives me more clearance between the frame and the crank pulley.
7) What you want to do now is get the jack with that 1x6 wooden block and place it underneath the oilpan. Position it like I have done in the picture to ensure you a) do not dent the pan, and b) you jack it from a point in which is pretty far from the transmission mount. Lift the jack to the point where it touches the oilpan but don't lift it.
8) Now, grab your 17mm socket, use enough extensions to make it extend about a foot or so. What you are going to do is loosen the motor mount bolts for the front mount, and the passenger-side mount. They should be pretty easy to take care of if your extensions are long enough, but if you are like me and don't have enough extensions, just keep on truckin'. Slowly but surely you'll get the bolts out. Make sure to put a rag or something between your knuckles and any sharp metal in case it snaps loose so you don't hurt yourself too bad.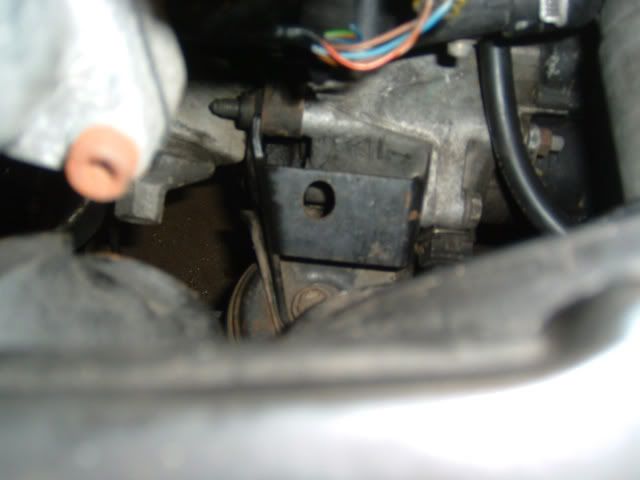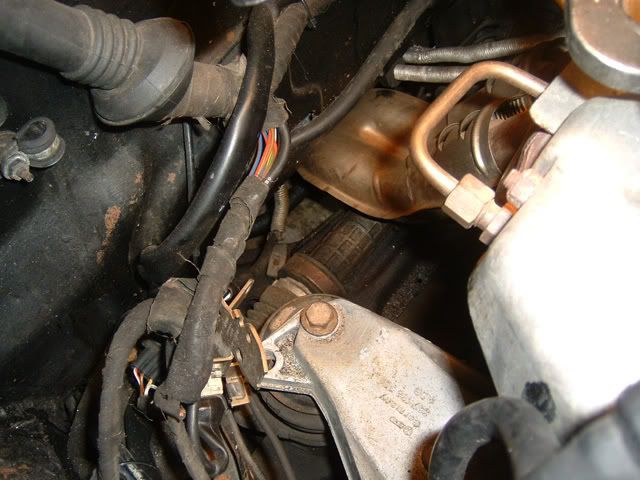 9) Once those two mount bolts are out, you can go ahead and SLOWLY lift the engine with the jack while keeping an eye out for the water pump pulley. Once you see the pulley for the most part able to clear the frame rail you can stop jacking up the car. Should be that it comes up about 4" or so. Don't go too high or else you'll start to stress the other motor mount and the exhaust. Yeah, the Bentley says to disconnect the exhaust but why do it if you don't need to? Saves time too. Refer to the picture of #11 to see about how high I lifted the engine.
10) Take the M8x80 bolt and put it into the hole on the belt tensioner and tighten until you feel resistance. Then keep turning it until you can remove the belt…do so. Keep the big bolt just stuck in there for now.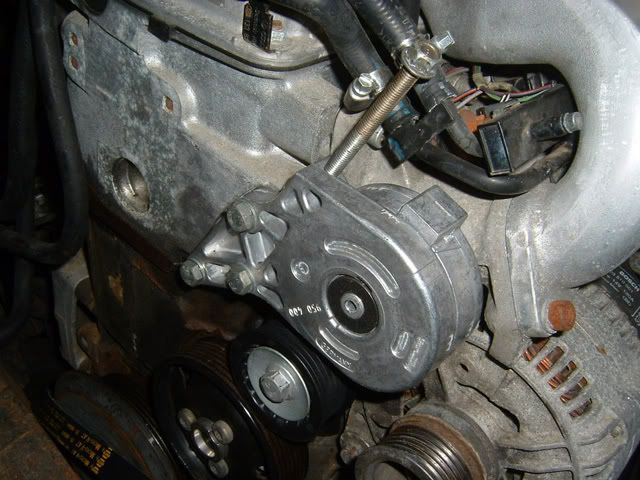 11) Now use the 13mm socket or wrench and remove the bolts holding the tensioner onto the block and remove the tensioner and set it aside.
12) Grab your channel locking pliers and put them through one of the bigger holes in the water pump pulley like in the picture. This is to prevent the pulley from spinning while you take the bolts out. I'm sure a proper size screwdriver would work as well, but I had the channel-locks handy. Generally, I just use whatever works and will not break.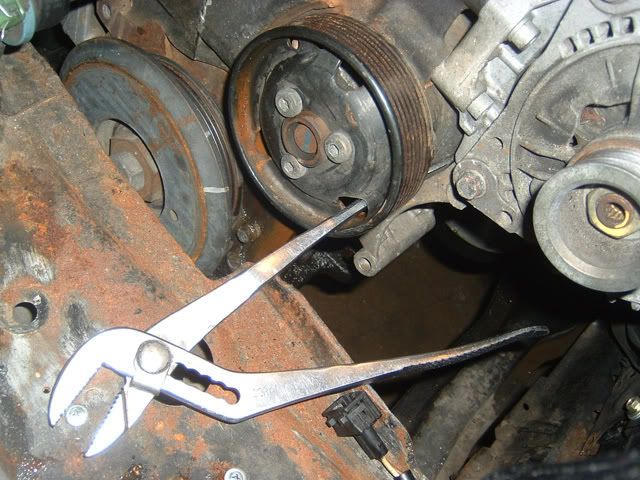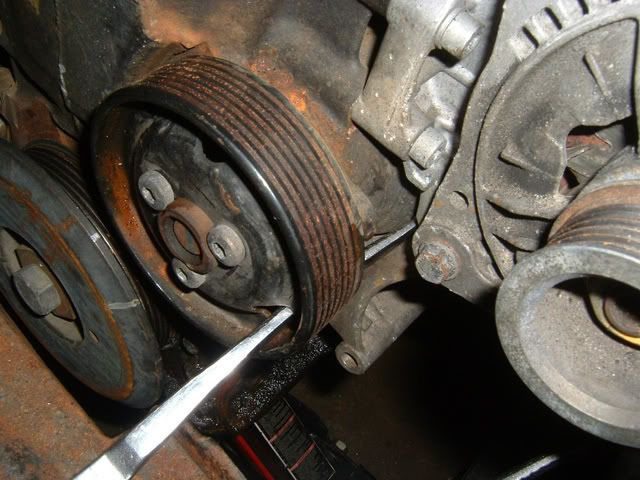 NOTE: In my case, my water pump shaft would jiggle (try wiggling the pulley to see if there is play) which tore the CRAP out of my belt, and ultimately caused some nasty noises and smells. I'm sure there are other ways a water pump can fail (seizing for example), but I would assume you already know your pump failed if you are reading this DIY.
13) Using the 6mm allen, you want to TIGHTEN the bolts first a little. I don't exactly know the technical reasons why, but I heard many people tell me to do this, so I did. After you tighten them just a LITTLE, you can go ahead and crack them loose. They will generally snap loose violently, so don't be startled with the loud noise.
14) Now, you should be able to see the water pump itself. What you want to do is put another bucket underneath where the water pump is. If you were smart and put the jack where I did, you have some extra space for a bucket. Once you crack things loose you'll see where the fluid pours down so you'll see where to situate it.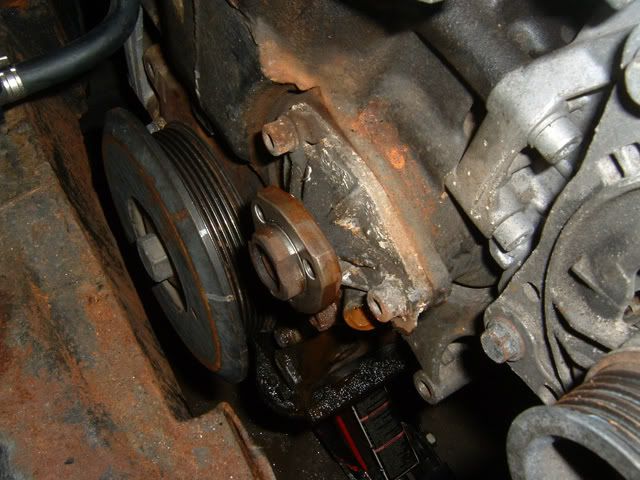 15) Do the same thing with tightening the bolts first then loosening them for the water pump bolts themselves. Remember to put the tip of the allen in ALL THE WAY or else you'll strip them! Once you get the bolts out, slowly pry where I've shown in the picture and wiggle it out. Keep the pump in partially so coolant doesn't go everywhere. Take a restroom break if you want, or just chill for a minute then remove the pump completely. Yay, ½ way done!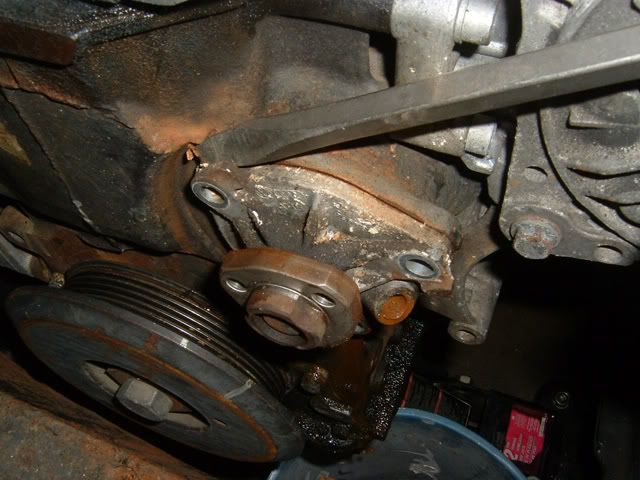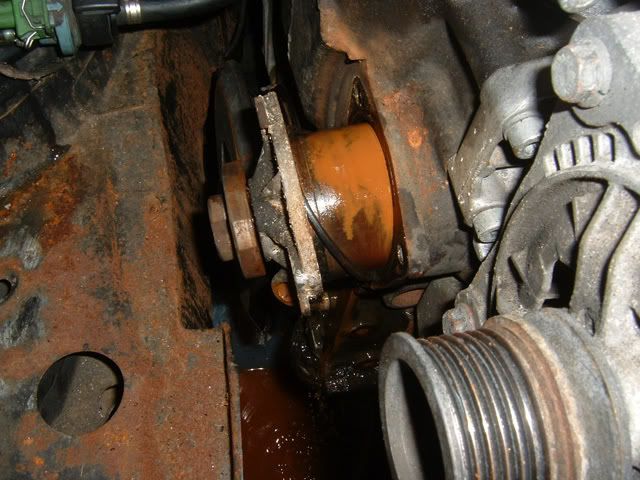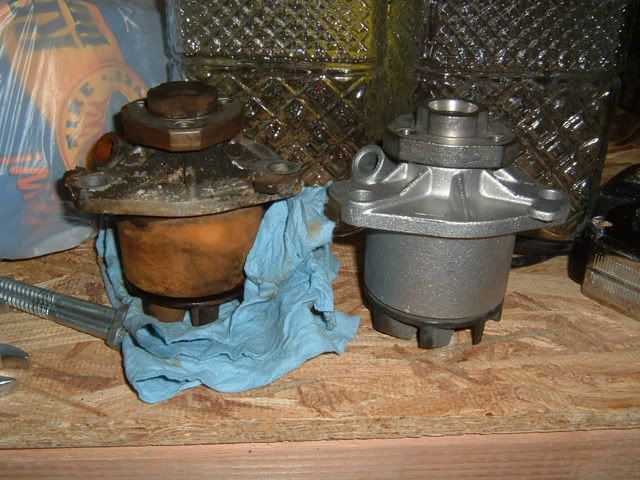 NOTE: When using a torque wrench, take note that if an extension is used such as a crows-foot (something that extends the overall length of the wrench itself, not of the socket and extensions etc), you MAY need to account for it by using a special formula. It should be in your torque wrench's manual if you still have it, or I'm sure you can find it on the internet if you look.


Quote, originally posted by VgRt6 »
The extension doesn't change the length of the moment arm, which is the distance from your hand to the point of rotation of the socket. The crow's foot will lengthen the moment, which is why the torque value changes. If you put the crow's foot on at a 90° angle instead of on straight, then the moment arm isn't lengthened and no correction is needed.
16) After it seems most coolant has been flushed, you can just start the reinstall. Put the new o-ring on the new pump and put it in the block. Clean the bolts, and put some anti-seize on the threads. I didn't have anti-seize, so I just used WD-40. Tighten by hand then use a torque wrench @
15ft-lbs
.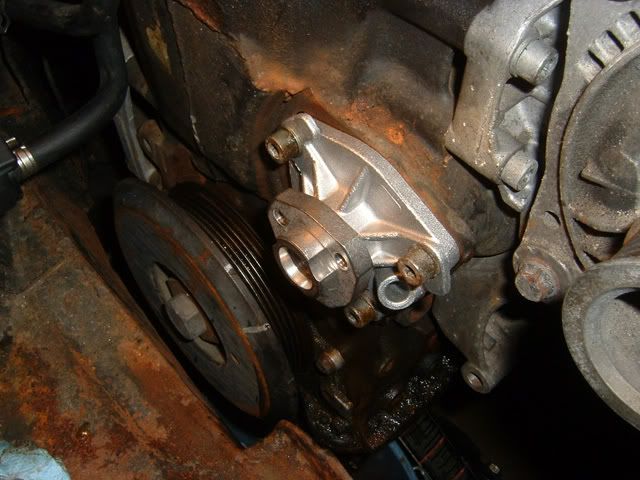 17) Clean up the pulley, put it on and do the same thing with the pulleys' bolts except the torque rating is
18ft-lbs
. You will have to use the channel-locks again to jam the pulley so you can tighten the bolts.
18) Reinstall the belt tensioner and torque the bolts. I forget the setting, but when I remember I'll edit this. With the tensioner on, loosen the bolt for the tensioner's pulley. It is a reverse threaded bolt so you have to turn it clockwise to loosen it. This is a 16mm bolt.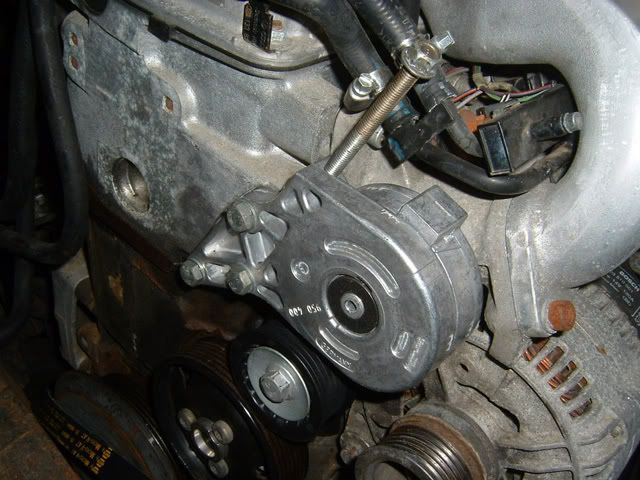 19) Once you take the pulley off, use a small screwdriver and pull the seals off and use some high temperature grease and pack it on there so you don't get any nasty squeeling down the line. I happened to replace my tensioner as well so that's why it looks really clean in the pics. After you put grease in there, spin the bearing to make the grease settle so you can put more. Once you do one side, put the seal back in carefully and do the other side. If you did the first side adequately, when you pull the second seal off you shouldn't have to put any more grease.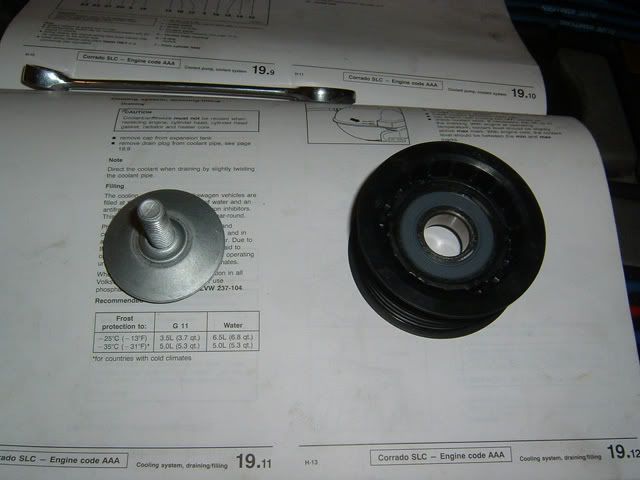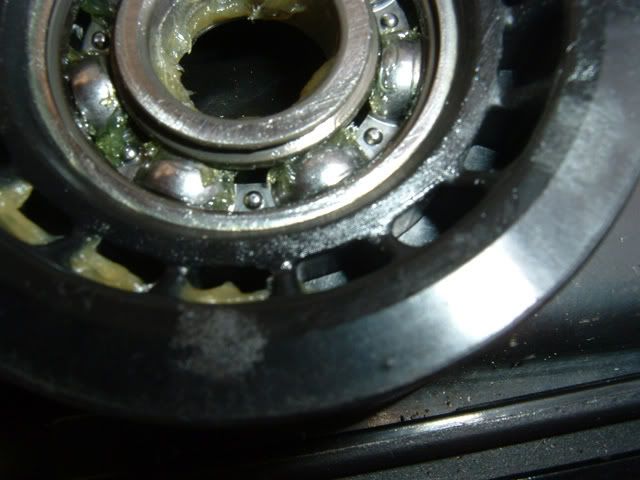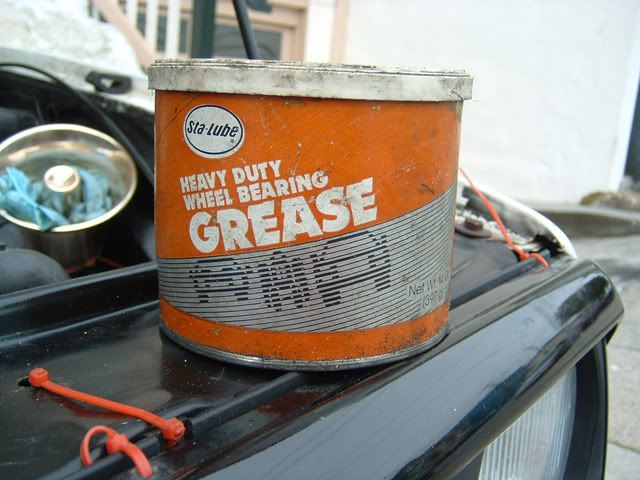 20) Put the pulley and bolt back on, and hand tighten. Here's a tricky part. Since all three of my torque wrenches are only for TIGHTENING, we have to trick things a little bit. Set your torque wrench for 30ft-lbs. It's in that range, so I'll edit this part down the line as well. If your torque wrench can only turn clockwise, then grab another wrench that the 16mm socket can fit on. What I did was tighten the bolt (counter clockwise) a bit, then use the torque wrench and turn it clockwise to see if it clicked. If it doesn't click, you use the other wrench to tighten it some more, then use the torque wrench again to see if it clicks. Don't do things too fast or too much or else you'll overtorque it and that's just bad. Keep doing this until the torque wrench clicks. Then tighten it a LITTLE more just for peace of mind.
21) I would recommend installing a new belt if you can, but in the end it's your car, do whatever you want with it. Install the belt and remove the M8x80 bolt that is stuck into the tensioner.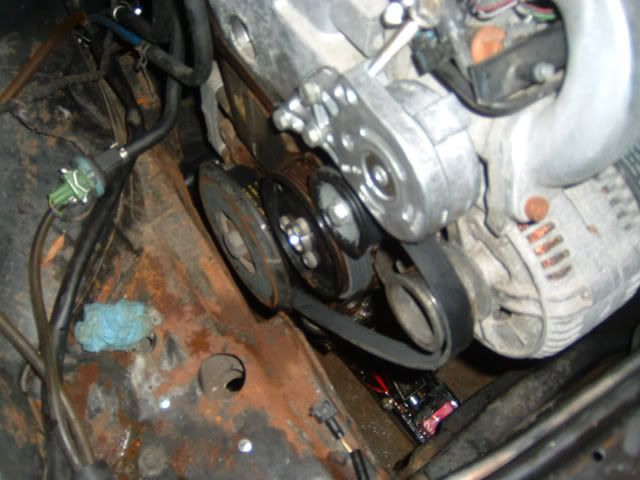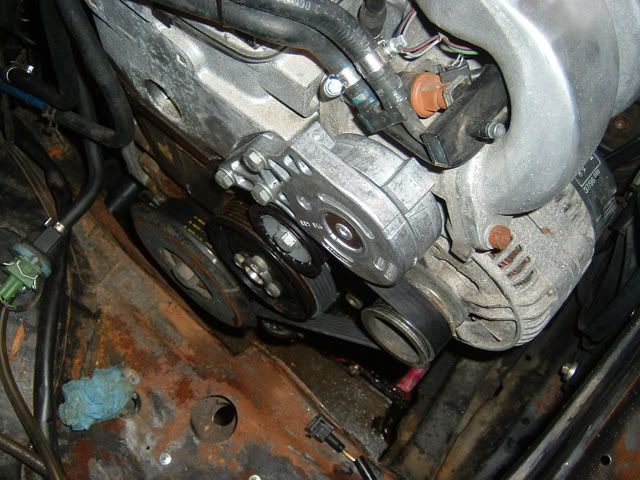 22) Lower the engine until the engine 'feet' are lightly resting onto the motor mounts, such that you can push the engine
around to align the motor mount bolts.
23) Look for the proper alignment and get the bolts in. If you can't seem to get the bolts threaded, try lowering the jack some more as it may just need to be closer to the mount. Torque these to spec (I don't remember already lol).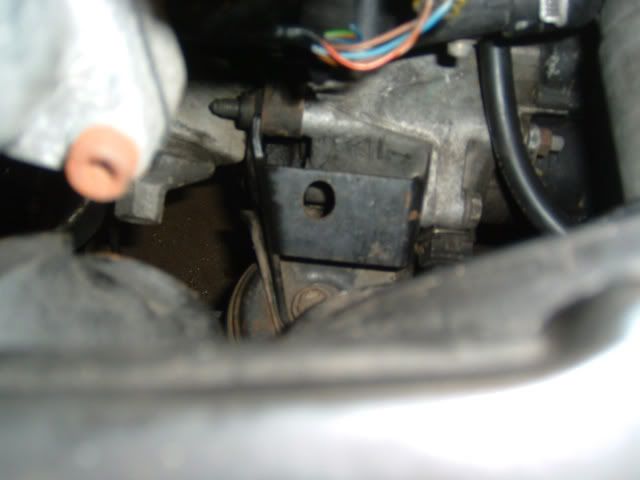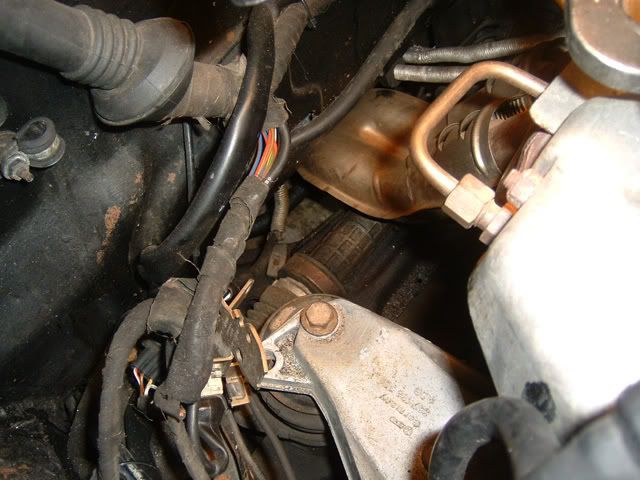 24) Remove jack
25) Reinstall the j-boot, and all other intake components.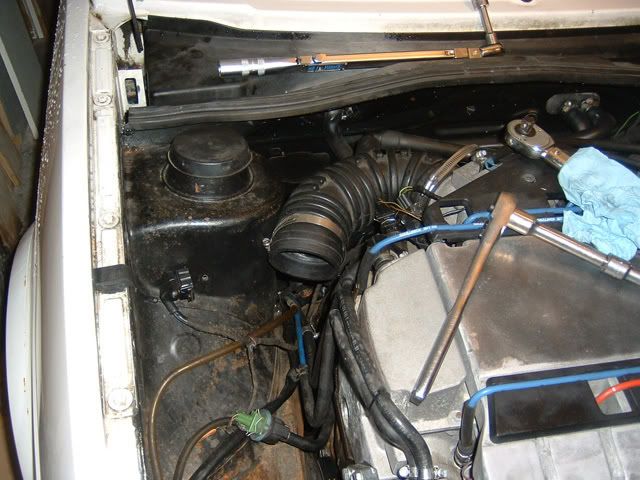 26) Reconnect lower radiator hose, tighten clamp and reconnect fan switch.
27) Remove water buckets if you used them and dry things up if you want.
28) Remove jackstand if used to raise car to fit buckets.
29) Add coolant and purified water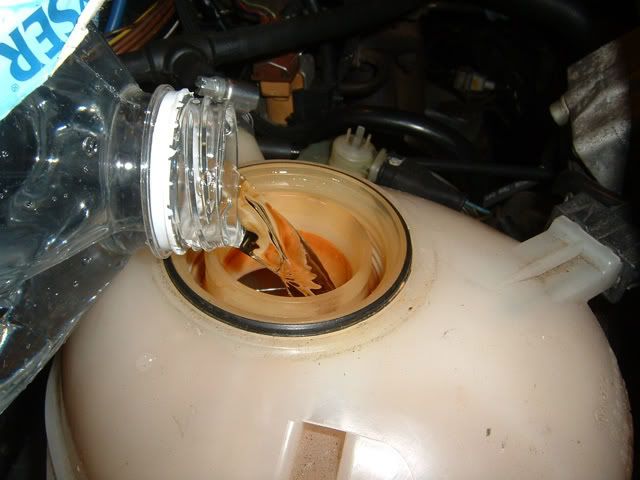 30) Reconnect battery
31) You're done! Stand back and enjoy that you just saved yourself some green!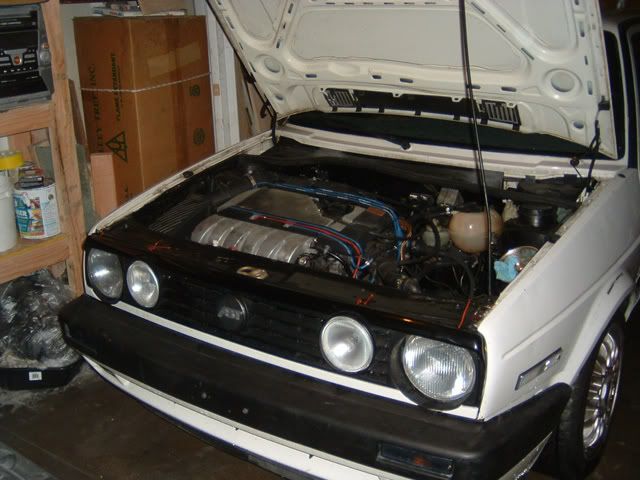 Now, don't forget to recycle the used coolant and stuff and not to pour it down the drain. Also, clean your tools before storing them again. You'll thank me later as your tools won't REAK of coolant. You're welcome. I hope this helps anyone looking to do this job themselves.
Contributions:
1) VgRt6: Clarified torque settings in regards to extensions, etc. Also, grease goes IN the bearing, not ON it
http://****************.com/smile/emthup.gif
2) James 93SLC: Clarified that torque settings need to be modified when using crows-feet et al, NOT regular extensions.
Modified by 959Lover at 12:03 PM 1-26-2008
Edit History:
08-19-2013 to update picture links. If links are dead, PM me and I'll relink them.
11-30-2013 to update picture links since some were in wrong order