Clutch Delay Valve (CDV) removal for MK7 TSI 5 speeds
TL;DR
1) remove airbox
1.5) remove battery tray, see
http://forums.vwvortex.com/showthre...n-TSI-5MTs&p=99077714&viewfull=1#post99077714
for how much more room you'll have
2) release metal clip and pull off clutch line (be sure to catch all the fluid with rags)
3) use something thin, long, and sharp – I found that my 12v test light was perfect for this. You need to push it straight into the block, where the hose just was. The 12v prong is tapered and will actually push into the delay valve snugly, so you can simply pull it out, along with the rubber grommet that kept it in place. Save/discard, your choice.
4) Re-insert clutch hose, push clip down, bleed clutch (DOT 4 and use a 5/16" ish hose and catch bottle!)
My, much longer, experience:
To read about all the praise of this DIY and/or the ECS clutch bleeder block kit see:
http://www.golfmk7.com/forums/showthread.php?t=14745
Not much info on the 5MT, though; with someone posting a photo of our different 'block' and guessing it doesn't have a CDV! Based on how poorly this clutch behaves when stopped on a hill with a heavy load and/or AC on, though, I knew it behaved like there was one installed.
I finally had some free time to figure out how to find and remove it. Unfortunately as the guinea pig, I did too much work and spent hours instead of minutes. Once I had it removed, I realized that I did not have to actually remove the entire block to get it out. For the 6MT it comes out from under the bleeder screw. The 5MT does not. Of course I did not know this until I had completely removed that clutch 'block', which is a PITA on the 5MT due to the awkward location of two 13mm bolts that hold it to the transmission. They are too close to allow an offset wrench on them, and very hard to get a socket on. Wobble extensions and all kinds of cursing, finally got it free. Then when renstalling, its actually worse, as there is some weird rubber covered spring going into the transmission, which makes starting those PITA 13mm bolts, even more of a PITA. And your shifters are in the way as well. My fingers/hands are still sore.
Hopefully the pics, along with the short instruction above, will clarify how you can do this while leaving the 'block' in place. All that has to be removed is the clutch line, to gain access to the CDV for removal. You do need something, long, skinny, and tapered for it to come out easily, though. Luckily my 12v test light was perfect. The one thing that went right that day for me.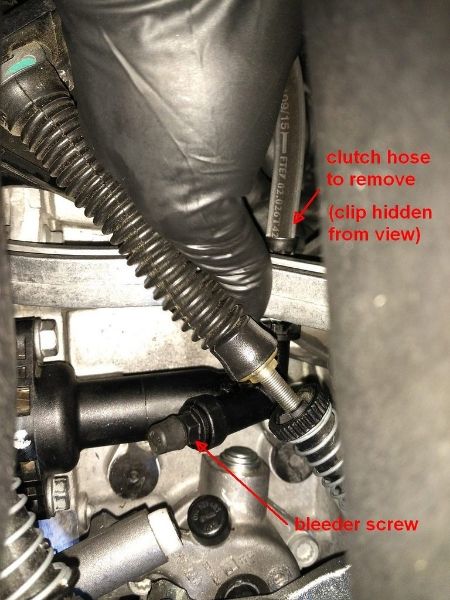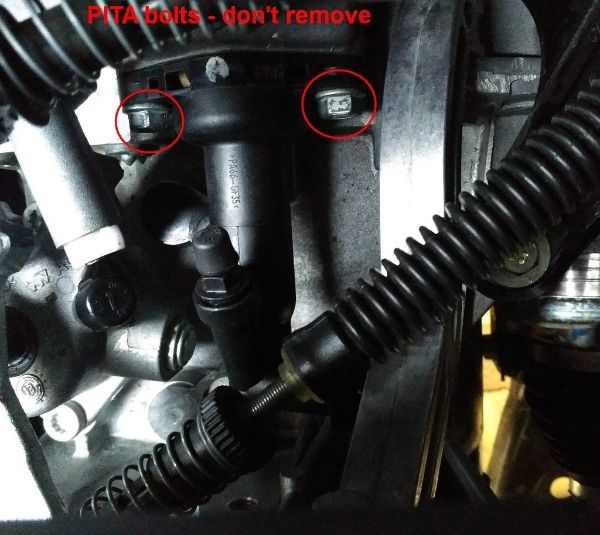 It feels like a normal clutch now, when driving. Not dampened and numb like previously. As I plan on keeping this car for a long time, this was worth the hassle for me to figure it out. I much rather would have been able to do the short/simple version, though, without removing those damn bolts!
Enjoy