I always seem to come across situations where I need an exhaust tubing expander.... you know, something like this:
Obvoiusly I'm not going to go out and spend $3,000 on a hydraulic bending machine just for the expander on the end of it.
SO, I got the thinking.....I wonder if I can take a quality version of one of these: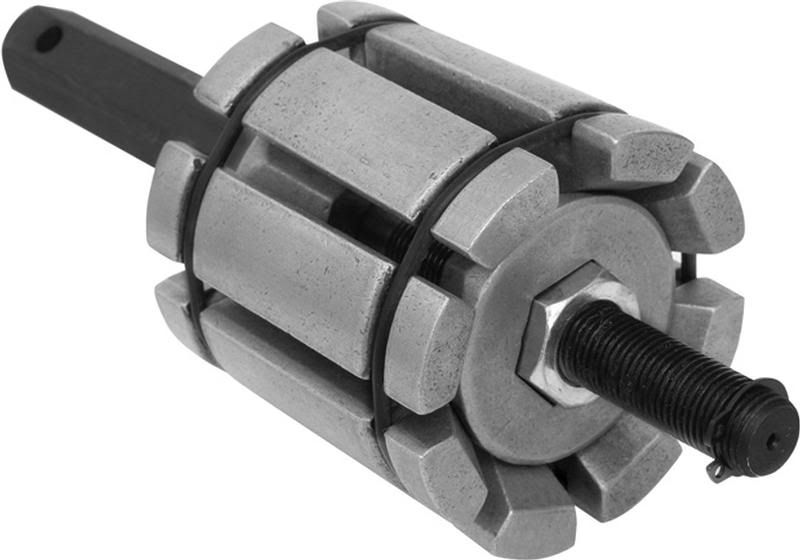 and somehow use a portapower
to ditch the center bolt and make a homemade hydraulic exhaust tubing expander?
I went to many industrial supplier websites trying to find what I would call a hydraulic pulling ram/cylinder.....only thing I found was something like this:
I couldn't see a way to make that work because the cylinder rod is far too large to fit in the center of one of those crappy handheld expander tools and the face of the cylinder near the sealing surface of the center rod is obviously not designed to take a force. This would most likely cause the cylinder to leak and fail.
Off to Harbor Freight's website to see what kind of junk they have. I find this:
Which has the type of pulling cylinder I'm looking for. The cylinder can take forces on its face without damaging the sealing surface AND the diameter of the rod is not an issue because it is flush with the face and a thin threaded rod screws into it. When pumped the rod pushes out the back of the unit. Nice!
This is how it works:
So if I order a bad ass version of an exhaust tubing spreader and one of those punch tools I should be able to combine them into some awesome franken-tool.
I did some research and found that Lisle makes the best version of a exhaust expander/spreader because their tool is designed to not only straighten an out of round pipe like the others on the market but their tool is made to stretch the pipe. So it should be up for the task. Here is the spreader from Lisle tools :
Part number 17350
Searched Ebay for the punch tool since the Harbor Freight is on backorder and they could provide no ETA on restock...
Lo and friggin behold I find this:
http://www.ebay.com/itm/10-TON-HYDR...208?pt=LH_DefaultDomain_0&hash=item2eba907618
Which appears to me to be the SAME EXACT THING that I was going to make myself only twice the price.:laugh: SAME Lisle tool combined with the SAME punch tool cylinder/ram.
I've always said that no matter what you come up with someone else has probably thought of it first. However I've never had it thrown in my face like that lol.
Longest picture story ever made short. Parts are on their way and I should have it all assembled and ready for testing by the end of next week. If all goes well (which it should because it is already an actual product being sold on the web) I will complete the DIY and you too can make your own hydraulic exhaust spreader/expander tool.