Discussion Starter
·
#1
·
So, i was an idiot and put regular p/s fluid into my system, so i needed to flush it out.
My first diy, so dont bash me if it sucks.
Go!
1. What you'll need: Turkey Baster (or any kind of siphoning device), Some Pliers, 2 Liter soda bottle, 2 Liters of OEM P/S fluid, OR Pentosin CHF 11s, and a Golf Tee.
2. This is your power steering fluid resevoir. it is to the left of your engine, and next to your coolant resevoir.
3. Clean up the area and make more room to work by moving around some hoses, and removing the coolant sensor plug.
4. Take your turkey baster or siphon tool and suck up as much fluid as you can from the resevoir, and stick it in yoru 2 liter bottle.
Also put some towels aroudn the area to keep it clean
5. Then, You need to disconnect the return hose. There are 2 hoses connected to the resevoir, IT IS THE SMALLER ONE!! circled in yellow.
6. find a place for your bottle, i put it somewhere down there in the picture, then take the return hose, and stick it in there as far as you can.
7. Plug the nipple (terminology) where the return hose connects to with the golf tee, mine was too small so i took some paper and built it up.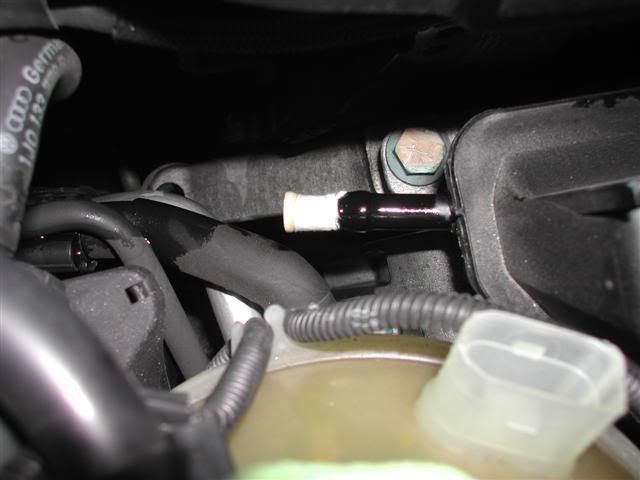 Also put some rags around it to make sure nothing drips out and dirtys your engine bay.
8. Fill the resevoir with your p/s fluid, MAKE SURE ITS GREEN!. fill it too the top of the resevoir.
9. Now go into your car, start your engine, and just wobble the steering wheel back and forth for about 3 seconds, when your car makes a loud sound, that means the pump has no more fluid and that tells you to STOP!. So after about 3-5 seconds, turn off your car, go add more fluid.
10. Repeat 8 and 9 until your bottle is nearly full, or about 4 times.
11. connect everything back together and fill your resevoir back to the correct level. then idle your car for a little bit (about 30 seconds to 1 minute) and check for any leaks. Then check the fluid again. Then take it for a test drive around your block, then check the fluid again
.
12. at the end, you end up with some dirty hands and this: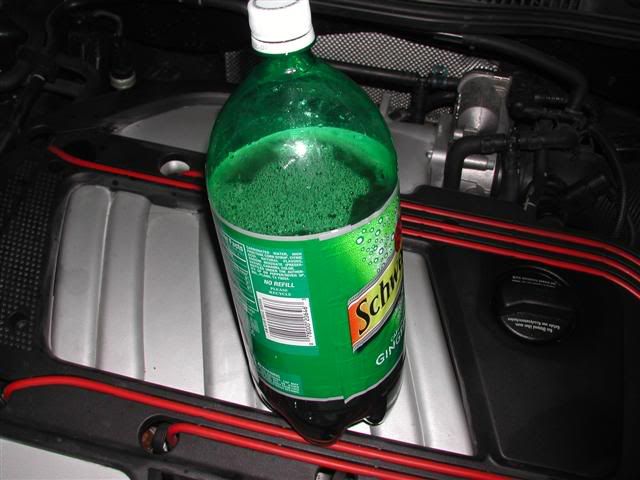 Seafoam diy coming up when i get to it
so was this http://****************.com/smile/emthup.gif or http://****************.com/smile/emthdown.gif
Modified by DuBnVRsix at 5:16 PM 1-3-2007