Discussion Starter
·
#1
·
So for anyone that wanted to see how I've hard-wired the V1 / Valentine 1... the assumptions for this install are that you want to install your radar detector near the rear-view mirror, you have a sunroof, and you want your radar detector to switch on/off with the ignition.
First, you'll need to run a wire up to the overhead console area that provides +12VDC power, switched with the ignition. A stock MkV does not have this pre-existing [scroll to the bottom of this DIY for some additional info on the sunroof harness].
I ran a new wire from the fusebox (figure 1) up to the overhead panel. I used a yellow 16AWG wire--more than sufficient for the V1, but I also plan to add a homelink/auto-dimming mirror down the road, so I wanted to have a large enough wire to handle the accessories.
FIGURE 1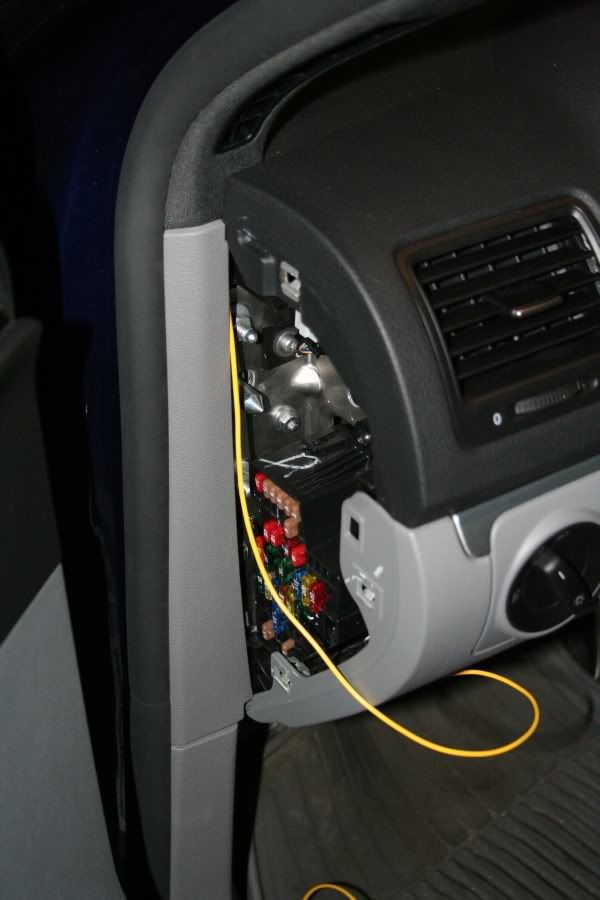 The wire runs up the a-pillar, bundled with an existing wire bundle so as to eliminate interference with the airbag. Wire comes out through the overhead panel. In Figure 2, you are looking at the overhead panel with the sunroof/lighting module removed, as well as a trim panel beneath it. There are removal instruction on another part of this forum, but I will warn you: BE CAREFUL with the two T-20 Torx screws that are closest to the windshield. They screw into a floating nutplate that appears easy to dislodge; you'll have a hell of a time fishing it out.
FIGURE 2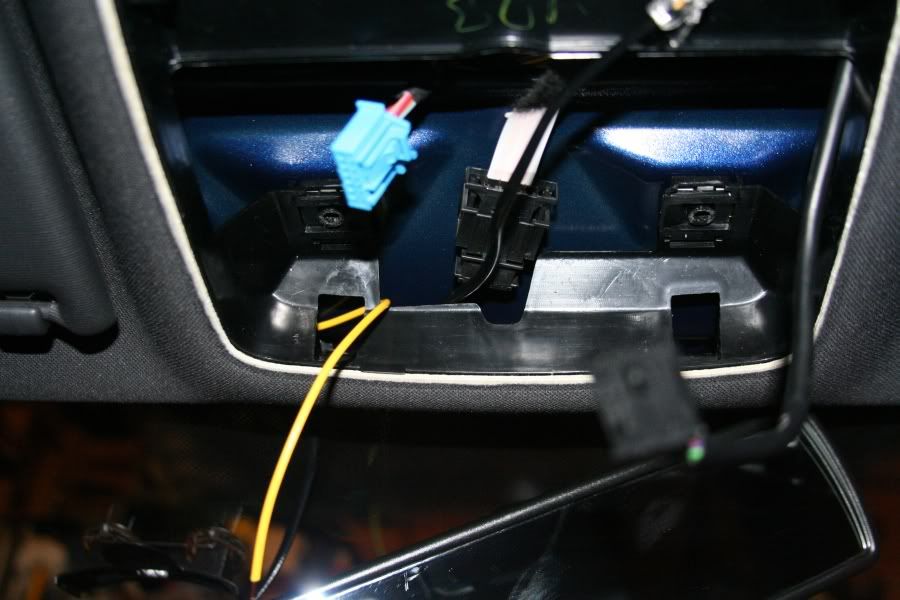 Next I located the Valentine1 power module in an empty cavity; you can barely see it in Figure 3 as callout 2. Callout 1 is the power lead from the fusebox, crimped to the V1's power (red) lead. I used a zip-tie to secure my wire to the other bundle for the sunroof.
FIGURE 3
(Front is car is towards bottom of picture)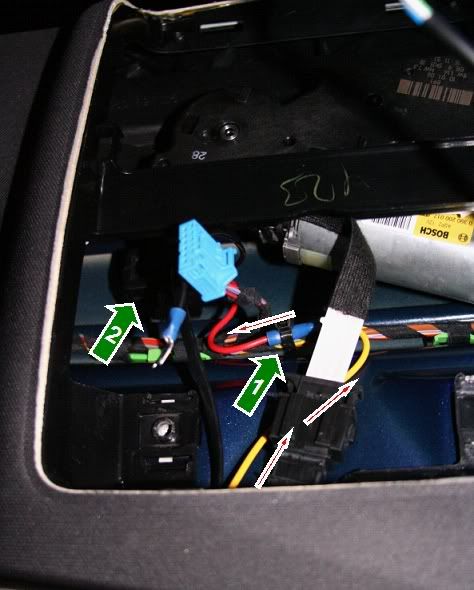 The V1 uses a regular 4-conductor phone wire with RJ11 jacks on the ends. Rather that try to squeeze the RJ11 phone wire through the headliner, I just chopped off one end, fed the wire through, then attached a new RJ11 connector. Doing it this way also lets you trim this wire to length as shown in Figure 4. The other end of this wire connects into the V1 power module (not pictured).
FIGURE 4
Someone else pointed out that there aren't any good places to attach the return (ground) wire. I found this to be true as well. Therefore, I tapped into the return for the sunroof motor - it's a brown wire, either 14 or 16 AWG (so it's pretty thick). I used a T-tap connector, which are available at car parts stores. You can see it as callout 1 in Figure 5. If you don't have the sunroof option, you may have to look at adding a ground lug that screws into the chassis - or run a seperate ground wire with your +12V power wire.
FIGURE 5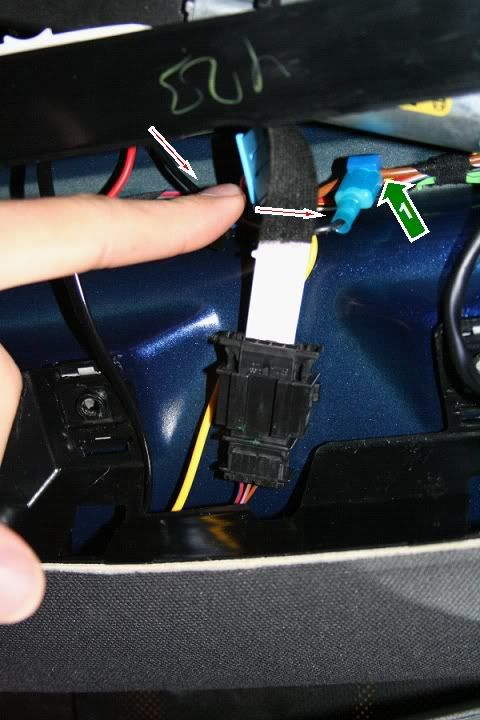 So now the overhead part is done, so I just closed that all up. Only this left is to finish the fusebox. Rather than rip apart the dash, I just used one of the EZ accessory fuse box taps, also available at an auto parts store. Figures 6 and 7 show how it works, just plugs into any fuse slot. # A41 is an ignition-switched position, and is unused. For a 16AWG wire, you shouldn't use more than a 5A fuse.
FIGURE 6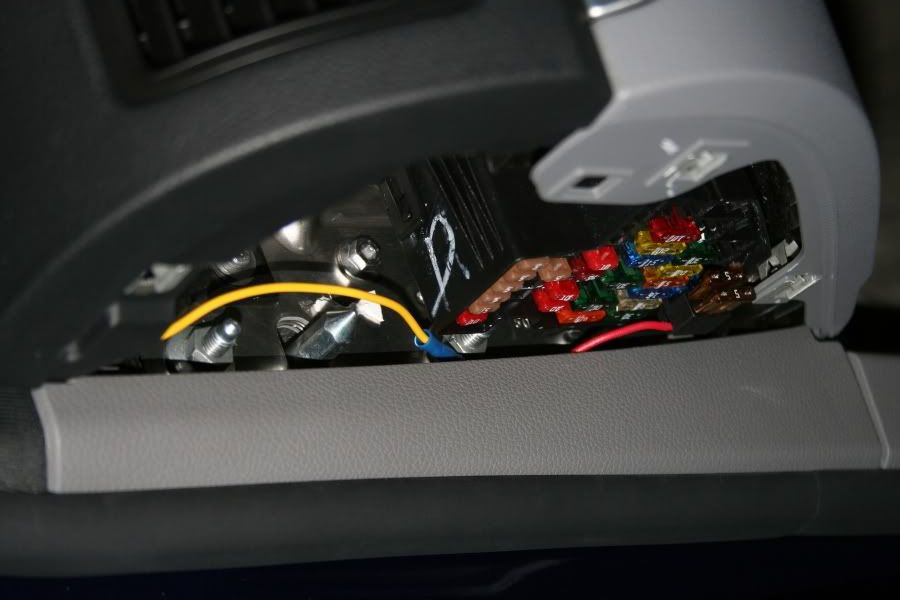 FIGURE 7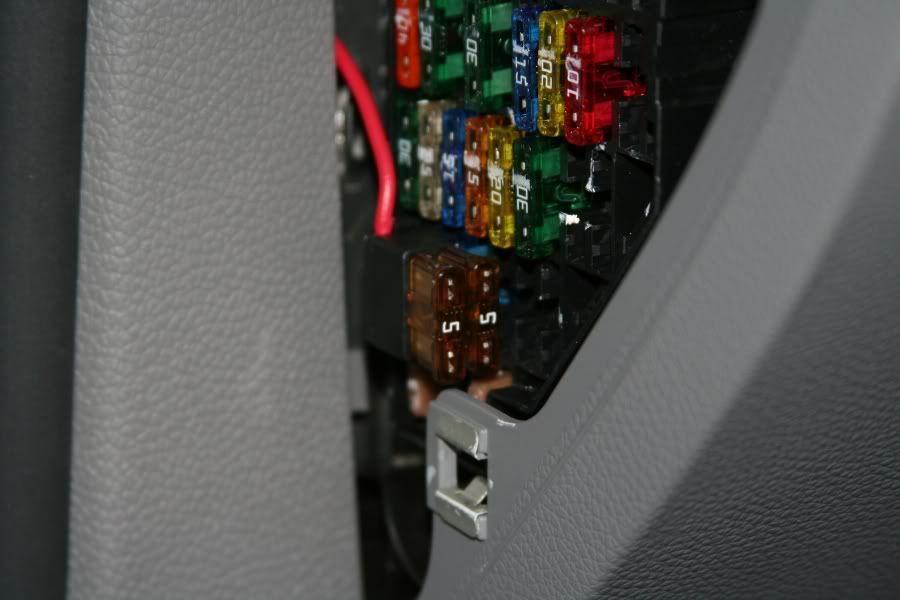 And now for the acid test:
FIGURE 8
ENJOY!! Hope this is useful information!
* More info on the sunroof wiring harness:
If you have a sunroof, there is a constant 12V (red/yellow stripe) wire and a return (brown) wire to the sunroof motor controller. I believe one of the other wires in the bundle is a signal that tells it whether or not the ignition is on (probably the yellow wire if VW de Mexico follows normal conventions)--however it is too small to carry current (24 or 22 AWG), so it would be inappropriate to use this to power your radar detector.