Discussion Starter
•
#1
•
Ok, I found there really isnt any DIY or HOWTO for getting your fuel sending unit out. So I made one.
Step 0. Disconnect Battery
Step 1. Remove rear passenger side seat bottom.
Step 2. Flip small patch of carpet up to reveal the acess panel
Step 3. Use Phillips head screw driver to remove access panel.
Step 4. You should now see the top of the sending unit. It should look like this (Note, the red arrow points to where my pump was leaking):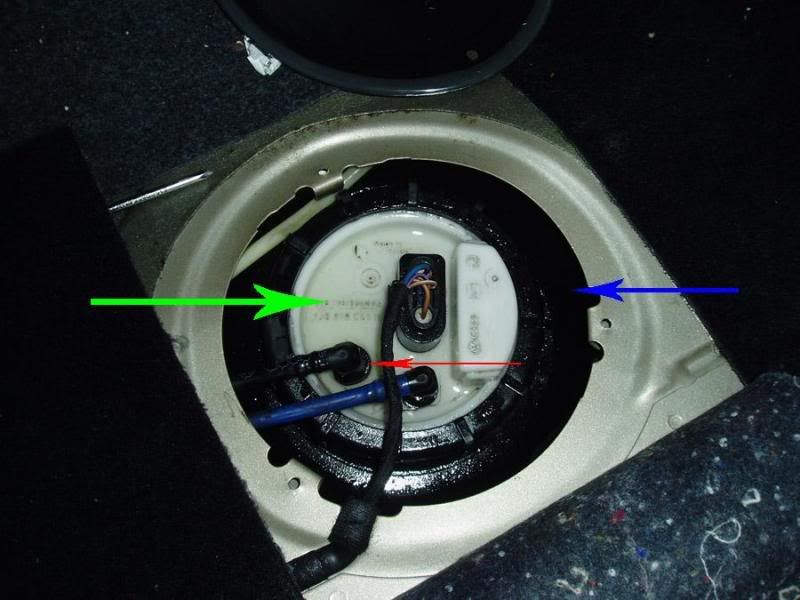 Step 5. Unclip the hoses (by pressing on rounded side of the D-clip)
Step 6. Disconnect Wiring Harness
Step 7. Use rubber mallet and block of wood to loosing large retaining ring.
Step 8. Remove sending unit, allowing it to drain and tilting it towards the driver side of the car to get the float to clear the lip of the tank.
Step 9. CONTINUE to allow it to drain.
Step 10. Remove Rubber gasket from assembly.
Here you can see the difference between old and new. Note: My old one was about 6 years old.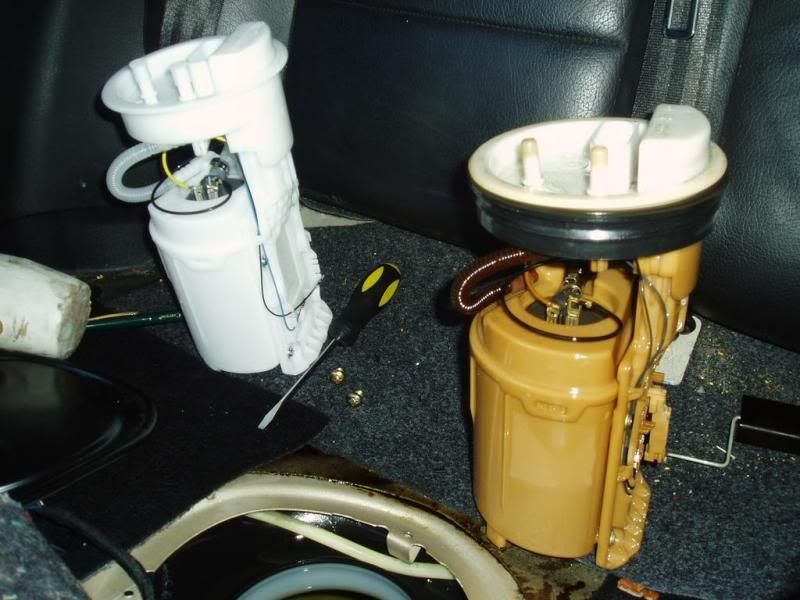 CONGRATULATIONS! Your sending unit is now free from the vehicle.
Reinstallation is the reverse, pay special attention to the rubber gasket, don't get it pinched. Below is a pic of how the gasket fits on the sending unit:
APPENDIX: So you have a bad pump/sending unit... But how do you attach that level float to the new one? EASY!
Step 1. Unclip the black and blue wires from the gauge sender. (Use a ballpoint pen to press the tabs on the wire clip to get it out) Note the orientation of the wires and to which terminal which wire goes.
This is how they should be wired. (Note: This picture shows which pieces are the float and which are the sending unit)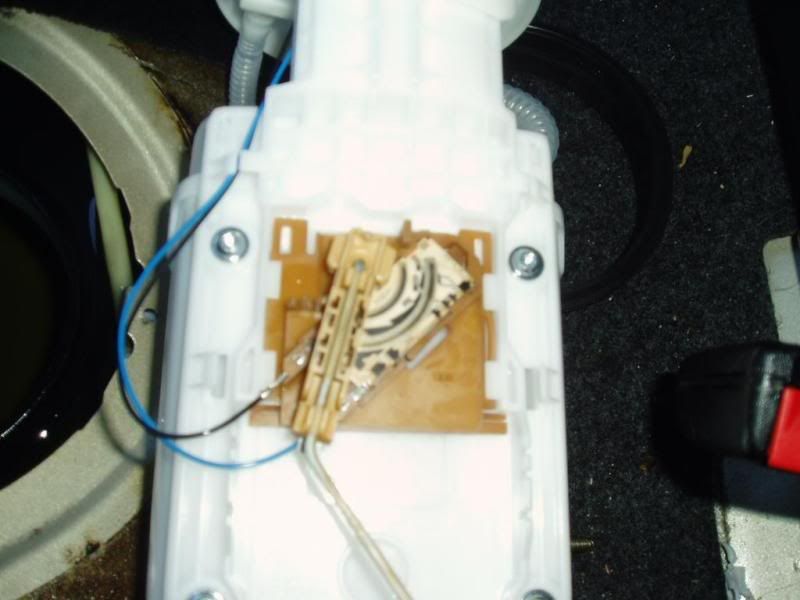 Step 2. Pull up on the top part of the little float assembly and gently pry the top part away from its clips, it should then slide downward and off of the assembly.
Reinstallation is the reverse.
After doing this, I reconnected the battery and turned the key. The car started after a second, and the gauge went to the correct place. I also recommend cleaning the contacts of the float when you have it out, mine were starting to show wear.
Any questions are more than welcomed, I found little if any help about this on the Tex when I went after it.
Modified by dremhmrk2 at 7:35 PM 9-22-2006