Discussion Starter
·
#1
·
Hey guys, I installed these bad boys last night and I thought I'd do a DIY.
Here it goes:
List of Tools:
Jack
Jack stands
17mm socket
½ inch socket
9/16th open end wrench
17mm open end wrench
18mm open end wrench
11mm open end wrench
5mm Allen
T30 bit
Cutters (plyers)
electrical tape
Flat head screwdriver.
Torque wrench
Bleed Bottle.
Brake fluid,
Power bleeder is nice to have.
If you are using the oem classix like I was, I needed a 10mm spacer.
Before you start stoptech says to wash the non zinc plated rotors with soap and water to insure that all the rust inhibitor is gone.
1. Jack the car up and support it on jack stands. (Disclaimer: Never work on a car only supported by a jack) If you don't know where to support or lift it from. jack it from the front of the car, approx. where the door meets the fender, you look down you will see a rail. Jack the whole car from there, put stand in the back where the rail is double thickness. For the front, you can see a semi-circle bracket holding your control arms, they work great.
2. Loosen and remove caliper carrier bolts. Here is a picture of the top one.
They are normally very very tight, you probably will need a big braker bar or some sort of tubing extension. Tip, if your wrench is too big to fit with the first one (i.e its on the floor) raise the font of the car a bit more. Its 2 X 21mm bolts. Be careful when taking out the 2nd bolt to make sure your caliper and carrier don't fall and right your brake line apart. So to avoid this, leave 2 threads of one in and move to step 3.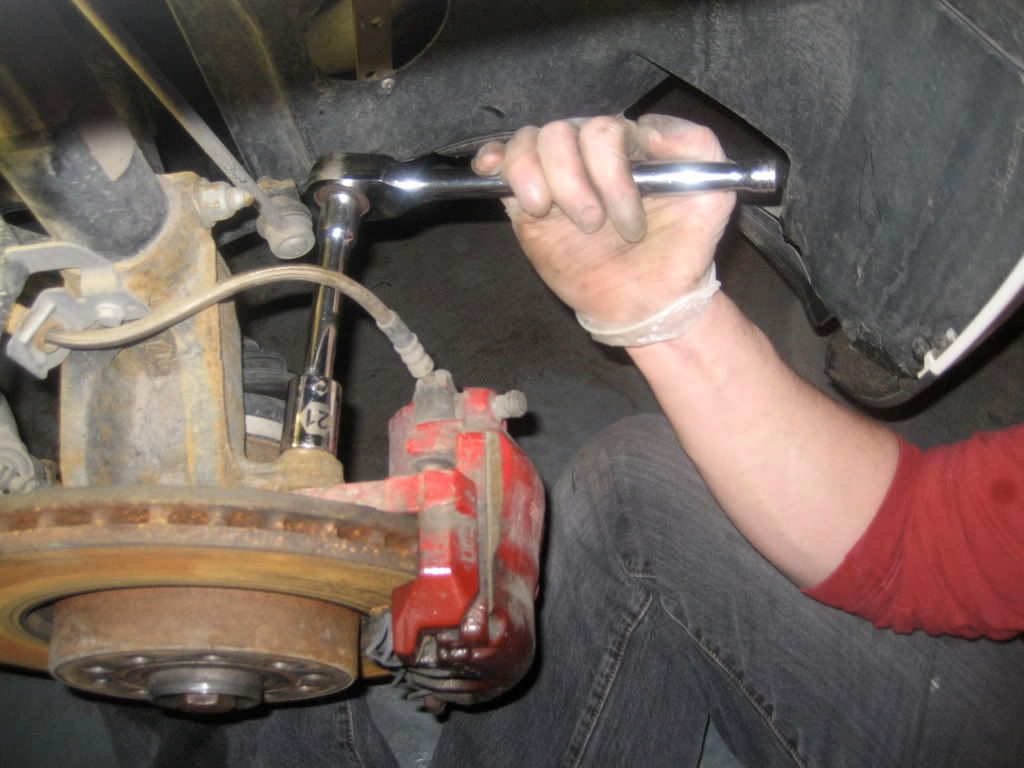 3. Disconnect your brake line, if you look up in my previous pic, you clearly see the line (mine were SS) that leaves the caliper. Follow that line and you will meet it with a connector and a hard line. I don't have a pic of it but there is a ''U'' shaped metal pin to hold the lines in place, simply pry them out with a little flathead. There is also another ''U'' shaped pin that holds the line to the strut.
For the top connector you'll need a 11mm open end wrench and my ss lines needed a 17mm. Put something to catch it. shop towels worked fine.
4. Now that the line is off, remove that one bolt you left in step 2 and take caliper and carrier and line. Now remove the rotor using a, T30 bit.
Note: When disassembling the driver side, make sure to disconnect the pad wear sensor before taking the caliper and carrier off. Once thats done cut the wires from the pad, connect them to each other and tape it to to covert them from the elements. Plug it back in and you won't have a brake warning light.
5. Now the the oem stuff if all off, we can install the stoptech stuff. Start by installing the caliper carrier bracket like. Use oem bolts, (I recommend getting new ones) and torque to 90 ft/lbs.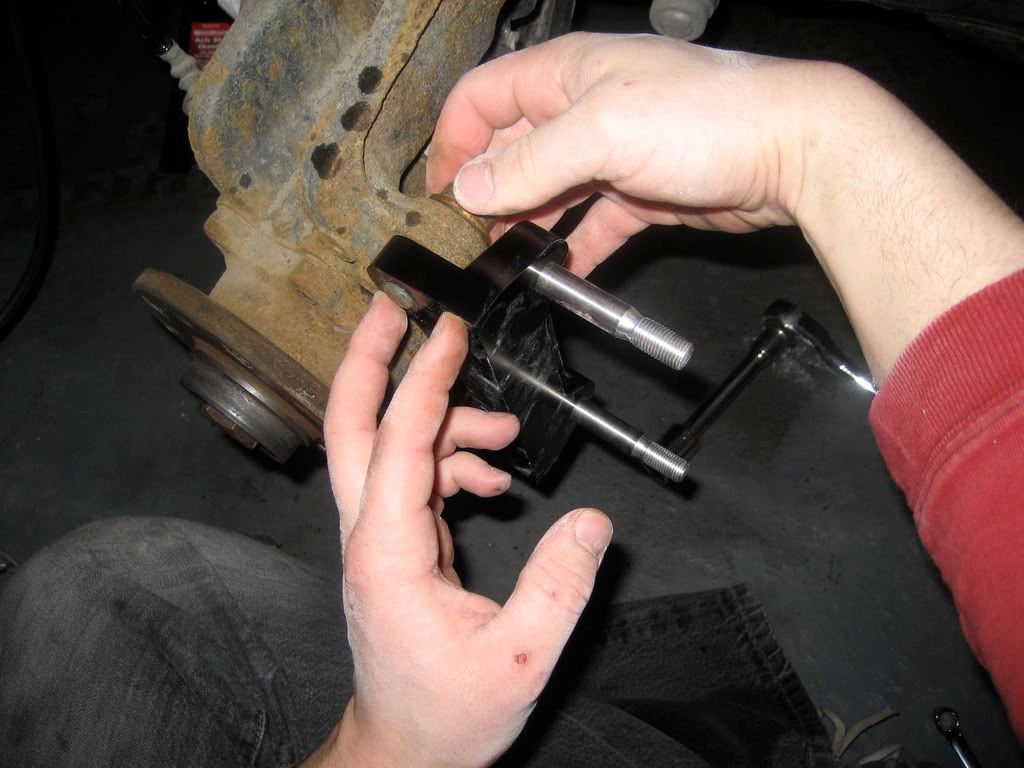 6. Install the stoptech rotor, Make sure your installing the right one., they are clearly labeled with a sticker on them. Use oem torx bolt or new one.
7. Install brake line to caliper using supplied banjo bolt. Use 9/16th wrench. Make sure there is a washer on each side of the banjo fitting. Don't tighten now.
8. Install the caliper on the bracket, Washers should be with the nut on top. Torque to 40ft/lbs.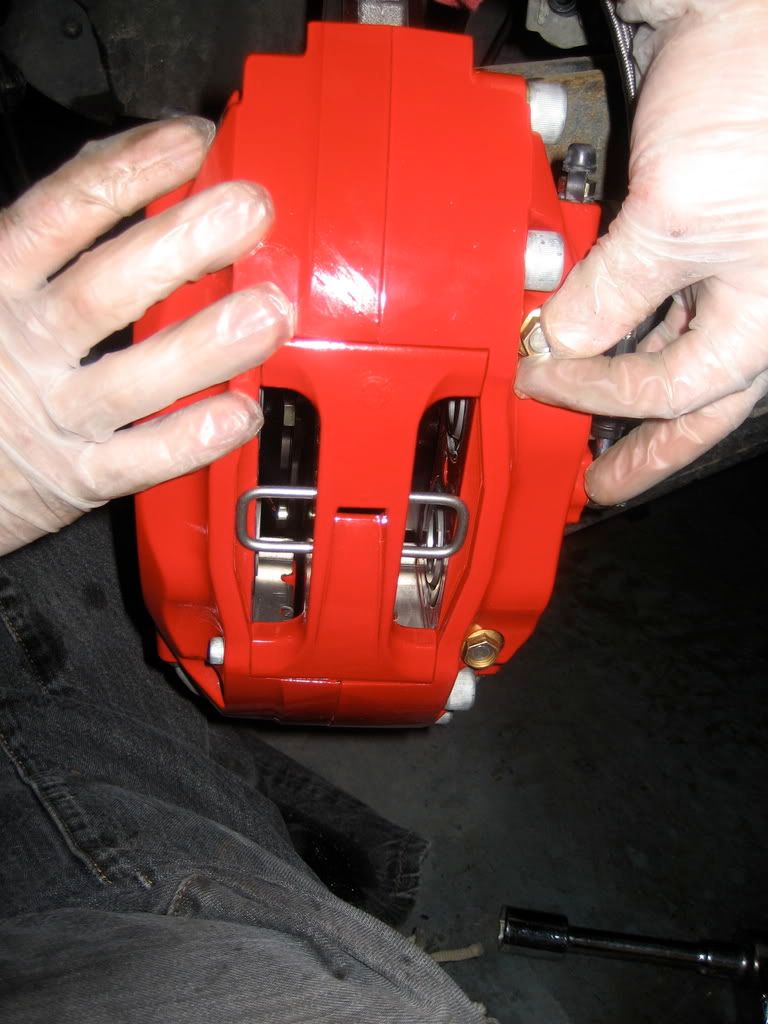 9. Install brake line the same way they were removed, the stoptech line needs a 18mm instead of the oem 17mm. Don't over tighten it. You can now tighten the banjo bolt to 14 ft/lbs, or just hand tight. Just make sure the line follows the caliper.
10. Remove top bridge using a 5mm allen. It's a bit tight to remove don't worry. Slide in pads which were also tight. And Reinstall the bridge, no need to over tighten.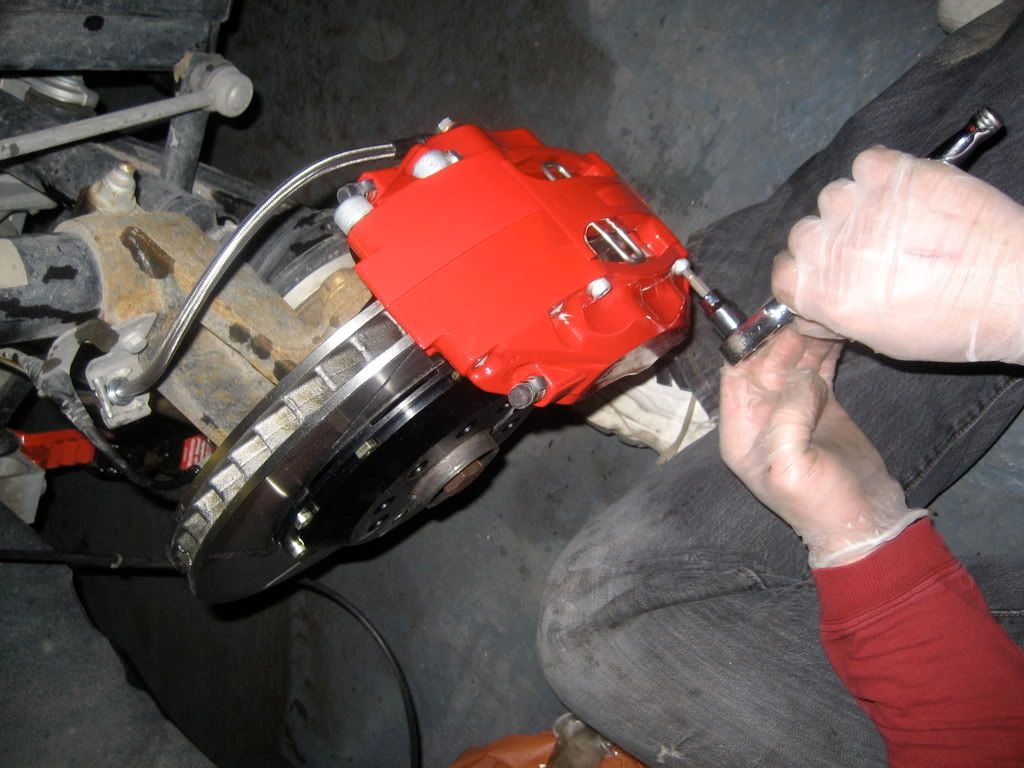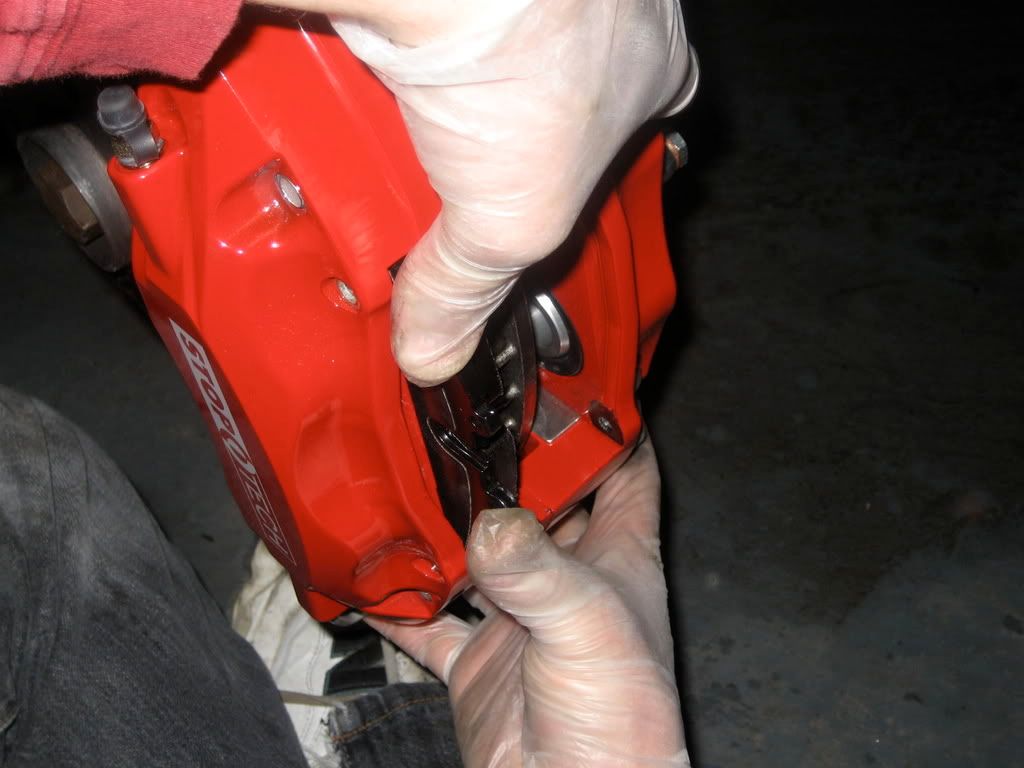 11. Once everything is tight and double checked you can bleed the system. If you want to do a full flush at the same time go for it. Bleeding order for full flush:
Right rear, Left rear, Right front, Left front.
To bleed the stoptech calipers, be patient when your filling them up they take some time and there is quite the amount of air. Start with outside nipple first then inside.
Note: Once you are done bleeding the brakes, make sure you clean any surface brake fluid touched with some brake cleaner or equivalent.
Heres a pic of my Ate super blue racing exiting my line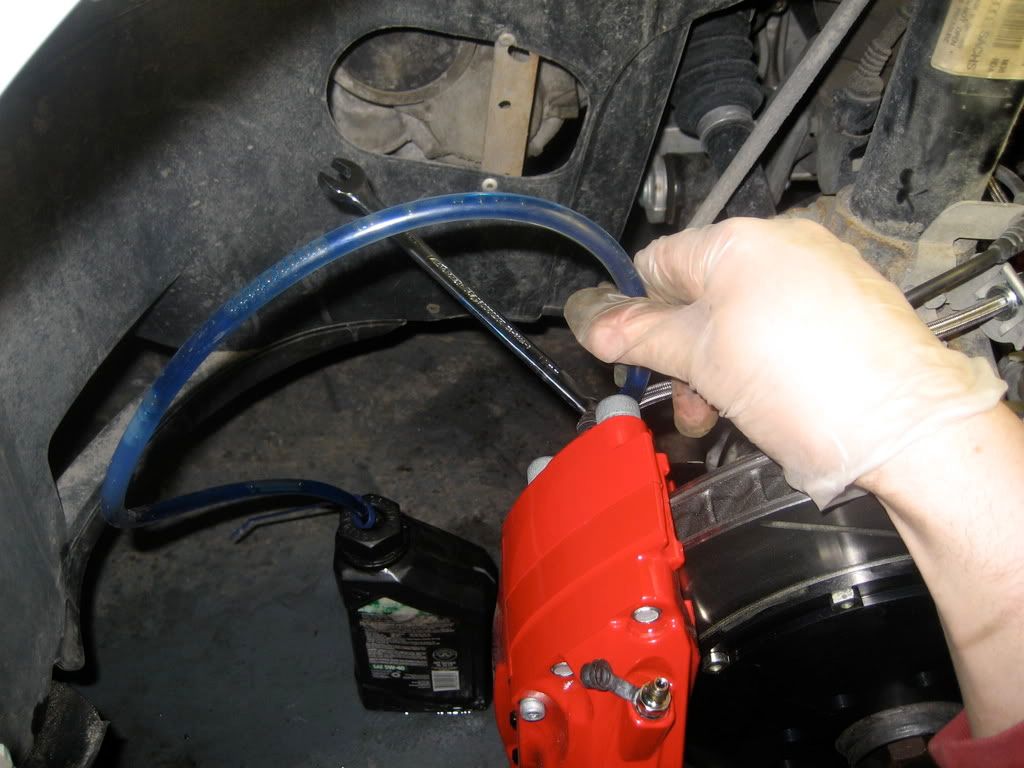 Couple pics of the finished setup enjoy.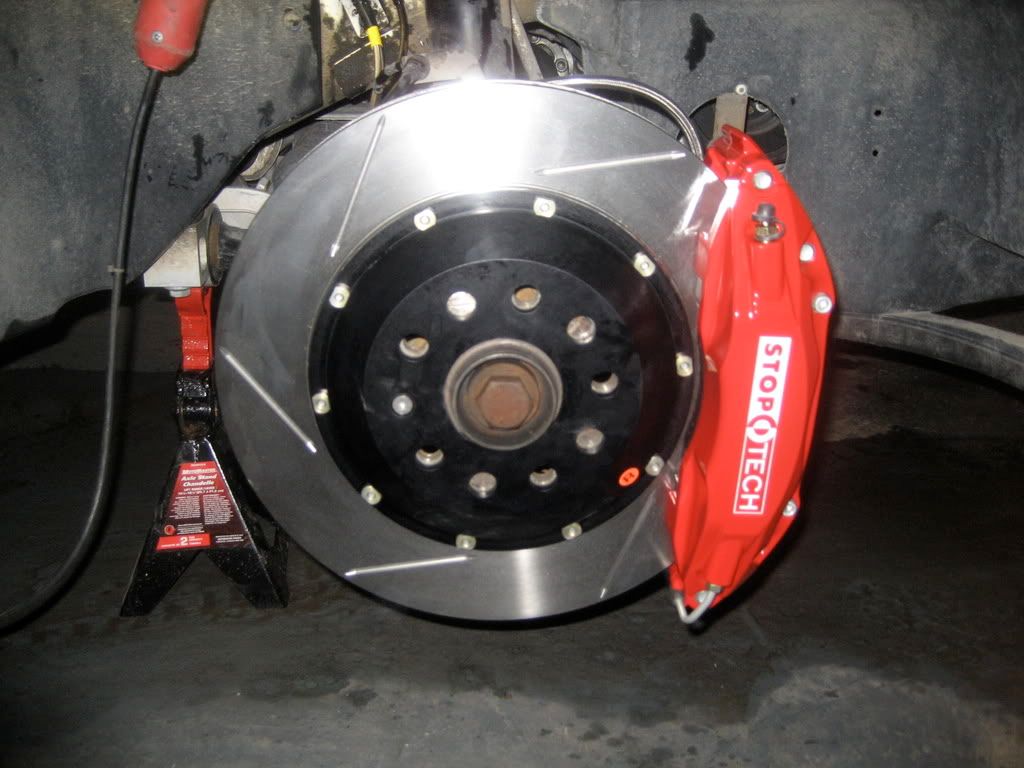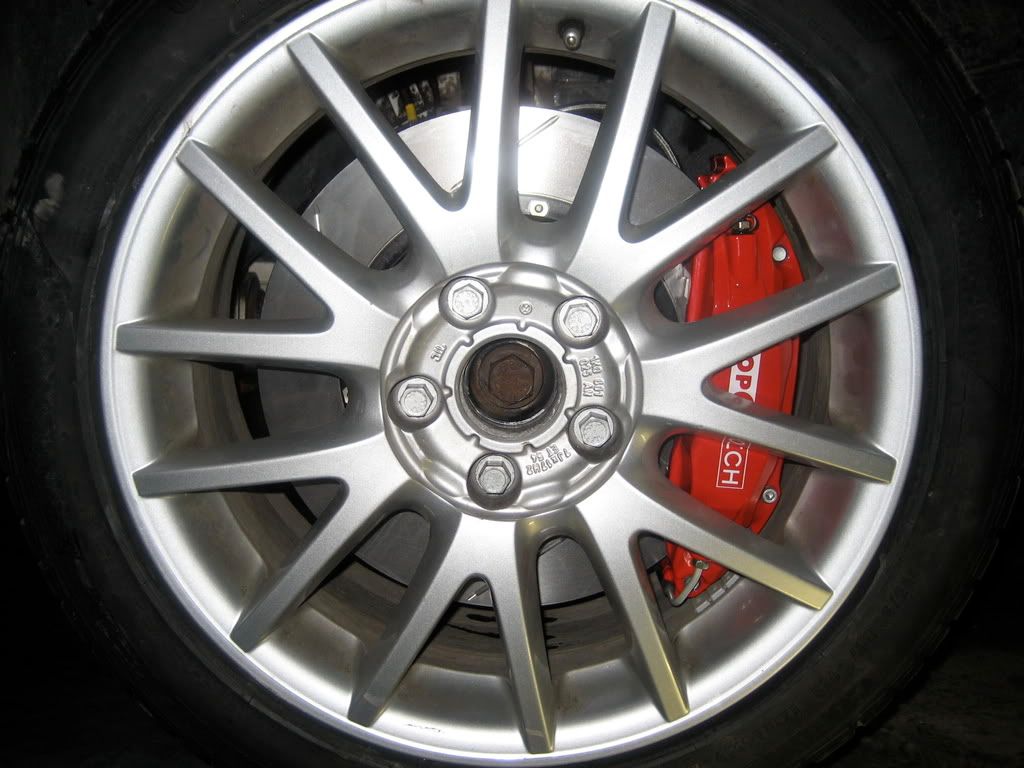 Modified by Blind Apex at 1:39 PM 3-6-2008
Modified by Blind Apex at 1:40 PM 3-6-2008
Modified by Blind Apex at 1:42 PM 3-6-2008