Discussion Starter
·
#1
·
So I have had issues with random throttle valve pressure drop codes and rough running and limp mode. Also the car likes to randomly idle high, 1200rpm high. I also had loud boost hissing noise when boosting, sounds like a boost leak. I would get these codes;
7 Faults Found:
17705 - Pressure Drop between Turbo and Throttle Valve
P1297 - 35-00 - -
16684 - Random/Multiple Cylinder Misfire Detected
P0300 - 35-10 - - - Intermittent
16688 - Cylinder 4: Misfire Detected
P0304 - 35-10 - - - Intermittent
16685 - Cylinder 1: Misfire Detected
P0301 - 35-10 - - - Intermittent
16686 - Cylinder 2: Misfire Detected
P0302 - 35-10 - - - Intermittent
17544 - Fuel Trim: Bank 1 (Add): System too Lean
P1136 - 35-00 - -
16891 - Idle Control System RPM: Higher than Expected.
P0507 - 35-10 - - - Intermittent
At first i though, ok bad throttle body. Replaced that and it was good for about 2 weeks. Then it happened again. So I unplugged the connector and sprayed some electrical cleaner on it and re-connected it. Car ran fine for about a week, then it did it again. Well I searched around and found that 01-02 g/j/b they made the harness to the TB too short. Yea, it sure looks short, the wires go 180deg bend right after the connector. So I went and bought A new connector and wires to put on my car.
Parts:
1J0-973-713 connector - $9.90
000-979-038-FA wireset - $16.50
000-979-019-EA wireset - $9.90 x 2
Also you need 6 red 3m style heat shrink crimp connectors
Note, the connector has 6 wires. The each wireset needs to be cut in 1/2.
Here is the wiring at my connector (02 gti awp 1.8t)
1-blue/white stripe
2-purple/white stripe
3-white
4-blue/grey stripe
5-purple/black stripe
6-white/grey stripe
Note the fat wires are in 3/5 slots
Put all the wires into the connector.
From the old connector, you need to pull out the old wires so you can get the plug that goes around the wire (weather pack)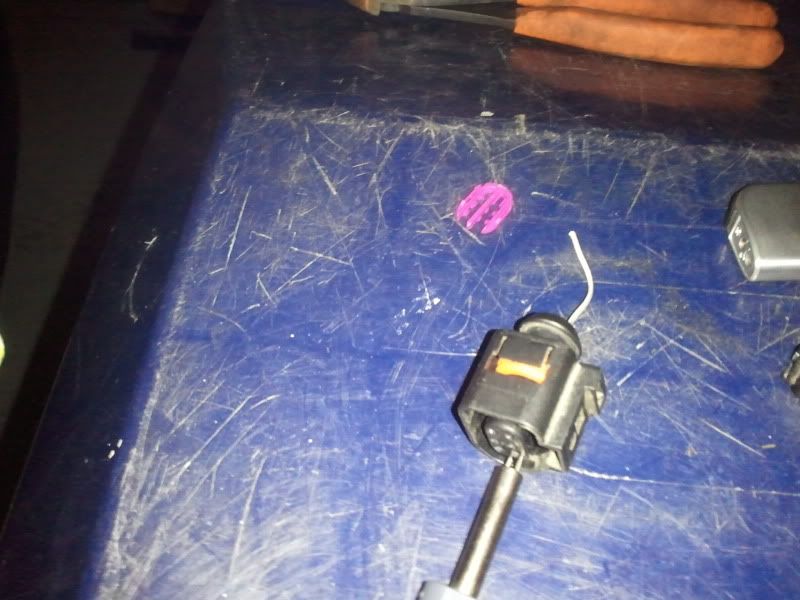 slide the plugs onto the new wires.
Now I put all the crimp connectors on the wires of the new setup.
And then now crimp all the wires in line to the harness on the car. Note, I put a plate behind them because the fuel lines are right there, didnt care to start a fire in the garage.
After crimping and heating all the wires on I taped it up nice and what not. Test drove car and it is amazing ,the car boosts quick now and I dont have the loud hissing noise when boosting (prob the throttle plate malfunctioning)