I posted this in the Golf/Jetta Forum as well bc some of them dont venture to the 1.8T side of things. So hopefully this may help some of you.
Well basically I have been having troubles with the dub... Back n forth to dealers, various people checking it out, all in all erratic idles, and occasional lean codes. Well we all know most likely a vac leak. So i finally got tired of it and figured out a way to go about and attempt to solve my problems. I tried everything i knew n heard of about vac leaks from fogging with a flammable substance to just oldschool grab n wiggle. Well this is what i came up with. For a more permant solution go to HD or Lowes and get 2.5 Conduit pipe and find a PVC pipe cap that will slide in and pipe glue it together) Also i recommend not pressurizing the MAF like i did just go around it, remove it and go on the TIP.
I have since changed the below requirements to a PVC pipe and plug cap for a more suitable solution. I have made three sizes, 1.8t, TT/VR6 and one for my Truck
Materials:
1 Drill
2 Drill Bits (1 as pilot hole, 2nd size of Air Fitting)
1 dogfood or soup can (clean and roughly the size of the MAF)
1 Transition coupler (Most of us have intakes so there you go)
1 Air hose fitting
1 Nut to thread on Air hose fitting
2 rubber washers
3" Thread tape
1 Air compressor / Bike pump
X feet of Air line to reach from pump to MAF
Directions
1. Take the can and drill a hole in it on the bottom. Now take and smooth the rough edges flat, wash the can to dispose of any left over shavings (becareful can might be sharp)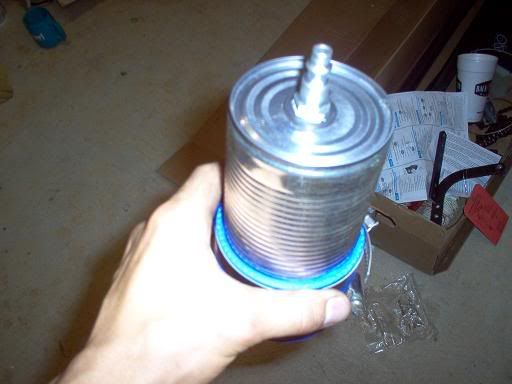 2.Now place rubber washer on air fitting, thread tape the fitting and screw it into the bottom of the can. Take the nut and the other rubber. Place the rubber washer on the inside of the can on the Air Fitting Threads. Now tighten down.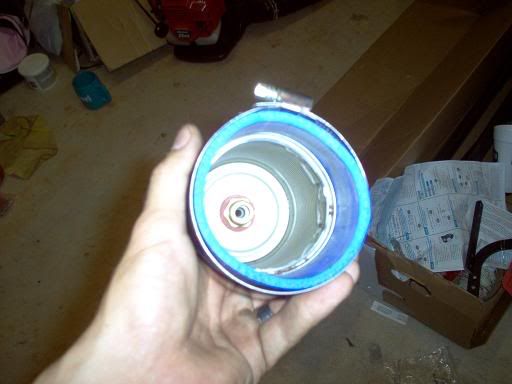 3. Now place the transition coupler over the can, tighten hose clamp. Now take the can w/ coupler and attach to the MAF or if you removed the MAF (recommended) Place it in the TIP and Tighten clamp.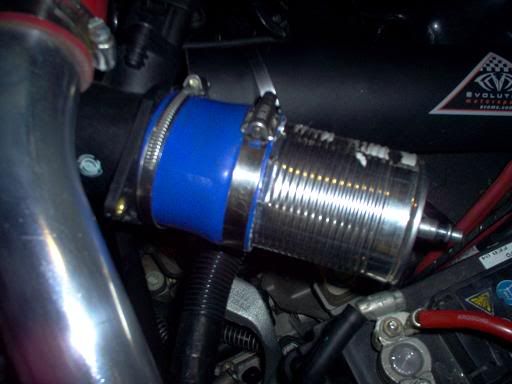 4. Most Aircompressors have two guages. One for the Tank pressure and the other for line pressure.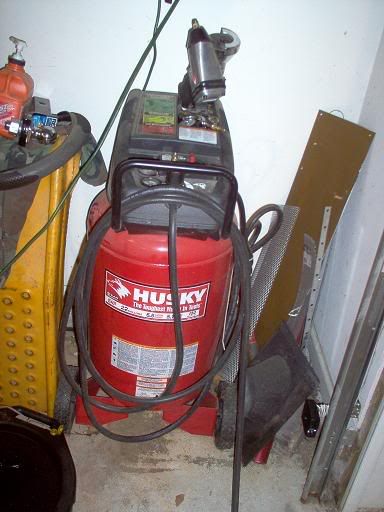 5.Turn the line pressure down to zero if the tank is already full. If its empty turn it all the way down and go ahead and start charging the compressor.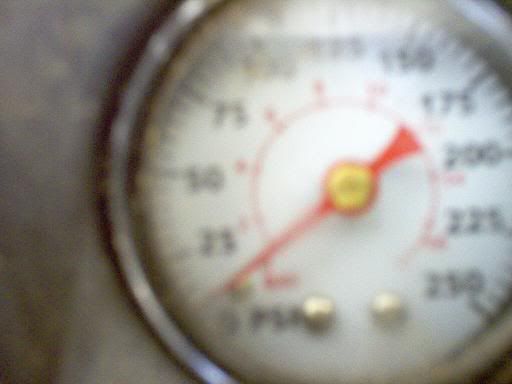 6.Now attach air hose to the can with the fitting. By now your tank should have some air in it. Turn it to about 10-15psi (Most AC gauges go about 15lbs as their lowest reading, so by now hopefully you have a Boost Gauge in car) go check your gauge. At about 10-15lbs you should hear your leaks i heard mine at 10.
7. Find/Found Vac Leaks Decompress, fix problem, Refill fix other problems if you have more then one leak, decompress and fill again till no leaks are found... PLEASE make sure you decompress before you attempt to fix a line or you could poke your eye out kid... This is what i came up with.
Well i hope this helps atleast a little. At 20lbs the PCV tends to blow oil into the intake and the oil cap tends to leak air also so try not to go that high... Im sure there is a way to cap the PCV side so not to recirc some oil (As if the car was running) back into the intake runner. As it does for emmision purposes. My car idles awesome again, starts great now, runs great, boost excellant, and pulls 19" of vac at idle and 21 on decel now.
Also as always: I nor VWVortex take any responsibilities for injuries to yourself, dub, or bystands wondering why the **** your giving your car a *******.
Modified by theswoleguy at 9:33 AM 11-22-2006