Discussion Starter
•
#1
•
Hello people! Presented to you is this high performance, all aluminum intercooler. But first, what is do88 anyway?
We are a relatively small company, based and rooted in Nykvarn, Sweden. Starting off in 2007 selling universal silicone hoses, we have grown step by step. To our awareness, we are at this point perhaps the the largest silicone hose distributor in the entire nothern hemisphere, keeping everything in stock and shipping worldwide. This is our root and core. Being Swedes, we have put a lot of effort in Saab and Volvo over the years, but off course our interest and ambitions are wider than that. Today we have 150 various silicone hose kits (and counting), model adapted intercoolers, oil coolers, radiators and so on. Everything, yes everything, is developed by us and sold by our criteria.
Some year ago, we took on the task to come up with a better performing intercooler for the 2,0 (T)FSI engine. As ever, performing continous and repeated tests to verify that our theories work just as good in practice, as on paper. Using in-house 3D scanning, CFD analysis and flow bench verifying, the step from development to production is never far and we can easily change, modify, rethink and revise our products. We consider our relative smallness as a strength. The products are purchased either directly from us at affordable shipping costs, or from any of our dealers. Customer support is the fundamental corner stone that this company rests on. Once emerging as a reaction to the absolute lack of customer support related to major, reknowned companies, we take our customer support very seriously. This is crucial to us. The treatment is supposed to be personal and all questions are answered asap.
On display is this high performance intercooler for the VAG 2.0 TSI engines.
767 USD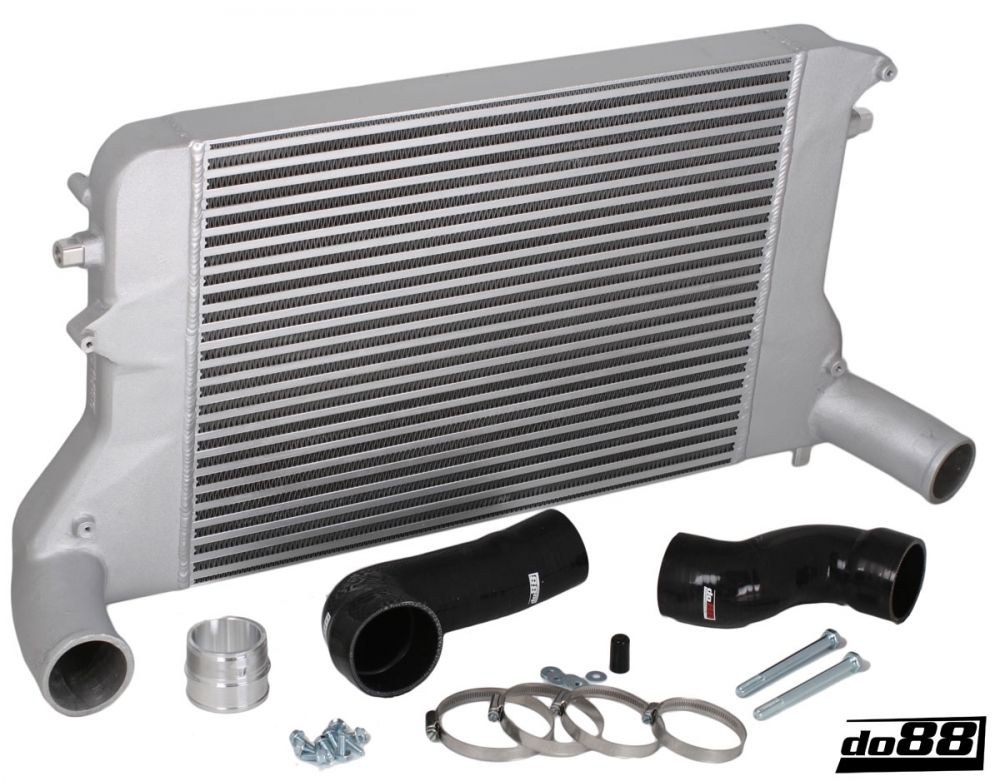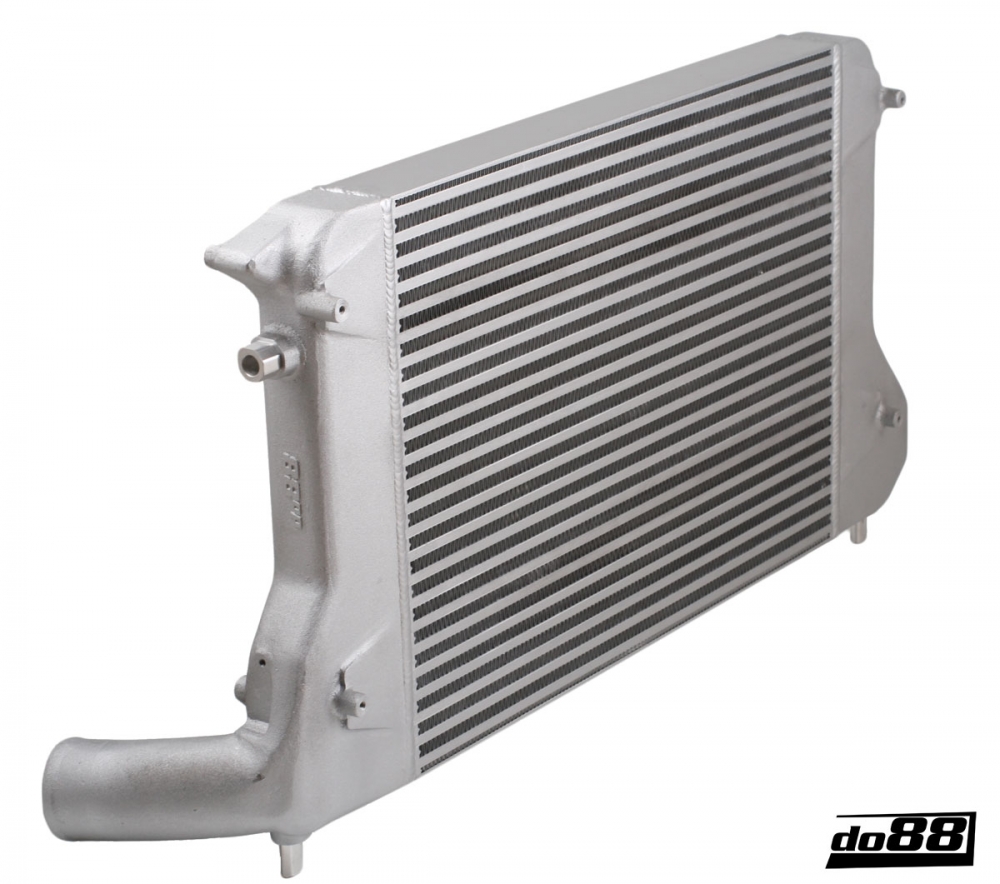 This intercooler is constructed to deliver the best cooling efficiency during tough conditions. Exclusively manufactured in aluminum with continuous welds, it guarantees reliability and endurance when you really need it. The increased core volume improves cooling efficiency and lower the intake air temperature. Naturally,
this being a do88 performance product
, we have executed thorough, severe and continuous tests developing this product to ensure best performance. Not one compromise has been made. This intercooler is immensely optimized to the given space for an easy drop-in-fitment.
The 74% increased core volume is an achievement we are proud of. It´s a remarkable difference. Perceivable, to say the least. The engine pulls better all over the revs and withstands repeated full throttle runs without building heat. The perception of an intercooler being something to upgrade only after a major engine tune is false, yet widely spread among customers and car people. During hot Swedish summer days, at repeated pulls, inspired driving or even at ordinary driving in a hotter climate area, it doesn´t take much of an effort from the engine to generate dangerously high inlet temperatures – even on a standard, non-tuned, car. The cooling capacity with an OEM-intercooler is in many cases inferior which will affect the usable power outtake. The heat has to be eliminated, or else the promised output will be decreased as you start giving gas. With our intercooler you can rest assured the power is there, at all times.
This product comes with everything necessary for an easy installation, without the need for cutting or in any way changing the car´s original shape. Bolts, nuts, brackets and mounting instructions are of course included.

Significant advantages of the do88 intercooler (original):
* Enlarged core volume with 74 %, 13342cm3 (7676cm3).
* 34 % improved air flow through the core at 0,15 bar / 2,18 psi, 448CFM (335CFM).
* 8°C lower post intercooler temperature during the same conditions, 29°C (37°C).
* Offset Bar & Plate cell core.
* Drop in fitment.
Do take care of your engine. Choose do88.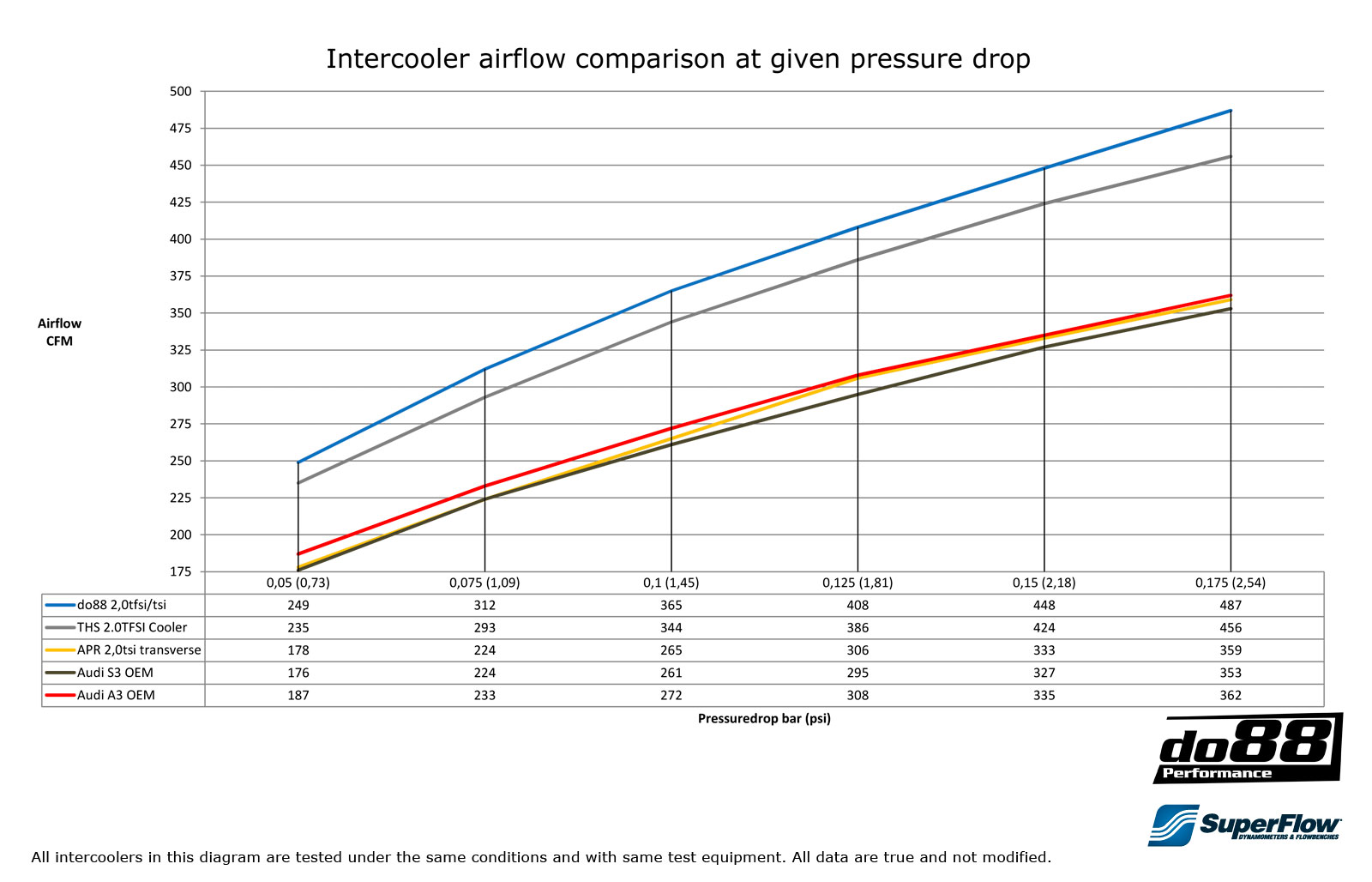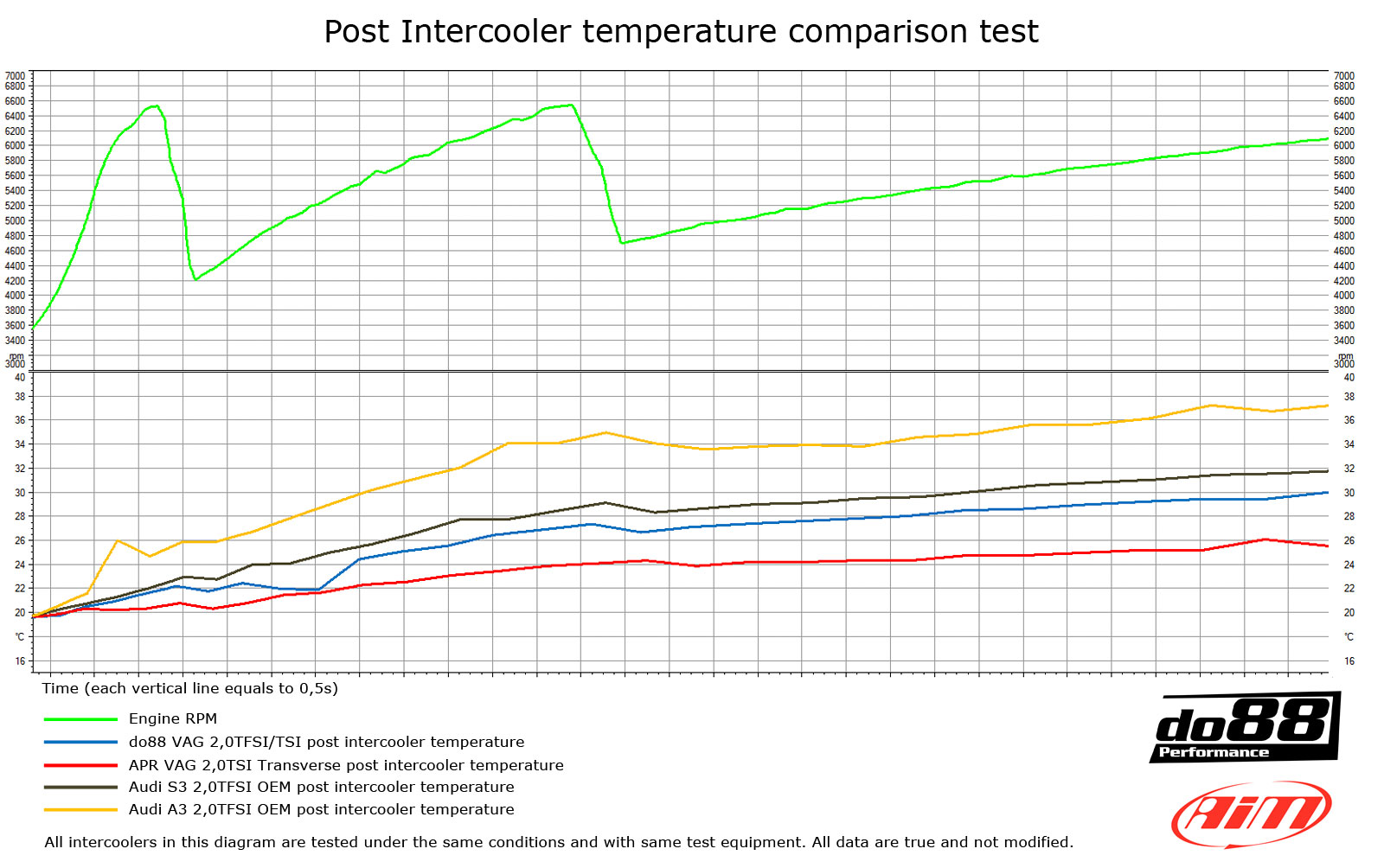 Fitment guide:
Audi A3
Year models: 2005-2012
Engine: 2.0 TFSI 200hp
2.0 TSI 200hp
Audi S3
Year models: 2006-2012
Engine: 2.0 TFSI 265hk
2.0 TSI 265hk
Audi TT
Year models: 2007-2014
Engine: 2.0 TFSI 200hp
2.0 TSI 200hp
Seat Altea
Year models: 2005-2009
Engine: 2.0 TFSI 200hp
2.0 TSI 200hp
Seat Leon
Year models: 2005-2012
Engine: 2.0 TFSI 200hp
2.0 TSI 200hp
Seat Toledo
Year models: 2006-2009
Engine: 2.0 TFSI 200hp
2.0 TSI 200hp
Skoda Octavia
Year models: 2006-2013
Engine: 2.0 TFSI 200hp
2.0 TSI 200hp
VW Golf
MK5. MK6.
Year models: 2005-13
Engine: 2.0 TFSI 200hp
2.0 TSI 200hp
VW Jetta
Year models: 2005-2014
Engine: 2.0 TFSI 200hp
2.0 TSI 200hp
VW EOS
Year models: 2005-2014
Engine: 2.0 TFSI 200hp
2.0 TSI 200hp
You can purchase this item directly from us, or from any of our dealers as shown below:
http://www.eeuroparts.com
http://www.eurosporttuning.com
http://www.vivaperformance.com
http://re-volvparts.com
DO contact us if you are wondering anything.
//Isak, do88