I upgraded my radio 3 times since 2014 from Bluetooth to a flip out pioneer with apple play to now a kenwood double din.
I found a seller on ebay that sells these kits for about $331.45 USD shipped. I saw several videos on YouTube about his products and they are stellar. It took about 3 weeks to receive it from Germany and the quality is literally oem, probably better. The oem plastic with rubber coating wears out and flakes off. This has a PU leather wrap.
removal of the old center console is pretty simple and there are 3 great videos on YouTube explaining it. One was in German I believe but he was very detailed showing step by step. There's one guy from the UK that doesn't really do a great job of explaining or showing what he did because there were a few steps missing.
It came with two red LED lights to replace the single oem frosted bulb. they are pressure fit to these two silver trim pieces.
I recommend using the oem clip by removing it from the ashtray. You won't need this anyway and you shouldn't smoke anyway.
It just pops off. Use a small flathead.
then splice the red led wire from the radio kit to the oem blue/black and red to oem brown. This gives you a cleaner install for future removal if needed.
cut the other two ashtray bulb wires and tape them up so they don't come in contact with anything. Now push in your climate controls and you can see it lines up perfect snd clean. Use an Allen or T-10 to tighten the bolts down that the kit came with.
Once you connect your particular double din radio be sure to check everything before putting it together. Turn it on, play music, turn on your parking lights, turn on your climate control. If everything works then you're ready to mount the two aluminum support triangles.
If you installed a reverse camera check it to make sure you didn't forget to reconnect it.
I had a shop in Annapolis, Insane Car Audio, install the rear view camera snd they did an awesome job. Looks factory. If you dare drill a hole in your rear hatch and do it yourself go ahead though.
Link to best removal video;
Link to eBay listing;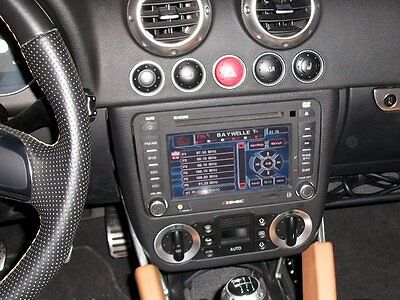 Double din center console for Audi TT 8N A center console of a special kind for your Audi TT 8N imprint Bayernfluegel Manfred Mayer Gumperting 4 D-83317 Teisendorf UstID: DE247815560 The console with Golf 5/6 cutout for more radio With manual heating control. Also available in the 3 colors...