Discussion Starter
·
#1
·
EastCoast.:R
When
April 6th – April 7th
Where
Robbinsville, NC
What
The Tail of the Dragon at Deals Gap, with 318 curves in 11 miles, is America's number one motorcycle and sports car road. The nearby Cherohala Skyway is quickly becoming number two with its remote 60 miles of scenic mountain highway. The area also has other roads less traveled, but just as exciting.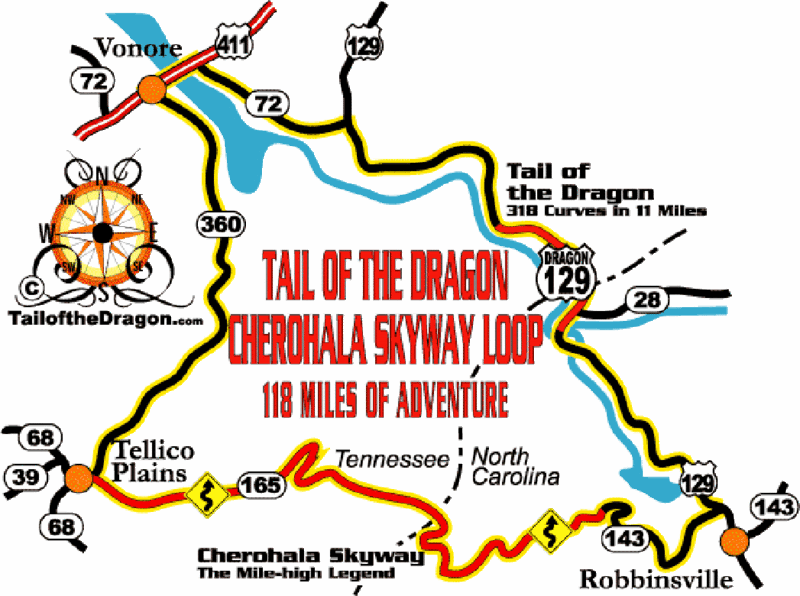 The Dragons Tail.
We will have a cruise leaving NYC (meeting at the first restop i NJ on I95S there is a Sunoco Gas station) on Wednesday April 4th at 10 am. It's a 12.30 hour drive from NYC to Robbinsville, NC. We will drive to Roanoke, VA and stay overnight (I am currently working with a Hampton Inn on a group discount).
From here it's another 4 hours to our destination. Where we will stay at the Tapoco Lodge for 2 days. Drive around the dragon's tail on Friday and Saturday and also drive back the first 4 hrs to NYC on Saturday.
Several meeting points can be set up along the way down to Robbinsville. If you say that you're in please mention your location so a meeting point can be arranged.
Schedule
- Wed April 4th leaving NYC
- Wed night Hotel in Roanoke VA
- Thurs drive from Roanoke VA – Robbinsville, NC
- Thurs night stay at the Tapoco Lodge
- Fri first run on the Dragons Tail
- Fri night Tapoco Lodge
- Sat second run in the Dragons Tail
- Sat drive back to NYC (we drive till Kingsport, TN about 4hrs)
- Sat night stay in Kingsport, TN
- Sun drive back to NYC (about 12hrs)
FEELER TIME IS OVER!!!!
Hotel Rooms are reserved and on HOLD for us until feb. 28th 2007 i will have confirmed rates in january, rooms will include breakfast, a lunch bag for the road and dinner. I found several local guys that have driven the Dragon and they will be leading small groups to keep us under control and save, ALEXBAILEY228 will be leading the suicide group
Whoever needs a Hotel room that is not on the list yet better make up your mind asap, first come first serve, keep in mind that you can always back out before Februari 2007 the rooms are on hold and i need to make final confirmation before that time.
You can always go BOKI style and camp next to your .:R
The reason for these specific dates are that most people will have a long weekend due to good friday and traffic on the Dragon will be best this time of year.
This will be a nice Chance to get a
EastCoast.:R
gtg and to meet a lot of people from the R32 community, hang out in the evening, share some good food, beers and warstories face to face, hopefully lots of people from all corners of the US will be able to attend this gtg.
Some usefull links
-
Tail of the Dragon, Robbinsville, NC.
-
Tapoco Lodge, Hotel at the Dragons tail.
-
The Dragons Tail.
-
Videos from the Tail on Youtube
Roll call
1. BLEW 32 NYC 2d
2. NJVR6ER NJ
3. LKR32 NYC
4. MYBLueR32TURBO NYC
5. mooneb75 MD
6. jmikola NY
7. R32 TURBO NYC 2d
8. huvGTI VA
9. ALEXBAILEY228 NC NR
10. 2U4UR32 CT 2d
11. AndyTR32 OH
12. Austrian Beauty SC
13. Mike Solo PA
14. R Zwei und Dreissig Ga
15. Seoulbrotha (needs somenbody to cruise down on Friday from NYC)
16. msabback SC
17. Arrrrr!32
18. bLiTzKrG NC
19. AngryGolf GA
20. GR32 NY
21. dc_ben DC
22. GLImaster NC
23. VAsteve VA
24. JedHead TN (saturday) NR
25. TunedR32clt NC
26. silve.:r32 NC
27. FNR32 AL
28. ThatGuyRyan MA
29. jlangston GA
30. iceman2 OH
31. Rezureckted MD
32. R-ace PA
33. TornadoR32 PA
34. Chimeric FL
35. vwtechr32 PA
36. cornfield25 VA
37. smashtheqube MA
38. Foes NY
39. jettin123 VA
40.
[email protected]
41. reggie cash NY
42. wrh3 GA
43. kevtomsandr32 GA
44. mariomllr CT 2d
45. rrr rr NJ
46. VWTroubleMaker SC
47. RayGun01 NC
48. 78 Rocco
49. vroor32 GA
50. G60TurboR32
51. SRQThunder FL
52. michalborz NY
53. jettacabby GA
54. vr6gti Pa
55. Rdurty2 NY
56. Lantern Rouge GA
57. nuppal GA
58.
59.
60.
If anybody needs something installed at the GTG send Steven R32Turbo an IM http://****************.com/smile/emthup.gif
List of Installs being do by Steven, additional request will be added to the list so he can bring tools:
VF mounts, front/rear sway bar, seat lip, HPP (color unknown)...
Currently looking for Sponsors, we need sponsorship in the form of promotion for this event, if you are or know a performance shop then ask if they want to put a link on their webpage to help us get more .:R32 owners to attend
Official Sponsors
Image uploading. Refresh page to view

http://www.namotorsports.net/
SALE ITEMS OFFERED BY NAMO
HPA
http://www.4induktion.com/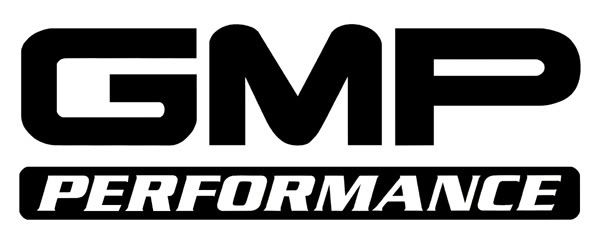 http://www.gmpperformance.com/index.cfm
GMP has started their special sale for everybody attending, please contact Matt at GMP to order,
[email protected] 704 525 0941 ext 257
Some advice for when we hit the Dragon
Quote, originally posted by the_journalist »
As somewhat of a Deal's Gap veteran, my best advice to you guys:
1. EVERYONE bring an FRS radio for this. Communication can save you a lot of grief on this road and possibly help you avoid getting yourself into trouble. (Both from a legal and a safety standpoint)
2. Keep in mind that 99% of the curves on the Tail are completely blind. The double yellow is there for a reason, don't cross it, even by a few inches, or you may end up with a crotch rocket stuck in your grill. Remember that others don't necessarily always obey that rule either. A lot of people end up in the wrong lane simply due to overdriving the car/bike and pushing too hard on right hand turns, especially the "muscle car" crowd, so be ready to react.
3. Inspect your car as if you were about to enter the 24 Hours of LeMans. Most of all, make sure your brakes are at 100%. If your brake pads are even remotely close to needing replacement, do it BEFORE you hit the Dragon's Tail. I have a set of rotors hanging on the wall in my garage that are warped and all different colors from heat, courtesy of Deal's Gap. It's hell on brakes, so any weakness there will likely show itself as complete failure. Deal's gap is in the middle of nowhere. Not a good place to break down.
4. Groups of more than about four cars at a time heading up 129 will end up at a slow cruise and miss out on the entertainment value. Space yourselves out and meet up at the larger parking areas near the ends.
5. It's not a race. Don't drive beyond your limits to try and impress your friends. The tree of shame bears the parts of probably 100 bikes who's riders didn't heed that advice. Cars have suffered the same fate on more than one occasion as well. It's a dangerous road and it doesn't have the same safety barriers as a race track. People do get killed there.
6. Be courteous to others. If someone is faster than you, be it a bike or a car, pull over and let them pass. If someone doesn't pull over for you, just pull over and let them get some distace ahead of you. It's sort of an unwritten rule on the Dragon's Tail that you'll find the locals abide by. Out of state plates and rude driving behavior aren't recieved very well in North Carolina.
7. Take lots of pictures, it's one of the most beautiful areas of the country.
8. Most important of all: Have fun. It will be a once in a lifetime trip for some of you guys. Make the most of it.

2007 last year of the MK4 R32!!!
http://forums.vwvortex.com/zerothread?id=3016232
UPDATE
We are getting closer to the start of this great trip and i just want to let you guys know that there are some important issues we should discuss before we leave.
- Make sure that your car is in
top shape
its better to do that extra maintance to your car before hitting the Dragon.
Steven (
R32Turbo
) will be able to do any type of maintance for you on site, just send him a IM with what you want to have done.
- Contact
namotorsports
,
induktion
or
gmpperformance
for any parts you might need.
- Please invest in a
2 way radio
so that we can keep in touch with eachother, there is NO CELL reception!! Get a radio and learn how to use it, we could use deticated channels, example 5-0, where 5 is the main channel and 0 the subchannel. Some older units dont have subchannels therefor we use 0.
- If you have a
spare tire
bring it, you can always leave it at the Hotel if you dont want it in your hatch while driving.
- If you have any kind of motion sickness bring some medication for this, this is no joke!!
- This trip is
NOT A RACE
, dont let us be remebered as the VW guys that crashed some cars. If you want something on the tree of shame bring your bumper you destroyed while running F1`s in the snow
Then a quick overview of how the 3 days will be filled.
Thursday April 5th
- The group coming from NYC will arrive in Robbinsville in the afternoon, we will do a recon of the road and area. Probably get wasted at night and drink all the <IMG NAME="icon" SRC="http://www.vwvortex.com/vwbb/embeer.gif" BORDER="0"> in whole robbinsvile
- Steven (
R32Turbo
) will do installs/ maintance for whoever wants it from 8am till ... at the
Tapoco Lodge, Hotel at the Dragons tail.
Friday April 6th
- Wake up with a headache around 8am.
- Steven (
R32Turbo
) will do installs/ maintance for whoever wants it from 8am till ... at the
Tapoco Lodge, Hotel at the Dragons tail.
- Everybody should meet up with us at the
Tapoco Lodge, Hotel at the Dragons tail.
between 8am and 11.30am.
- 11.30 am we will head out to the Tail of the Dragon where we will go by the one and only gas station so that everybody can fill up.
- 12.00 am we will start to drive the Dragon in
small
groups.
It will be impossible to drive the Dragon with 50 cars and still have fun to drive it.
The best way to do it is to drive with
5 cars max
.
This is how we would propose to do it, hang out at the gas station and hit the road on regular intervalls with small groups and meet up at the
Fontana dam
every so many time, depending on yourself when you get tired of driving. Like this we will fill the whole area with R32`s and you`ll never have so many spottings in one day
Again this is also why its important that as many people as possible have 2 way radios.
- 5-6 pm we`ll grab some dinner at a still to be determined location, most likely the Hotel where we are staying.
- 7-8 pm SUNDOWN run + A picture shoot with all the cars at sundown if we can plan this right.
- Then for the daredevils out there a night run.
- 11pm we all go to sleep since there is nothing to do anyways and the NYC crew already depleted all the resources available in Robbinsville
Saturday April 7th
- 5 am for the Early birds, we`ll do a SunRise Run/picture shoot.
- 10 am we meet up at the
Fontana dam
with everybody that wants to come down only on saturday.
From there whoever wants to drive some more can do this.
- 2pm (or earlier) we will leave Robbinsville towards
Norfolk, Va
.
This is an 8hr drive, we will stay there in a still to be determined hotel.
Sunday April 8th
- 8am we will drive back to NYC over the Chesapeake Bay, cross one of the worlds longest Bridge and Tunnel complexes.
Area Map
Thanks To Paul aka ENSO for providing the T-shirt Design!!!
And a big thanks to our sponsors for providing the $ to make them!!!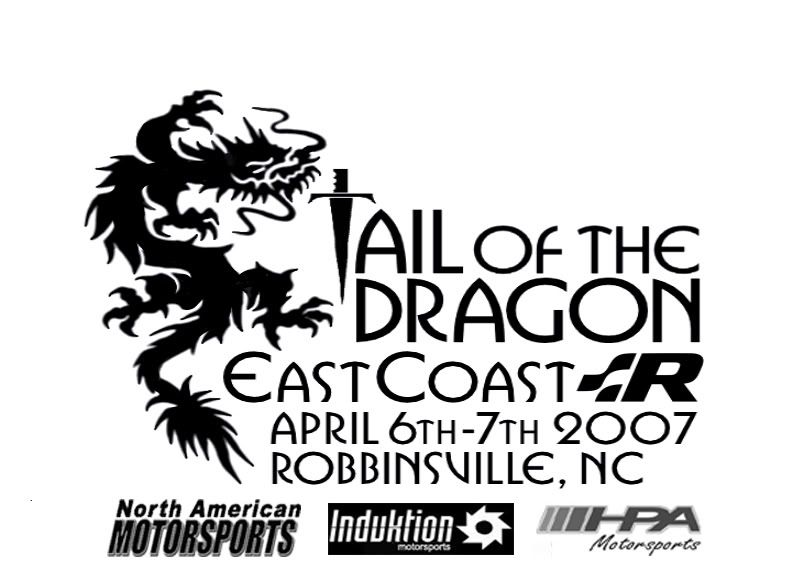 Take care and look Forward to see you all soon
Edwin
Some usefull maps for people to print out
Meetingspot in NJ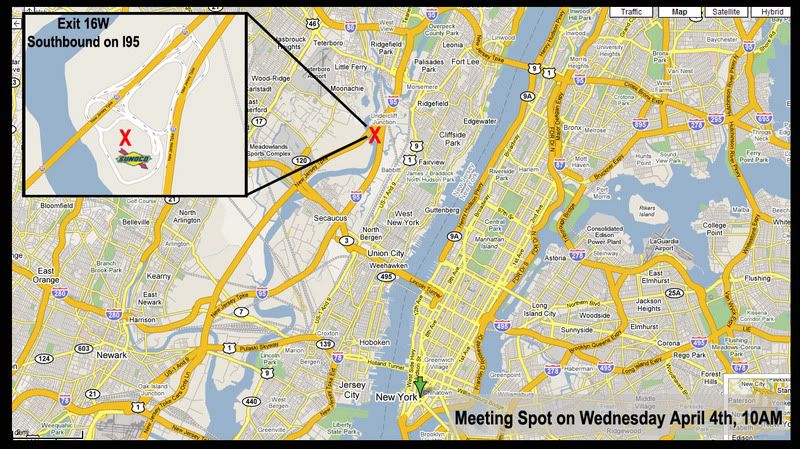 NYC-Roanoke VA
Roanoke VA - Robbinsville, NC
Area Map with Hotels, gasstation and hopefully not needed Tire Repair
Robbinsville NC - Norfolk VA
Norfolk VA - NYC
Modified by 2u4uR32 at 1:19 PM 3-30-2007
Modified by 2u4uR32 at 10:36 AM 1-11-2008