* * * S O L D * * *
... to a fellow 'texer who will probably be checking in shortly, but for now I am respecting his privacy.
Glad she went to a good loving home. :thumbup:
The Readers Digest version:
'84 GTI, silver/blue, sunroof, vents.
117K miles, ~30K since restoration.
Resprayed original silver. Sunroof panel was replaced after the respray - paint does not match.
Body filler/paint on rear valance needs work.
New (not refinished, new) snowflakes with Pirelli P-6's - 2K on set.
All mechanicals were replaced/rebuilt in 2006. It drives like a 7-year old car.
Skip to pics/video below.
_______________________________________
The Full Version:
Here is my 1983 Rabbit GTI. It has a GTI VIN, not a clone or tribute car. This is a sunroof car with vent windows and no A/C, perhaps the most desirable configuration. It is silver with a blue interior. Initially sold in NY, the original owner kept it for about 20 years, moved to Connecticut, and eventually traded it in to a Connecticut VW dealer. The car was in very good condition and unmolested, so the dealership owner decided to replace a few parts and clean it up before putting it up for sale. The detailing ultimately became a full blown restoration. Everything received attention. By the time they were done they had one of the best GTI's in the area. The car sat on the showroom floor for several years until the dealership fell on to hard times. The car was then purchased by a VW enthusiast who daily drove it for a little over a year before I bought it in 2008. I have put about 3,000 miles on it since then.
The list of OEM replacement parts used during the restoration is staggering. Fuel tank, fuel pump, fuel lines, master cylinder, brake lines, calipers, pads and shoes, wheel cylinders, front and rear struts, control arms, all bushings, steering rack, tie rods and ends, CV joints, alternator, water pump, timing belt, timing belt cover, cam cover with splash guard, exhaust, shift linkage and bushings, throttle and clutch cable, all wheel bearings, all hoses and vacuum lines, sunroof panel and seal, all window rubber and door seals, carpeting, headliner, wiper motor, hatch strut… the list goes on and on. It has a VW battery. :screwy:
Motor/trans/clutch rebuilt, 16V pressure plate & tall 5th gear installed.
The level of OEM honesty in this car is truly amazing, so much so that I removed the period BBS RA wheels that it wore when I bought it and found a NOS set of original VW snowflakes (new, not restored or refinished), perhaps the last set in existence as they had been stored in a garage for over ten years. I mounted a set of Pirelli P6's on them with hidden balancing weights and they have rolled less than 2,000 miles since. Of course, the new wheels got a set of new lugs, lug caps, and center caps.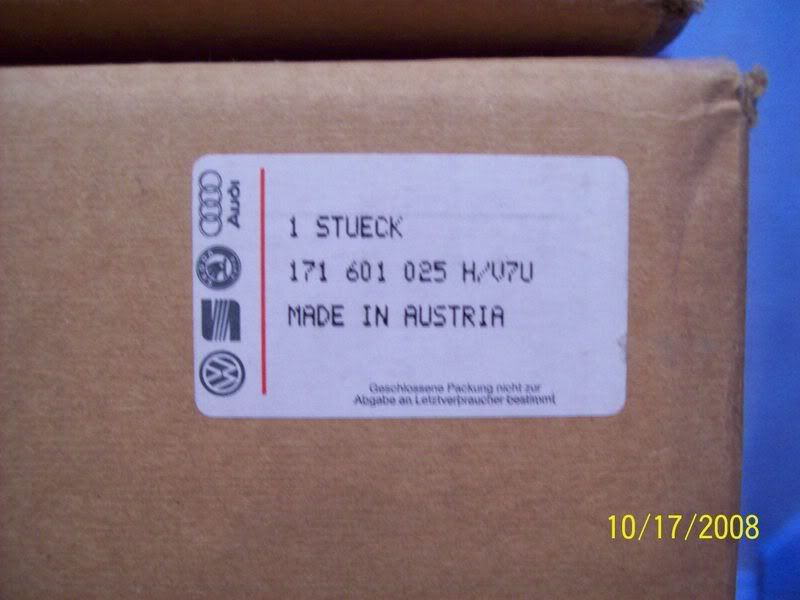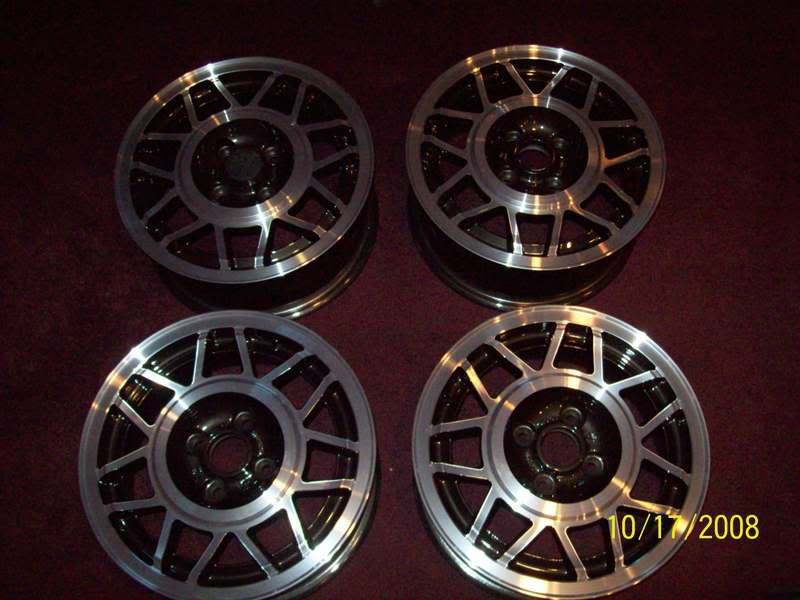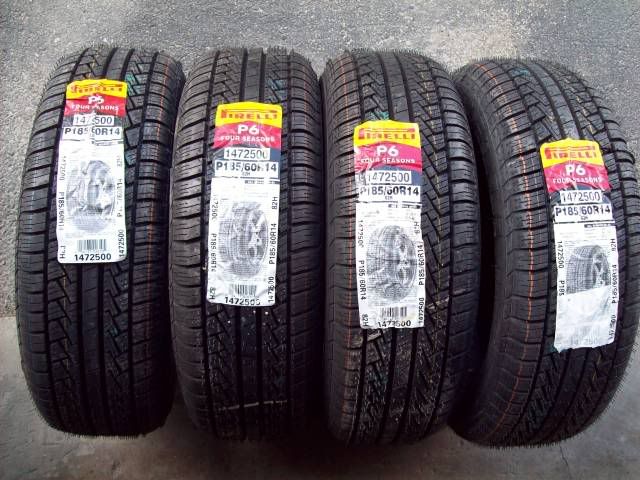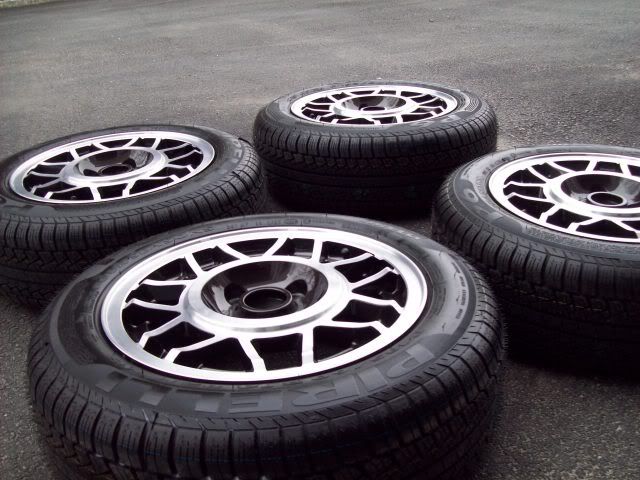 There are a few period mods. The car is equipped with European bumpers and marker lamps. I originally intended to replace them with the correct steel bumpers, however the euros have grown on me. A tall 5th gear was installed when the transmission was rebuilt, something that should be done to any mk1 GTI that is driven on the highway. There is a 180-degree thermostat and fan switch installed, another must-do mod. The dash bezel was trimmed for a DIN radio and an Alpine AM/FM/CD player is installed, however I have an uncut, 3-hole GTI red stripe dash bezel to go along with the car. A Bosch air horn is true to the period.
The engine and transmission were rebuilt and all of the peripherals were replaced. It starts immediately and idles down once warmed. The Bosch CIS runs perfectly. The engine does not smoke or consume any oil or antifreeze. The shifter is a bit stiff when cold, but there are no crunches or slop. The clutch has been upgraded with a 16V pressure plate and engages smoothly. The exhaust is OEM and the catalytic converter is in place. The steering is tight. The tall 5th permits relaxed highway cruising. The brake pedal is firm and the car stops straight and even. There is zero vibration and no mechanical issues. Everything works and I would not hesitate to drive this car anywhere as it sits.
Did I mention it drives like a 7-year old car?
The interior is excellent. The seat bolsters are intact and all the padding is firm. There are no odors. The driver seat lower/outer bolster is beginning to wear (see pics), however I have two perfect bolsters that go with the car. The headliner is perfect with no sagging. The accordion shift boot is NOS and dyed (not painted) blue, and I have a near-perfect spare. Correct VW Rabbit blue floormats are in place. The main front door cards are clean and untorn. The driver side upper card is missing, however I have enough matching vinyl material to recreate them several times over. The dashboard and all panels are uncracked and have been uniformly re-dyed.
Please understand this is a 30-year old car. While it has been restored and presents extremely well, there are going to be some blemishes and issues that simply cannot be accounted for. The previous owner took some creative license which you may choose to reverse; the door sill stickers can be removed, as can the body adhesive in the front fender gaps where they meet the a-pillars. The engine bay is in good shape but could use some detailing to remove the added paint around the shock towers. The yellow/orange substance on the firewall in the pictures is wax undercoating, not rust.
Solid, true OEM cars like this one are becoming scarce. It is not an original survivor or concourse restoration; however it represents the original admirably, gets plenty of attention on cruise night, and is an overall pleasure to own/drive. This is not a car that you will need to spend your weekends working on to keep it running. Put the key in it, fill it up, and drive it anywhere as it sits.
PICS:
http://www.flickr.com/photos/

[email protected]

/sets/72157633197754129/
VID: