Discussion Starter
·
#1
·
**************************************
Here are 65+ new pictures of the car nice and clean. Interior/exterior/engine bay
http://s34.photobucket.com/alb...Supra
/
**************************************
What is your First & Last name?
Michael Fuller
What is your email?
[email protected]
What is your phone number? :
919-880-6610
What is your City? :
Kansas City
What is your State? :
Missouri
What is your Zipcode? :
64137
-----------------------------------------------------
Ad Description:
------------------------------------------------------
I'm toying with the idea of selling my Supra to get something a little different. I've had S4's, RX-7's, WRX's, etc... so I'm open to trades or trade+cash (from your end.. I don't have any money to put up) for any car depending on what you've got.
The Chassis is a 1987 turbo with 127,xxx miles.
It is a full clip swap that was done by a great shop in Raleigh, NC. The motor/transmission had 35K miles on it when it was dropped in so roughly 40K miles now.
All the aftermarket parts have 5k miles or less on them. The engine and transmission are absolutely flawless. It starts/runs/idles with no questions asked anytime. I pulled all the turbos pieces off two weeks ago to check the turbos and there was very minimal lateral play and maybe 1/50th of an inch of play in/out. The car has ZERO mechanical issues, and laid down 289WHP and 260LB/FT of torque right after it was dropped in. I just recently drove the car from NC to KC (1600 miles) with zero problems and still got 25+MPG The car has fresh paint (high quality OEM white), and the respray is 100% professional with no orange peel or runs. The interior is all black with the exception of the OEM sport seats, which are burgundy and in great condition... It has an aftermarket carpet kit so it doesn't fit exactly right by the door sills. I'll get very detailed pictures up when it stops pouring here in KC. All the labor was done professionally, and I have over 12k in receipts and documents for the swap alone.
This is all around an amazing car...
I'm open to any trade offers you have... Something fun, turbo, etc.
1987 Toyota Supra Turbo Targa
5 spd
127k miles on chassis / 40K miles on engine-transmission
Clean NC title in hand
Working heat
Working AC- Everything is hooked up it just needs the old freon purged and retrofitted with R134. I currently have the clutch relay disconnected but could be put back on.
Working power steering
Again, everything in the engine bay is 1JZ from the clip. (Intercooler, AC, etc.)
Mods:
JDM IJZGTE swap (40k miles, documented, professionally installed)
Professionally extended and wrapped wiring harness
HKS Mega Flow Intake
Full 3.5" HKS Drager Exhaust from the turbo y-pipe back
Mine's ECU (no longer works so I have a stock ECU in it now. The MINES ECU had the caps replaced by Aaron @ driftmotion but didn't fix the problem)
Walbro 255 fuel pump
Exedy Stage 2 clutch
Relocated battery ( I put it back in the engine bay last week, but the cable are still there if you want to move it back to switch to hardpipes or something.
D2 36 way adjustable coilovers
MKIV Turbo wheels
General Exclaim UHP's 245 front and 275 rear
<2000 miles on Brembo rotors, Bendix Ceramic pads, and Super Blue fluid
Greddy "white ball" shift knob
Nardi 360mm black/leather wheel
HKB hub
JVC head unit/Polk Audio speakers (both new)
Dual puller type electric fans with temp relay AND manual switch
Maintenance:
alignment (<3k)
Redline MTF (<3k)
Amsoil differential fluid (<3k)
Mobil 1 w/ K&N filter (<2k)
Professionally rolled fenders
Recently replaced:
-timing belt
-water pump and thermostat (2JZ)
-plugs
-fuel filter
-battery
-hatch seal and tail light seals
-bypass valve
-PVC (2JZ)
-ignitor
-ECU
-tie rods, ball joints, wheel bearings, sway bars and end links, control arm bushings, etc.
-new oil pan and sump
Issues:
cracked dash
the seats need to be dyed black to match the rest of the interior
needs a new armrest and is missing a few random interior pieces.
I will add more pictures later this weekend when it stops raining.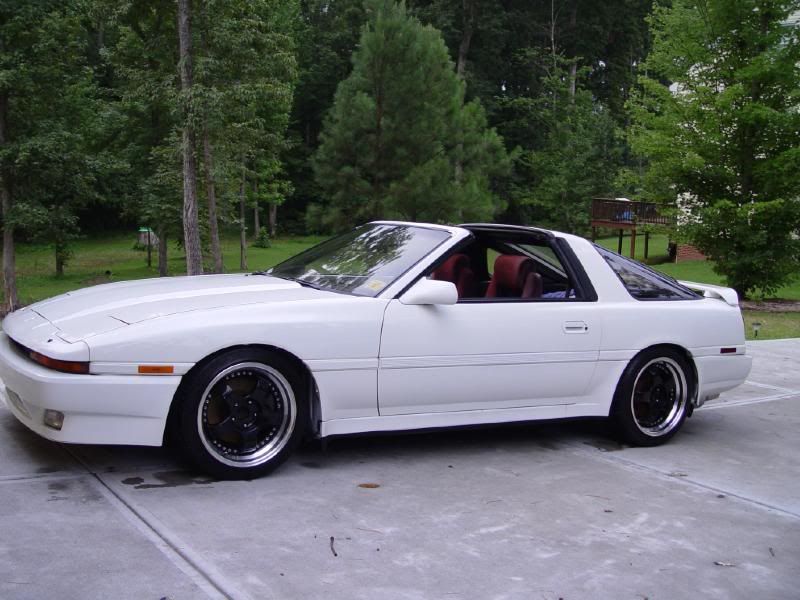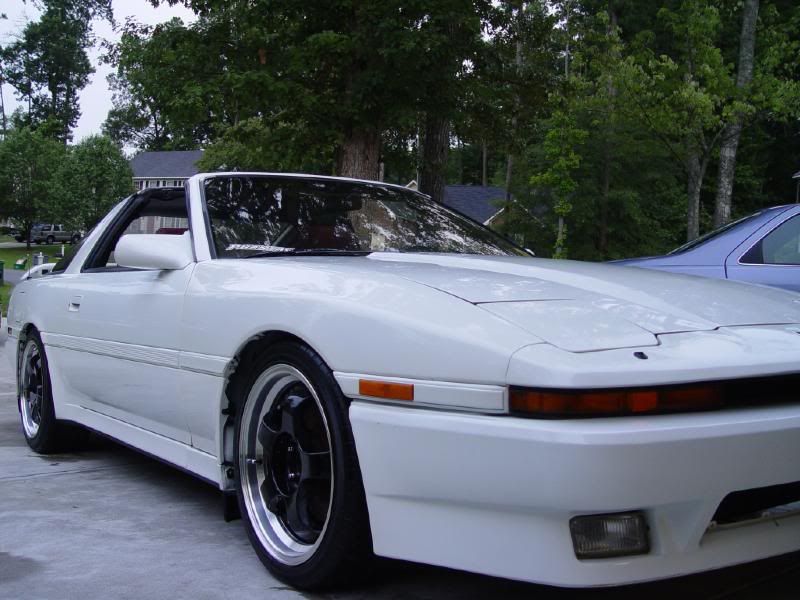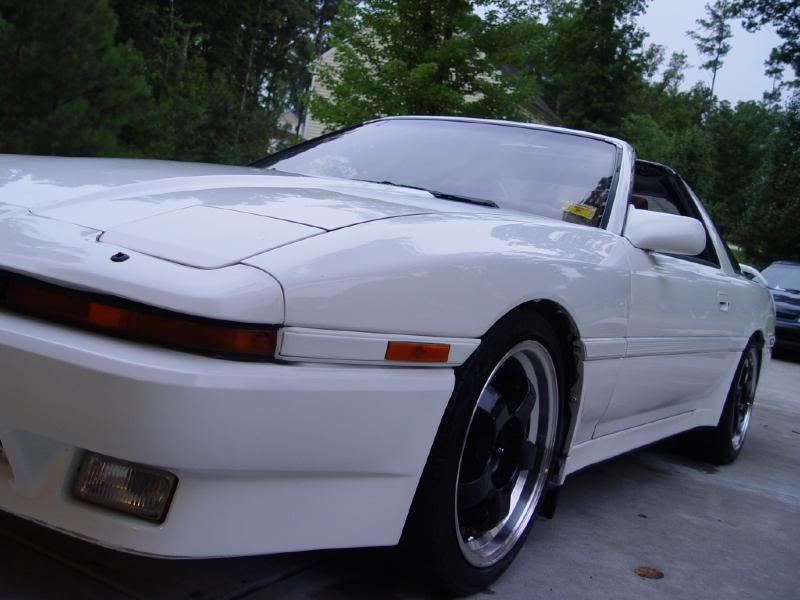 Modified by rx7bluevillain at 9:45 PM 9-15-2008
Modified by rx7bluevillain at 9:46 PM 9-15-2008
Modified by rx7bluevillain at 8:05 PM 10-1-2008