Discussion Starter
·
#1
·
HERE IT GOES….
1994 JETTA 2.0 TORNADO RED 171,000 MILES 5 SPD
CAR HAS BEEN SITTIN FOR A FEW MONTHS NOW AND NOW I NEED THE MONEY SO IT'S TIME FOR IT TO GO. I BOUGHT THE CAR WITH ALL INTENTIONS ON DOING A VR SWAP BUT IM GETTING MARRIED NOW AND I NEEDED THE MONEY SO I HAD TO SPEND WHAT I HAD SAVED.
CAR HONESTLY TO ME HAS A LOT OF POTENTIAL IF YOU'R LOOKING FOR PROJECT.
HAS ITS ISSUES THOUGH. NEEDS SOME WORK BELIEVE ME IF I HAD THE MONEY TO KEEP PLAYIN WITH I WOULDNT BE SELLING IT AT ALL... ALL THE PROBLEMS CAME FROM PREVIOUS OWNER WHEN I PURCHASED IT IN JULY/AUG OF 2008
- NEEDS NEW WINDSHIELD WIPER MOTOR
- TRANNY HAS A SMALL LEAK SOMEWHERE BUT, IT STILL IS ABLE TO DRIVE
- CLUTCH IS GOING
- CAR WAS LOWERED BY PREVIOUS OWNER BY CUTTING SPRINGS
- TIRES NEED NEW TREAD
- I WILL PUT A PIC UP BUT THE BACK RIGHT SIDE GOT SCRAPPED UP AGAINST MY HOUSE WHEN IT WAS MOVED
SINCE I'VE HAD IT I HAVE REPLACED (UPON PURCHASE AND RECENTLY)
- THE "O" RING
- OIL PAN GASKET
- RADIATOR FAN SWITCH
- MONROE FRONT STRUTS ( STILL WITH WARRANTEE)
- MASTER CYLINDER
- BRAKE LINES
- BRAKES
- EXHAUST WAS REPLACED WITH AN TT CATBACK WITH FLOW MASTER EXHAUST
- FRONT LEFT AND RIGHT AXLES
I WAS ALSO IN THE PROCESS OF DOING THE PANELS INSIDE RED SO THE:
- VISORS AND FRONT UPPER DOOR TRIMS ARE RED ALONG WITH SEAT BELT PLASTICS WHICH CAN EASILY BE TAKEN OFF OR REPLACED
IM LOOKING TO GET RID OF IT FOR $1,400 OR AS BEST OF AN OFFER AS POSSIBLE.
IF IM FORGETIN ANYTHING I'LL ADD TO IT LATER. I WILL HAVE INTERIOR SHOTS SOON.
JUST CHECKED TODAY AN THE BATTERY DIED I HAVENT DRIVEN IT IN SEVERAL MONTHS ...SOMEONE JUST COME WITH A TOW AND PICK THIS THING UP I REALLY NEED IT GONE!!
MOST RECENT PIC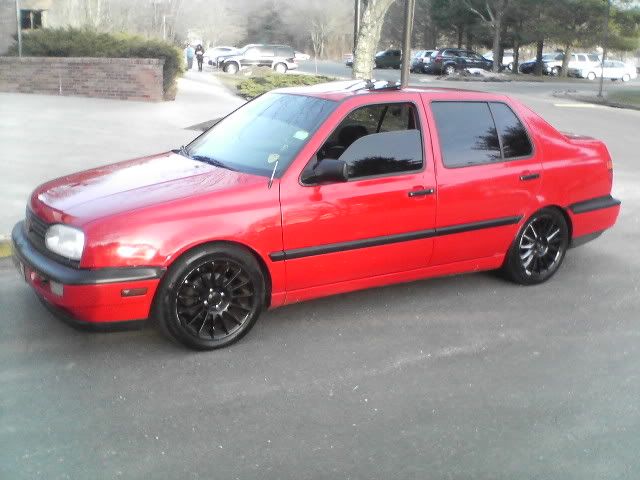 Modified by MKIII-Jetta at 8:42 PM 7-9-2009
Modified by MKIII-Jetta at 7:29 AM 8-17-2009