Asking $8,000
Current location: Keene, New Hampshire
Full Timing belt service recently completed at 125,600 miles. current mileage is roughly 129,139 miles, but will go up as i drive it once or twice a week.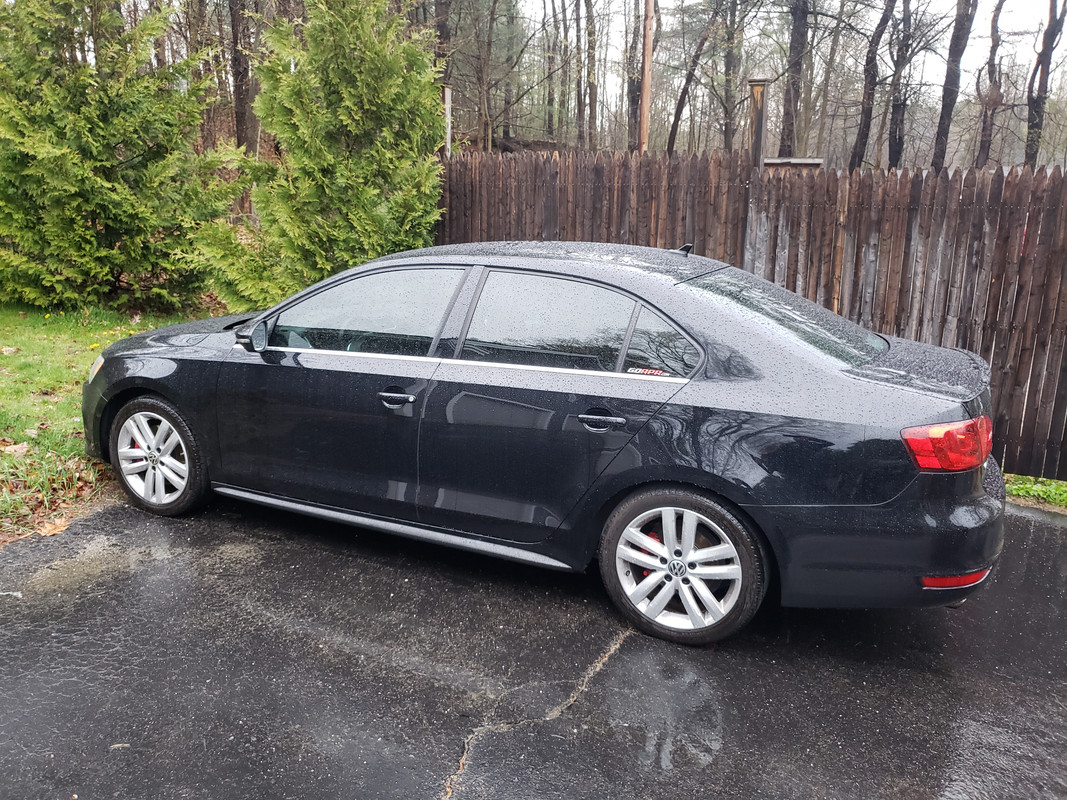 Bought this car from the original owner at the end of March when all this virus stuff started happening. I travel for work, so i'm never home and haven't owned a car in years. Figured i'd buy something fun to drive that i could tinker with instead of dealing with a rental car indefinitely. Starting to get hints that i'll be going back on the road sooner than expected, so figured i'd get the for sale posting up sooner rather than later to get the ball rolling.
Enthusiast owned from original purchase. Original owner took excellent care of it, with all scheduled maintenance done accordingly. Never smoked in. Never had kids or pets in it. t's a southern car, living it's entire life in the Atlanta, Georgia area.
AS I BOUGHT IT:
2012 Jetta GLI 2.0T w/ a 6 speed manual transmission.
Black exterior with Black fabric sport seats with red stitching
multi-function leather wrapped flat bottom steering wheel
black headliner
non-sunroof version
GLI suspension which sits a little lower from the factory, and has a multilink rear suspension system versus the torsion beam setup on other jettas
tinted windows
oem GLI monster mats for front and back seats
oem 17" split five-spoke rims w/ 225/45/R17 Pirelli Cinturo tires (installed 8/28/17 @ 89,454 miles) have a Discount Tire warranty until 159,454 miles
oem first aid kit in trunk
oem cargo net in trunk
original manuals and both keys included
APR Stage 1 ecu flash
APR short shifter kit.
intake manifold was replaced by VW under warranty @ 100,939 miles on 06/05/18
carbon build-up cleaning was performed right after that
aluminum water pump installed 02/03/20
#1 ignition coil and oil separator were replaced 03/09/20
SINCE I PURCHASED IT IN MARCH: (at 125,600 miles)
full ECS OEM spec Ultimate Timing chain kit w/ new lower timing chain cover ( over $800 just for the parts).
https://www.ecstuning.com/b-genuine-volkswagen-audi-parts/ultimate-timing-chain-kit/06h198004/
https://www.ecstuning.com/b-genuine-volkswagen-audi-parts/timing-chain-cover-lower/06h109210ag/
Fluidampr crankshaft pully
https://www.ecstuning.com/b-fluidampr-parts/harmonic-damper-crankshaft-pulley/551231~flu/
ECS high flow turbo outlet pipe and turbo muffler delete
https://www.ecstuning.com/b-ecs-parts/high-flow-turbo-outlet-pipe-kit-with-turbo-muffler-delete/019694ecs01-03kt/
new camshaft adjuster magnet and seal
new Drive belt
new cabin filter.
APR carbon fiber complete cold air intake system (stage 1 and 2)
https://www.ecstuning.com/b-apr-parts/complete-cold-air-intake/ci100020cctakt/
RCD360 radio headunit for Apple Carplay and Android Auto integration and improved bluetooth. slight improvement over stock sound as well. fully compatible with the multi-function steering wheel controls
https://youtu.be/xQ-VZNbPq8M
Sale will include both factory keys.
Will also include all stock items that were replaced during upgrades (air intake, crankshaft pully, outlet pipe, etc)
I just recently drove it from Atlanta, GA to Keene, NH and it was smooth the entire way. motor pulls strong, and clutch has excellent feel to it. On-board computer said it averaged 33mpg for the entire 1100+ mile trip.
Car is in great shape and has been well taken care of. That said, it is an 8 year old car. So there are a few rock chips on the front. a small scratch on the top of the trunk lid, a light scuff/scratch on the outside pillar between the passenger doors, and a light scratch on the lower front bumper corner on the passenger side. Also one or two very small marks on the wheels, not really curb rash, but marks. Also, the laminate around the very outside edge of the windshield is peeling a little bit underneath, and there are two very tiny rock chips at the very bottom center of the windshield that i hope to have repaired soon.
No check engine lights, no drips, no leaks, no funny engine noises.
I'll take some better pictures next time i wash her. But if you have any questions, or would like a picture of something in particular, just let me know.
Asking $8,000 or best reasonable offer. If you're seriously interested, PM me and maybe we can work out a deal. I'd prefer to see this thing get driven rather than sit in storage most of the year.