SOLD!!!

Summary:
Year: 1998
Model: GTI
Engine: VR6
Transmission: Manual (5 sp)
Miles: 187k
Condition: Average/Below Average. Head makes not so good noises.
PRICE: $1500 FIRM
Location: Mechanicsville, MD (20659)
Owner: Ian
Background:
I bought this car last winter as a decent daily driver that I wouldn't have to really worry about after I sold my S4. It has served that purpose, but its time for me to move on. I have done regular maintenance which I will list below. The main issue with the car is just recently the head starting making pretty bad valve chatter noises. The car runs and doesn't seem down on power, but I personally wouldn't try and drive it more than 20 miles from home. I currently do not drive it, it sits in the driveway. But it will be easy to load onto a dolly/trailer if that's your plan.
Engine:
Mileage: 187k
Chains were done at 175k with an ECS tuning kit
Accessory belt and tensioner was done 1 mile ago (thought this was part of the noise originally)
New NGK copper plugs @ 175k w/ timing chains
New MK4 spark plug wires @ 175k w/ timing chains
New BFI Stage .5 mounts @175k w/ timing chains
SAI is broken and CEL is on. I have a 42DD plug you can have and also have a spare with a (currently loose) C2 chip that deletes SAI
PO installed an exhaust with magna flow muffler. It is welded to the cat.
Clutch/Trans:
No grinds
New OEM Sachs clutch @ 175k with timing chains
New Autotech Steel lightweight flywheel @ 175k with timing chains
Aluminum shifter bushings @ 175k with timing chains
G60 trans mount @ 175k with timing chains
Suspension:
OEM shocks/struts but rides fine
New HD strut mounts and R32/poly mix LCA bushings will come with the car
Brakes/Hubs:
New Brembo blank rotors (front and rear) less than 500 mi ago
New mintex red box pads (front and rear) less than 500 mi ago
New rear wheel bearings less than 500 miles ago
Interior:
Stock leather in good shape
Red DE shift boot
Blue DE steering wheel (had from an old car, red one was gummy/crusty from PO)
Clarion CZ702 head unit (This has adjustable lighting so its set to match dash, has bluetooth phone/audio, has usb hookup in glovebox for ipod/iphone/mp3)
Clamshell is broken/missing
General:
Hatch currently won't open. It will actuate but won't pop, I think the linkage needs to be re-bent to give the required tension)
Windshield has a crack and a lot of sand wear
Right had side rocker is very rusted
Right hand side floor rusted through when PO had it. When I got it, a friend and I welded in new sheetmetal and POR15'd the area
RH A-Pillar has a weird rust/duct tape deal going on. I don't know what this is, and never bothered investigating.
LH rear C-Pillar has weird corrosion looking area at the very back.
Pictures: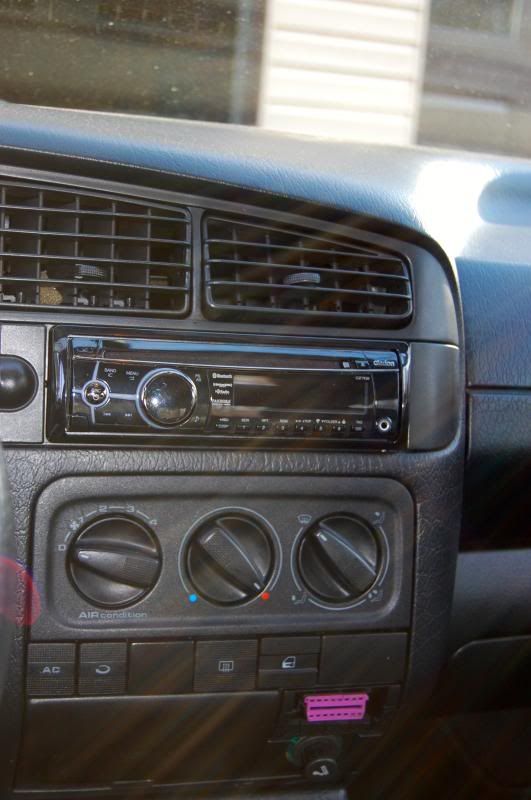 Thanks,
Ian