The following parts are from a white '92 Jetta GTX (2L 16v) unless otherwise specified. Interior parts are excellent to mint condition, exterior parts are fair to good. Bundled item prices are negotiable. Please inquire. For the free and $5 items, the purchase of another paid item at the same time is necessary. More pics available upon request.
Pickup is in Hamilton (west mountain). Delivery within local surrounding cities is available for an extra cost amd min item purchase of $15 - please inquire. Shipping is available for the right price - please inquire.
PARTS SOLD/NOT AVAILABLE - review first before inquiring
Zender rims, snowflake wheels, cluster, dash, front big bumper, rear big bumper, airbox, glovebox & surround, car shell itself, 16v flares and side skirts, big bumper fog lights, kamei eyebrow, 16v big bumper lip, koni coilovers, hood, intake boot, gtx thin door trim, recaro seats, all 4 door shells and windows, front turn signal plugs, trunk spoiler, all wheel disc brake setup, fenders, sunvisors, door mirrors, headliner, 2L 16v engine, Rain tray & seal, ecu cover, plastic plate tub, smoked sunroof deflector, interior carpet (front and rear), rear seatbelts, shift and handbrake boots, banana lights, multiple door seals, trunk seal, trunk plastic cover, door sill trims, heater vents and ducts, a/c box and fan, lower dash tray & pedals surround, under dash cover, trunk side covers, speaker deck lid, trunk lid, vacuum hoses, sunroof drain tubes, air duct under interior carpet, front wheel splash guards, fuse box holder, seat belts, ignition plastic cover, central locking pump, center console, trunk carpet, power window actuators, rad fan and shroud, lower dash trays, driver tailight, heater core and box, alternator, a/c compressor, wiper assembly, ECU, rad, starter motor.
PARTS AVAILABLE
$330 - Brand New In.Pro E-Code projector headlights <u>from europe</u>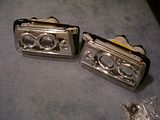 $150 - 4x Door cards with pockets, speakers, handles, switches. For power windows & mirrors.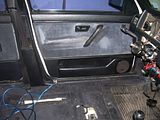 $10 - Both items listed below
$5 - passenger tailight and bulb tray (driver sold)
$5 - c pillar covers
Free - rear brake light
Free - gas cap air vacuum lock
Free - gas inlet overflow rubber thing
SOLD - VDO Central Locking Pump
SOLD - trunk opening protective plastic cover
SOLD - trunk rubber seal
$50 - Bassworx dual 10" sub box - Test fitted subs and hooked up wiring for 'plug and play' only - Brand New.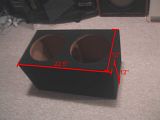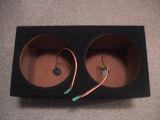 SOLD - 16v big bumper lip
$10 - 8v big bumper lip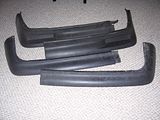 Gone - #1 - Black grille
$5 - #2 - White grille with red bottom trim.
$10 - #3 - Black grille with white bottom trim.
SOLD - kamei eyebrow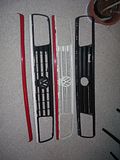 $75 - magnaflow exhaust (top section of pic). Muffler is stainless and good. dual round magnaflow 3" tips are stainless and good. The piping is a bit rusty looking but no holes. Professional welding. Great low sound. Includes the rubber hangers. NOTE: The bottom section in the pic of the downpipe, cat, and resonator is no longer available.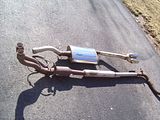 $25 - clear big bumper signals with amber backing
$25 - brand new xtreme fog lights with harness etc
Free - passenger side mk2 golf tailight (no tray)
SOLD - driver side mk2 golf tailight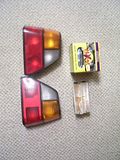 $15 - Fuel Distributor
$15 - FPR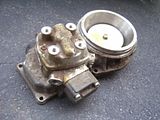 $5 - 3 grab handles with blank plugs for driver door.
$5 - headliner sunroof seal.
Free - rearview mirror with base and surround.
$5 - A pillar plastic covers
SOLD - sunvisors
SOLD - rear headliner trim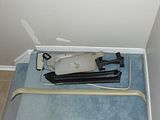 $15 - rad support with horn - stock square headlights
Free - 16v a/c condensor and evaporator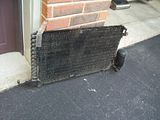 $25 - complete steering column w/tilt
$35 - Blaupunkt Hamburg CD70 flip deck (needs to be unlocked for use - brand new security card is included)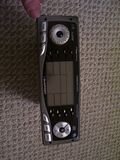 $45 - upper and lower intake headers
$5 - outside B pillar covers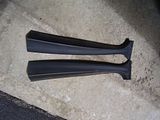 PICS AVAILABLE UPON REQUEST
$45 - (2) BRAND NEW 6x9 Kenwood KFC-6905s speakers - 2way 170w with covers. No wiring included.
$35 - sunroof assembly.
$25 - Clifford Sabre 2 Alarm, sensor, remote and mk2 dash switch
$25 - Kenwood KAC-529s Amp. Works great.
$15 - stock headlights
$15 - sunroof seal, wind deflector and arms.
$15 each - VDO gauges - temp with plug connection, volt with plug connection
$10 each - VDO gauges - clock, volt
$10 - pedals assembly - clutch, brake, accelerate
$5 - black gauge surround for 3 gauges.
$5 - B pillar covers (inside)
$5 - big bumper lights
$5 - left steering signal stalk - cruise control set.
Free - dash heat/air switch control with tubes.
Free - Kenwood cassette receiver - RRC-201.