Discussion Starter
·
#1
·
I think I want to go back to N/A so I have decided to sell my entire turbo ready engine, my trans, ecu, and the stage 3 Kinetic turbo kit all in one big bundle for you. This includes everything you need just plug and play and you are all set. see below for specs, and then lower for pics. I am located in South East PA, I can ship on a pallet if need be. My price is set at $4200 This is a steal for what you are getting!
OBD 2 engine
rebuilt head
ARP headstuds
Headspacer (9:1 compression)
APR Rod bolts
New water pump with metal impeller
New metal water crakpipe from masontech
New Rear main seal
Timing chains were done in the last 5k miles
O2A trans no grinds no noises works 100%
New seal on thermostat housing
New lower temp thermostat
Polished Garrett T3/T4 Turbocharger
Kinetic Motorsport VR6 Manifold
Tial Precision 38mm Wastegate
3" Stainless Steel Downpipe
3" Stainless Steel Intake
AFE Re-useable Air Filter
Kinetic Motorsport 4" Black Anodized Aluminum MAF Housing
Silicone Hoses and Stainless Steel Clamps for the intercooler
42# Injectors
C2 Motorsports 42# Chip Software
Polished Aluminum Intercooler Core
Custom intercooler hoses
4-Ply Silicone Hoses from siliconeintakes.com
Stainless Steel T-Bolt Clamps
Shiny parts include
Polished Valve cover
Polished Throttle body
Polished intake manifold
chromed oil cap
polished ATP exh heat shield
Stainless steel bolts have replaced all exterior bolts on the engine
All accesories were cleaned and then painted gloss black, including the block. You won't find any dirt on this engine!
Im sure I forgot some stuff I will add as I remember
on to the pics:
tail lights are not included :laugh: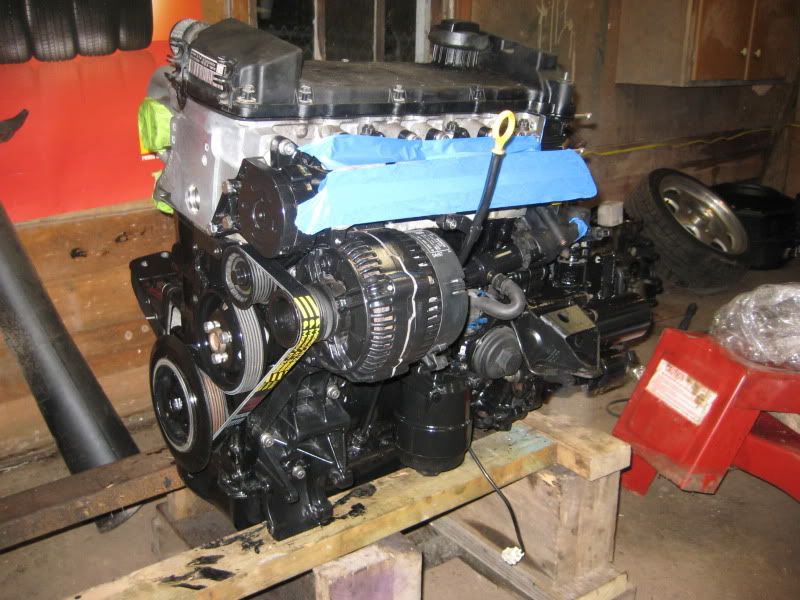 pic of the intercooler