mk5 classix 2012
B6 S4 2012
carlsson 2011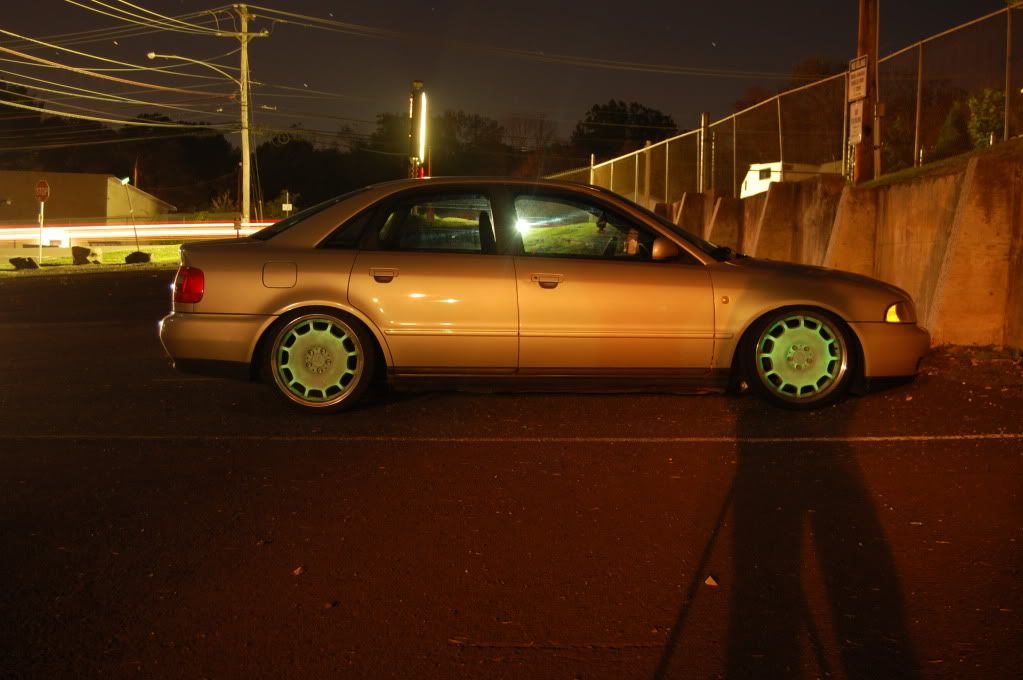 sawblades 2010
mercedes 2009
mercedes 2008
i bought my car almost 3 years ago, i figure its time for me to make a build thread. im gonna start from the beginning and try and fit everything in.
clean slate. november 07
the car is a 1.8t with 5spd and quattro, black pleather interior, and the paint color is called melange metallic
the day after christmas of 07, the flex pipe on my downpipe split. so while i was changing that i decided to install a 3" test pipe. just adding this improved boost lag greatly. this is an amazing mod
next on the list was h&r race springs, which i would now call a waste of time, but i had cracked springs in the rear so i didn't have much of a choice. around this time i got a set of clear cornered facelift headlights, and i decided to paint the centercaps on the stockies black
i got an s4 grille for cheap, painted the emblems black and also decided to add city lights to my CC headlights
late summer/fall 08 i picked up a set of 16x8 (et36)e320 mercedes wheels. i fitted 205/45s on with a 20mm spacer in the back and 12mm up front. (WARNING:embarrassing pics with the race springs)
then came the day that i finally bought coilovers in spring of 09. this is when the fun started. these pictures are without spacers, and coilovers down all the way (before the springs settled) i got a set of vmaxx's with crazy low miles for cheap, hate on them, but i like them.
i forgot to mention, sometime around spring of 09 i bought a minty set of facelift headlights with the amber still intact, i plasti-dipped my stock grille and returned it to the car and i put some black tape over the bumper supports to replicate a eurobumper, i have yet to paint that area...
spring show n go 09
some random pics from spring of 09
at show n go, PQ (paul) and i traded my stock headlights for his HIDs
then tragically my wheel fell off while traveling slowly through town...
so i painted the new unmatched fender in a peanut butter and jelly fashion
DATB
some pics nic (lazer viking) took for me at DATB 09
before waterfest my effed up alignment and camber killed my tires. a friend of mine gave me a set of proxies, only problem was they were 40 series. so i ran them, and hated it. too small of tire, too low, too much wheel gap. (the wheel gap isnt that noticeable in the pics but thats cause a pretty much edited the wheel wells enough so you cant see the tire size)
at this time i also polished the faces of the merc wheels and painted the spokes black
i also ditched the idea of the PB&J fender, and sprayed it with a gold spray paint that doesnt match
i found a set of 19" rs4 wheels for real cheap so i picked them up cause i wanted to give 19s a shot (but i picked up a different wheel set that id rather run this season, so the rs4s are going on the back burner)
winter09/10
i painted the b5.5passat wheels im running white to change them up. i really enjoy the look
i have also discovered that some scratched up spray paint is a beautiful slate for some chalk
some of you guys have probably noticed my recent disappearance...about a month ago (it feels like wayyy longer) my clutch went. right around the time that i fell into a pretty bad financial status. so i finally came up with enough money to order the clutch, at this time im also changing my control arms, subframe and oil pan. oil pan was broken by the tow truck driver due to a chain being placed right underneath it. he told me its cause my car is too low.
so keep an eye on this thread for future updates, and especially an upcoming wheel setup