Discussion Starter
•
#1
•
This Group Buy has Ended
We are currently sold out of these parts, but we are trying to get better pricing for you guys on the next go round. Stay tuned, and pls email us direct if interested in the part.
[email protected]
--------------------------------------------------------------
For those interested in ordering any additional products from GruvenParts.com, pls email us and let us know so we can provide further discounts -
[email protected]
** GruvenParts.com Introduces the MK4 Billet Hood Pull !!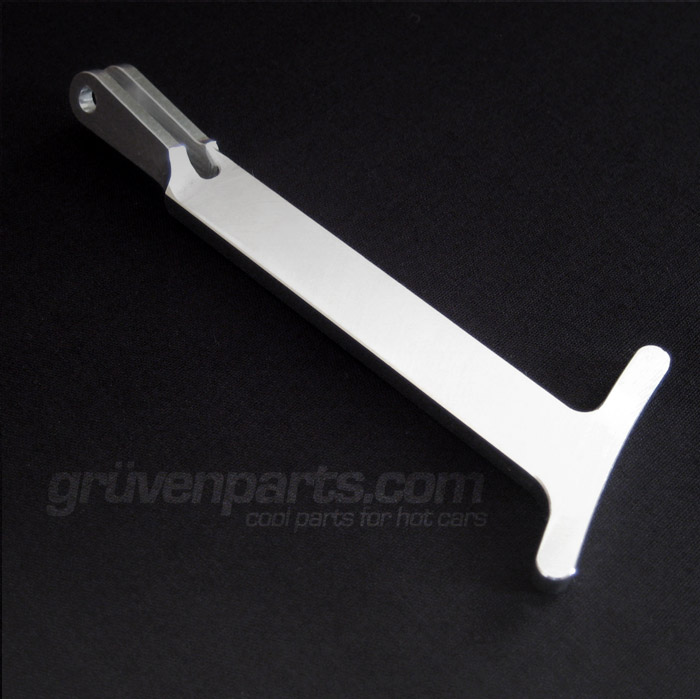 MKIV Billet Hood Pull
Ditch the factory plastic part before its too late and you need to bust out the grill to open your hood. Ask us how we know this...
Fits ALL VW Golf from 1999.5-2007, as well as the 01-06 Jetta Wagon. Replaces P/N 1J0823593C. Dont worry, the Jetta sedan version is coming soon!
Click on the pic to visit our product page.
All parts in stock ready for immediate shipment
Please note that this part is machined from solid 6061-T651 aerospace grade aluminum. It is certainly not welded from 2 pieces, nor does it require any sort of modification to the vehicle.
The set up, programming time, and machining time are EXTENSIVE to build such a part. This requires a 5 axis CNC machining center due to the complex geometry. Look again closely at this part, or better yet show it to someone who understands what machining such types of parts actually takes. Finally, we pay quite a hefty price tag to advertise here. We're doing our best to bring you quality parts at the best pricing possible. We are also one of the few vendors that actually listen to members regarding problematic parts and even reward them with FREE parts for bringing ideas to improve our cars. Our goal is to make our VW's quite literally bulletproof.
If you are tired of the "Pray and Pull" mentality with the OEM VW hood pull, here are the install pics and instructions for the GruvenParts.com Billet MKIV Hood Pull :
1. OEM latch shown with plastic hood pull removed – yes, just bend apart the tongs and its comes right off the pin.
2, Use a pair of needle nose pliers, grip the pin, and gently wiggle the tapered pin back and forth a bit while tugging on it outwards. The pin will quite easily come right out of the latch – as shown in this pic.
3. Drop our billet aluminum part in by pushing it gently thru the rectangular escutcheon mounted in the grill. Use the included screw and nut to bolt onto the OEM latch assy as shown. Please note, this pic does not show the type of fastener used (pls stay tuned for more pic updates). We a use grade 10.9 hardware button head internal hex head bolt with a locking nut – included in the kit.
The billet GruvenParts.com MKIV hood pull installed –
A clean, tidy fit with the hood closed. Never to worry about again.
http://www.GruvenParts.com
PRICING DATA
$75 ea with
FREE
Domestic Shipping
Click the link below to go to the order page :
http://www.gruvenparts.com/web...id=60
Now's your chance to grab this great part at reduced pricing !!
Modified by GruvenParts.com at 6:06 AM 2-19-2008
Modified by GruvenParts.com at 1:56 PM 3-26-2008