Discussion Starter
•
#1
•
GruvenParts.com
is located in Atlanta, GA and specializes in fabricating bulletproof hardware for your VW.
We do not sell off the shelf parts. Instead, we focus on hand made, high quality custom parts that are intended for serious track abuse. In fact, the company was founded for one simple reason:
We get pissed off when parts break.
We have supplied our hardware to many of the larger vendors on VwVortex, racing teams, and weekend warriors alike. In fact, the ideas behind most of what we currently sell comes from the great people on the forums like you! If you would like us to design a custom part for your vehicle, please feel free to get in touch with us.
If you lead us to another part, you will be given free or deeply discounted parts for evaluating prototypes
. Just email or call – it's, that's simple.
Finally, a word about customer service. We
KNOW
the customer comes first. In our years of service, we have not had ONE SINGLE customer walk away dissatisfied. But don't take our word for it – ask around on the forums. If you find someone unhappy with us, please tell them to get in touch with us immediately. Emails and phone calls are answered personally and promptly.
The cost for our Group Buy items is listed below. You can see all them on our website -
http://www.GruvenParts.com
or by clicking on any picture. Any questions, pls call or email us.
[email protected]
404-556-6663.
Payment can be made directly using paypal to
[email protected]
All prices listed include
FREE SHIPPING!!
within the US. For items outside of US, please add US $30 per 3 items.
Please state all items ordered and EXACT shipping address. If you prefer to give credit card info via email or over phone, email is
[email protected]
and phone is US # 404-556-6663.
All our prices listed include
FREE SHIPPING
within US.
Take a look at our current offerings - come visit us at
http://www.GruvenParts.com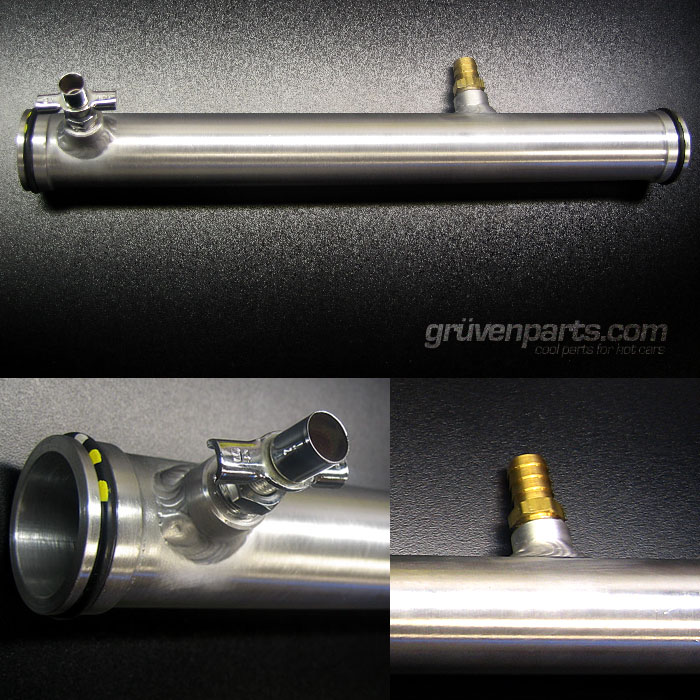 Billet VR6 Crack Pipes for ALL VR6 Engines – Corrado thru R32!
We were the 1st to build this part and its what started us off! If you have a billet crack pipe in your VR6, chances are it was made by
http://www.GruvenParts.com
. Hand crafted in our Aerospace shop using O-rings from the Boeing 777, proven by many hours of track time, it's the highest quality crack pipe you can buy.
AAA/AFP Crack Pipe w/chrome drain QTY 10 - US $75 ea
Chrome – add $25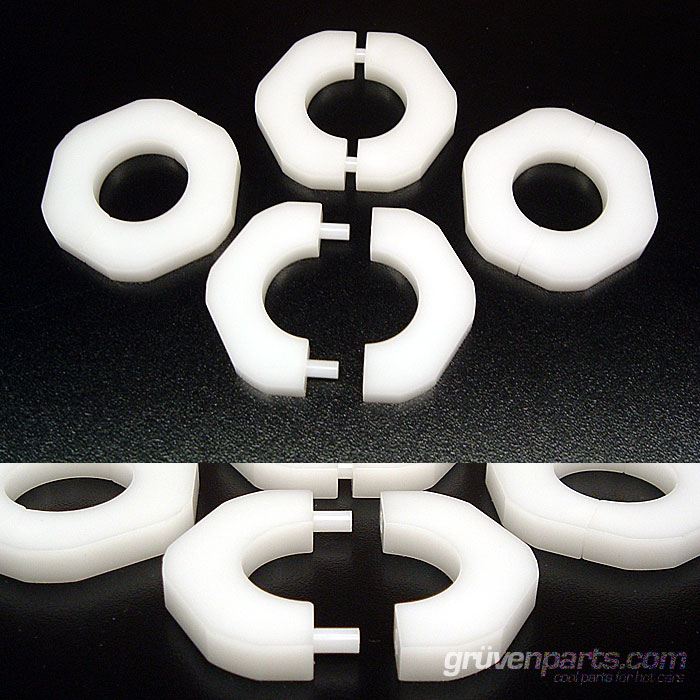 MKIV VR6 Intake Manifold Bushings - AFP and BDF VR6
Another Vortex 1st - You guys told us about the chronic rattles common to the intake manifold of the AFP and BDF VR6's and we listened. These bushings provide the fit VW should have used to prevent intake manifold wear. (currently looking for R32 owner to test the BJS bushings)
AFP Bushing Set QTY 10 - US $40 ea
BDF Bushing Set QTY 10 - US $43 ea
Billet VR6 Drive Belt Pulleys - All VR6
GruvenParts.com offers ultra sleek lightweight crank, power steering, and tensioner pulleys for your VR6 engine. These pulleys are precision CNC'd from aircraft grade billet aluminum. Regular and under drive available. Buy them as a set and save!
VR6 Tensioner Pulley QTY 10 - US $70
VR6 Crank Pulley QTY 10 - US $149
VR6 Power Steering Pulley QTY 10 - US $119
All 3 Pulleys Together QTY 10 - US $329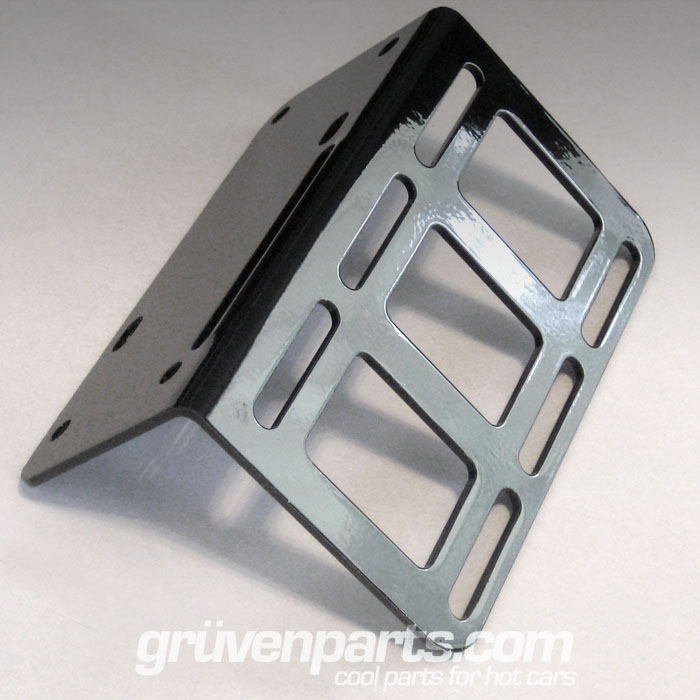 CNC Pressed MSD Coil Pack Brackets MK3 and MK4 VR6
Use this CNC formed, powder coated Aerospace grade aluminum bracket to mount your new MSD coils on MK3 or MK4 VR6 engines. We all know how poorly the OEM Beru units hold up - so get serious about your VR6 ignition and step up to MSD! Leave the cheaply made, overpriced Beru coils for the competition!
MK3, MK4 VR6 Coil Pack Bracket -QTY 10 - $65 ea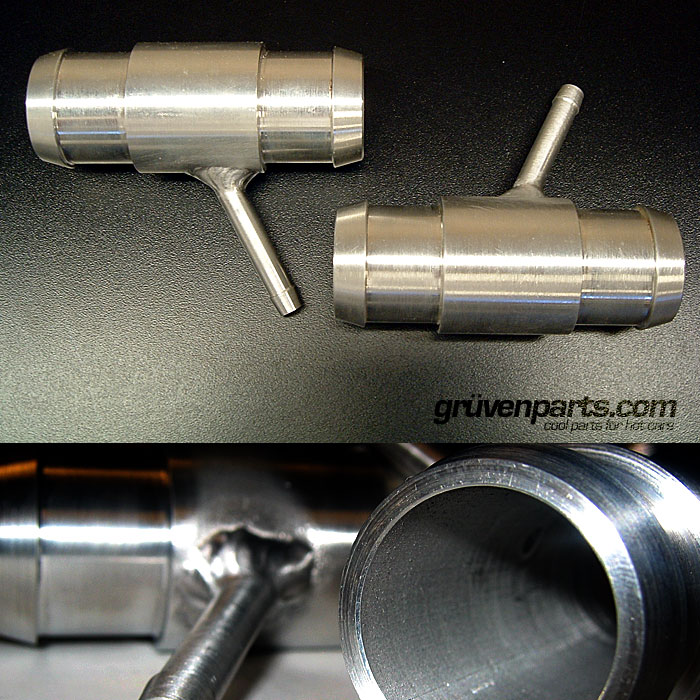 Billet Upper Radiator Hose Y Junction - MK3 VR6 5sp
An absolute MUST HAVE for all MK3 VR6 owners with 5sp trans. The most documented cause of replacement on this hose is due to the plastic Y adapter fitting which connects the 3 short hose pieces. The VW Y pipe cannot be bought separately, and is not suited for the high temperatures under the hood. Hell, its plastic – what did you expect?! Dont buy the OEM plastic part when you can buy this BILLET ALUMINUM TIG welded replacement part for half the price!
MKIII Upper Radiator Y Pipe QTY 10 - US $42 ea
Chrome – add $25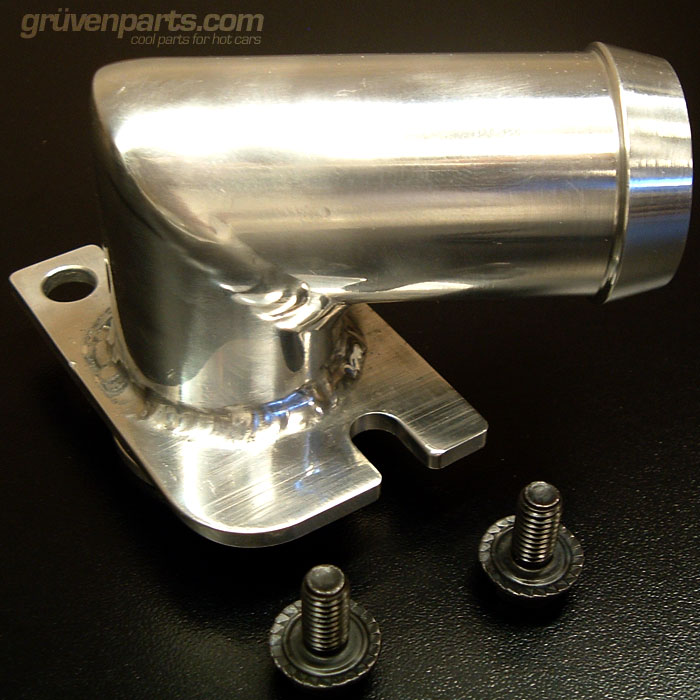 Billet Upper "Rad Neck" - all Corrado
This part is designed to replace the weak plastic factory radiator neck (prone to cracking and dropping chunks in your radiator over time). We closed the book on this part, and it will never need to be replaced again. "Wife-beater" t-shirt not included.
Corrado Radiator Neck QTY 10 - US $85
Chrome – Add $25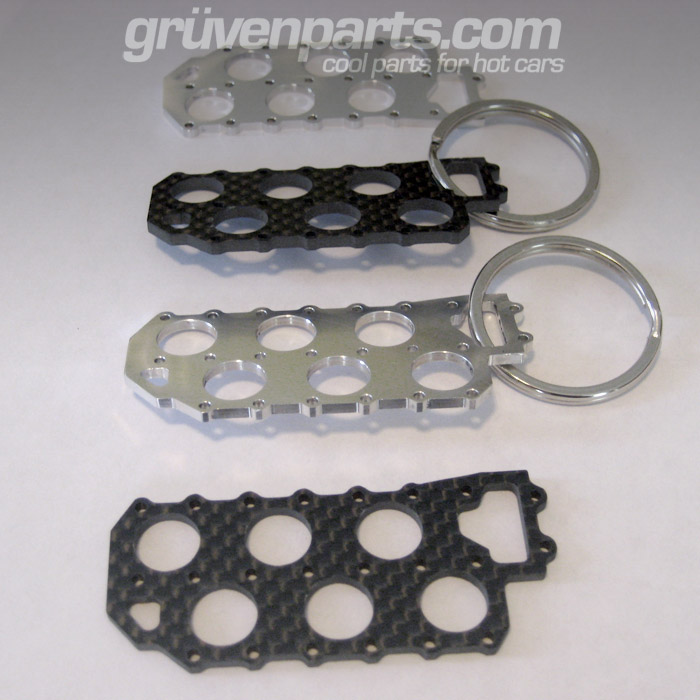 Billet / Carbon Fiber / Chrome "VeeChain"
Pay homage to the unique VR6 engine with this keychain. An instant conversation starter with girls at the parties who are constantly wondering about your 10.5 degree cylinder offset. An Oichan original design (
http://www.oichan.org
) sold under his permission.
VR6 Billet Keychain QTY 10 - US $15
VR6 Carbon Fiber Keychain QTY 10 US $17 ----AT THE MOMENT, WE ARE SOLD OUT OF CARBON FIBER KEYCHAIN. RESTOCK 10/1---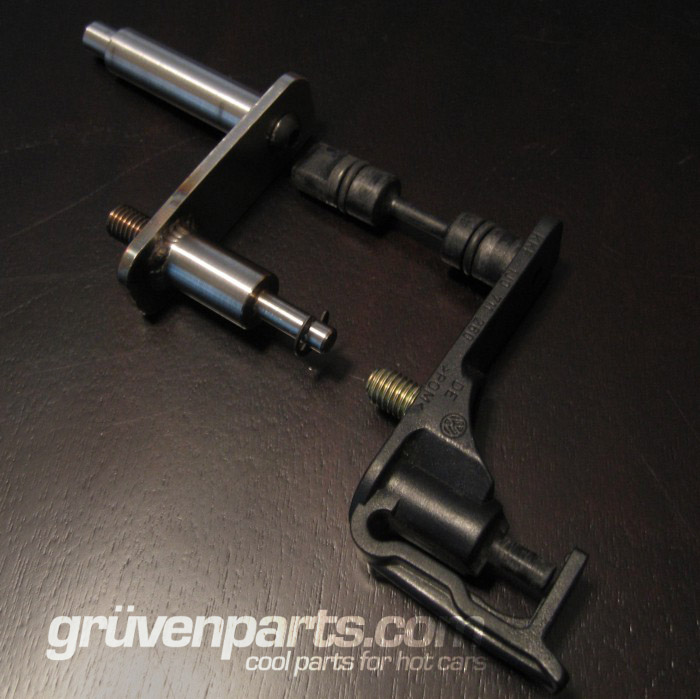 Billet Stainless Steel Short Shifter Bracket
Replace the weak plastic link in your cable shift mechanism with this one
made from Aerospace grade, hardened stainless steel.
Reduces side/side shift throw by 35%!
Shift Reducer QTY 10 - US $80
What's In Development?
We always have new projects in devlepment at
http://www.GruvenParts.com
. The VR6 thermostat housing could definitely use the
"Billet Treatment"
. Its in work, don't worry (just trying to find lower tooling costs!).