Discussion Starter
·
#1
·
First of all, it's not my fault if you are a [email protected] and end up breaking your car. That said: THIS IS EXTREMELY EASY. Do not pay someone to do this for you and certainly DO NOT take your car to the dealer for this. It is simple- don't let anyone tell you otherwise.
Problem diagnosis: Car MAY not be starting, but cranking.
Car randomly dies, without sputtering or any other pre-warning. (It will literally just shut off as if you turned the ignition off...) Car sometimes "stumbles" while driving. Intake mani. may seem hotter than normal, although there is no change on the in-car temp. gauge. In the early stages of engine speed sensor failure, you may notice that the car becomes hard to cold start, as if you had a dying battery... but the lights aren't dim, etc.
If your car is doing this, first of all, it's time for a VAG-COM: Mine came out as follows:
Address 01: Engine Labels: 06A-906-032-AWP.LBL
Part No: 06A 906 032 ML
Component: 1.8L R4/5VT G 0001
Coding: 07510
Shop #: WSC 12600
9BWDE61J024068765 VWZ7Z0B4879355
9 Faults Found:
16706 - Engine Speed Sensor (G28): No Signal
P0322 - 35-10 - - - Intermittent
16705 - Engine Speed Sensor (G28): Implausible Signal
P0321 - 35-10 - - - Intermittent
16684 - Random/Multiple Cylinder Misfire Detected
P0300 - 35-10 - - - Intermittent
16687 - Cylinder 3: Misfire Detected
P0303 - 35-10 - - - Intermittent
16686 - Cylinder 2: Misfire Detected
P0302 - 35-10 - - - Intermittent
16395 - Bank 1: Camshaft A (Intake): Retard Setpoint not Reached (Over-Advanced)
P0011 - 35-10 - - - Intermittent
16486 - Mass Air Flow Sensor (G70): Signal too Low
P0102 - 35-10 - - - Intermittent
16688 - Cylinder 4: Misfire Detected
P0304 - 35-10 - - - Intermittent
16685 - Cylinder 1: Misfire Detected
P0301 - 35-10 - - - Intermittent
Readiness: 0000 0000
Address 03: ABS Brakes Labels: 1C0-907-37x-ASR.LBL
Part No: 1C0 907 379 K
Component: ASR FRONT MK60 0103
Coding: 0021505
Shop #: WSC 00000
2 Faults Found:
01314 - Engine Control Module
013 - Check DTC Memory - Intermittent
00668 - Supply Voltage Terminal 30
008 - Implausible Signal - Intermittent

Notice all of the "Engine Speed Sensor" fault codes... this is what leads us to believe it's the speed sensor. Please note- your fault codes may and very probably will come out different- but if you are noticing codes about the engine speed sensor, and the diagnostic issues posted above, you are probably having this issue.
Now on to how to fix it, where it is, etc.
First off, the new part you will need is (obviously) an engine speed sensor. VW calls this the "impulse sender." The part number is
06A906433L
. It will run you about 125 dollars at the stealership. Here is a picture of it:
You will also need either a 5 mm allen wrench or a 10mm socket, driver, and extension. I used the 5mm allen wrench and it worked just fine, although to break the bolt holding the sensor in loose (there's only one), I had to use a pliers on the allen key for some more tq. After it broke loose, I was able to unscrew it all the rest of the way by hand. You may also want a LONG slotted (flat-head) screwdriver to help get the old sensor out.
The first step is finding the sensor: It is located ON the engine block, right near the oil filter. If you can't find the oil filter, please sell your car right now.
Anyway, the easiest way to locate the sensor and change it out is jack the car up, put it on jackstands for safety, and crawl under it. Undo the belly-cover (plastic engine cover held on by 4 torx screws.) Once this is accomplished, look up at the engine. Locate the oil filter, and look for a GRAY connector. It's easy to spot. If you don't know what color gray is, look at the above picture of the new sensor. Now that you've found the connection, trace the wire down the block to the old sensor, and you'll see this: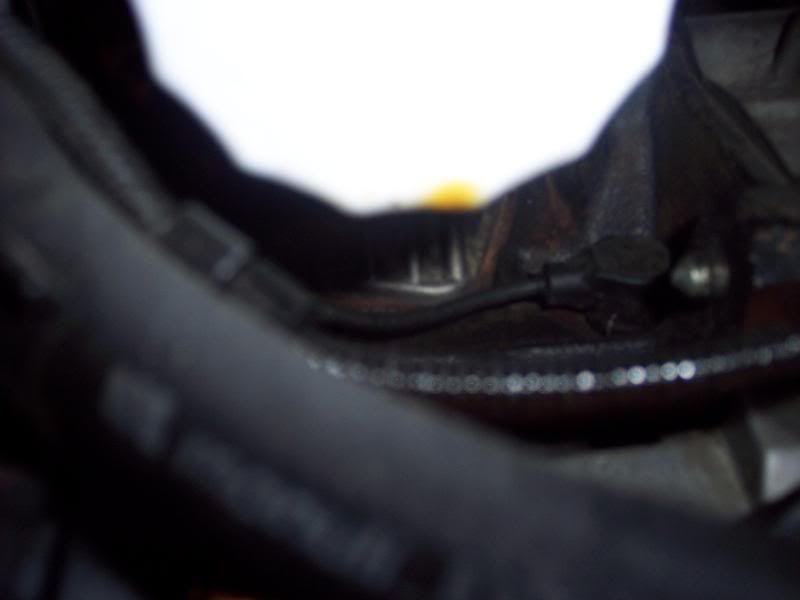 Note the oil filter in close proximity. The sensor connection is a little above it, the actual sensor (as you can see) is a little below it. That round black plastic piece with a wire coming out is the sensor.
Now that you've located the sensor, feel at the top of it, flush with the block. You will now feel dirt, grime, and a 5mm allen bolt I.D. w/ a 10mm hex O.D. Now that you found the "magic hole;" stick in your "magic stick" (5mm allen key) and it will look like this: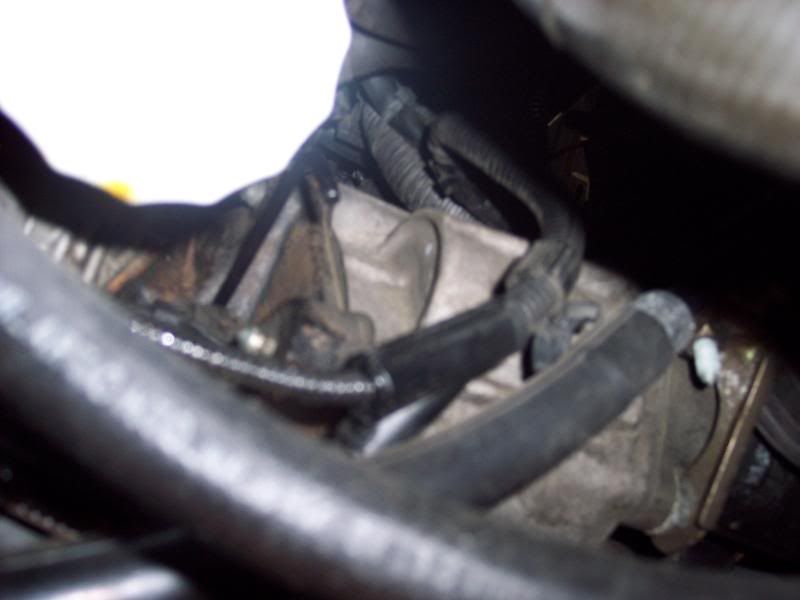 *NOTE ALLEN KEY STICKING OUT NEXT TO OIL FILTER. YOU JUST PUT IT THERE*
Now that you have the key in the bolt, you must unscrew it. Stick your hand up there, and grab the allen key. Turn it loose, and your hand will be like this:
After that, you need to pull the sensor out. Some people say wiggle it and pull, and it will come out. I tried this, and it didn't come out, so I grabbed the beforementioned screwdriver to "negotiate" with it. After you have it out of the block, it will hang by the wire going to the gray connector. You should see this:
Note the red ring: that's the part of the sensor that was IN the block, that red ring is the o-ring that goes around the sensor. Don't worry about this o-ring, the new part comes with a new one already installed. (for 130ish dollars, it better be. lol.)
Now you need to reach up, and grab the gray connector. It is in a metal bracket. Simply pull outward, towards the front of the car (towards your front bumper, not your rear bumper.) and it will come loose from the metal bracket. Now you need to detach the two wires held together by the connector. This is easy. The connector has a little "slot" in it. Just like the connectors used on your MAF and coilpack, this is a four pin connector that will come out once you push the little slot out. If you can't get it with your finger, CAREFULLY use a stubby slotted screwdriver. Place the head in the slot, and turn the screwdriver clockwise or counterclockwise until you feel or hear it go forward. Once that's done, simply pull the two ends of the connector apart, and that's it, the old sensors out. Like I said, really easy.
Sorry I don't have any pictures of this, I tried to get some but they didn't come out good and you couldn't see anything.
Now take your new sensor, slide the connectors back together where the old one was (all you do is slide them together. Once it clicks, it's in good.) Now take the new sensor, and put it right back in the hole the old one came out of. It will slide in real easy. The hole is easy to find again. Again, sorry I don't have pics.
Once you've slid it in, re-thread that 5mm allen bolt and tighten it up. I don't have the TQ settings, and I'm not too sure how important they are since this bolt is only there to hold the sensor in. I just tightened it up till it was tight. I didn't wrench on it or anything, just till it stopped going in and was tight.
Once this is done, take the connector and slide it back into the metal bracket. That's it, you're done.
Total time was probably 10-15 minutes + jack time. It's so easy, and the dealer will try to charge you 100-200 in labor.
I hope this was helpful lol.