The purpose of this thread is to give my take on the best way to put together a simple, reliable, relatively powerful Naturally Aspirated Vr6 car. I'm trying to make my explanations as simple as possible, so if anything is confusing, shoot me a message, and I'll try to revise the thread as best as possible. The same goes for inaccuracies. I'm always learning, and I'm willing to bet there's more than a few assumptions in here that are inaccurate, so shoot me a message.
I've got a goal to grow the VW performance aftermarket. There's so much potential in many of these motors to go fast, cheaply. So, the the best way I can think to do it is by getting info out there.
Through the engine, this will more or less follow the path of air.
1. Air Intake(Stock-cai)
A Vr6 car is equipped with a stock airbox from the factory. It is popular to replace the stock paper filter with a K&N. This is nice as it can be washed and reused. However, it has been tested that a fresh paper filter actually flows better than a K&N. There are minimal gains to be had by cutting the lower portion of the box and grinding the webbing from the upper portion.
Cold air intakes need to be the type that goes down into the fender/bumper to be advantageous. Many have discomfort with the filter being so close to the ground for fear of sucking up water and hydrolocking. These intakes will make more power than a cut airbox, but I do not feel that they are a cost effective way to gain power until further modifications make the airbox increasingly inefficient.
Because of the nature of the stock Bosch Mass airflow sensor(MAF), simply putting a filter or a 'short ram' intake onto the end of the MAF is not effective. This sensor requires a flow of air devoid of turbulence, which is taken care of with a 'turn2' style cai. I lost a significant amount of power on a dyno going to a filter on the MAF.
Image uploading. Refresh page to view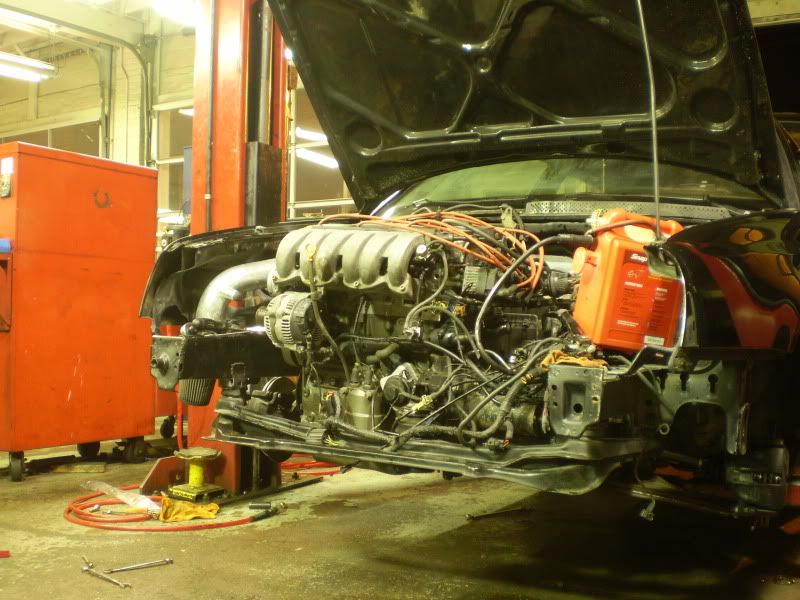 1.8t IAT(Intake air temperature) sensor
-This has been proven to give 2whp on the dyno by Paul, need_a_vr6. The stock Iat sensor is closed element, and prone to heatsoaking in the vr manifold. The 1.8t sensor plugs directly in, and when wires are extended to a location that gets proper airflow, away from hot engine parts, proper Iat's are achieved. The ecu interprets this data, and gives a tick more ignition timing.
1.8t sensor:
Image uploading. Refresh page to view
2. Upper intake elbow
This is not an overly problematic component. I have made 204whp with a stock upper intake elbow. The oem PCV valve is a problem. A PCV valve's function is to vent positive crankcase pressure back into the intake, while restricting oil from passing through. This valve seeps a large amount of oil, and makes the vr6 motor a very dirty running motor. For this reason, it is important to routinely remove the elbow to clean it and the throttle body. Some choose to run a 'catch can', which allows for crankcase ventilation, and catches excess oil from being cycled into the intake.
The only aftermarket replacement is the ABD big bore intake. These sell for entirely too much in the classifieds, but they do eliminate the banjo section. Gains are minimal. I would not recommend doing this as a preliminary modification, and it's a stretch to be worth it in any situation.
3. Throttle Body
The oem throttle body is not overly problematic. The obd2 throttle body(96-99) is slightly larger than the obd1 throttle body. They cannot be simply swapped as the bolts are different sizes, and the TPS(throttle position sensor) is wired differently. I have read that the wires can simply be swapped around for the obd2 tps/tbody to be used on an obd1 car. Porting should be kept to a minimum, especially on obd2. A gutted, or 'deramped' throttle body oftentimes causes idling issues on stock engine management.
I ran the OBD2 TB on my car (on 95 OBD1 and standalone). I was using an OBD2 Schrick VGI at the time, which still has the port for the idle valve, so that wasn't effected at all. You need to use the full range tps on the OBD2 TB:

1 IAC +12v - not used
2 IAC ground (to ecu) - not used
3 Not used
4 Ecu to TPS +5v
5 TPS signal 0-5v to ecu
6 Not used
7 Tps ground
8 Not used

Pretty sure that's how I did it, but it was a few years ago.. check throttle angle with Vag-Com, if it's high at no throttle and low at high throttle swap 4/7.

The OBD1 computer won't like the OBD2's internal idle valve, so don't even try.
4. Intake Manifold
This is in my opinion, one of the most problematic parts of the VR6 engine. The stock intake manifold has an upper and lower portion. The throttle body inlet is about as restrictive as restrictive gets. It transitions from the circular throttle body to the flat plenum area with a steep ramp, and multiple internal parts sticking out directly into airflow. The plenum, or the open area before the runners is not a major problem in stock form, but the transitions into the runners are very restrictive. The plug wire holes are directly in the airflow, the dividers between runners are thick, and rigid in construction, and there are multiple internal bolt holes directly in the airflow.
Modified/aftermarket options
Ported lower intake
This largely contributes to having a complete, matched intake and head. It doesn't really need a whole lot of opening/reshaping, but it can be smoothed, and mated appropriately with the upper intake and the head.
The 2.9 Manifold
- In Europe, some vr6's were 2.9l instead of the usual 2.8l. These had a different upper intake manifold in which the entire space under the manifold is used as a plenum, allowing for more airflow, and slightly more power band. Many choose to cut the middle channel from a stock 2.8 manifold in an effort to clone the euro 2.9. The important thing to remember here is that all 2.9 clones are not created equal. There is much work to be done in smoothing the dividers and transitions into the different runners. The throttle body inlet should be modified. Again, this is not something that should be a preliminary modification as there are parts further down the line that need addressing first.
These are of my ported 2.9 clone. The corner that restricts cylinders 5 and 6 is toward the left in the first picture.`
Image uploading. Refresh page to view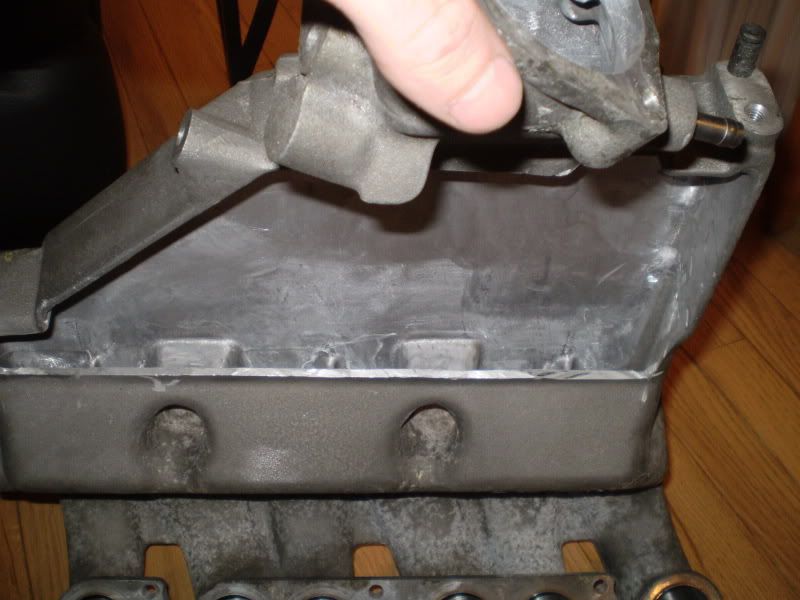 Image uploading. Refresh page to view
Image uploading. Refresh page to view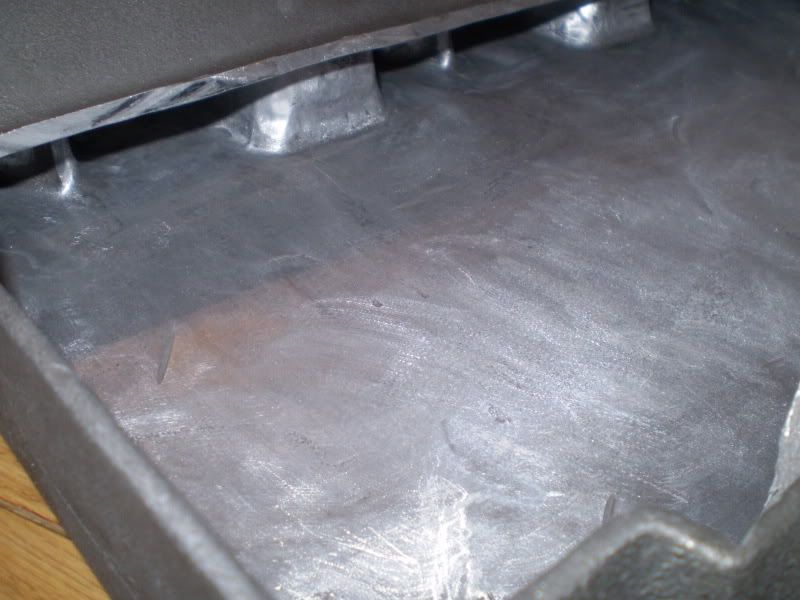 Precautionary
: In the stock lower intake manifold, there are ciruclar dowels that are designed to help the upper and lower manifolds seat together. Remove these and throw them out. Sometimes, they come out unexpectedly and go down an intake runner, causing valvetrain damage. Ask me how i know.
This dowel is in the lower right of this picture:
Image uploading. Refresh page to view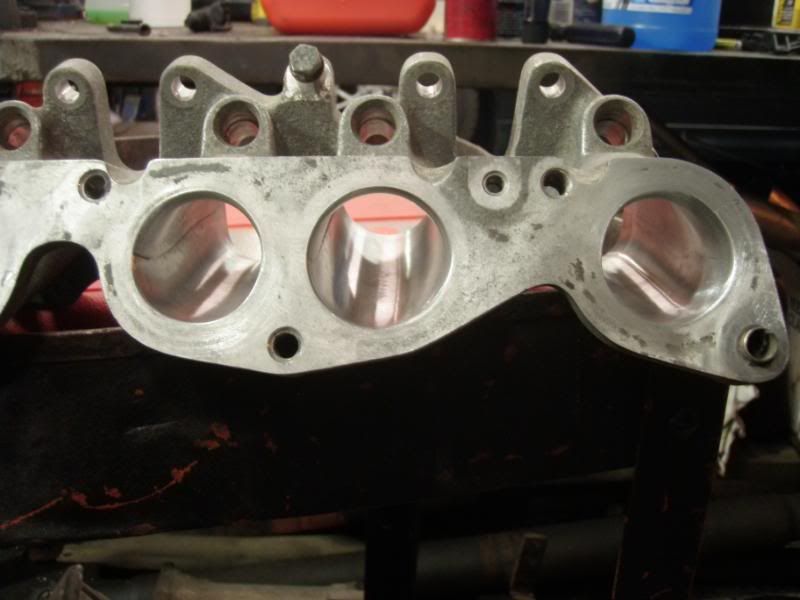 Short runner intakes
- In general, shorter runners and a bigger plenum promote a higher power band and less torque. That is, the majority of the car's power will be shifted to a higher rpm given other components promote this. The basic short runner, 'log manifold' has been used to some success on n/a drag cars, but this is in limited numbers and accompanied with supporting mods such as large camshafts, and large diameter exhaust. The gains are difficult to quantify as this has only been used as 'part of a setup', and not simply an addition to stock.
There have been a few equal runner length short runners built custom. These are ideal as the runners in the intake compensate for the varying lengths in the cylinder head. With just an intake swap from a 2.9 clone to this type of staggered sri, i gained 30whp at 7k rpm, however, i lost 15ft/lbs of torque and a significant amount of hp through my midrange. Think of a more honda like powerband than a vr6 powerband. These gains occurred with no tune change, or cam change.
5. Cylinder Head
This is the root of the problems in this motor. This is a 15degree 6cylinder engine with staggered cylinders and one cylinder head.
The vr6 has a FLAT cylinder head
. The majority of cylinder heads in the world have recesses in the block side called 'combustion chambers'. This motor, with the head being flat, has the combustion chamber in the piston itself. On cylinder heads with combustion chambers, it is possible to 'deck' the head, removing material from the bottom of the head, making the combustion chamber smaller, and raising the engine's compression. Raising compression adds power, but is not possible in this way, on this motor.
Head with combustion chamber:
Image uploading. Refresh page to view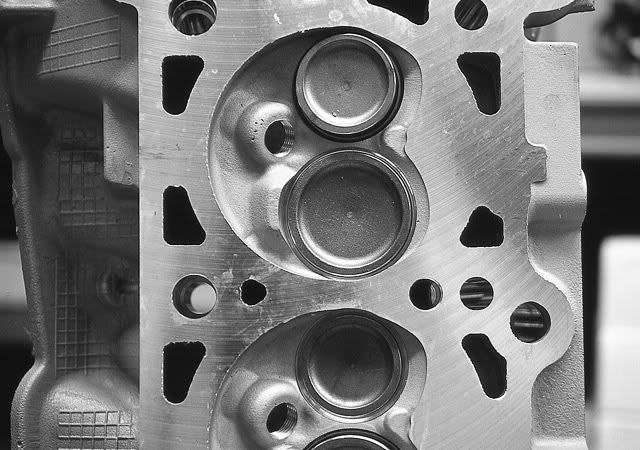 Flat Head:
Image uploading. Refresh page to view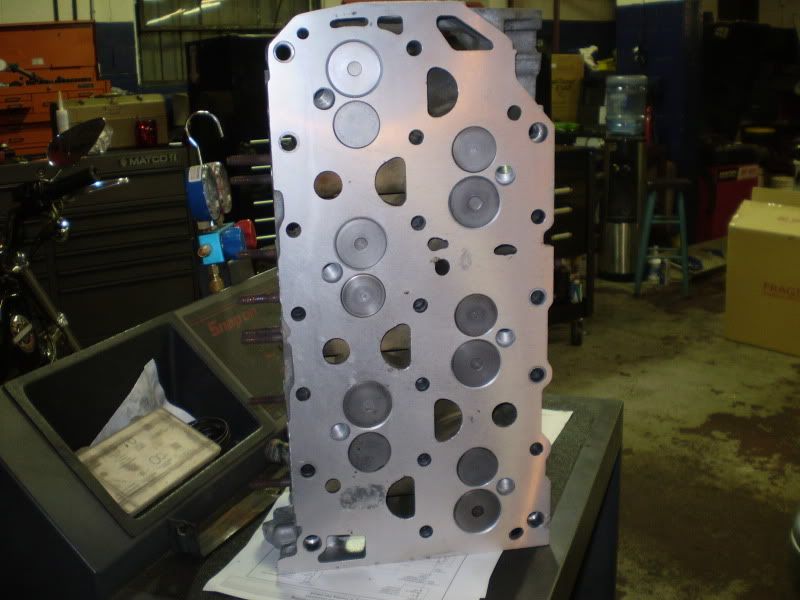 The engine functions as a 'bent' straight 6 in that There is one intake side, and one exhaust side to the motor. The camshafts are not in control of independent banks(intake/exhaust). Each cam takes care of intake AND exhaust, so the runners for intake and exhaust sides vary in length to reach their respective cylinders. On each side there are short runners and long runners, each carrying their own problems in terms of port shape. The varying length also makes the harmonic balance of airflow in this motor very difficult to master. In an ideal world, all intake runners should be the same exact length and volume, head through intake manifold. The same goes for exhaust ports through exhaust manifolds. The world isn't perfect, we'll work with what we've got unless you're looking to build varied length runner manifolds, which have been done to great effect. However, for the purposes of this thread, that won't be covered.
Porting-
This section is really general, and possibly pointless. Some say that headflow can only be measured on a machine called a flowbench. Others say that headflow can only be tested at the track. So, i'll just give you some ways to look at it.
The best way to learn is to grab a spare head, and get at it. There is MUCH that can be done to shape these ports better. Again, I'm no pro when it comes to porting, but I can give a couple areas of interest.
For materials, I use mainly sanding rolls on aluminum and a straight die grinder. These can be found on Eastwood. The valves must be out of the head.
Intake ports should be a bit larger than exhaust ports, but not too large. Size can help flow, but maintaining a small enough volume to maintain air velocity is just as important. One way of thinking about a port is as a siphoning hose…in order to maintain constant, fast flow, it cannot have too much volume, nor can the volume change throughout. "Bowl" areas should be focused upon. This is the transition down to the valve seat, and where most losses on stock heads occur. Long VR6 ports are misaligned with the center of the valve seat. Short ports have waves in the walls that can be smoothed.
DON'T SIMPLY 'GASKET MATCH'. This is changing one area of the port's volume, and hurts flow. It is important that a port's entrance not be smaller than the outlet that precedes it, but that does not mean that it is effective to 'hog it out'. I put a considerable amount of work into the head on my race motor, and I'm nowhere near gasket size in most cases.
Mildly Ported short intake runner:
Image uploading. Refresh page to view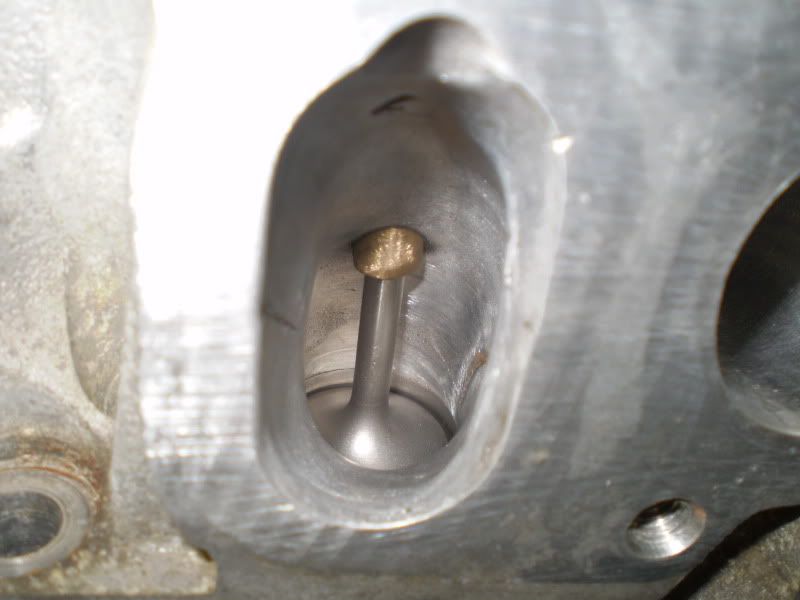 Valvejob-This is how the valve seat is shaped. The smoother, or more cuts that are taken(3 angle, 5 angle, etc) the less restrictive it is on airflow. This is widely considered to be the most important aspect of performance headwork. Being a delicate, skillful process, this is something I trust a machinist to handle for me. I have made as high as 210whp on stock valves with a quality valve job.
Image uploading. Refresh page to view
Image uploading. Refresh page to view
6. Valvetrain
There isn't a whole lot wrong with the stock valve train(valves, valve springs, retainers, keepers, lifters). The main
precaution
to take is to upgrade to a set of
performance valve springs
, serving two purposes.
A. To prevent the spring from binding because of aftermarket camshaft lift.
B To keep the valve from 'floating', or hanging open too long, and being struck by a piston.
For Motors with aftermarket cams(except for low lift cams such as autotech 262's) or forced induction, this should be looked at as a mandatory item.
Except in extreme builds, I don't see a reason to upgrade any other component. Having a machine shop back cut stock valves offers some power, and what I consider a 'might as well' if you have the head there.
It is debatable in my opinion whether bigger valves actually make more power. BVH are not worth all the hype and cost associated, especially dealing with a stock sized bore. There is a concept of headflow called "shrouding" that basically says when a valve is too close to the edge of the combustion chamber(pistons in our case), or cylinder wall, flow is restricted. The fastest 12v vr6's have stock size valves. I also believe that this is made more dramatic as a result of our head being flat. Google "valve shrouding" for more info. FWIW, dynos of some of the old school uber desirable bvh's have shown little to no gains over stock heads.
Titanium retainers are available to be used to lighten stock valve train, but I don't feel that these are a good place to spend money unless again, you've got a highly built race motor, and looking to find that extra little bit of insurance against floating a valve(valve hangs open and gets struck by a piston) at 7500k rpm. The same goes for 'lightweight lifters', which are simply mk4 lifters.
7. Camshafts
There is actually a pretty good variety of cam profiles available for VR's. Most of them are very very small, which i don't really get, but i'll lay out the key players. These cams are listed by their advertised duration.(how many degrees the valve is held open for)
Autotech 262's:
These are nice mild cams with a low lift. This low lift allows for stock valvesprings to be kept. This saves a bunch of time and money if you're not looking to get into paying somebody to tear into it. A slight shift in powerband will go on, making a little up top.
Schrick 268's:
The best all around cams for these motors. There are considerable gains between these cams, and the Autotechs. Powerband gets a bit nicer as well, making power above 6k
. There are several brands that replicate these fairly closely. Then, there are other branded 268's which have different specifications, particularly when it comes to lift(how far the valve is being pushed open). Schrick lift is .4488". DRC has the best and closest match with their 268's at .450" lift.
276's-298's:
There are a number of larger duration hydraulic cams available. These cams idle pretty rough, and make power to the low 7k rpm range. They're usually best if paired up with an aftermarket intake manifold, and engine management beyond chip tuning to get them running right. Many of these size cams will not work with a mk4 headgasket, as their duration makes piston contact.
8. Headgasket/Headbolts
Headgasket-
The oem mk3 head gasket is paper. It gets the job done, however there's an easy, cheap upgrade here. The mk4 12v vr6 is the exact same engine internally, and uses a thinner, metal head gasket. This raises the vr6's stock compression of 10:1, to 10.5:1. This is worth 5-7whp on a stock motor.
Headbolts-
The oem ones will suit just about any N/A application. Just remember that these are stretch bolts, and ONE TIME USE. ARP makes headstuds for these motors, which are nice if you're planning on pulling the cylinder head on a regular basis as they are reusable.
9. Exhaust Manifolds/Downpipe
You've probably read it a million times, headers don't work on vr's. There's got to be a way to make power with them, i don't doubt that, but nobody's had great success with them. So, this brings me into grinding up stock parts...
Exhaust Manifolds:
These are just hell inside. They're super restrictive, usually nowhere near gasket or exhaust port size, and can be made to flow much much better. It's a dirty job, and i use grinding stownes or carbide bits on my straight die grinder to port them. It takes quite awhile, but i believe average gains on a modified engine are in the 7-10whp range when paired with a modified downpipe.
Downpipe:
The inlets are tiny! They've also got a big weld on the inside of the inlet flanges! AHH! Solution, have the flanges welded from the outside, and grind out the inner weld. I also usually grind a good bit out of the flange itself....one part i do gasket match.
If you do these things, get fresh gaskets. They're cheap, and exhaust leaks are no fun, or good for solid o2 sensor readings.
Paul made a diy on this:
http://forums.vwvortex.com/zerothread?id=3603731
10. Exhaust
I feel that if you have a stock car with some bolt-on's, you can't beat the Tectonics 2.5" with a borla. The price is reasonable, the quality is solid, and they make good power.
Once cams or headwork are added, I suggest a 3" exhaust system. I gained 7whp and 5ft/lb going from a 2.5" system to a 3".(specifics shown in the link below) Mandrel Bending solutions produces the only bolt on 3" exhaust system for our cars. Nice, quality stuff here.
2.5" vs. 3" dyno thread
Testpipe
-This replaces the stock catalytic converter. Honestly, our stock cat isn't horrible for what it is. 42draft designs makes a great piece. Evan is the man http://****************.com/smile/emthup.gif
42draftdesigns.com
Image uploading. Refresh page to view